The bad news bears just keeps coming lately in the world of PC hardware, and according to new report from TrendForce we can expect to see a 20% increase in DRAM prices this year.
It's by no means a secret at this point that shortages and availability issues have been the overarching theme surrounding all the big tech releases of this year, in both the GPU and CPU market. As with anything this complex, the reasons behind this are numerous, but a big one is naturally the ongoing COVID-19 pandemic. The strain this put on the semiconductor market was immense, and the increased demand in combination with the very long lead times between a semiconductor order and order fulfillment has lead to a price increase for components. According to this report, that will include DRAM prices.
Further according to their findings, DRAM pricing has already increased 3-8% in 1Q2021, and they also state that market adjustments will lead to further increases between 13-18%. The report also claims that we will see an increase in server pricing by 20%, and graphics DRAM is expected to increase 10-15%.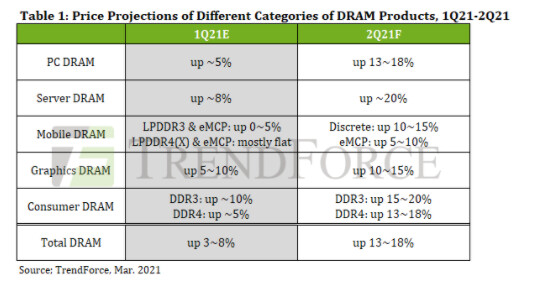 As much as I hate to even type these words, that does mean that PC gamers and hardware enthusiasts can expect even more increases in graphics card pricing for the end user. Not exactly great news when finding a GPU near it's MRSP is pretty much like finding a unicorn.
Other Articles You Might Like