It's time to give some love to five underrated games that I think everyone should play. I've spoken a few times about indie games and their triple A counter parts, as well as giving recommendations in specific genres such as horror. But, I think with the Christmas sales (on Steam or otherwise) ahead of us, it's time to shine some light on some lesser known games I think you should play.
As always with these lists, this is in no particular order. First off, is a game that I have given some attention to before in an ancient series that never really went anywhere – Okami. Such an excellent game deserves a new mention, as it will always be one of my favourite games from the PS2 era.
At it's core, Okami is an incredibly unique game. The graphics are based on a Japenese style of painting called sumi-e, and the game looks absolutely stunning. Even going back and playing the PS2 version (as there was a PS3 remake), it holds up wonderfully. The music as well is wonderful, and fits with the theme very well. In terms of gameplay, it's kinda Zelda-esque.
You explore the world, speaking to characters and taking on side quests, and you also take on dungeons with increasing difficulty. In each dungeon, you get a new "brush power" that enables you to do a new thing – such as control the wind, control water, or spawn a cherry bomb. These powers help you explore more and more of the world, as you take on the quest taken straight from Japanese mythology.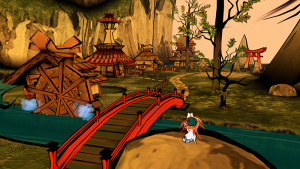 Let's remain in the PS2 era for a moment with our next title, the wonderful ICO from Team Ico. I have given their other well known title, Shadow of the Colossus, a bunch of love over the years but this title is also one that is absolutely worth revisiting. On paper, it doesn't sound good, as you are tasked with escorting a Princess throughout a hefty chunk of the game and protecting her from weird shadow enemies.
Sounds awful, right? But somehow, ICO manages to not be one dreary escort quest. How does it achieve this? Well, guiding the Princess is really more a series of puzzles than an escort quest. You have to guide her throughout the world, solving puzzles and clearing obstacles in your path to ensure both your safeties. The Princess can actually be quite helpful if you're unsure of where to go, and both she and ICO are both equally lost and trying to figure out what's going on.
While there is combat, it's not the meat of the game, and the combat also further serves to deepen the mystery of this game. The strange shadow creatures appear from the ground itself, and if they manage to grab a hold of the Princess, they don't kill her outright – instead they try to drag her into the pool of shadow from which they appeared. This gives the battles a sense of tension, as ICO isn't amazingly equipped to deal with magical shadow creatures.
The game is also helped by the Princess and ICO herself, who despite rarely speaking in words and not being able to understand each other, have a ton of character and an interesting dynamic. This is achieved through some excellent animation on them both, and how they interact with each other. Through their body language and interactions, you get a real feel for their characters. The world itself is kinda Dark Souls-esque in the way it shows itself to the player. Very little is told to you explicitly, it's all through background storytelling and the world.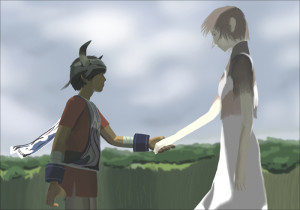 Next up is something a bit more recent with Papers, Please. This has definitely gotten some attention since it's release in 2013, but I still feel it's worth a mention. On paper (heh), this game sounds boring. You play an immigration inspector at a border checkpoint for a fictitious country called Arstotzka, where you must make sure that everyone getting into glorious Arstotzka has the right papers.
It starts off simple enough, with things like making sure their passport isn't expired and such things like that, but things get more and more hectic as more rules are dumped on you. The more people you let through/correctly deny, the more money you earn – so you feel like you need to rush, but if you rush, you'll make a mistake. The game also makes it quite hard to be a good person. Throughout the chapters, you will get the status of your wife, son and uncle who depend on you for food, rent, heat and medicine. So, say for example that someone is desperately outrunning someone who wants them dead and they have to get through.
But they don't have the right papers, meaning that you lose money and get a citation. You get two "free" citations, but any mistakes after that will result in a dock in pay. So you can see the moral quandary that the game presents you with through the game mechanics. It's no heavy handed moral lesson, it's just here's a choice – make it. Being a "good person" means you'll get punished. Papers, Please is weirdly absorbing, and draws you into the deeper story and gives you glimpses of the horrible state of the world through the daily newspapers and the interactions with certain characters. The main feeling this game gives you is, who knew being a border inspector could be so absorbing?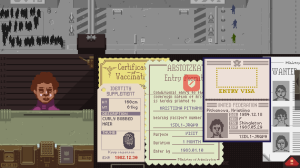 The next offering is even more recent, as it came out in January of this year. It's Pony Island, a weird little game that was one of the first "meta" games that I played. From the start things are strange, as even the start menu fights with you and you have to solve a minor "puzzle" to actually start the game. Things immediately get weird when the game is actively taunting you and speaking with you, messing with the players head.
In the lore of the game, you are a person playing an arcade cabinet, however it soon becomes clear that the machine is addressing you the player and not the player character. The machine is corrupted by a demonic being trying for your soul, and actively makes the game unfair and tries to make it impossible for you to actually proceed. You get access to the "internal programming" of the game, and dive deeper into the weird head game that is Pony Island. If you're after a suspense puzzle game with twist, and one that will really get into your head, look no further.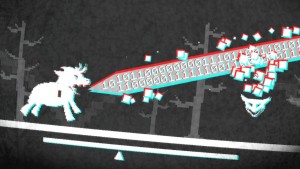 And finally, let's finish things up with a game that I can't seem to give enough praise; Darkest Dungeon by Red Hook. I've mentioned this game several times in podcasts and such, but it deserves it. It's a turn based RPG, but with a twist. It deals with the stress impact on heroes when they are going into dungeons and fighting eldritch horrors. When you reach a certain amount of stress, you become "afflicted" or "virtuous" but more often you are afflicted with paranoia, masochism, or abusive as the mind of the hero cracks under the stress of fighting eldritch beasts from the puts of hell.
The aesthetic of the game's world, the hub, and the characters all work together to bring the tone of grim determination as you fight against almost insurmountable odds. The real treat here though is the audio commentary by Wayne June. His voice, so perfectly chosen for a clearly Lovecraftian inspired game, just rounds off the package so perfectly to make this game excellent all round in it's presentation.
That's not to say that the gameplay is weak, though, as it absolutely isn't. While it does rely a little heavily on RNG for my liking, the gameplay is still satisfying and incredibly tense. It's tense because not only do you have to manage stress, if you lose a hero, they die permanently. When you have spent hours and thousands of gold on this hero, that is a loss that you feel every single time.
In terms of mechanics, it's pretty typical turn based RPG fare – up to a point. There are several unique mechanics that add to the tension and atmosphere. When monsters die, they leave corpses behind, and when your heroes have abilities that are usually limited as to what positions in the enemy party they can hit, this means that a dangerous damage or stress dealer will be out of your reach until they are cleared. Also, if you heroes reach 200 stress, they will have a heart attack. It's not an instant kill, but it puts them on "death's door", the last stage before a deathblow.
Overall, Darkest Dungeon is a game that sets out to do one thing: show the true oppressive horror of humans fighting against eldritch beasts and the realities of such dungeonerring, and it does it with aplomb.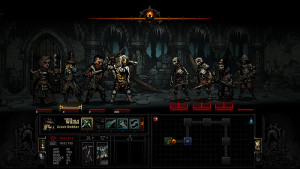 There you have it! Five underrated and under appreciated games that have my personal seal of approval. When the post Christmas rush drought arrives, go check them out.
Other Articles You Might Like