Survival horror is one of my favorite genres – back when I first got around to playing the first Resident Evil (on the Saturn!) I fell in love with it the game. I also became a huge fan of Silent Hill (… an abusive relationship) and various other games – there's something fantastic about them. From the creeping, unfolding terror of Resident Evil, to the creeping, constant lurking danger of Alien: Isolation – they make for great gaming experience.
But for every great Survival Horror title, there's a dozen more which fail to hit the mark. But, after witnessing the debut trailer for Ad Infinitum back in late May I must confess I was very interested, a survival horror title with gorgeous visuals (using Epic's Unreal Engine 4) and set in World War 1. So I got in contact with the the developers and David-Kay Solèr, the games Project Manager and Narrative Designer happily responded to my request for an interview. Please note that currently the game is only in Pre-Alpha stages, and so things can change between now and release.
Why did you decide to set Ad Infinitum during World War 1?
David-Kay Solèr: "First we had a long concept phase and were looking for a setting which doesn't contain highly developed technologies as we have them now. However, neither did we want to go for a pre-industrial setting. The beginning of WW1 and the call to arms was marked by an exaggerated patriotism and disproportioned nationalism. Deluded young men were butchered and mutilated, wasting their blood through a well-oiled and highly innovative murder machine.
"We want to express the horror of war on a metaphoric level. Basically, we wanted a setting which is horrifying enough as it is without the typical content of horror media. WW1 is a perfect example for what happens when human beings exploit new inventions they think they understand – but actually don't. Europe had been in the midst of the industrialisation – suddenly all these new technologies were used to literally slaughter the masses in a way the world had not seen before. The anniversary of WW1 surely has affected us too.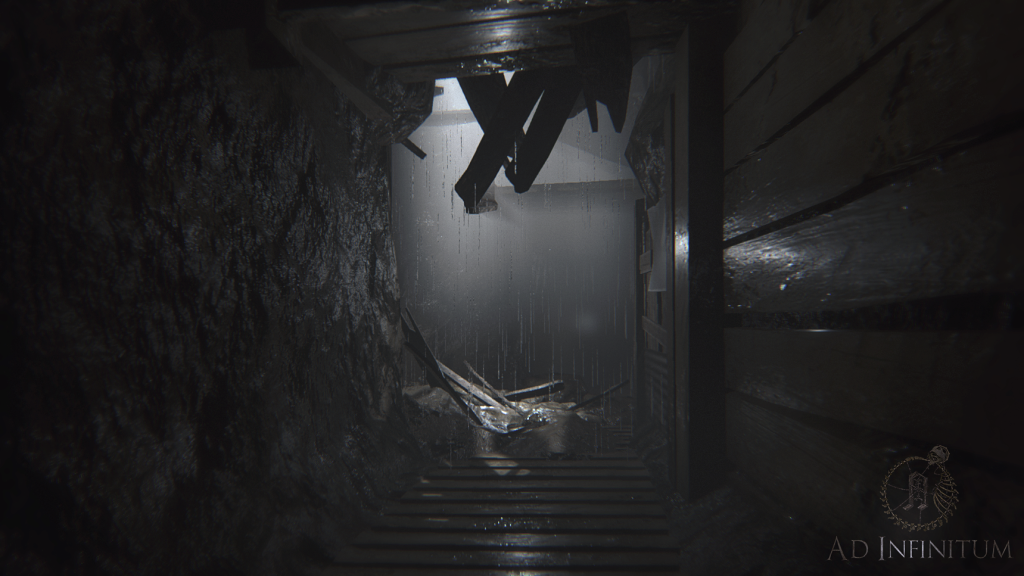 "In an artistic sense this setting felt much more interesting than for example WW2 – it seems far more distant, depraved, cold and disturbing. At the same time, we wanted to focus on interpersonal relationships during that time. Every person had their own story – broken families, friends who were gone forever and countries shattered by war. In our concept phase we came upon our most influencing aesthetic artist – Zdzisław Beksioski. His vision just reflected the sense of horror we are trying to convey – a surreal incarnation of human sacrifice. Speaking of other media: Guillermo del Toro's movies like "Pan's Labyrinth" are great sources of inspiration for subtle and strange horror, as well as many Asian horror films. On a psychological level, movies like "Jacob's Ladder" and "Johnny Got His Gun" are good examples."
Will there be combat, with say very limited ammo, or will it be more an amnesia type of experience where your only real defence is to hide?
David: "The player is under a constant threat. We really like how Frictional Games played out the feeling of isolation and helplessness. Being the player, you'll be able to sidetrack your predators but you can't fight them… well, you can try it but we don't think it's a good decision. This feeling of constant exposure also reflects the relation between the protagonist and the war."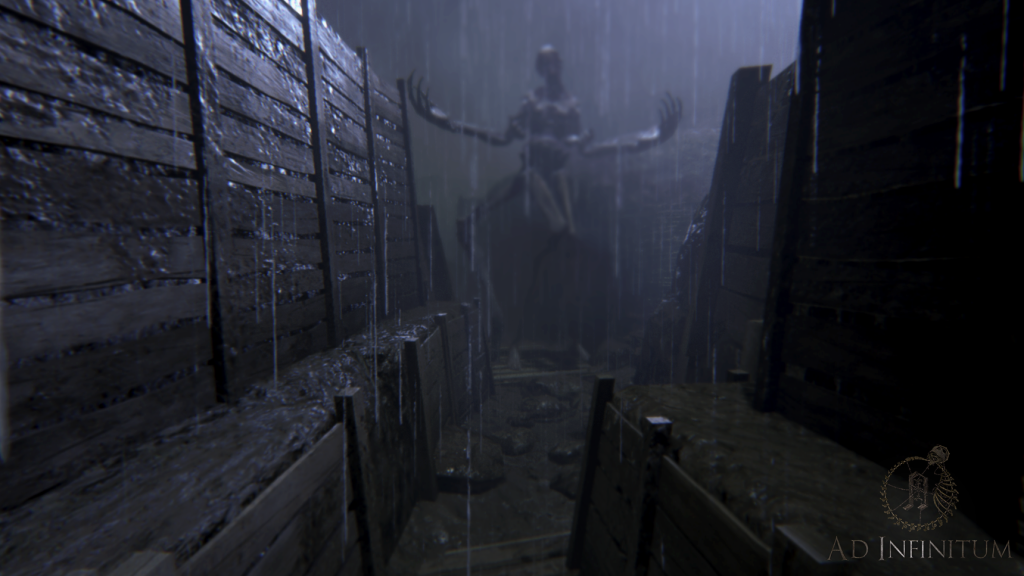 How is the games production is coming along? Currently you're in the pre-alpha phase, is that right?
David: "Yeah, right. We have a strong, clear concept. After we formed our vision of the game, we're in an early development phase. Right now we are looking for new talents to build up our team to ensure the quality and scale we are aiming for."

In the short trailer, we see the player running through trenches, will this be a theme throughout the game, or will you also visit different environments?
David: "The trenches in the marshes are just one side of the coin. There will be enormous plateaus elevating above the badlands. On these plateaus the player will be able to discover the world whereas in the marshes there's only one thing that counts – pure survival."
Since Ad Infinitum uses Epic's Unreal Engine 4, will your be pushing out the graphics boat?
David: "Capturing the dark but fascinating atmosphere is what matters most for us. Graphics and sound are very important, therefore we use state of the art technologies. As we're a small team we strive to optimize our workflow and push the limits of the Unreal Engine 4."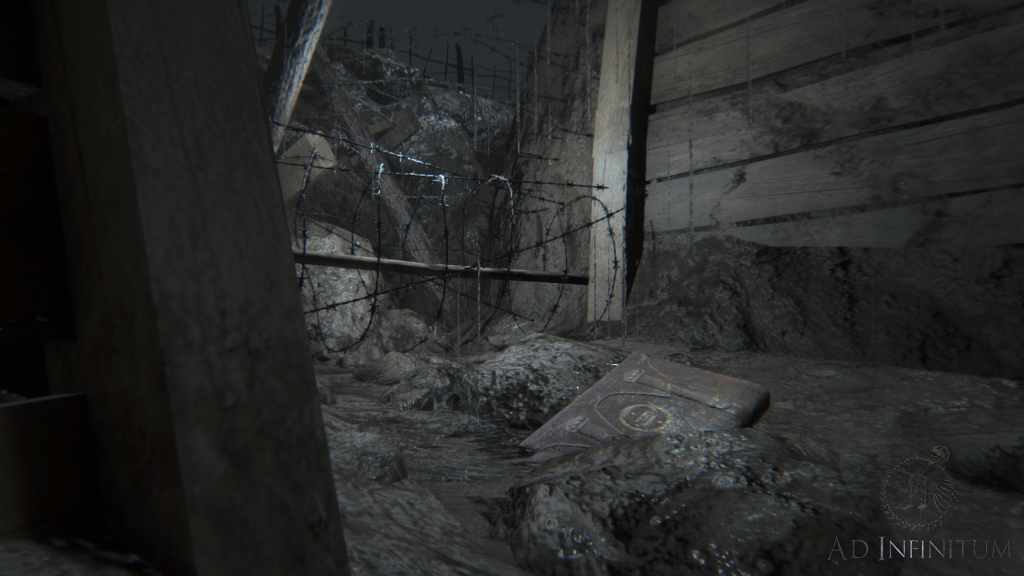 Will we see you release on other platforms, such as the PS4, Xbox One or Linux?
David: "Our focus lies on the development for PC. But if we get the opportunity, we'll go about developing Ad Infinitum for consoles and Oculus Rift."
Can you tell us a little about your team – how did you all meet and and what motivated you to start developing the game?
David: "The core-team consists of four guys who share similar interests. All of us have gained experience in the gaming industry for years. We quickly noticed that the imagination of each individual went in the same direction. That's how we came to the decision to create a game together."
What type of gameplay are you aiming for? Do you want a slower paced terror, or focus more on jumps scares?
David: "We prefer a slower pacing. Nonetheless, we want to renounce pre-scripted jump-scares. Fear – as your constant companion – will be built on the dense and menacing atmosphere. Also, as the player you've got the possibility to explore the world and follow the gloomy storyline just the way you like."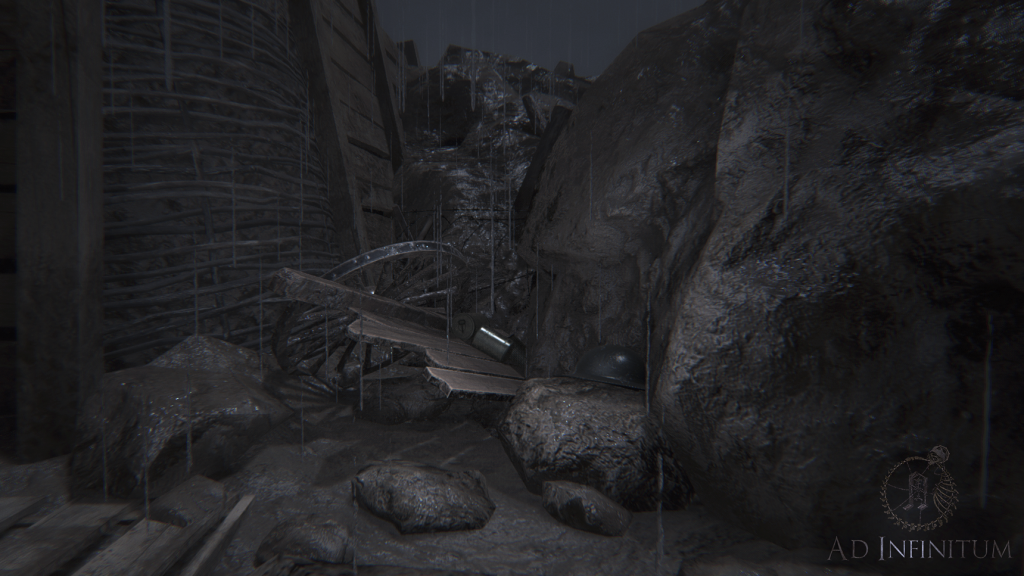 will your team be using either DirectX12 or Vulkan, and what are your thoughts on how they will impact game development?
David: "We are always looking for new technologies. Right now, we can't say if these APIs will take part in the development. Of course it looks really interesting but right now we just have to wait and see. From an artist's point of view, anything that helps turning visions into reality – including UE4 and all of its benefits – is appreciated and a great step towards the creative freedom we're craving for. However, using the mentioned low level APIs is currently an unlikely approach due to our limited resources."
So, wet our appetite – what are a few of the cool things you've got planned for adinfinitumgame.com.
"Survival is not the only goal of the game – it is merely the tool that is needed to solve challenging puzzles and to reveal the truth. Be aware of the consequences of your decisions as they influence the course of the story and its ending. Last but not least: We recommend the use of comfortable brown underwear while playing Ad Infinitum."
Other Articles You Might Like