AMD have yet another leak on its hands, this time in the form of their desktop CPU roadmap, which details their 2015-2016 plans. Over the past few days, other leaks have popped up which show details on their upcoming lineup of X86 Zen processors, but now we starting building a picture of how those SKU's will fit in with AMD's grand plan.
2015 is easily the less interesting of the two years detailed in the desktop roadmap, basically a continuation of the Vishera FX series (which are based on Piledriver) for the high end parts. On the mainstream we've of course got Godavari, which are themselves refreshes of Kaveri, this same trend continues with Beema, which will be an update from the current Kabini APU. The main differences between these refreshes is slightly better architecture, die shrinks or higher core clocks.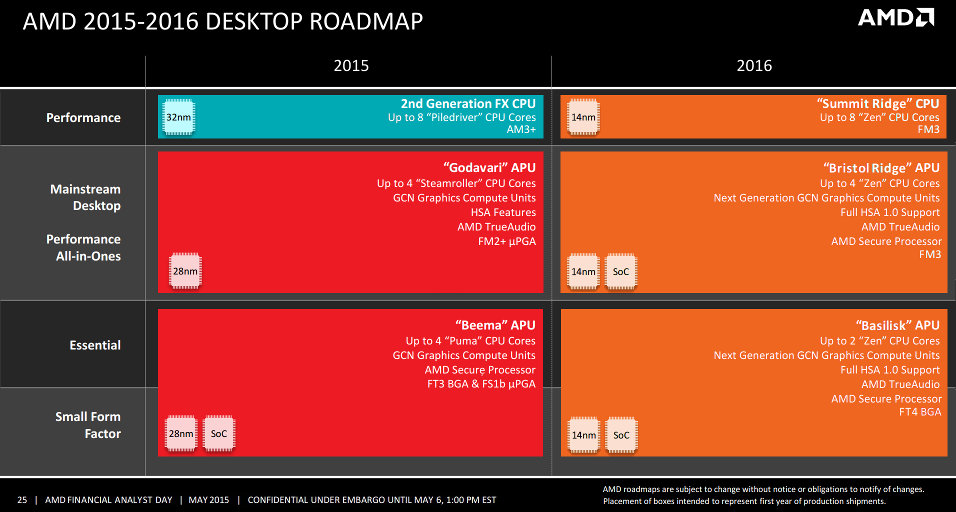 Despite only dedicating a short paragraph to 2015, we've a lot more to discuss when it comes to AMD's 2016 plans. AMD will be heavily leveraging its Zen CPU architecture and its Arctic islands graphics architecture to shakeup their entire product lines.
Summit Ridge will occupy the high end, and as you'd expect, support DDR4, a new chipset and also a new FM3 socket. The design points out that AMD are planning on eight cores (the same number as Piledriver) for its high end Summit Ridge processors, but don't be fooled – an 8 core Zen, judging from leaks, will easily outpace the current FX lineup. We don't have benchmarks yet (unfortunately) but the IPC improvements will be extremely noticeable.
Next up we've got Bristol Ridge, AMD's APU products, featuring both Zen CPU's (four) and their next generation GCN graphics technology. Many believe that this APU will feature HBM memory, which will be used exclusively by the GPU and the DDR4 memory will feed the CPU. While it's true DDR4 memory is quite a bit faster than DDR3, the bandwidth requirement for an APU with a decently powerful GPU will probably swamp the memory.
Considering bandwidth eaten up by the CPU, it's likely that an APU featuring between 512 – 1024 shaders will suffer the same fate as Godavari (the APU Bristol Ridge will replace) if just DDR4 is employed. Time will tell if the rumors are accurate however!
A rather nice feature of the both the APU and CPU platforms is they will use the same FM3 socket, so if a user decides six months into the future they'd rather go a different route with their PC, they can easily swap out the components. Flexible upgrade paths are never a bad thing, you never know how you may wish to re-purpose older hardware!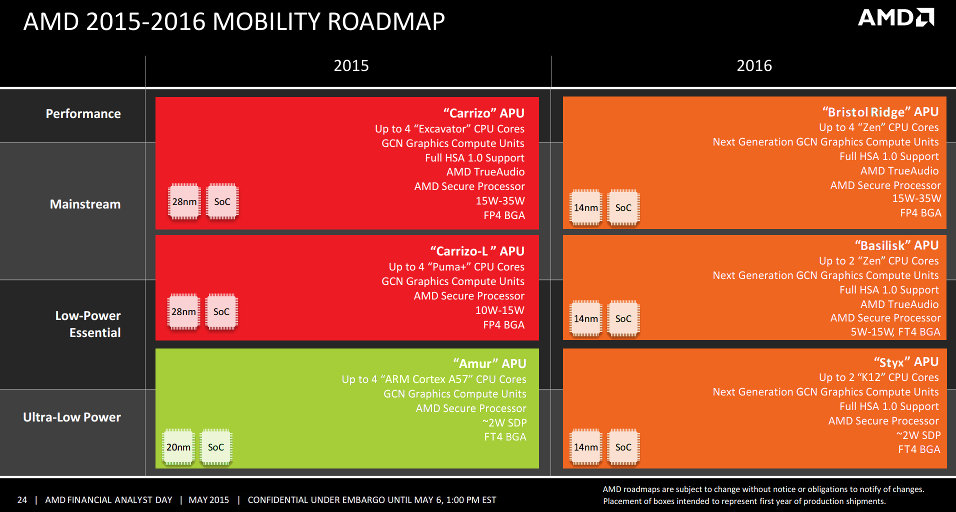 Switching gears from the power hungry desktops to the Mobility Roadmaps, and one can spot in the Ultra-Low Power area in 2016, AMD planning to use up to 2 K12's CPU cores (their secret ARM cores)  in conjunction with their GCN architecture, and it will require just 2w sdp. Styx, to name these upcoming SoC's are rather exciting, as they are fully USA compliant, and the fact AMD are able to cram all of this in such as small space and power envelop is rather exciting.
For the performance, Mainstream and Low Power Essential range, it would appear that Zen is the order of the day (not too surprising), and these APU's will still be incredibly power efficient. You'll also spot that all APU's, whether low power, or for desktop, will also feature True Audio support.
All of this pops up just after we've covered supposed leaked benchmarks of Intel's Skylake 6700K CPU, which if accurate, isn't quite up the performance levels many users hoped for.
Many gamer's are naturally curious to see how AMD's 300 range of graphics cards perform, we've certainly no shortage of rumors, including plans for a 17TFLOP beast of a card designed specifically for virtual reality, but I think we're all at the point we just want to see the silicone in action!
Of course, AMD haven't confirmed any of these leaks, and they originate once again from the forums over at Planet3dNow, so don't pin all of your hopes on them (quite yet!).
Other Articles You Might Like