Since the original zen architecture debuted in 2017, there have been two upward trends with AMD. The first is the raw performance, and the other is the company's stock price. The Zen 2 architecture continues this tradition, significantly disrupting the market by offering a startling leap in performance compared to its generational predecessors.
In this article, we're going to be taking a look at the new Ryzen 9 3950x information provided by AMD, along with a fascinating glimpse into the third generation ThreadRipper CPUs and their platform.
As a quick note, sorry for the watermarked slides – downloading the slide deck from their servers watermarks the images given I was briefed when the NDA was still in place.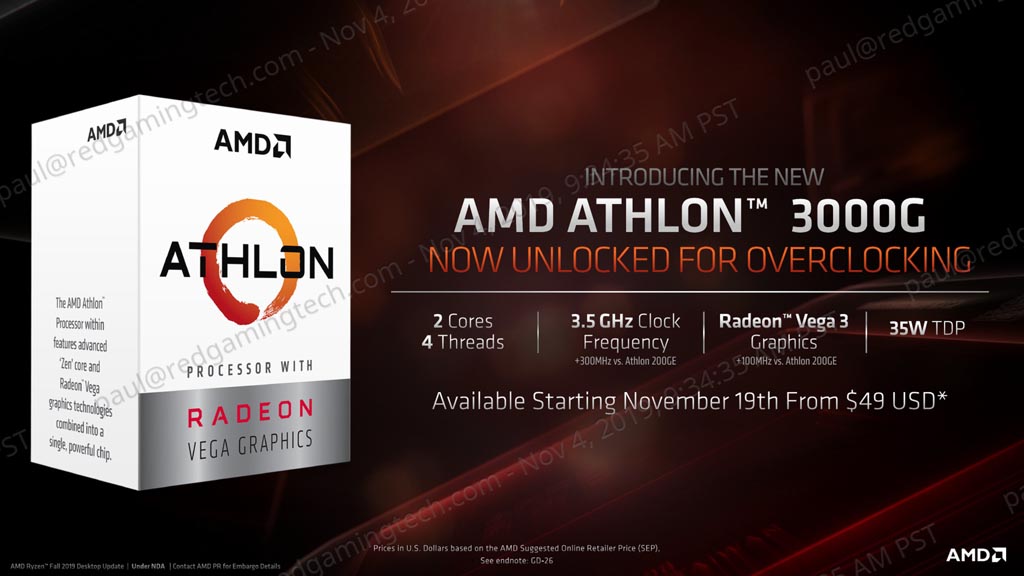 The first product I'd like to start with though is the Athlon 3000G series because I think this CPU is going to be a very popular processor with budget builders or those building small form factor systems for your living room, perfect for streaming your Steam games or other content to. AMD is using the Athlon 3000G to take the fight to Intel's Pentium G5400 processor.
The AMD Athlon 3000G uses Zen+ cores, not Zen 2, however new to the Athlon budget series AMD has opted to fully unlock the overclocking potential of these CPUs. It runs at 3.5GHZ out the box, a 300MHz nod in clock speed alone compared to the Athlon 200Ge.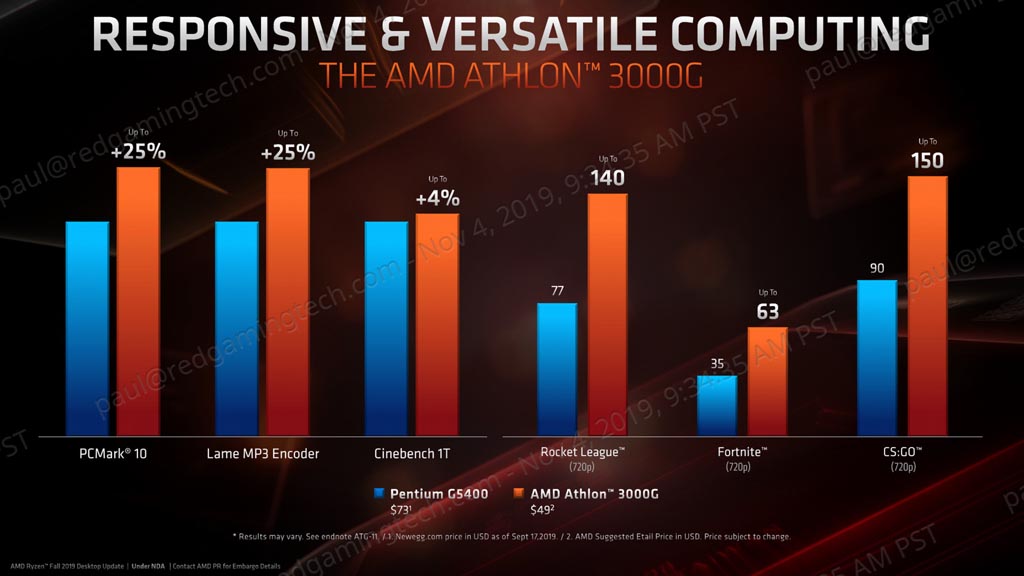 The CPU is just 2 cores and 4 threads, and paired with Vega 3 graphics and operates at a pleasing 35W. In AMD's own internal testing in games such as Rocket League, Fortnite and CSGO, they claim it is almost double the speed of Intel's Pentium G5400, while in typical day-to-day tasks such as MP3 conversion it's about 25 percent faster. AMD will charge you $49 USD for this processor, about 20 dollars less than you can expect to pay for the Pentium G5400.
Going back to overclocking, AMD also claims that you can crank the Athlon 3000G up to 3.9GHz. Here, AMD decides to include a few extra benchmarks they omitted from the non-overclocked results. Adobe Photoshop and Premiere both make an appearance, and at stock clocks, the Intel CPU pulls ahead but overclocking the Athlon 3000G to 3.9GHz means that AMD squeezes out wins here too. At e3 2019, AMD officially confirmed the rumors – there was indeed a 16-core Ryzen 3000 series processor, known as the Ryzen 9 3950X. This chip doubled the core counts from the previous generation, but also cranked up just about all the other specs on the chip, while using the much more efficient Zen 2 architecture.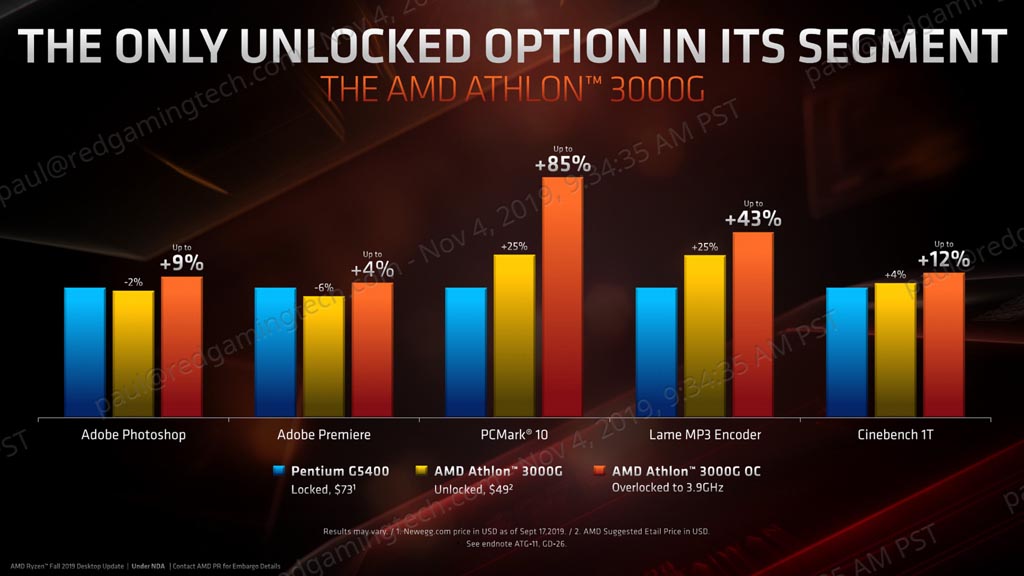 I'm sure AMD would like to say at this point that their Ryzen 9 3950X will "deliver as they promised", and while I don't like to necessarily echo marketing speak, given what has been shown in both public and described in the press briefing and also in these slides… it's hard to not believe what they state.
Going by the numbers for a moment (say it with me folks), we have 16 cores and 32 threads here, cranked to 3.5GHz for the base speed and boosting up to 4.7GHz. You are likely aware AMD went with the chiplet approach for the Zen 2 CPUs, and as you can see in this image, there are two CPU chiplets cuddling up against each other, manufactured on the 7nm process by TSMC.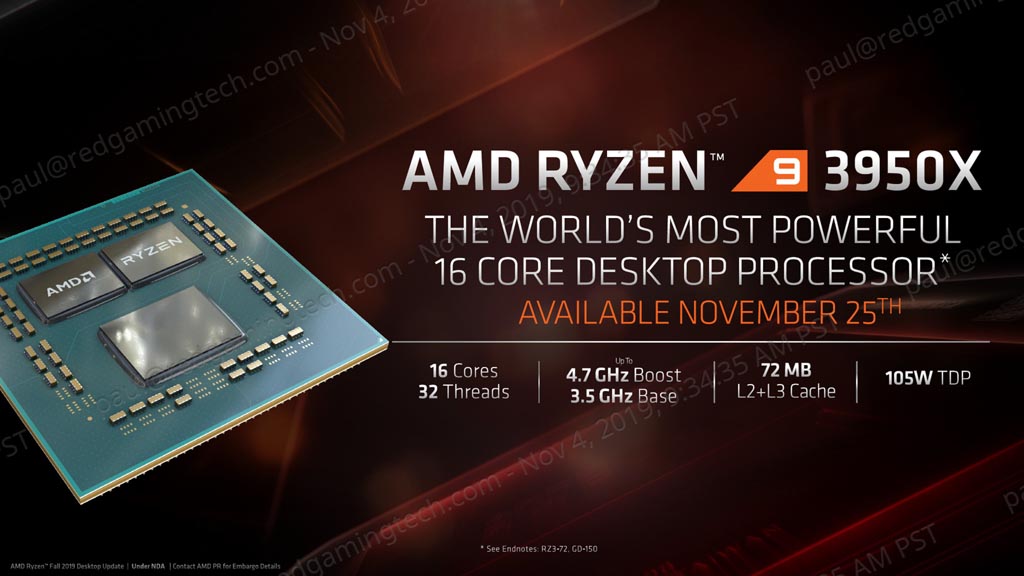 Watching over them and diligently taking care of their information and communication needs is the IO die. With the Ryzen 7 3700X for example, we only have one CPU die present with 8 CPU cores enabled.
With the Ryzen 9 3900X, there are two CPU chiplets, but 4 cores are disabled in total, giving us a total of 12 cores. With Ryzen 9 3950X, all 16 cores are enabled, and also this is probably about the best quality silicon you can get for the mainstream Ryzen 3000 series, as it features the highest core clocks – boosting up to 4.7GHz when just a few cores are loaded with its 105W. Essentially, it's about 1 percent faster (single-core) than a 3900X. 
| | | | | | | | |
| --- | --- | --- | --- | --- | --- | --- | --- |
| CPU Model | Cores / Threads | TDP | Boost Clock (GHz) | Base Clock (GHz) | PCIe 4 Lanes | Total Cache | MSRP (USD) |
| Ryzen™ 9 3950X CPU | 16 / 32 | 105W | 4.7 | 3.5 | 40 | 72 | 749 |
| Ryzen™ 9 3900X CPU | 12 / 24 | 105W | 4.6 | 3.8 | 40 | 70 | 499 |
| Ryzen™ 7 3800X CPU | 8 / 16 | 105W | 4.5 | 3.9 | 40 | 36 | 399 |
| Ryzen™ 7 3700X CPU | 8 / 16 | 65W | 4.4 | 3.6 | 40 | 36 | 329 |
| Ryzen™ 5 3600X CPU | 6 / 12 | 95W | 4.4 | 3.8 | 40 | 35 | 249 |
| Ryzen™ 5 3600 CPU | 6 / 12 | 65W | 4.2 | 3.6 | 40 | 35 | 199 |
I don't think anyone is gonna drop 750 bucks on a 16 Core CPU to squeeze a few extra points out of a Cinebench r20 single-core run over say a 3600, but instead, AMD wants to emphasize the clock speed superiority of this silicon. To me, the gaming benchmarks better back this up.AMD put together a Cinebench R20 single thread test to demonstrate this, with the Ryzen 9 3950X being 22 percent faster than the Ryzen 7 2700X in this workload. Thanks to the clock speeds here, the CPU is also a single percent faster than the 3900X and also distances itself from the lower core count siblings too.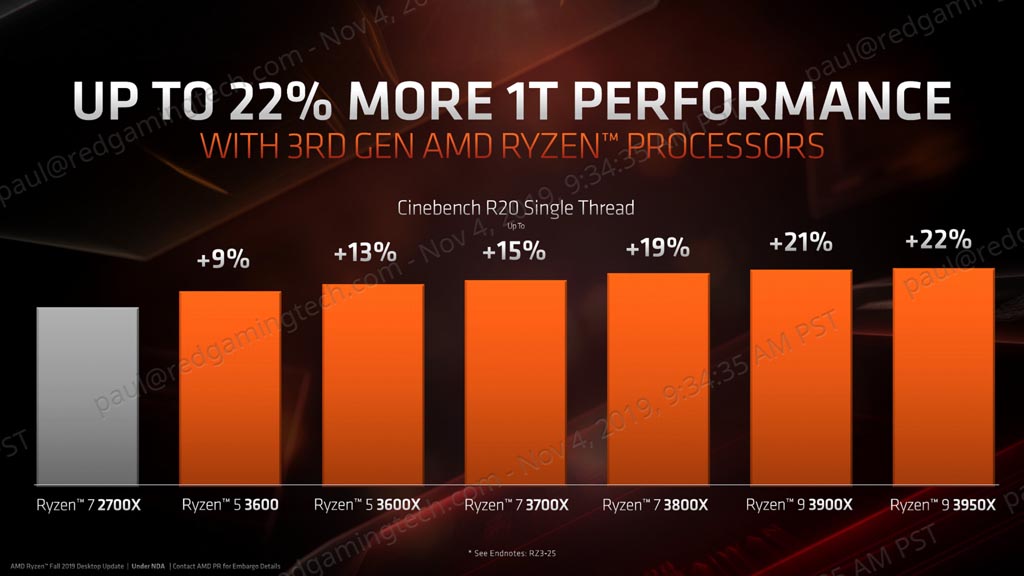 AMD compares the Ryzen 9 3950X against the I9-9900K and also the I9-9920X. The i9-9920X is Intel's currently fastest 16-core CPU, though Cascade Lake X will launch soon, but would likely say "we don't think the situation will change much."
They are also comparing it against the 9900K, and the KS is out – which does crank the clock speeds up a bit too so does marginally improve gaming performance. Naturally, overclocking any of these parts (particularly the 3950X) is an entirely different discussion.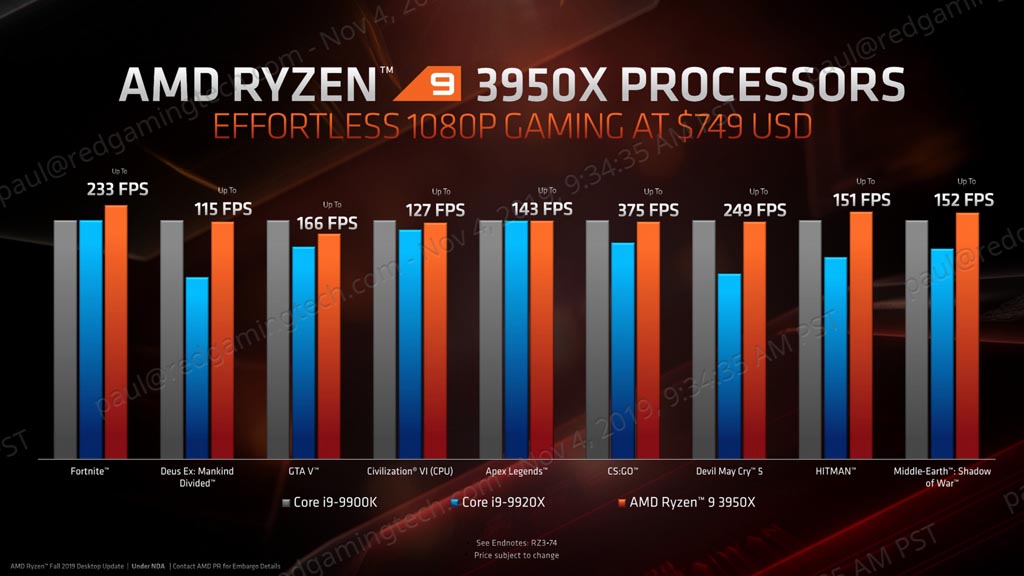 Either way, the benchmarks here tell the story – at 1080P gaming, putting the strain on the CPU, the 3950X is about on par with the 9900K. Unfortunately, AMD has omitted the FPS on the Intel parts… but I would say when it comes to gaming workloads, there's probably going to be not much more than the margin of error differences between these CPUs on average (for gaming).
Oh, and for those curious – these tests were apparently done with an RTX 2080 graphics card.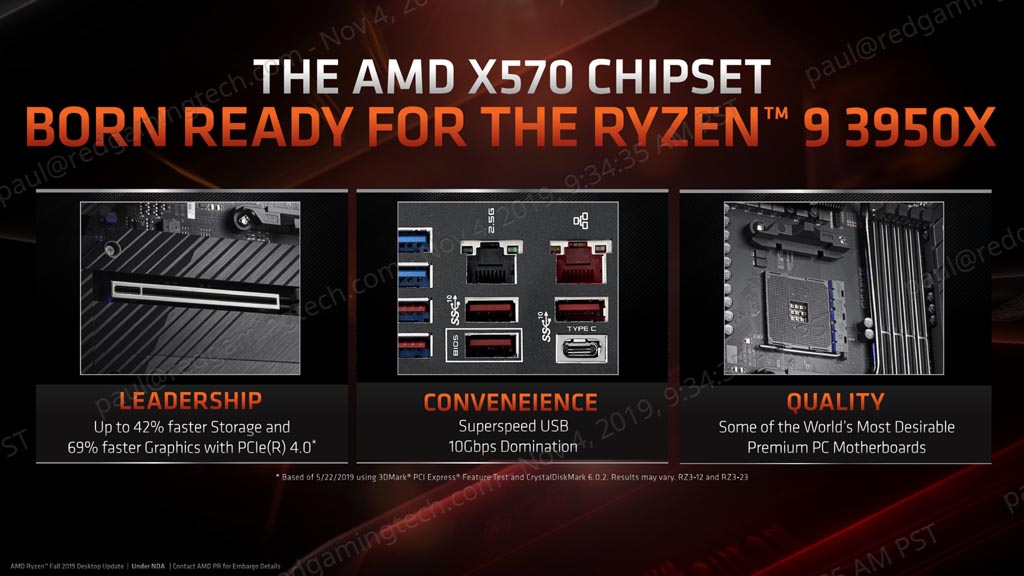 Intel can arguably say that with a 9900K at 5ghz they have the gaming lead, but not by much. Though the 9900K is a cheaper part, though also with an essentially dead platform. 
It's content creation the Ryzen 9 3950X really shines, and this is where things get messy for Intel. AMD loves to show Cinebench results, and honestly, this particular workload does show their CPUs in the best light possible. In isolation, these results wouldn't be as impressive as showing Handbrake up to 18 percent faster, DaVinci Resolve up to 46 percent faster, and LLVM compile-time up to 39 percent faster.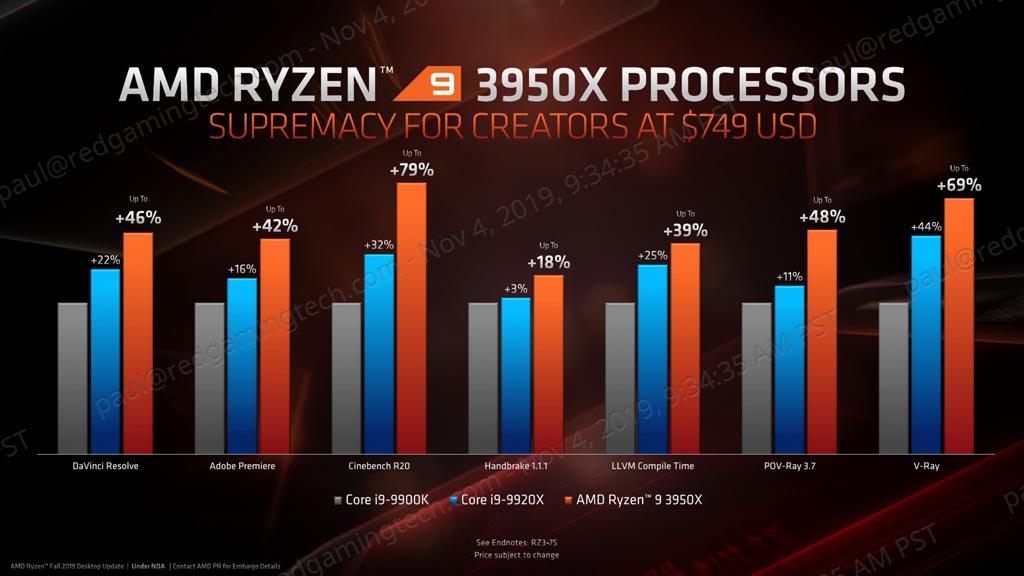 During the Cinebench R20, AMD claims to be about 30W lower than intel from the socket (measuring power consumption of the whole system from the wall socket… though of course the GPU isn't being loaded here). The 9920X figures are… well, pretty obvious.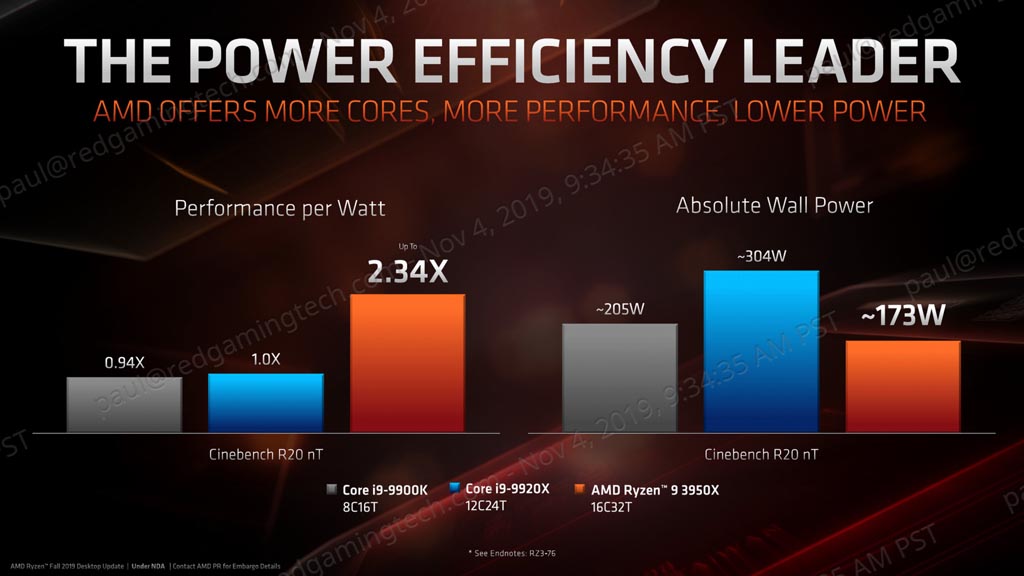 I will also point out that a high-end liquid cooler is highly recommended by AMD (they suggest a 280MM AIO as a minimum), but I think very few people were planning to pair this with anything close to a stock cooler anyway. As we all know, cooler = better with a Ryzen CPU and having 16 cores at full load is going to get quite toasty.
AMD also stresses that you will need to update your AGESA code to 1.0.0.4 before plonking in your Ryzen 9 3950X CPU. New BIOSES are rolling out now, and I've been inundated with emails from Biostar, MSI and so on all letting me know that they're pushing out the new BIOSes with haste.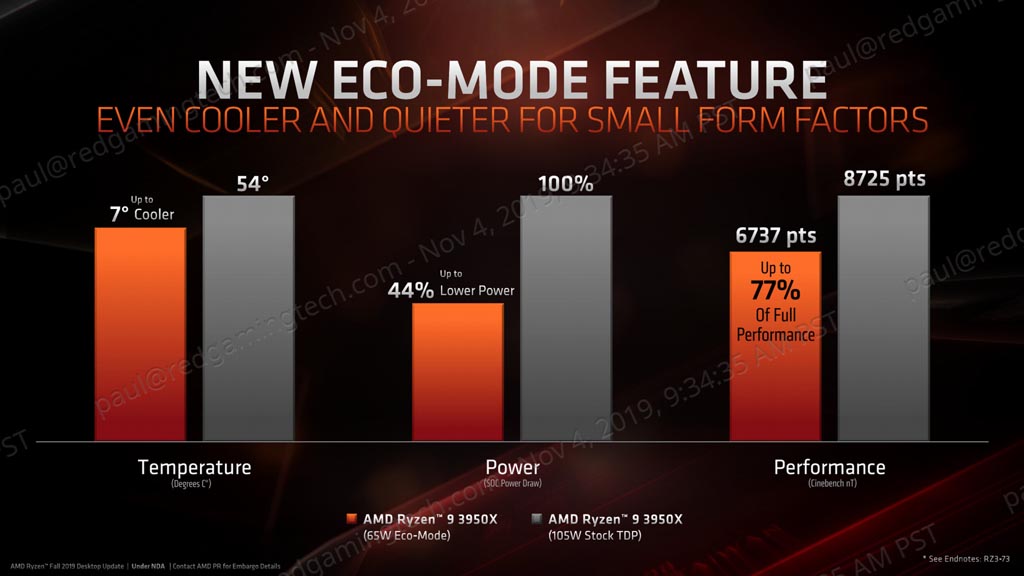 Oh, and also there is an eco-mode for the Ryzen 3000 too, and in this example, we can see that power consumption for the Ryzen 9 3950X is 44 percent less, but (in Cinebench anyway) you still have 77 percent of the performance. Unfortunately, AMD didn't provide info on the impact this would have on clock frequencies… but still, if you're doing less demanding tasks (such as say watching stuff or playing less demanding games) there's no harm enabling this and reducing your power consumption and temps.
AMD provided the below slide as a kind of performance summary of the Ryzen 9 3950X – they consistently point to the gaming performance being "comparable" to Intel's latest and greatest, while also throwing the Core I9-9920X under the content creation performance bus too.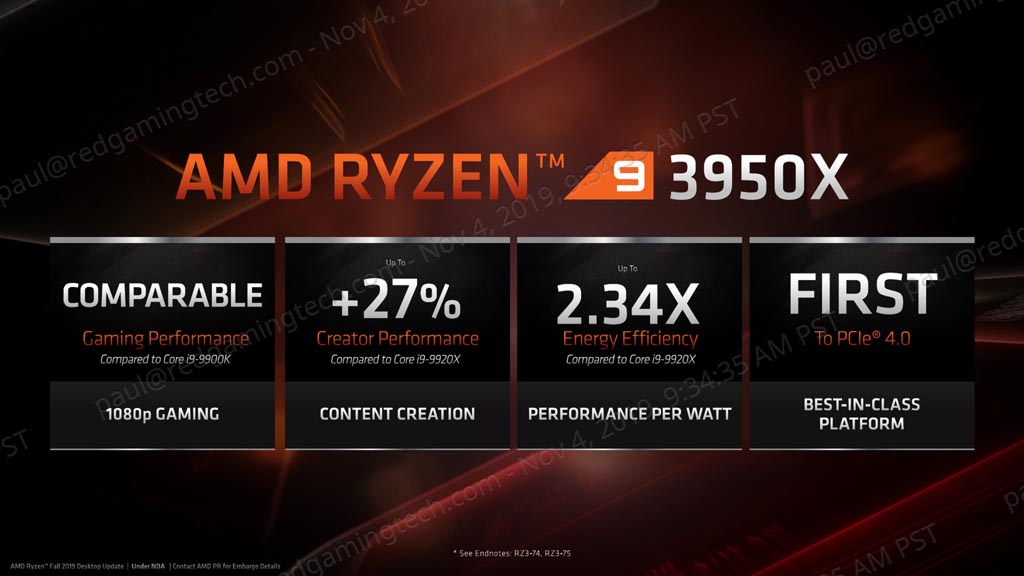 And now on to the third generation ThreadRipper parts. AMD kicked this part of the presentation off to point out that the HEDT market has been very lucrative for them, and they believe the market is worth about 1.2B USD. That's not a small chunk of change and a clear indicator that there's a significant and tangible market for this platform. The first generation of ThreadRipper's flagship, the ThreadRipper 1950X hit 16 cores (double that of the Ryzen 7 1800X), and the second generation's flagship (the ThreadRipper 2990WX) hit 32 cores, using the Zen+ architecture.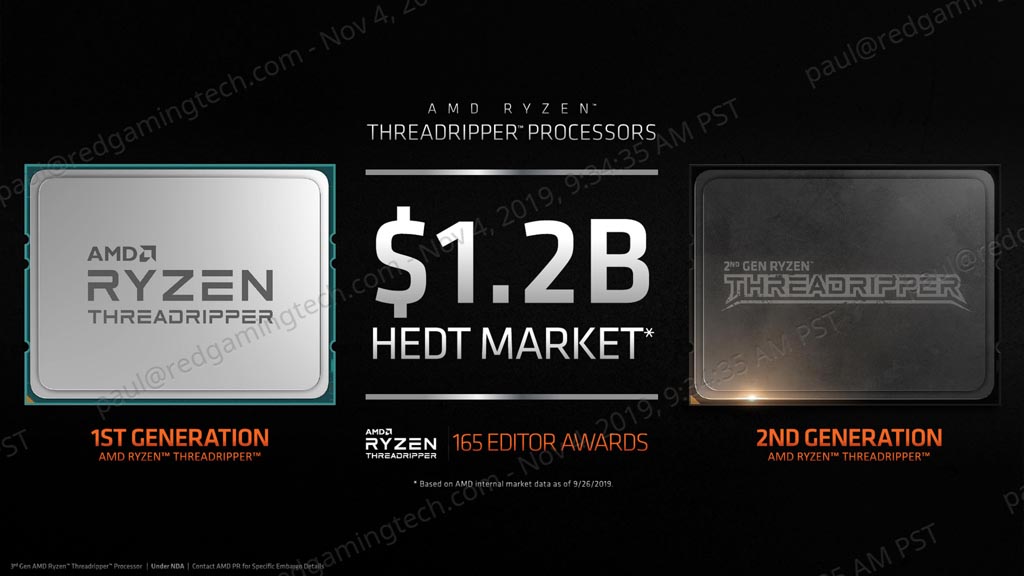 AMD went from not being present in the HEDT space in 2016 / early 2017, to being able to put out extremely compelling parts. AMD themselves admitted though during the press call that they see the Ryzen 9 3900 and 3950X being a great platform for people who need a more 'entry-level' HEDT experience. But for people who need the absolute best from AMD, they want to provide it with ThreadRipper third gen.
AMD is disclosing details of both the TR3960X and the TR3970X right now, and there's no mention of higher core count SKUs during our briefing. The ThreadRipper 3960X is a 24C 48 Thread Part, with 140MB of cache and clocks up to 4.5GHz with a base of 3.8. These CPUs are monsters, and as such come with a TDP of 280W. Oh, and assuming your current cooler on X399 can handle this TDP, it will work on the next-gen sTRX40 socket.  .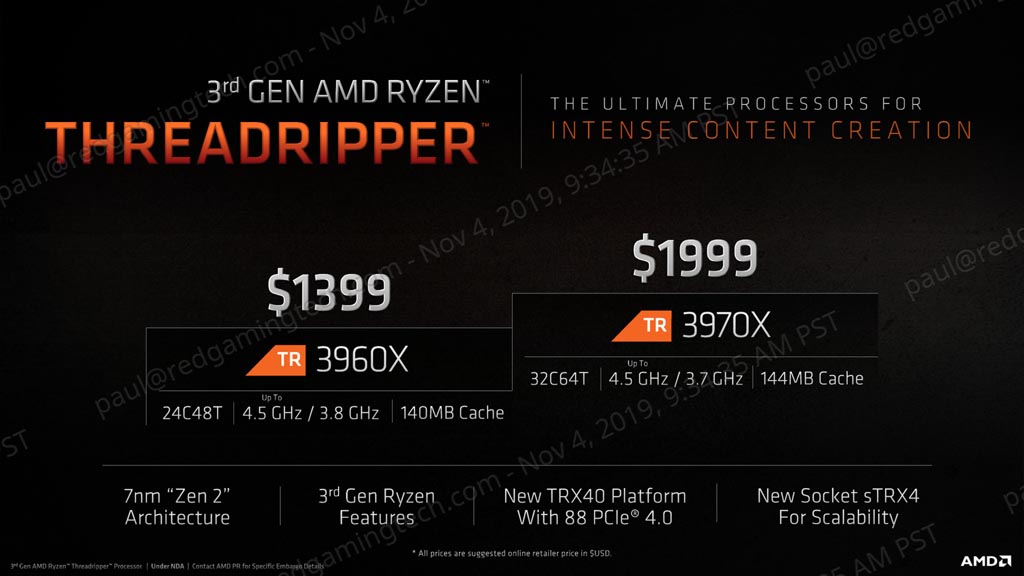 It's bigger brother is the ThreadRipper 3970X, with the teased 32 cores and 64 threads, with the same 4.5GHz turbo speed, though the base is 3.7 (100mhz less than the ThreadRipper 3960X). The cache is 144MB (if you're wondering, AMD is counting the L2 cache in this total. And the 8 additional cores of the ThreadRipper 3970X comes to 4MB, as each core houses 512KB L2 cache).
The price, however – isn't cheap. The 3960X and its 24 cores will cost you 1400 USD, and AMD will be asking for 2K USD for the 32 core part. While these prices aren't exactly cheap, don't forget that the I9-9980XE on launch was the same price. Also, in context, these chips aren't too dissimilar to the Rome processors found in high-end servers. The 7502 32-core CPU from the company isn't far off 3K bucks. 
Moving on to the platform and the rumors were right – it is indeed an entirely new socket and platform. So to be extra clear here, you cannot use an X399 CPU in an sTRX4 socket, or a ThreadRipper 3 CPU in an X399 board.
| | | | | | | | |
| --- | --- | --- | --- | --- | --- | --- | --- |
| CPU Model | Core / Threads | TDP | Boost Clock (GHz) | Base Clock (GHz) | PCIE Lanes | L3 Cache | MSRP (USD) |
| Threadripper 3970 | 32 / 64 | 280W | 4.5 | 3.7 | 88 (72 Usable) PCIE 4 | 128 | 1799 |
| ThreadRipper 3960 | 24 / 48 | 280W | 4.5 | 3.8 | 88 (72 Usable) PCIE 4 | 128 | 1999 |
| ThreadRipper 2990wx | 32 / 64 | 250W | 4.2 | 3 | 60 | 64 | 1799 |
The reason behind this comes down to IO and scalability, for one AMD has loaded the TRX40 platform with 88 PCI-E lanes (though 72 are available… we'll get to that in a moment). Robert Hallock stated that they "built some scalability into this socket, that wasn't available to us in the outgoing x399 platform."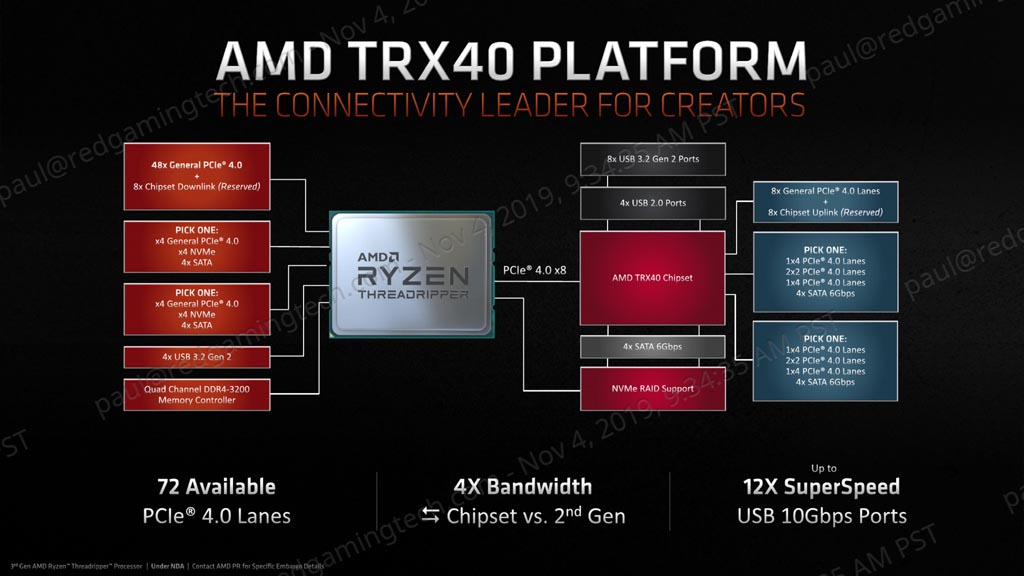 So, looking at the TRX40 platform diagram, and there are several things you'll spot. The first is that TRX40 is still quad-channel, officially supporting 3200MHz RAM (and yes, it does support ECC). AMD has also increased the bandwidth to the chipset 4x compared to the second generation X399 parts (this is because of an x8 link to the chipset (x399 was x4), and of course PCI-E 4 vs PCI-E 3). 
The platform was designed specifically to cater to high IO situations, so if you wanna outfit your system with multiple GPUs for machine learning, while also outfitting your system with a whole bunch of fast SSDs too for some VM work… Well, you go right ahead! 
Okay – well you drop 2K USD on a CPU, a more than a few pennies on the motherboard – and so on the obvious question – how does it perform, well the answer is… pretty well. In AMD's own official slides, they are comparing it to the ThreadRipper 3970X against the ThreadRipper 3960X, and also Intel's I9-9980XE.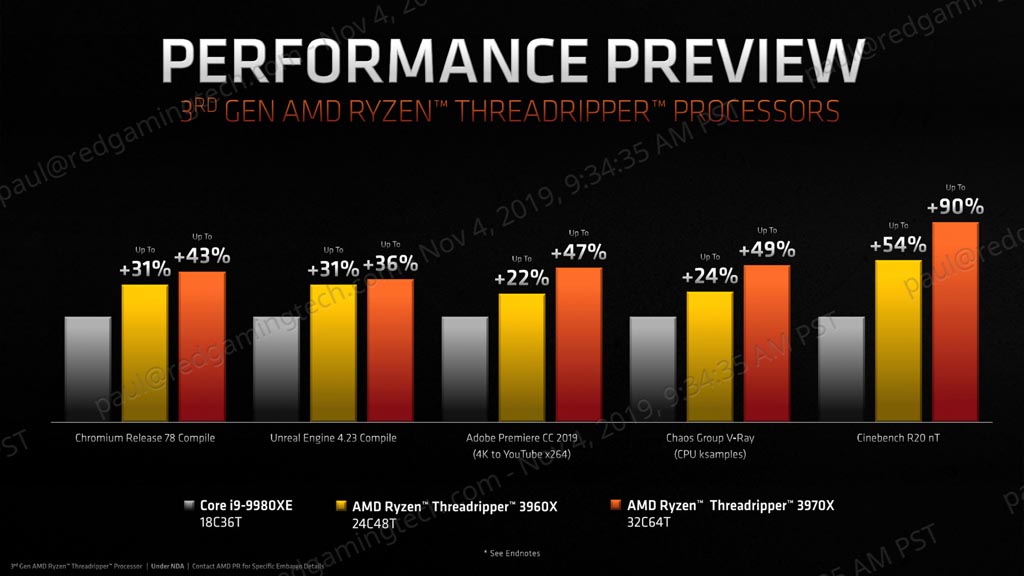 I will caveat this and say that to the 10980XE is due out soon (part of Cascade Lake X) and apparently, will be also about a 1K USD. So Intel's platform will likely be cheaper but features less IO and less raw performance – though naturally, we don't have many benchmarks here. Also, unfortunately, AMD didn't compare this against say the 2990WX CPU either. It'd be nice to have an apples to apples comparison in these benchmarks. However, when Robert Hallock was briefing the press, we were told that the "average performance uplift was 40 – 60 percent" when compared to the 2990WX. 
Either way, the i9-9980XE gets thrashed in these applications, typically falling about 40 – 50 percent behind compared to the ThreadRipper 3970XE. In applications that really love lots of threads such as (once again) Cinebench or V-Ray, the gap is wider. Judging purely on this limited selection of benchmarks, if you want the fastest home workstation possible – AMD has you covered. 
I will also bring up the point of the price of entry – during the call, AMD said that they expect the current generation ThreadRipper's to remain on sale as a way to cover the product stack at lower price points. 
I think this is a great decision on AMD's part, however, does have one obvious drawback – you can't easily migrate from one solution to another as it requires an entirely new motherboard. 
AMD has delivered as promised, and as always we look forward to seeing what's next from the company and how Intel chooses to respond to the threat. The ryzen 9 3950X and Threadripper 3000 series both launch November 25th, but the Athlon 3000G is available one week earlier.
Other Articles You Might Like