Let's be honest, right now if you're contemplating upgrading your PC in the next few months, chances are pretty high AMD's new Zen processors) are in the contenders pile. Around CES 2017 we'll see the AM4 platform be made available through traditional retail channels, but as of right now, AM4 is only available through OEMs. There will be four different chipset variants for AM4, with the highest end board featuring the X370 platform; likely serving as the platform of choice for users who wish to jump on Summit Ridge (the desktop version of Zen).
Starting things out with the general specifications which all AM4 motherboards share – we of course see the welcome switch to DDR4 and up to speeds of 2400Mhz is being touted. APU's will certainly take advantage of this, due to the higher performance GPU's requiring extra bandwidth, but it's also nice for system performance as a whole. Faster CPU's need more data to feed them, and (in theory) we could see some advantages to large data swaps over PCIe too if your GPU runs out of local RAM. Naturally, USB 3.1 Gen 2 is included, along with NVMe and finally SATA Express. Essentially, AMD have taken all of the features they've been missing out on with older platforms and jumped into the latest technology. It's not a 'win' for team Red, but it does mean user's have less reason to grumble.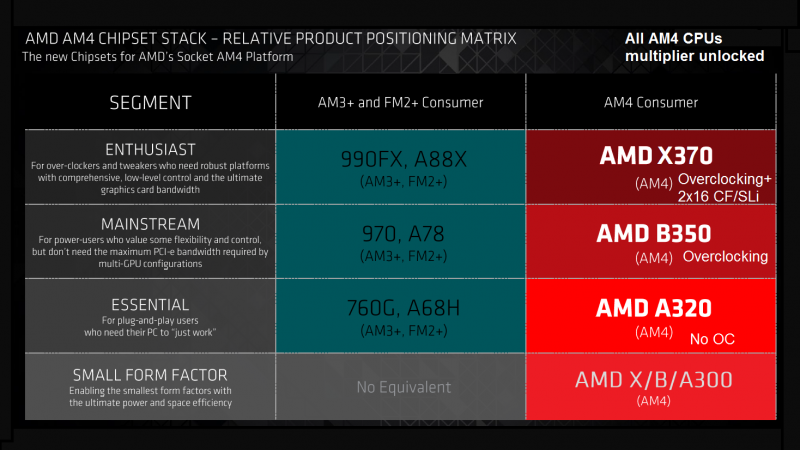 So let's talk details of the AMD X370 first, then move our way down the stack. AMD have confirmed that X370 will indeed support both CrossFire and SLI configurations thanks to two PCIe 3.0 x16 slots (assuming you're sticking a Zen CPU in there, remember the Bristol Ridge APU's are relegated to just x8 support). If AIB's such as MSI, ASUS or Gigabyte desire, they're free to expand on the number of PCIe lanes by use of a PLX chip. Because of the extra costs of adding the PLX on the AM4 X370 boards, it's possible AIBs will do this for only high end premium boards, but there'll doubtlessly be a market for such Summit Ridge boards.
Fine grained overclocking controls are another advantage wields over its X370 over its mainstream brother, the AM4 B350. From what we can understand, AMD will put in better GUI's (for easier control of the BIOS functions) and even better tools to allow for better overclocking and fine grained controls. Currently, overclockers playing around with the the Bristol Ridge lineup of processors are benefiting enormously with the unlocked multiplier of the AM4 platform. With luck, we'll see a similar situation with all of the Summit Ridge Zen lineup too.
We can therefore expect the usual adjustments, such as memory timings and frequencies, voltages and most likely various bus speeds across the motherboard, along with the requisite voltage controls for different components on the board. Exactly which 'overclocking+' controls the X370 affords you specifically hasn't been detailed as yet.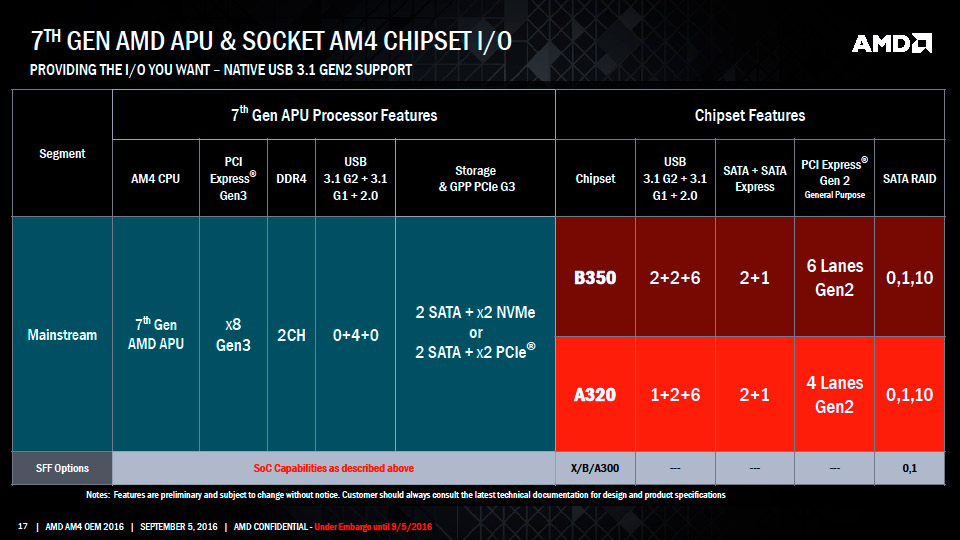 So with the B350, you're looking at a platform that still has a lot of overclocking potential, but isn't for those who're hoping to put in multiple graphics cards, and also aren't hardcore clockers. I suspect these boards could well be the best 'value for money' for folks looking to jump onto the Summit Ridge platform. Of course, AIB's will build boards with different quality standards (such as capacitors and voltage regulators) which'll impact a chips overclockability some, but with luck, these boards will serve the needs of the 'average' overclocker (say those who'd buy closed looped systems).
The lower end boards are the A320 and these are being described as aimed for users who just want their PC to 'just work' – in other words, they're not particularly bothered about tweaking CAS timings or running at the highest overclocks while running at the lowest possible voltages. You can think of it as a replacement to both the A68H and the 760G motherboards. This isn't to say there'll be absolutely no tweaking controls at all, but they'll be likely very vendor dependant and quite limited.
Finally, there's the SFF (Small Form Factor) A300 boards, and from the available information is going to be available at a cheap price, and act as a perfect platform for HTPC builds. Once again, there'll be extremely limited overclocking controls and no CrossFire / SLI support (which makes sense, you can't really stuff two high end GPU's in a SFF, and overclocking isn't the best of ideas).
https://www.youtube.com/watch?v=Asdw2xTKh_g
So with all of that said, the boards – especially the X370 and the B350 are feature packed enough to appeal to both gamer's and enthusiasts. But there does remain the obvious question – how well does Zen overclock. If you're reading this article in the distant future of early next year, you'll probably be better educated to that than I am currently. Right now, all we know is that the ES (Engineering Sample) Zen is happily trucking along at 3Ghz. But what the upper limit for the silicone is when AMD ship it, and what's left in the tank remains to be seen. To put it this way – if AMD releases the 8 core / 16 thread part at say 4.2Ghz, and the majority are happy to overclock to 5Ghz plus, there's a damn good reason to go for the X370, other than just the additional PCIe lanes.
If you're interested in more Zen analysis, be sure to checkout our article available here.
Source Planet3dNow
Other Articles You Might Like