If you've not been keeping up with the news for the past few months, AMD launched their RX 5700 and 5700 XT graphic cards back in the 7th July of this year. These GPUs are based on the RDNA architecture, and the core inside these two cards is Navi 10.
Well, since then there's been a lot of evidence AMD is gearing up to launch additional cards to bolster their range of product offerings using this next-generation architecture, these cards are known currently as Navi 12 and Navi 14.
Additionally, there's been little shortage of rumblings for 'Arcturus' which we've since much speculation (ranging from a follow up architecture to Navi, to its been cancelled, to an APU for consoles) we've learnt is actually a GPU designed specifically around compute, and based on the Vega architecture… albeit with some significant changes.
Starting things with Navi 12, and it is (probably) going to be the bigger of the two dies. There have been rumors that we'll see up to 4096 shaders (AKA, 64 Compute Units) and this would see the light of day in Q4 this year.
Lisa Su herself added fuel to this by teasing that Big Navi is "coming" (she also said the same about mobile 7nm Ryzen processors too) in a recent interview. Obviously, 4096 shaders is a significant increase from 2560 of the RX 5700 XT.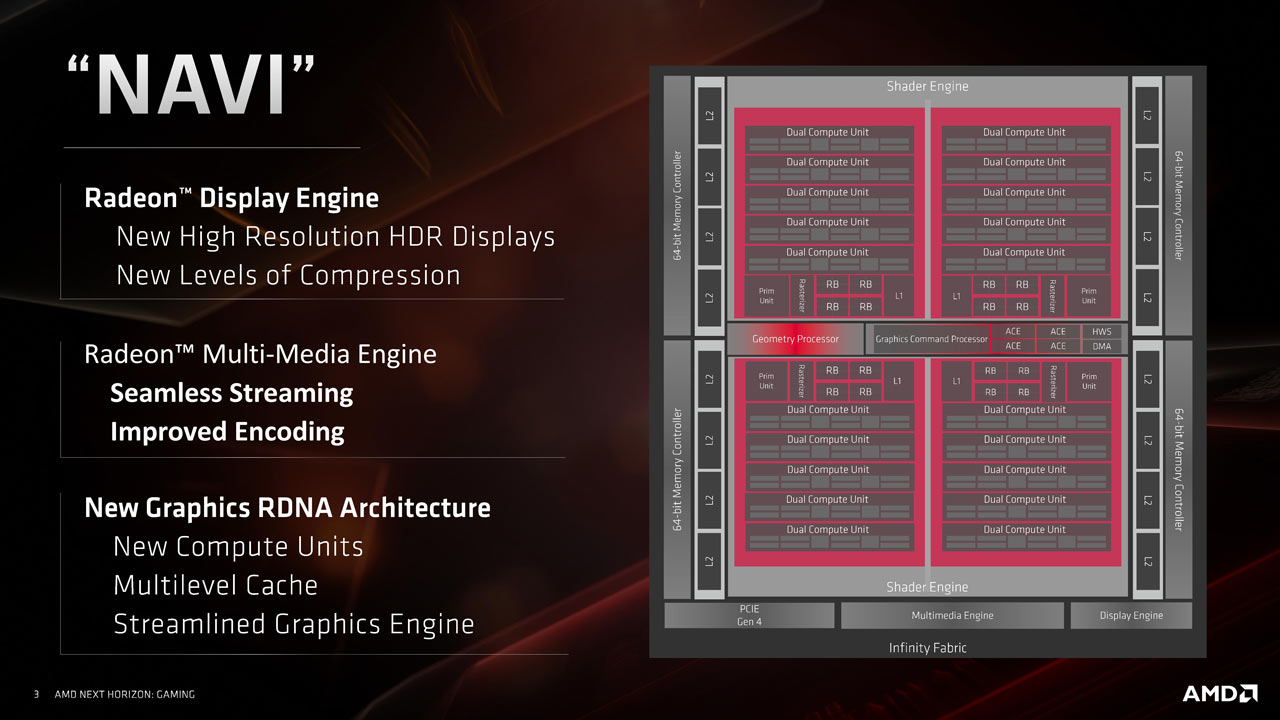 At a pure guess, assuming there are no issues with memory bandwidth (we can probably guess a wider bus, such as 320 or 352-bit) or other limitations in architecture that these cards will be similar enough to the RTX 2080 Ti in performance.
For the sake of this article, we'll assume these cards are the RX 5800 series, while Navi 14 is thought to be the lower performing parts and probably be similar to a GTX 1660 card from Nvidia. We can assume these will be called the RX 5600 series.
Discovered by the website Phoronix, AMD has just sent a pull request of the feature changes to their graphics driver (AMDGPU Direct Rendering Manager to be precise) for Linux. This is timed for the September Linux 5.4 kernel which should see an official stable release of November.
Here's a small number of the changes available listed on FreeDesktop.
amdgpu:
– Add navi14 support
– Add navi12 support
– Add Arcturus support
– Enable mclk DPM for Navi
– Misc DC display fixes
– Add perfmon support for DF
– Add scatter/gather display support for Raven
– Improve SMU handling for GPU reset
– RAS support for GFX
– Drop last of drmP.h
– Add support for wiping memory on buffer release
– Allow cursor async updates for fb swaps
– Misc fixes and cleanups
amdkfd:
– Add navi14 support
– Add navi12 support
– Add Arcturus support
– CWSR trap handlers updates for gfx9, 10
– Drop last of drmP.h
– Update MAINTAINERS
radeon:
– Misc fixes and cleanups
– Make kexec more reliable by tearing down the GPU
The timing of all of this (including updates referencing both Navi 12 and Navi 14 in OpenGL/Vulkan) and the rumor of the Q4 release, combined with Lisa Su's hints and it wouldn't be surprising if we do see a release.
This same pull request also adds Arcturus support, and this code seems to back up the theory that it's only for compute. Basically, this GPU is missing display IP blocks. This GPU also seems to have VCN 2.x (Video Core Next, AMD's video encoder and Decoder), which hints that at least some parts of the GPU are updated compared to Vega (which had 1.x).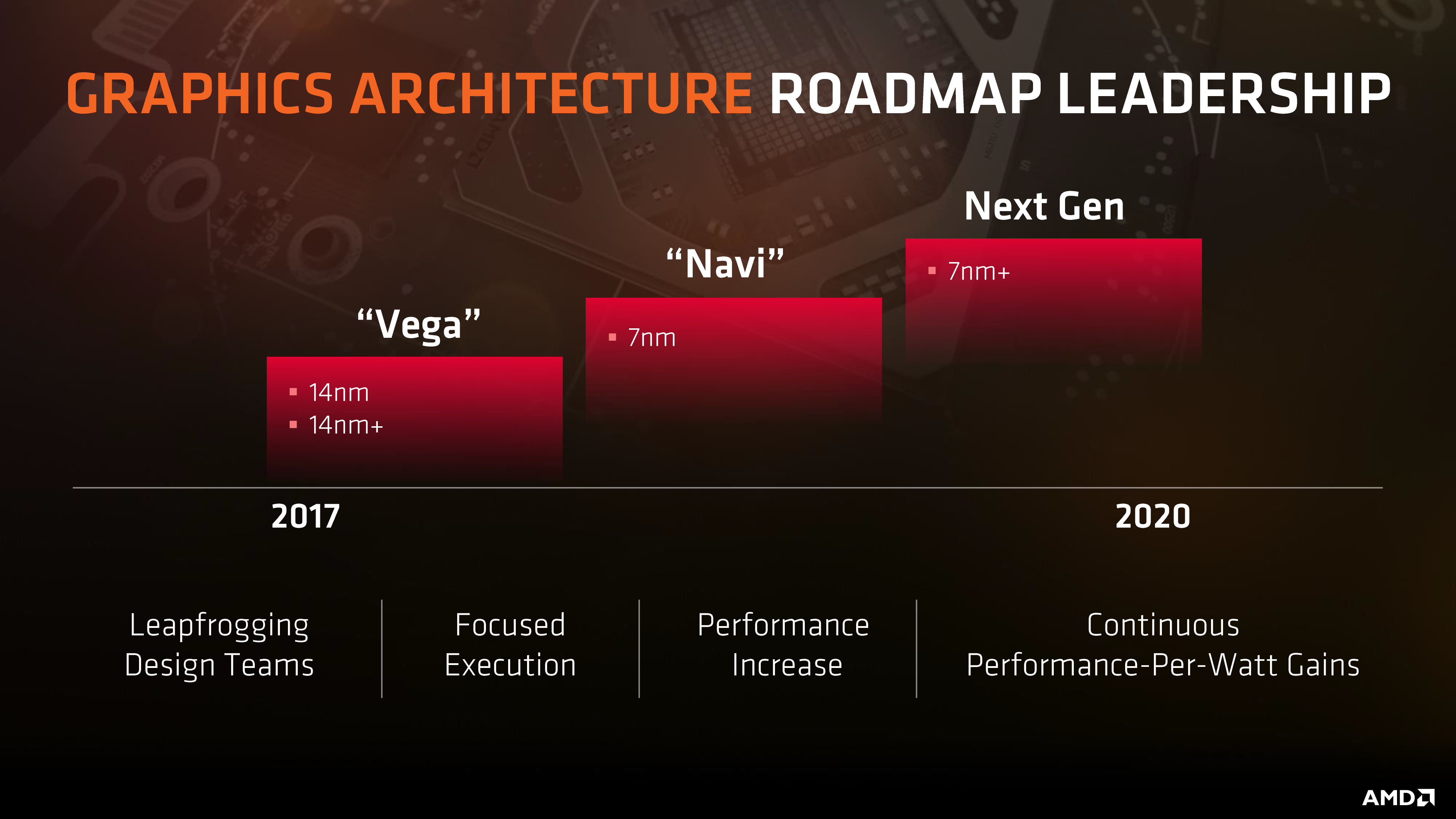 As you can see in the above roadmap, 'Next Gen' will be based on the 7nm+ process and will be appearing in 2020. We've since learnt that Next Gen will actually be RDNA 2, and will have numerous improvements to the architecture, including support for hardware Ray-Tracing. Something we actually leaked back in March.
Other Articles You Might Like