Like the expected lull in a storm, news from AMD went pretty quiet for a few months after the firm released their Polaris lineup of graphics cards. Since then, most of the news coming from the coming has been focused on their upcoming next generation CPU's, Zen. But times are a changing as yet further confirmation pops up showing the company are indeed working on a dual HBM2 Vega 10 part.
About a week ago, news broke that the high end Vega 10 parts will offer about 12 TFLOPS of single precision compute performance, thanks to 64 Compute Units, providing a total of 4,096 shaders (providing leaks remain consistent from what popped up on LinkedIn last year). But with those leaks came confirmation AMD were indeed developing a card aimed squarely at the prosomer / professional market.
These cards will be aimed primarily at the professional compute market (for example deep learning). As you can probably imagine from the title, the GPU's will indeed feature two Vega 10 cores and 32GB HBM2 RAM (to clarify, 16GB per GPU core).
According to the sources over at Fudzilla AMD's professional market team are currently hard at work putting the finishing touches on the card and in theory, the card should be shipping 'in volume' early 2017. There are rumors that we might get a demonstration of the card by the years end if AMD are far enough along in the Dual Vega 10's development.
In another set of leaks, we'd reported that Vega 20 will also see the light of day (perhaps a year later) and will be developed on a smaller 7nm process and possibly featuring HBM2 memory.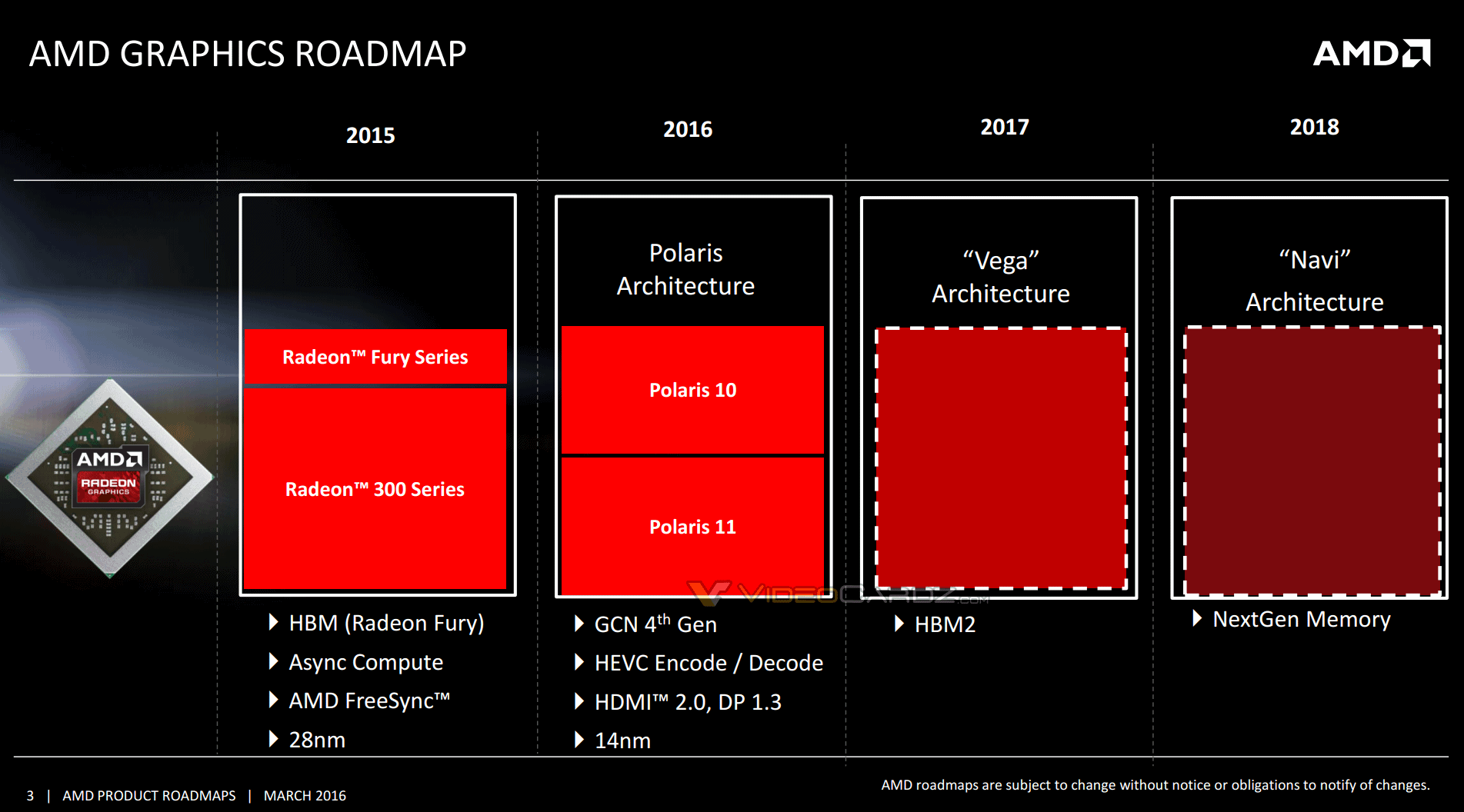 For folks who don't have the cash reserves of the US Government, the regular Vega 10 cards should be damn impressive in performance levels, and remember AMD are said to be scrapping the current Polaris 10 lineup and essentially releasing Vega 11 to replace it. We don't know all of the details of the refresh, but we can presume there'll be a performance increase due to tweaked silicone and possibly higher clock speeds.
Regarding the TFLOP performance of the Dual Vega 10 (Vega 10 Duo maybe?), we can't necessarily double the TFLOPS from the single Vega 10 card as it really does depend on clock speeds. But presuming we see a similarly configured number of shaders and clock speeds, obviously the GPU will put out at least 24 TFLOPS.
In theory, this will easily beat out the GP100 as it rocks a single precision performance of 'just' 9.3 TFLOPS, so we should see Vega 10 slightly pipping the Pascal architecture to the post – at least in TFLOPS. But as we've discussed a lot here at RGT, you can't always compare two architectures (especially when it comes to floating point) and say that "this is faster". As just like in the late 90's and early 2000's with the Mhz myth, it's about how efficient the architecture is too, and for whether Vega 10 or Pascal come out on top, we can only wait and see.
Other Articles You Might Like