At their recent Computex 2021 conference, AMD finally shared some details about their upsampling technology, FidelityFX Super Resolution. One of the things AMD's Scott Herklemann confirmed was that FSR will be supported on Radeon RX 6000, RX 5000, RX 500, and RX Vega graphics cards.
This naturally raised a large question mark in people's minds – why not the RX 400 series? After all, Polaris is Polaris. But now AMD have clarified that yes, the RX 480 and RX 470 will support FSR.
Mickey Molad, AMD Community Manager confirmed this via a Reddit post: "I just wanted to pass on the news that we are updating the list of compatible AMD graphics for FidelityFX Super Resolution (FSR) to include Radeon RX 470 and RX 480. We expect the website to be updated with this information sometime soon and we wanted to make sure you were aware. Looking forward to having you all try FSR out on the 22nd. ✌️"
But, that's not all AMD had to say regarding FidelityFX Super Resolution. There have also been questions of whether or not they will work to optimise the upsampling tech for Nvidia's GeForce cards. AMD have naturally been pushing that FSR is part of GPUOpen, meaning that it will of course work on non-AMD GPUs. But there is a world of difference between it "just working" on Nvidia's graphics cards and it being actively optimised for them.
Responding to Not an apple fan on Twitter, Scott Herkleman confirmed that the ball is squarely in Nvidia's court for that one.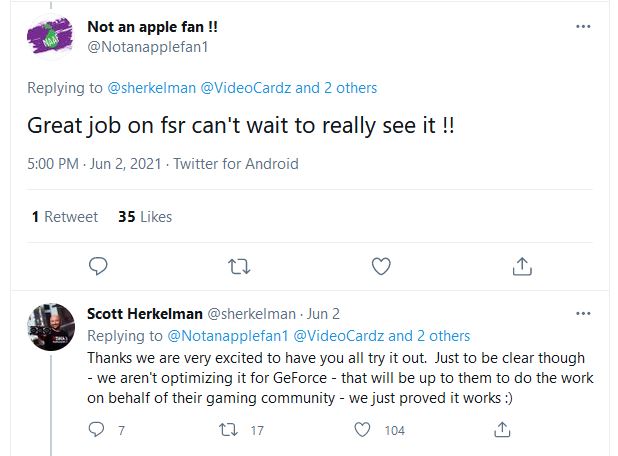 This news is not much of a surprise, but the real question is whether or not Nvidia will choose to put in the work for FSR optimisation on GeForce. With AMD finally stepping into the upsampling ring, Nvidia could use this as a chance to show off how DLSS competes against FidelityFX. Of course, whether that happens remains to be seen.
Other Articles You Might Like