AMD has built great momentum since the launch of the original Zen processors over two years ago, and despite their second-generation Epyc processors known as Rome only being announced days ago, the company are keen to emphasize its robust future roadmap.
Judging from what the company have disclosed in both roadmaps and comments, the 12nm Zen+ architecture launch last year was an anomaly. The original Zen was manufactured on a 14nm FinFet process back in 2017 and pushed AMD back in the CPU limelight. The architecture was used in three distinct lines of processors, the Ryzen 1000 series, ThreadRipper and finally Naples (the first generation Epyc).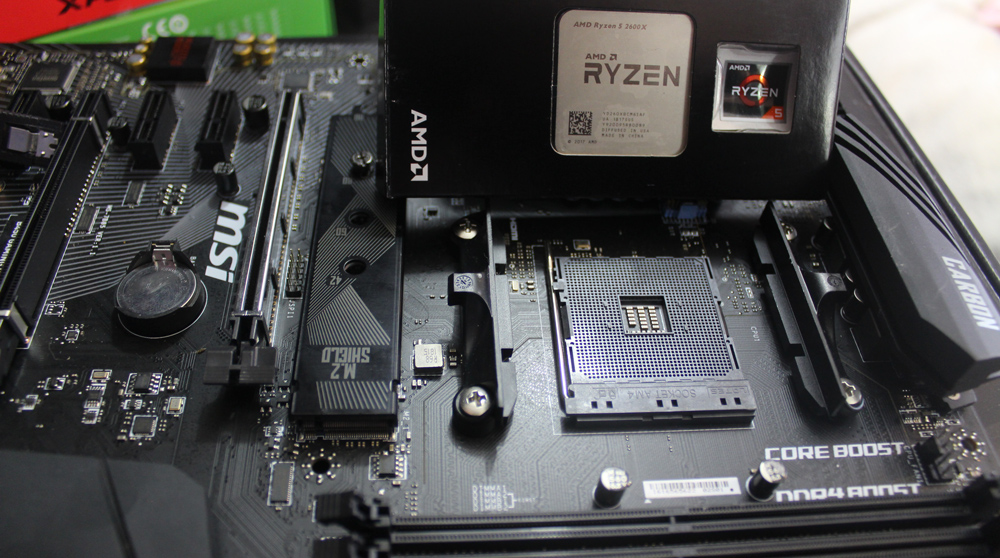 Team Red followed with the 12nm Zen+, which was very similar to the original Zen in architecture, but cranked up the clock frequencies, reduced latency and slightly improved the power efficiency. Our own testing verified AMD's own claim of between 2-3 percent IPC improvement over the first generation Zen. Not a revolution, but great for owners yet to jump into Ryzen.
Zen+ was only found in Ryzen 2000 and ThreadRipper 2000, with ThreadRipper being the biggest winner as AMD raised the core count from 16 processor cores of the 1950X all the way to 32 processor cores. AMD, however, stated that Epyc wouldn't get Zen+, and instead, it would be Rome that would the successor to Naples – that was using Zen 2 of course.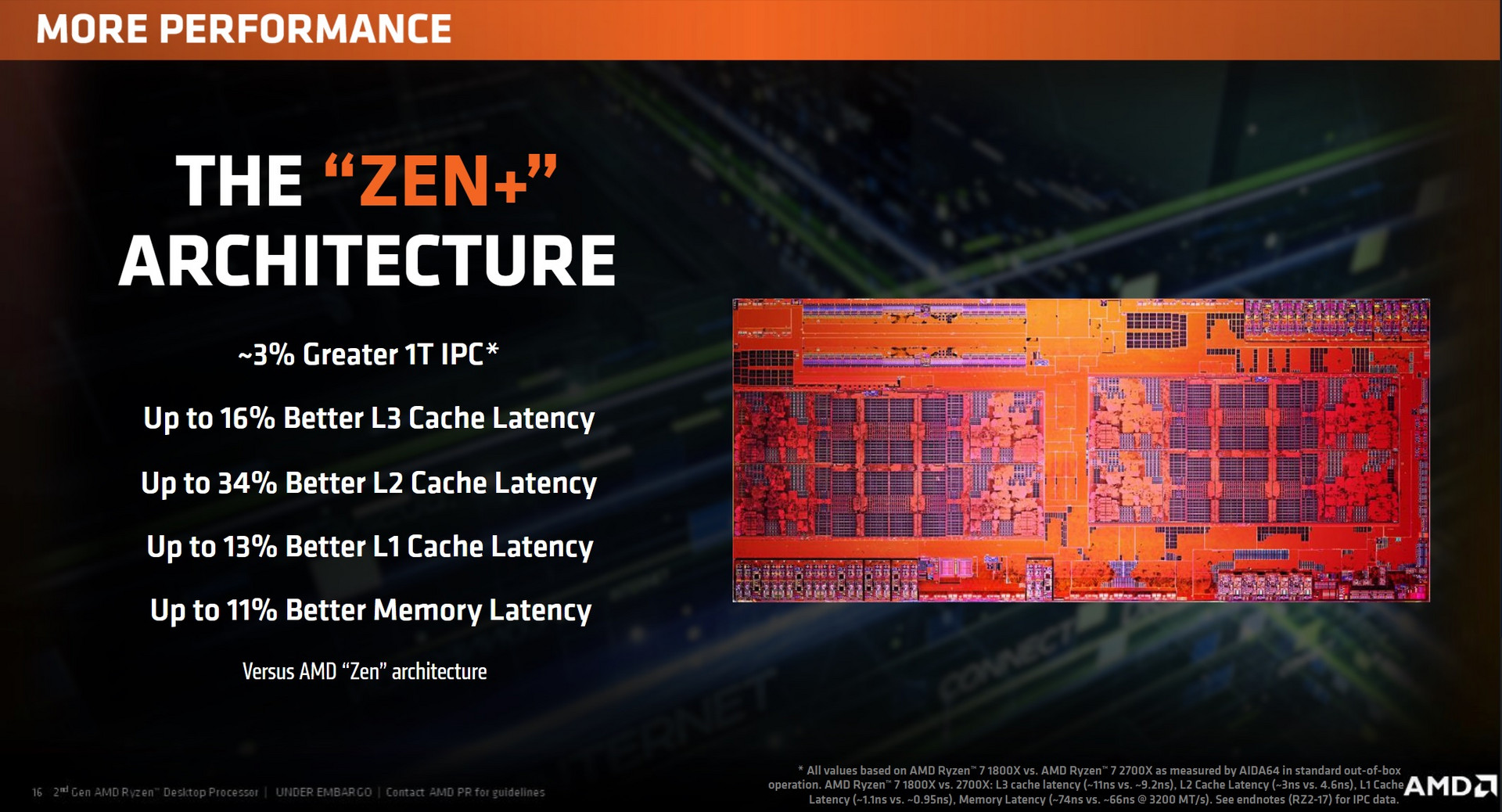 Zen 2 uses the 7nm manufacturing process from TSMC, and cranks the clock frequencies up higher than ever, plus brings numerous architecture and IPC gains. This time we can see 15 percent IPC gains from the older Zen architecture – certainly not a trivial feat. The chipset design also cranked core count up too – with the soon to release Ryzen 9 3950X sporting up to 16 cores, and Romes higher-end SKUs up to 64 cores.
Mark Papermaster (AMD's Chief Technology Officer) however said that the company both "Can't let up" and "won't let up" with its pursuit of performance.
"We are always working on the next designs while we are doing our current design," Papermaster was highlighting the 'leapfrogging design teams' approach AMD uses for its engineering efforts. In a nutshell, there is an overall project manager which helps coordinate the efforts of the design teams.
But the teams work on different architectures and are not competing with each other, instead, they share and empowering each other's ideas. So as Zen 2 is being worked on, they can share what they're learning (such as the strengths and weaknesses of Zen 2) with the team designing Zen 3, so they can attempt to fix those issues the best they can.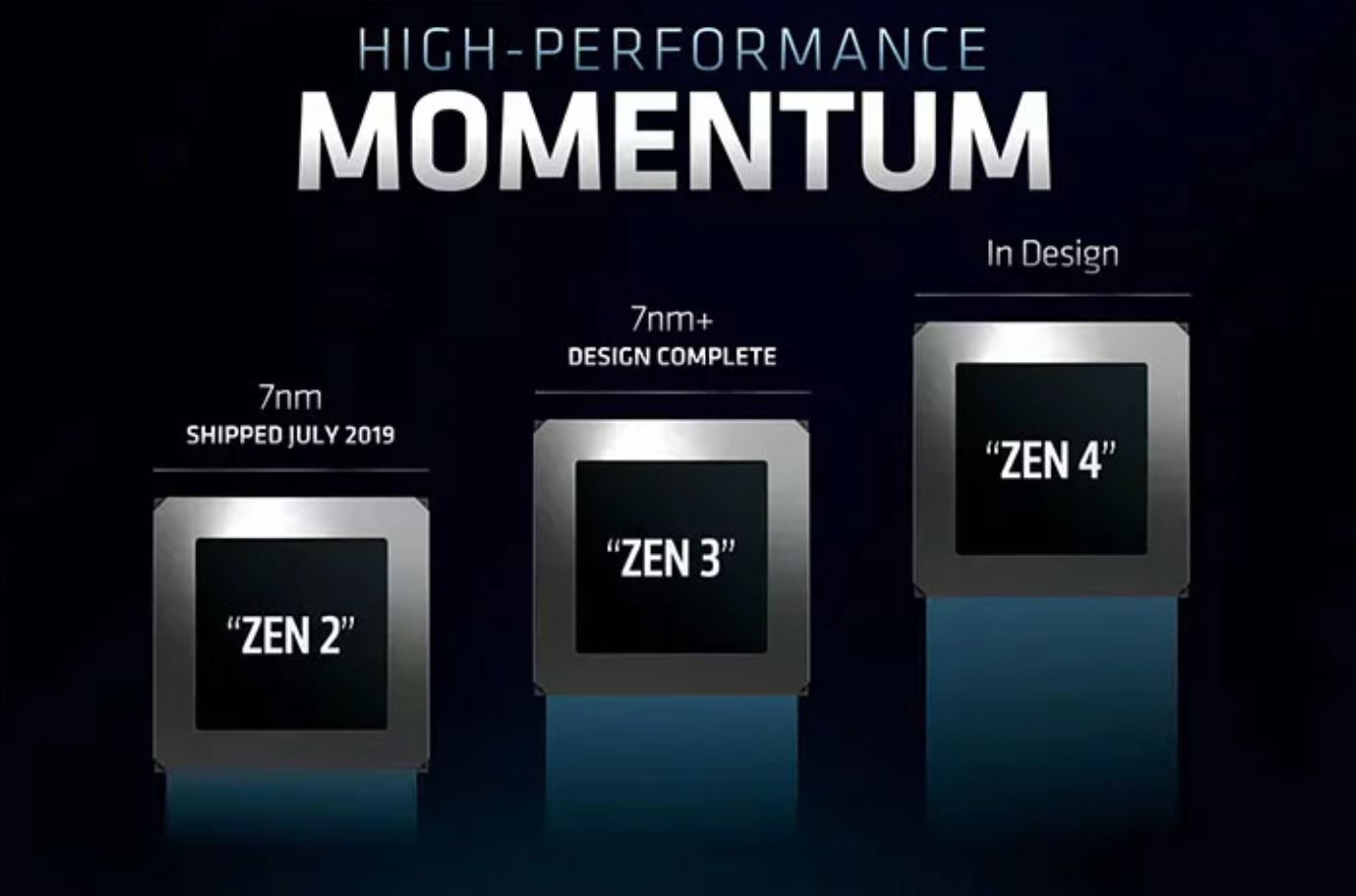 Mark Papermaster also confirmed that Zen 3 is "right on track" for launch next year, and a slide was used to solidify this assertion. Zen 3's design is complete, and Zen 4 is currently in the design phase.
This likely means that Zen 3 is going to start being tapped out, Engineer Sample processors created and then tested in preparation for the architectures release next year.
"We don't stop there, we already have our engineers working on Zen 4," he said. It's fundamental for us to keep momentum in the industry. We have focused on showing the industry we have a roadmap that we can delivery to enterprise and data center as promised."
"We know that's a highly competitive environment we are in, but for us, it is personal. We will not let up, you have our commitment," he concluded.

To put the new roadmap into context, this is the roadmap that AMD put out in the early part of 2018 when the original Ryzen was still current, and we were waiting on the release of the Ryzen 2000 series.
Details are scarce for Zen 3, and virtually non-existence for Zen 4. We do know that Zen 3 for the AM4 platform basically represents the end of AMD's backwards compatibility commitment. So, in theory, at least, Ryzen 4000 should still work on say an X370 motherboard (though we can guess without features such as the latest PCIe standards and so on).
https://www.youtube.com/watch?v=AKZ-pTctZ_w
There has been no shortage of other rumors for features such as SMT-4 for Zen 3, though whether this is either accurate or what line of processors would feature SMT-4 is… at best, questionable.
Zen 3 does use 7nm+, which means some of the layers use EUVL in the manufacturing process. In theory, at least, this should improve yields and offer around 15 percent better area scaling, as well as improving power consumption and performance. Performance is said to be about 10 percent better at same power consumption compared to the 'vanilla' 7nm process.
Regardless of all that, AMD is executing very well indeed, and with news Google, Dell, HPE and many other partners are jumping into the Rome ecosystem, AMD probably will have a pretty good future in the data center for at least the next few years.
Other Articles You Might Like