After months of waiting, speculation and rumor AMD have finally unveiled their next generation GPU's powered by HBM (High Bandwidth Memory), these GPU's pack quite the punch – 8.6 TFLOPS of performance for the Radeon Fury X – for example.
We've known the GPU's feature 4096 shaders, running at 1050MHZ and naturally features an ultra wide (4096-bit) thanks to the High Bandwidth Memory which runs at 500Mhz, thus providing the legendary 512GB/s of memory bandwidth.
| SPECS | Fury X2 | Fury X | Fury | Nano |
| --- | --- | --- | --- | --- |
| GPU | 2x Fiji XT | Fiji XT | Fiji Pro | Fiji |
| Shaders | 4096 x2 (8192) | 4096 | ? | ? |
| GCN Compute Units | 64 x2 (128) | 64 | 64 | ? |
| Render Output Units (ROPS) | 64 x2 (128) | 64 | ? | ? |
| Texture Mapping Units (TMU's) | 256 x2 (512) | 256 | ? | ? |
| GPU Core Clock | ? | 1050Mhz | ? | ? |
| Memory | 4GB HBM1 x2 | 4GB HBM1 | 4GB HBM1 | ? |
| Memory Interface | 4096bit x2 | 4096bit | 4096bit | 4096Bit |
| Memory Frequency | 500Mhz x2 | 500Mhz | 500Mhz | 500Mhz |
| Memory Bandwidth | 512GB/s x2 (1024GB/s) | 512GB/s | 512GB/s | 512GB/s |
| Performance (SPFP) | Over 17 TFLOPS | 8.6 TFLOPS | ? | ? |
| TDP | Over 375W | 275W | ? | 175W |
As you can see by reading above, the specs of the card are aimed primarily at high definition and Virtual Reality gaming. To power the the higher end Fury X you'll be asked to plug in two x8 pin PCIe power connectors.
The Radeon Fury X2 sports a wonderful design, with the two GPU's snuggled up fairly close to each other on a relatively tiny PCB made possible because of HBM, and thus eliminating the need for bulky GDDR5 and its supporting components. It appears that it only requires a max of 375W, hinted at because there are only two x8 PCIe power connectors.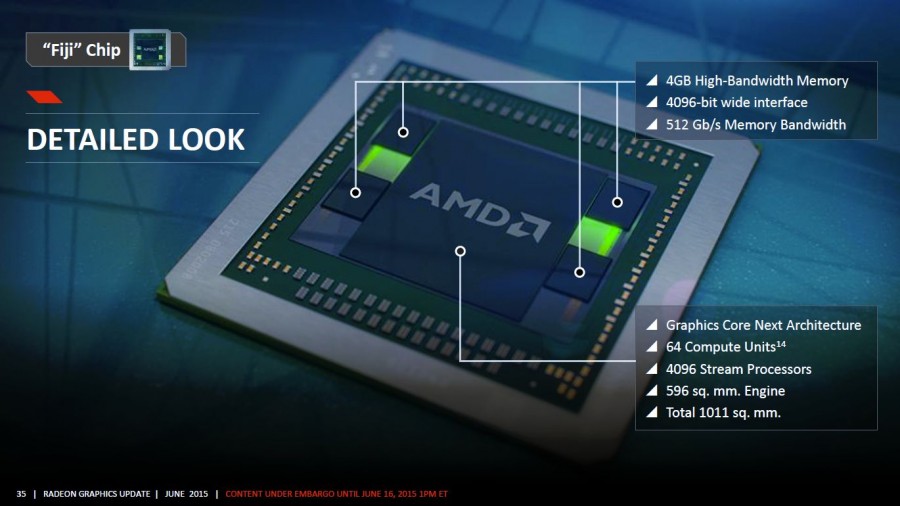 As depicted in the image above, the Fiji XT GPU will easily be the largest created by AMD, measuring 596 sq. mm in size, and if you count the area taken up by HBM, the space goes up to a staggering 1011 sq. mm in size.
In the above image you can see how the GPU manages to cram in 64 CU (Compute Units) into such a relatively small space, and how the HBM intersects with the GPU on the left side.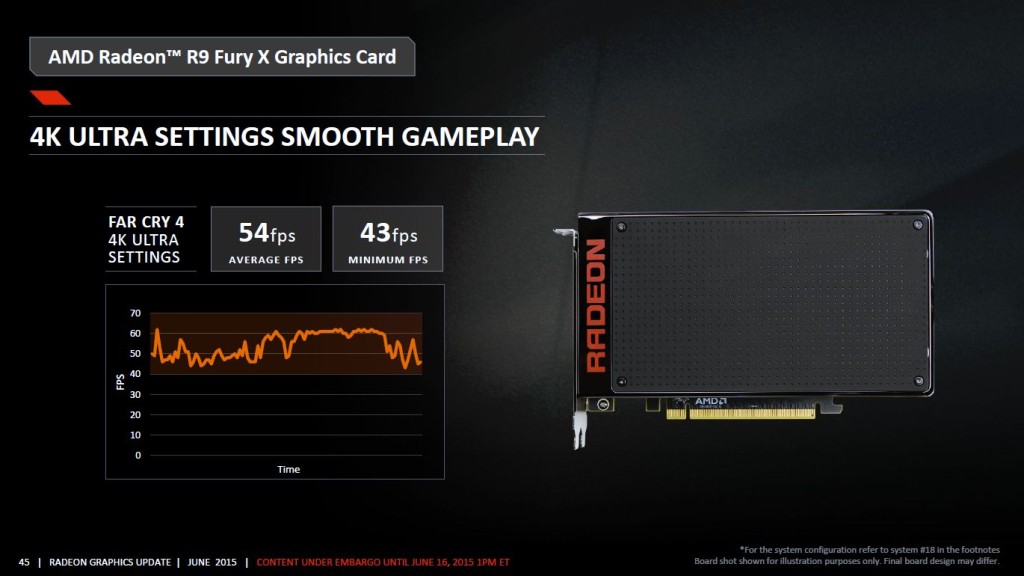 Performance results are still early and AMD are being a little shy, but they have revealed that the GPU obtains an average of 54 FPS… at a resolution of 4K. If drivers improve performance further in the upcoming months, it's possible they could hit 60FPS at 4K, and goodness knows what the Fury X2 would be capable of.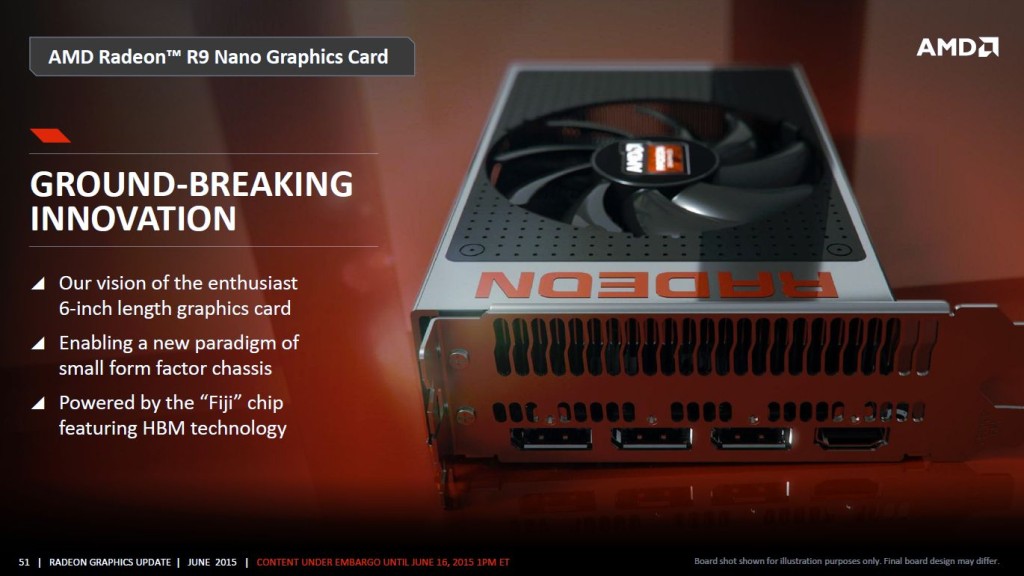 Regarding the Fiji Nano – don't concern yourself too much thinking that it's a gimmicky card not built for performance. AMD are keep rather quiet on the matter, but have said that the card will beat out the R9 290X in performance, and considering it's smaller than many low end cards that's damn impressive.
The card will naturally be rather popular for those PC gamer's interested in building small form factor systems (either for LAN events or for living room gaming). It should pack more than sufficient punch to deliver gameplay at 1440P, and possibly even 4K in some games (assuming no Xfire).
It's likely the card will feature a cut down Fiji core, with fewer shaders found in the Fury. It will act as a great means for AMD for to get rid of silicon which doesn't quite meet up to the criteria of the fully fledged hardware.
Stay tuned for our coverage and reviews of AMD's Radeon hardware!
Other Articles You Might Like