As regularly readers and viewers will know, there are two known Polaris based Radeon GPU's to be released this year, the Polaris 11 and the Polaris 10, with Vega 10 (the Fury / Fiji replacement cards) to see release during 2017.
Rather counter-intuitively, the Polaris 11 is actually the lower end of the two cards, and also the more mysterious of the two new SKUs. Polaris 10 is the core which is said to be featured in the upcoming Radeon R9 490 and R9 480 cards, and was displayed during AMD's Capsaicin event running Hitman at 1440P, DirectX 12 mode with everything at the highest settings and (if reports are to be believed) was being artificially limited to 60FPS.
Polaris 11 meanwhile is the less quantified of the two GPUs, is said to be competing TDP-wise with Nvidia's GTX 950, while offering more performance. It was shown off in the same event running 4K VR content passively (without an active fan), but little else was revealed, aside from a video comparing Polaris 11 to a GTX 950 for power consumption.
A new report has surfaced which details some of the potential specifications of the Polaris 11 '67FF' (the device name is actually Goose) card, which features 16 Compute Units. If the number of Stream Processors (shaders) for GCN 4.0 remains the same as it has in the past, we should see the maths play out like this: 16 Compute Units x 64 Shaders = 1024 Unified Cores.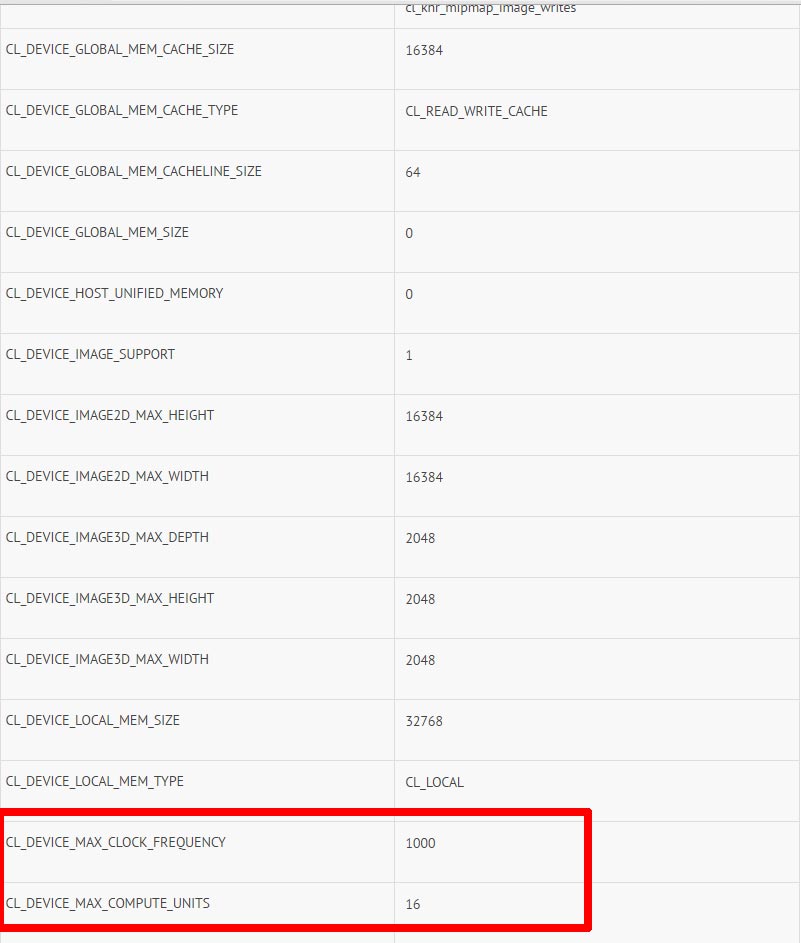 Assuming the fairly conservative clock speed of 1GHZ reported by CompuBench is accurate, we should see somewhere in the region of 2TFLOPS of computing power. But, before you rush off, it's worth us investigating a little further.
We know from previous leaks (thanks to AMD's own Linux Driver) there are six Polaris 11 GPU's listed. Whether or not this particular Polaris 11 SKU's 16 Compute Units represent the highest end configuration, the lower end or simply falls somewhere in the middle. Given the previous GPU's in AMD's lineup (the 2xx and 3xx range) there's a possibility we should see the Polaris 11 feature up to 1280 Stream Processors.
It's important to remember that Polaris is considerably more power efficient than the previous generation of cards, thanks to lower TDP and higher transistor counts brought in by the 14nm FinFet process. With these changes, plus improvements to cards compression, efficiency (such as Primitive Disgarding) we should see a healthy boost over current 28nm cards from both companies.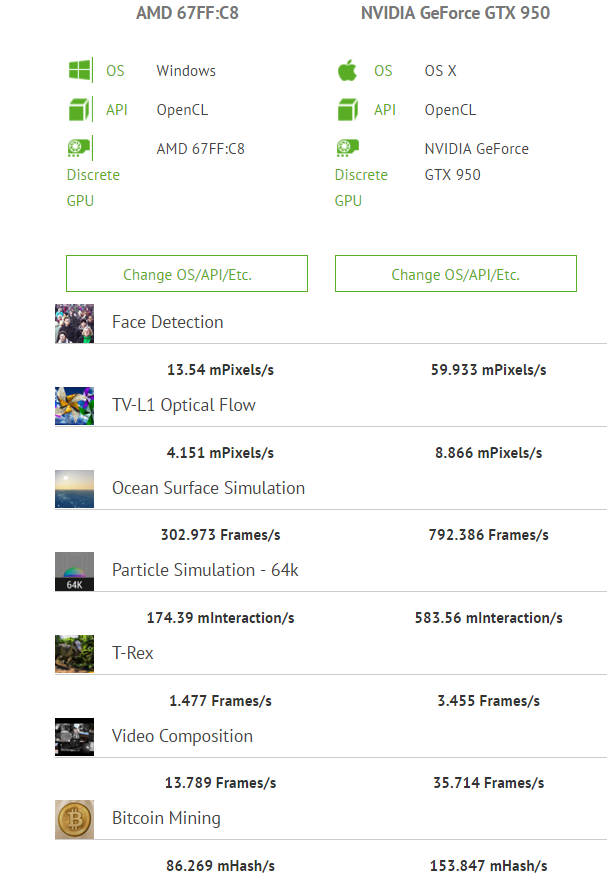 Comparing Nvidia's GTX 950 against the Polaris 11 67FF:C8 isn't exactly fair, as for one thing we don't know the pricing range of the Polaris based card, testing conditions or driver information (or even if this SKU is close to complete) – but it does at least provide some information in OpenCL. We might also see the GPU not running at its maximum clock speeds (including boost) so there's also that to consider too. Indeed, it's more than likely that the card (given what we're seeing) is running at idle speeds, and therefore benchmark performance here should be taken accordingly.
Unsurprisingly, the GPU features a bus width of just 128-bit, but this is ample to keep the cores fed, particularly considering further improvements to memory compression with Polaris / GCN 4.0 compared to the older model cards. The Polaris 11 will probably feature the usual mixture of either 2 or 4GB, though it's less clear if the memory will be either GDDR5 or GDDR5X.
You might recall earlier in this article, we talked about the power consumption of both Nvidia and AMD GPU's during Star Wars Battlefront. The setup was pretty simple – an Intel Core I7 4790K with 16GB of memory running windows test was asked to run a Battlefront demo at 1080P (Medium settings) with power consumption measured. The Polaris card sucked up just 86W of energy, while the GTX 950 drew 140W of power; a stark difference indeed.
For with an interested in the Polaris 10 SKU's, rumors suggest the GPU's will feature at least 2,304 Stream Processors, thanks to a total of 34 Compute Units, with 8GB GDDR5X RAM. With any luck, we should see the GPU's be announced during Computex this May.
Other Articles You Might Like