AMD's latest graphics card, the R9 285 'Tonga' has arrived and is faster, more efficient and cooler running than the R9 280 and gives Nvidia GTX 760 a lot of competition. As many in the tech industry had guessed via rumor, the R9 285 is based on the third iteration of the Graphic Core Next architecture, GCN 1.2. The GPU sports several improvements in core design and technology over its predecessor, Gigantic improvements to bandwidth efficiency, tessellation performance, texturing, compute and the geometry engines performance work to separate the 285 from the other models. All of this, despite clock speed and ALU shader count of the R9 285 not seeing an increase over the older R9 280.
We've already reviewed the R9 280 here, so if you need to know more about its architecture check out that review. For all intents and purposes, this Tonga is a 'lighter' on the shaders version of Hawaii, the very same architecture behind the R9 290 series. AMD have Nvidia's GeForce GTX 760 firmly in their sights with the R9 285, hoping to tempt gamer's who're looking for a reasonably priced 1080P (and entry level 1440P) capable graphics card away from team green. Clearly, the $200 – $300 range of graphics cards has always been super competitive, and so AMD's made it their mission to create a cheaper to produce and power efficient GPU so they can try and beat Nvidia at both the price and performance game. Have they succeeded? Well, let's take a look.
Tonga Tessellation, Geometry and Instruction Improvements
The GPU is still built on the tried and tested 28nm technology, both Nvidia and AMD are having problems with die-shrinks right now, as is evidenced by Nvidia eventually relenting and using 28nm once again for their eagerly anticipated Maxwell GPU's. While the standard core speed of the R9 286 is 285 MHZ (although, our Club 3D version had a super mild overclock to 943MHZ) there seems lots of room left for higher clock speeds from what we're hearing on the net. It makes us wonder why AMD were so conservative with the clocks, perhaps something for them to revisit in the future?
AMD proudly announce that the R9 285's Tonga features 2x to 4x the tessellation performance of the previous generation Tahiti. This number at first does sound suspiciously like a PR figure, but AMD have in fact made several large improvements to their architecture to achieve this bold claim. The first of these changes – adding four times the number of Asynchronous Compute Engines (eight vs two ACE of the previous generation GPU). This also will have a nice added side benefit of improving performance from titles which will use a lot of compute shaders. With the increasing usage of compute in video games (thanks in part to the next generation consoles), more is certainly a good thing. Furthermore, AMD used the very same quad shader layout that the R9 290's Hawaii uses was implemented, allowing four primitives to be rendered per clock cycle instead of a mere two.
Tonga boasts an improved the instruction set, adding in native support for 16 bit floating point and integer values. Low power compute or multi media setting and saving memory bandwidth (albeit with a marginal quality loss) will benefit from this. Previously, AMD's GPU relied on 32 Bit float and integer only, which quite frankly is sometimes a waste of resources in situations were it isn't needed.
There are four shader engines, each responsible for a total of 7 Compute Units (CU). As is standard in the GCN architecture since its initial inception, each of these Compute Units contains 64 shaders (ALU). A little math (28 CU multiplied by 64) means the R9 285 contains a total of 1,792 shaders. This is the exact same number as the older R9 280, for reference the R9 280x features 2048 shaders.
Interestingly enough, there are four disabled CU's on the R9 285 (bringing the total up to 32, or 2,048 shaders) – although AMD of course won't comment on their future plans, it does provide them room to release another GPU in the future with extra grunt. If our overclocking results with the R9 285 are anything to go by, AMD could also raise the clocks for this theoretical GPU too.  While we're on the subject of shaders and instructions, another improvement – data is now able to be shared between SIMD lanes. This allows much greater parallel processing performance on instructions.
AMD have slightly cut down Tonga by reducing the render back end to only two, rather than the four of the R9 290 series. Each of these are capable of rendering four full-color pixels per clock, for a grand total of 32 pixels per clock cycle. All in all, this leaves us 32 ROPS to complete the card (compared to 64 in the R9 290 for instance), which is more than sufficient given the performance segment the card is targeting.
The R9 285 features two other important pieces of technology, the first being AMD's TrueAudio technology, which is AMD's own version of an audio processor. The second, and I suspect the one most gamer's will be interested in is FreeSync. This is AMD's answer to Nvidia's well received G-Sync technology, offering the best of both the V-Sync enabled and disabled worlds.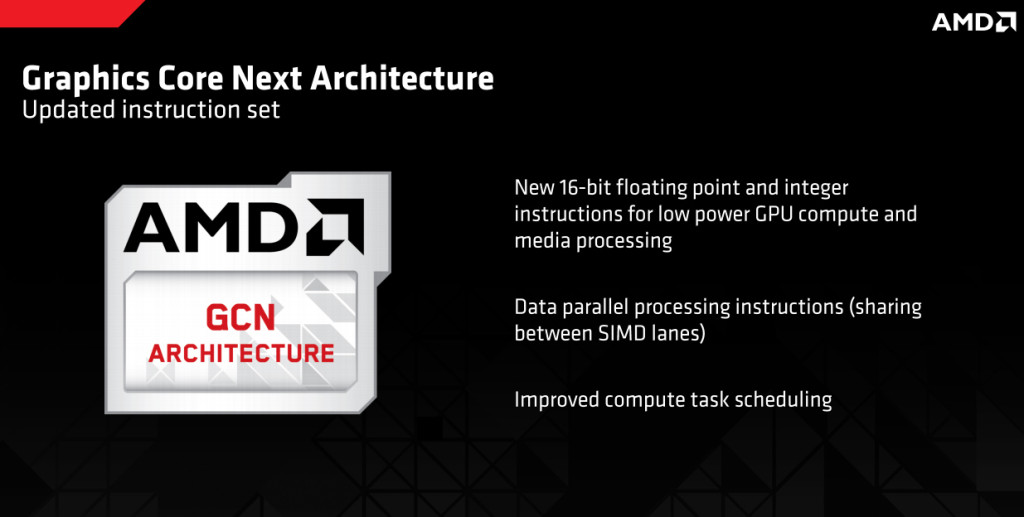 The Memory Bandwidth Question
Memory bandwidth of the R9 285 has received a rather steep cut in total memory bandwidth, as the cards bus width has been reduced from 384 bit to only 256 bit, which is the same as rival's Nvidia's GTX 760. AMD haven't just cut the bandwidth without taking necessary steps to ensure performance is unaffected (at least for the most part, we'll get to that). They claim to improve the efficiency of their memory bandwidth by 40% by enabling the GPU to both read and write frame buffer color data in lossless compressed format (think of lossless as say zipping a file if you need a visual image). The R9 285 also has slightly faster GDDR5 Memory clocks too, 5,500 MHZ (up from the 5,000 MHZ of the R9 280). So you're left with a total of 176 GB/s of memory bandwidth compared to 192 GB/s for the R9 280. It'll be curious to see if the compression can in real life benchmarking make up for the lower total bandwidth.
Unfortunately, the 29 285 also sports less memory than the 280, down to 2GB of GDDR5 from the previous 3GB. 3GB is likely overkill for 1080P, at least for now – but 1440P gaming, particularly if you're intending on cross-firing the cards down the line, would benefit from the additional memory. It's also quite well known that AMD's Mantle technology is memory hungry too, which may negatively impact the Mantle performance of the R9 285 compared to that of the 280 in Mantle tests. Future memory usage in games remains in question – and really comes down to what resolutions you want to run at.
While AMD do market the R9 285 as an entry level 1440P card, with only 2GB of GDDR5 RAM you will certainly run into problems with certain titles (Titanfall, Watch Dogs, Crysis 3 are a few examples). With that said, other games such as Batman and Metro are quite happy to play with lower RAM usage. In 1080P the additional VRAM isn't really an issue in our tests.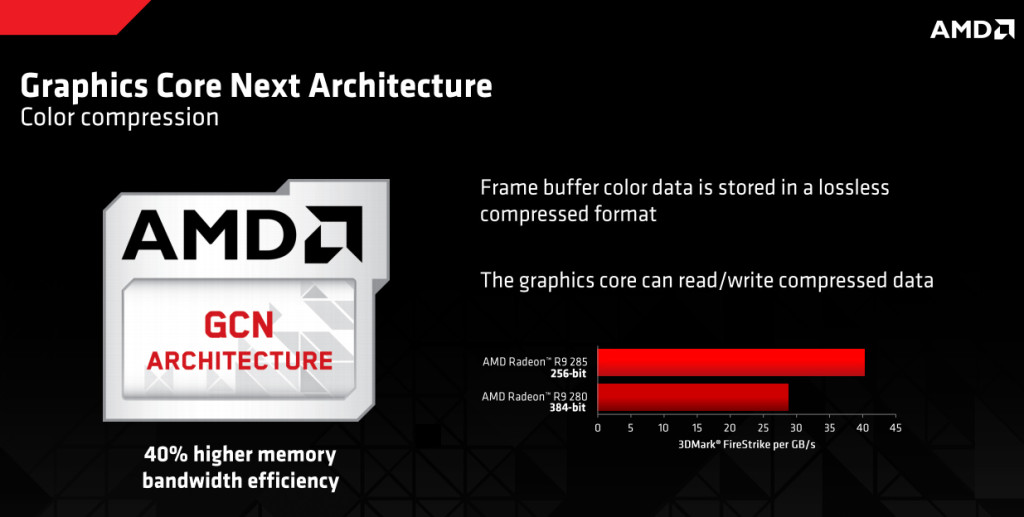 The board layout is pretty simple (see the gallery below), and the Club 3D version we were sent to review is only a little longer than the R9 250X, and noticeably shorter than Nvidia's GTX 760. Size of the card may or may not be important to you, if you're planning on building a compact rig for say the living room, then clearly a smaller card is an advantage to save precious room inside the case.
Despite the lower power draw of Tonga, which only has a TDP of 190W, far lower than the 250W of the R9 280, the GPU still requires two six pin power connectors for juice, the same number as both the R9 280 and the GTX 760.. This does setup the card for a quieter performance, with the fans barely needing to spin up on our Club 3D review sample. For display, you'll be given the usual smattering of DVI-I, DVI-D, HDMI and Display Port connections. You'll also notice a CrossFire XDMA block, which leads to better performance if you're running a multi-GPU rig. In the case of the Club 3D, there's a twin fan setup to draw heat away from the card and hopefully blow it out the back of your computer case. Three large copper pipes help pull the heat from the GPU core, and the 2GB of GDDR5 RAM also makes contact with the cooler to ensure the cards memory doesn't overheat.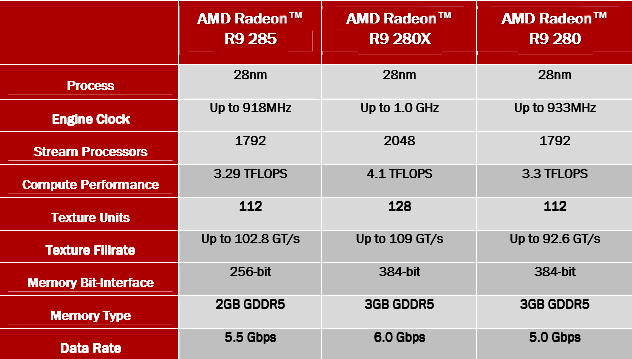 Test Rig:
The system we used was our standard test setup. An Intel I-7 Haswell 4770K (slightly overclocked to 4.4GHZ), 16GB DDR3 memory (running at 1750MHZ), Windows 8.1 installed on an SSD. We're using beta AMD Drivers, meaning performance will likely improve over the next few weeks. For Nvidia, we're also running their latest drivers, R340. All of the games were using the latest versions (auto patched via their distribution platform (for example Steam). All of the driver settings for both AMD and Nvidia were left to their respective factory defaults – we've set the graphical options manually in games. The only other settings that were played with were regarding overclocking.
The drivers for each card were installed cleanly, and the tests ran a couple of times. The best results for each card were then used.
| | | | | |
| --- | --- | --- | --- | --- |
| 1920×1080 (average) | AMD R9 285 | AMD R9 285 OC | AMD R9 280 | GTX 760 |
| Crysis 3 + FXAA | 46 FPS | 51 FPS | 45 FPS | 40 FPS |
| Metro: Last Light | 51.06 FPS | 57.81 FPS | 47 FPS | 41 |
| Tomb Raider Ultra TressFX + FXAA | 49.9 FPS | 56.7 FPS | 51.4 FPS | 42.3 FPS |
| Sleeping Dogs MAX +Extreme AA | 43 FPS | 57.9 FPS | 43.7 FPS | 39.6 FPS |
| Bioshock Infinite | 70.44 FPS | 76.95 | 64.8 FPS | 63.8 FPS |
| Batman Arkham Origins Max & MSAA X4 | 78 FPS | 86 FPS | 83 FPS | 78 FPS |
| THIEF Max + FXAA | 56.0 D3D 63.1 Mantle | 59.8 D3D 68.4 Mantle | 55.8 D3D70.4 Mantle | 52.2 FPS |
| 3d Mark FireStrike | 7685 | 8723 | 7219 | 6021 |
Tomb Raider
For Tomb Raider, we'll push all the graphic settings to their highest, including the rather punishing TressFX. We'll be using FXAA, as SSAA is rather expensive (we'd recommend manually setting MSAA or similar in the GPU's control panel if you didn't want to rely on a Post-Process AA). We've also decided to make use of TressFX for both AMD and Nvidia cards – as the performance penalty is rather similar between both brands.
Nvidia Geforce GTX 760: 1080P is completely destroyed by the Nvidia's GTX, 42.3 FPS leaves the game perfectly playable. If you disable TressFX then you'll certainly see a large boost in FPS, taking you above the 60+ range. Personally, despite TressFX looking a little dicey at times, I prefer the overall look and in Tomb Raider at least would rather sacrifice the FPS.
AMD Radeon R9 285: AMD's starts out strongly here, running with TressFX enabled, at 1080P and all other settings cranked up to the highest (but using FXAA) gives us 49.9 FPS. It's slightly lower than that of the R9 280, which scored 51.4, but is within the margin of error.
Metro Last Light
Metro Last Light was ran with the built in demo, all settings (aside from SSAA and Hardware Physx) turned to their highest, and motion blur set to 'normal' (it's highest setting). At a later date we'll explore the performance of Metro Last Light Redux, but today isn't that day – and besides, we need to reuse figures to save ourselves time here! 😛
GTX 760: The GTX 760 managed fairly respectable performance here, hitting an average of 41FPS at 1080P. You'll probably not have the spare GPU power here to enable Nvidia's Hardware Physx, even if you're the owner of a Geforce card, unless you want to lower the other settings or wish to play at 30FPS. Truthfully, 41 FPS considering how demanding this title is (particularly when Tessellation is enabled) is still very impressive. A few years ago cards of twice the price of the GTX 760 would have been bought to their knees.
AMD R8 285: Metro Last Light is a clear win for the R9 285, reaching 51.06 FPS, a clear lead over either the GTX 760 or the R9 280, which managed 47 FPS on average of the benchmark. Likely the improved geometry performance is the cause for the increased performance.
Sleeping Dogs
We'll start things out as usual at 1080P, max settings, including the rather demanding extreme level of Anti-Aliasing. The rather large open world nature of Sleeping Dogs, with large draw distances, massive amounts of animation, lots of lighting and shadows and different textures puts the graphics card through a variety of different paces.
GeForce GTX 760: It's pretty impressive how the card manages to rip through Sleeping Dogs even at 1080P with Extreme Levels of Anti-Aliasing. 39.6 FPS isn't too bad at all, but I suspect that if you're looking for smooth gameplay (particularly when things become truly busy) it might be an idea to drop down the AA levels a little. Extreme AA is particularly punishing on the title.
AMD R9 285: AMD's cards both hit the same frame rate for Sleeping Dogs,  the R9 280 winning out by .7 FPS, which is of course within the margin of error. We suspect the narrower memory bus is responsible here, particularly as we're using the extreme levels of Anti-Aliasing. AA is rather greedy for memory bandwidth, which likely explains the rather steep increase in frame rate when the memory clocks are raised via overclocking.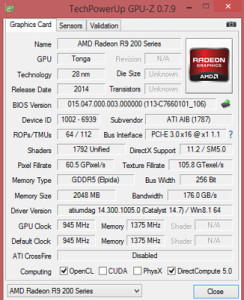 BioShock Infinite:
Using the built in benchmark again, all three cards decimate Bioshock Infinite, none failing to reach the 60FPS mark. We're testing of course with the preset of everything enabled, including DDoF, 1080P.
Nvidia Geforce GTX 760: 1080P is of course not a problem, with DDOF and all options set to their highest we see an average of almost 64 FPS. Despite this being an 'AMD game' Nvidia put in a very impressive showing here.
AMD R9 285: Yet another example of the architecture improvements helping AMD's tonga architecture prove its metal. Bioshock Infinite reached 70.44 FPS, which is around 6 FPS faster than the 64.8 of the R9 280.
Batman Arkham Origins
While RockSteady weren't involved in the development of Arkham Origins (aside from the engine), this is an extremely solid game. Just like other titles in the Arkham series, it comes with its own handy benchmark. It goes without saying we're testing with Nvidia's Hardware Physx disabled. All three cards are clearly more than capable of playing this maxed out, so we use 4X MSAA to increase the eye candy. This is one title that certainly could be pushed to 1440P, if you were willing to use only FXAA or similar.
GeForce GTX 760: Nvidia's mid range GPU hits 78 FPS. This is despite the 1080P MSAAx4 max quality. Truthfully there's easily scope here to push for 1440P, or perhaps instead enable Nvidia's Hardware Physx. Batman is one of the titles hardware physx really does work well on.
Radeon R9 285: As we've mentioned above, the Unreal Engine powering Batman Arkham Origins isn't that taxing. Regardless, AMD's R9 285 hit the exact same numbers as Nvidia's, which is slightly lower than the 83 FPS of the R9 280. We suspect memory bandwidth to come into play here. Overclocking the card (as seen above) makes rather large differences to the frame rate.
Thief:
Thief isn't quite the gaming classic we'd hoped it'd be, but here at RGT we're of the firm opinion that it was judged in perhaps too harsher of a light. The game overall is fun, despite being considerably more linear than Thief's of old. This title also supports Mantle. We're naturally playing with everything at highest, but with SSAA disabled.
GeForce GTX 760: Reaching 52.2 FPS for an average, we feel there's room to settle for a slightly lower frame rate and use a better Anti-Aliasing method, but we feel the graphical settings we've selected are the best compromise in both performance and visual quality. The shadows are nicer than console, a better frame rate – what's not to love?
AMD R9 285: AMD's cards are a little trickier to benchmark here – as there are two different renders available. The first would be D3D11, and the other would be the much touted Mantle API. Mantle provides interesting issues – it's very VRAM hungry. Although the average FPS was higher than with D3D, the minimum frame rate fell to around 9 due to swapping. We're left with 56 FPS even for D3D, which is .2 FPS faster than the R9 280's 55.8 FPS. Meanwhile, Mantle reached 63.1 FPS, under the 70.4 of the R9 280. We'd recommend disabling Mantle however due to the VRAM issues. It could also be driver problems, so we'll test in a future officially released GPU driver.
3D Mark Fire Strike
Certainly one of the more infamous tests out there, FireStrike is pretty configurable which makes it ideal to test with. For our tests we go with the standard Firestrike, rather than the 'extreme' setting which is designed to torture the highest of spec PC's. We've disabled all the physics tests, and left just the graphics tests enabled – for fairly obvious reasons.
Nvidia's GeForce GTX 760 manages to scrape in at just over 6K, hitting 6021, and AMD's Radeon R9 280 hit 7219. The changes to Tonga have made a large difference for the R9 285 however, flexing its muscles at 7685. FireStrike is very shader and tessellation hungry. In a little testing I kept the memory clocks vanilla and just purely overclocked the core, and then I raised memory clocks to match. There were very little difference in the results between just the core or core and memory being overclocked.
Of course, real life results doesn't mirror this, but if you're interested in 3D mark bragging, the R9 285 is certainly the winner of the three cards on trial here.
Overclocking the
Radeon

R9 285  & Results

Overclocking results with the R9 285 are… well, impressive. To overclock we opted to use a third party utility in place of AMD's own built in powertune, mostly for the sake of familiarity. We cranked the fan up to 90 percent to ensure we weren't thermal limited, and went to find the max overclocks for both the GPU and RAM. The next thing we did is raise the power limit – setting it all the way to the max of 20 percent, voltage control isn't available.

We went with the GPU first, setting the GPU clock to 1100MHZ, to our surprise 3d Mark's FireStrike did load, but there were artifacts so we backed out and instead set the core clock to 1060 MHZ. RAM came next, and we pushed the memory all the way up to 1550 MHZ, or 6,200 MHZ effective. This provided a rather healthy 198 GB/s of memory bandwidth. Everything loaded okay, and we weren't able to spot any artifacts. We suspect you could likely get higher core and memory clocks from the Club 3D R9 285 if you put the time into fine tuning, but we were pressed for time to get the review up on schedule.

Certain applications, Batman and Sleeping Dogs in particular, had a hefty benefit from the additional grunt. I'd suspect a lot of this due to the heavier load the extreme levels of Anti-Aliasing were placing on memory bandwidth. Clearly this is only a review sample and it remains to be seen if 'cards in the wild' will achieve these clocks, but if they do, the R9 285 is an even better purchase. The additional GPU grunt of running at 1060MHZ means about 3.8 TFLOPS of computing power performance, which is very nearly that of the R9 280X. Combined with a more efficient architecture, it's no wonder we saw such leaps in numbers.
AMD Vs Nvidia Exclusive Technology comparison:
Those who've been paying attention to the GPU market within the past 12 months, you'll know that Nvidia and AMD are both pushing new technologies. Nvidia have G-Sync, which is extremely popular among gamer's, but also quite expensive with the setup. AMD are pushing their own FreeSync counterpart, which does a damn good job of replicating Nvidia's results. Then again, we have exclusive technology such as hardware Physx and AMD pushing their own Mantle API and True Audio technology (the Tonga based R9 285 supports does support FreeSync, Mantle and True Audio). It's virtually impossible guessing what the future might bring, but Mantle is certainly appearing to be extremely promising – but also RAM hungry. Perhaps future drivers will help performance on the R9 285, but only time can tell. Certainly in our Thief results, average FPS went up drastically, but it also produced some stuttering with low FPS. We were using Beta drivers however, so we'll test this again in a few weeks time with a more mature driver set.  TrueAudio's future is somewhat less known. The upcoming Thief is confirmed to use it, but one or two titles isn't enough to sway a decision over a graphics card.
Back on the subject of Monitors and refresh technology: Nvidia's G-Sync eliminates both screen tearing and reducing latency which is associated with V-Sync enabled. Those who have used the technology are reluctant to go back to their old screens, but currently the selection of screens its available for is limited. In addition to this, it adds to the price of a new monitor. AMD and VESA are soon to be offering their own versions of the technology, which does take some of the wind out of Nvidia's sails.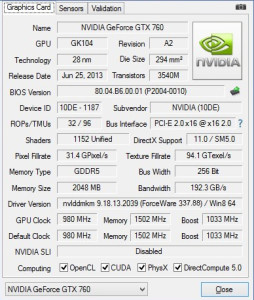 Personally, I'm a fan of Nvidia's hardware Physx technology, in certain games it adds a lot to the atmosphere, such as the wisps of smoke in Assassin's Creed 4 Black Flag. There are other effects in Metro Last Light, such as debris and dust, and so on. It's a nice extra, and for someone like myself who regularly makes graphics comparisons it's a nice extra. For most gamer's though they're willing to do without it. The Geforce GTX 760 could certainly enable it in say Batman, which has performance to spare, even with MSAA x4 enabled. More demanding titles, for example 4A games Metro Last Light (and other future titles most likely) will suffer in performance. It's not a huge win, but 'looks nice'. Some more of performance can be clawed back via overclocking, naturally.
AMD's TressFX technology (at least currently) does work on Nvidia's cards, alongside AMD's own. Unfortunately TressFX hasn't been widely adopted yet, likely because it's so GPU intensive. Even TressFX 2 (which was built to be much more efficient) takes a huge toll on the consoles with Tomb Raider Definitive Edition.
The answer here is that you shouldn't buy either the R9 280, R9 285 or the GTX 760 on their respective technology, but Mantle is impressive if you're wanting to squeeze everything out of your card. Bare in mind that there's a growing list of developers who're using Mantle too.
Radeon R9 285 Tonga Verdict
The R9 285 achieves everything AMD had likely hoped it would in the market, but doesn't really shake things up too much for the consumer. We've already established the GTX 760 is slightly behind the R9 280, and the R9 285 just helps cement the lead. The lower VRAM and memory bandwidth do hurt performance at times, but memory bandwidth issues are offset by improvements compression, tessellation and other improvements we've discussed throughout this review. Indeed, overclocking the card (at leas the Club 3D version we were sent) eliminates the R9 280's bandwidth advantage pretty quickly.
At the cards worst, it performs a frame or two behind the R9 280, and at its behind 10 percent or faster. Titles with high usage of tessellation (for example, Metro Last Light) benefited largely from AMD's tweaking of the Tonga architecture. The difference isn't night and day, but does show a clear and distinct advantage over the last generation card. Bioshock Infinite also dominated with the R9 285, being at around 5 FPS faster than the R9 280. If you're looking for a 1080P GPU, or possibly an entry level 1440P GPU then we've little hesitation in recommending the R9 285 over the 280 or the GTX 760. It's faster than either of its two competitors, draws less power (particularly in the case of the 280) and is whisper quiet. The fact it's considerably more compact isn't' a bad thing either.
Lastly, the support of both True Audio and FreeSync (as well as Mantle) can only be a good thing. It's early in the 'sync wars', but there seems to be good indication that AMD's FreeSync will at least pick up a measure of support. As much as I love Nvidia's GSync, the more restrictive requirements make it a little less appealing. With all of this said, the R9 285 is a solid purchase, and the best card in its price range, particularly if you're aiming at 1080P. In a years time, extra VRAM might be nice – but by that time much faster cards will naturally be out now.
Our advice is either purchase a cheap Radeon R9 280 (since they're now End of Line) if you can get a really good deal, and if not go ahead and get the R9 285. You'll not regret your decision.
Buying the R9 285
If you're planning on picking up the card, please consider using the US Amazon link to give us a few pennies to help maintain the website and bring you other full reviews. It costs you nothing extra, and you get the warm feeling of helping us out! AMD R9 285 2GB US
Club 3D AMD Radeon R9 285 Tonga GPU
Review, benchmark and architecture of AMD's latest graphics card, the R9 285 Tonga. Including the latest games, architecture breakdown and comparisons to the Hawaii GPU.
Manufacturer:
AMD and Club 3d
Other Articles You Might Like