AMD's CES 2019 conference has finally happened, and we're left with as many questions as we have answers. Lisa Su took to the stage, and the presentation started with her running through some of the biggest and most important innovations AMD have bought to the market. It was clear from her mannerisms that she was confident from the outset of the presentation – clearly a good indicator that the company would indeed be discussing a lot of stuff.
Phil Spencer shared stage time with Lisa, where he was all too happy to point out how the Xbox One X is the most powerful console right now, and that games look best on it compared to the competition. He also had nothing but praise for AMD's engineering efforts for the custom work they did in the Xbox One's APU, in particular, the backward compatibility implementation was said to be a demanding task.
https://www.youtube.com/watch?v=UcacUn75Izs
If there was any doubt that Microsoft wouldn't task AMD for the next generation Xbox consoles, it is now dead. Phil gave AMD the vote of confidence for the future relationships of their companies, both in the traditional console space and of course the cloud. He didn't reveal the TFLOPS, the cores or if Scarlett can make you a coffee while you game, but we at least know that there's a good chance we'll be left in the same state of harmony as the PS4 and Xbox One systems.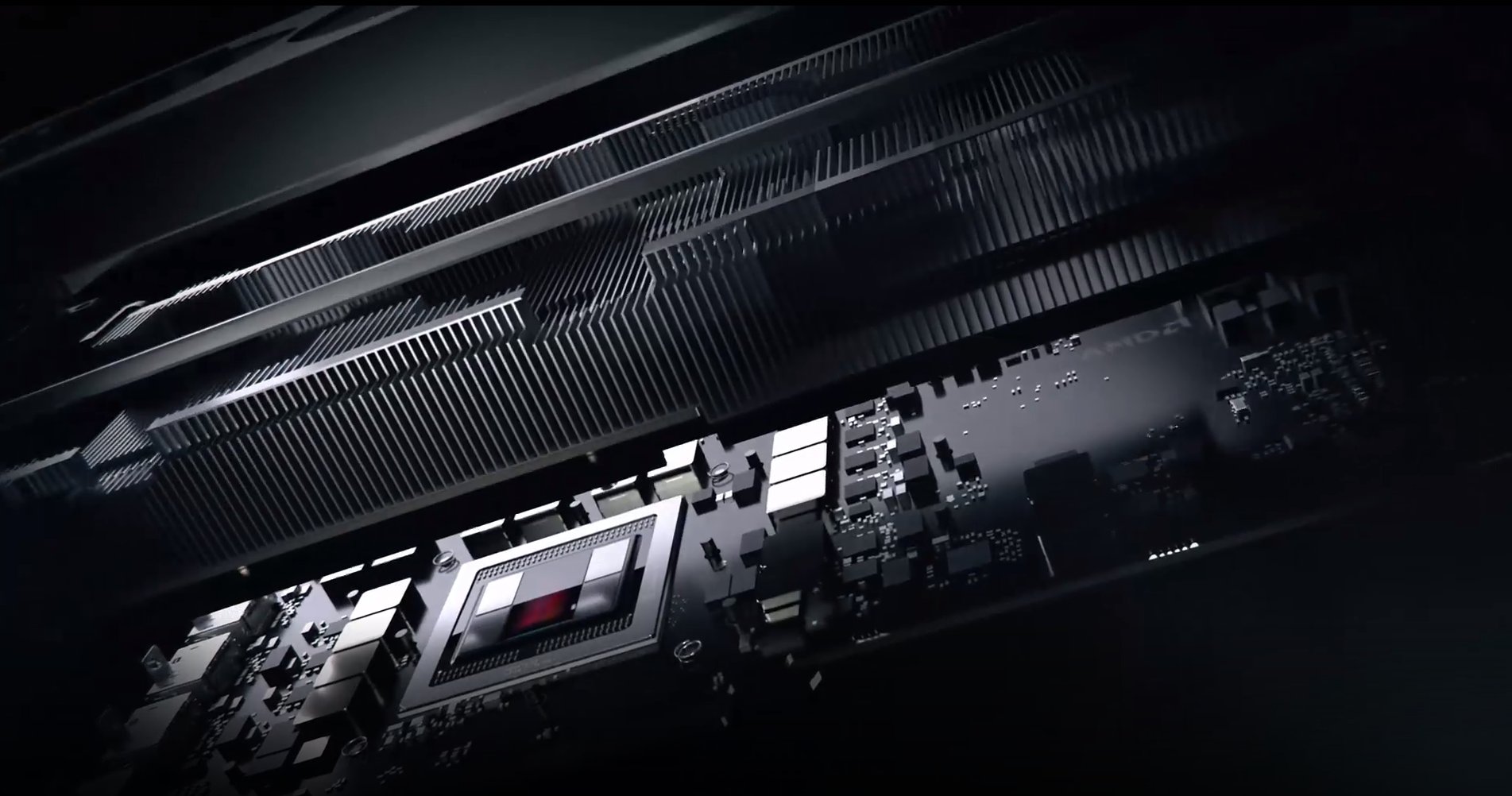 Which of the two companies come out on top in raw horsepower – the PS5 or Xbox Scarlett will need to be settled later though.
The next big announcement was Radeon VII, a graphics card for both gamers and the prosumer market leveraging AMD's Vega II architecture. We're looking at a GPU that has 60 compute units, running up to 1800MHZ in clock speed. AMD coupled this with HBM2 pumping out 1TB/s bandwidth, and 16GB of the stuff to boot. They also saw fit to grace us with a few early benchmarks, and performance of the card.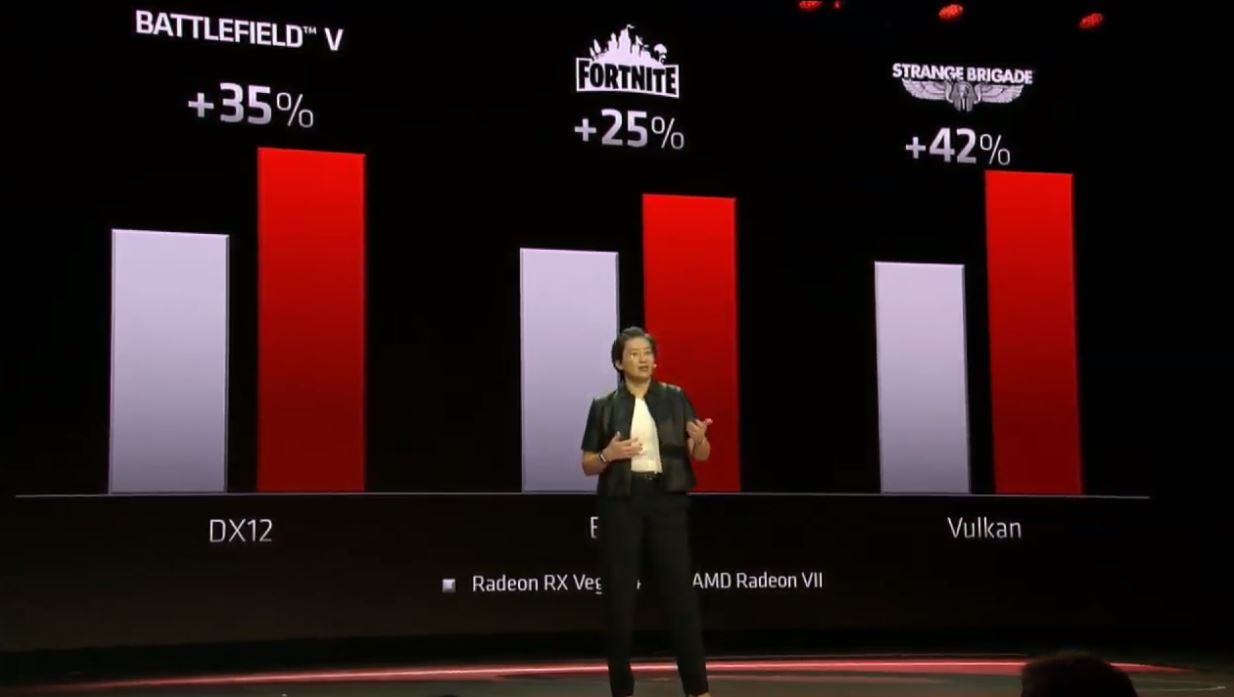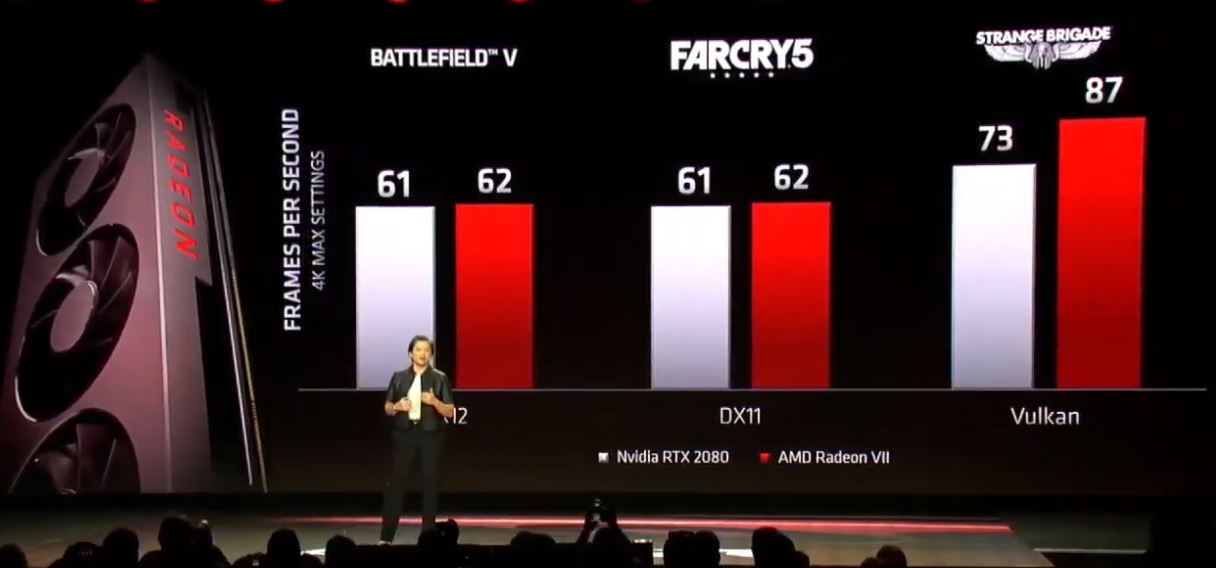 Compared against an RTX 2080 from Nvidia, AMD's Radeon VII is a few percents faster – and according to AMD's own numbers, is anything from between 25 and 35 percent faster than that of the older vega 64 GPU. The cards will launch on February 7th, 2019 and for the princely sum of 700USD.
As you can imagine, Rapid Packed Maths, async compute and all the other Vega / AMD buzzwords were on show here. The card's design is definitely different than before, and I am curious to hear how loud it is in operation. If you've been following along with us here at RedGamingTech for a few weeks, these specs and performance numbers won't be anything too surprising, they're essentially identical to what we exclusively revealed a few weeks ago.
The plan here is obvious – take a slice out of the high-performance pie, but the questions regarding Navi start popping up. What are AMD's long term GPU plans – it's possible that rumors that the Navi architecture replacing Polaris are accurate, and that Navi essentially will be roughly on par with the performance of a GTX 1070, possibly up to a 1080 for the higher end SKU.
Anything faster would eat into Radeon VII sales, especially if Navi is the supposed 300 USD that we've been hearing all this time. Unfortunately, we can only 'watch this space' to find out what AMD's plans are here.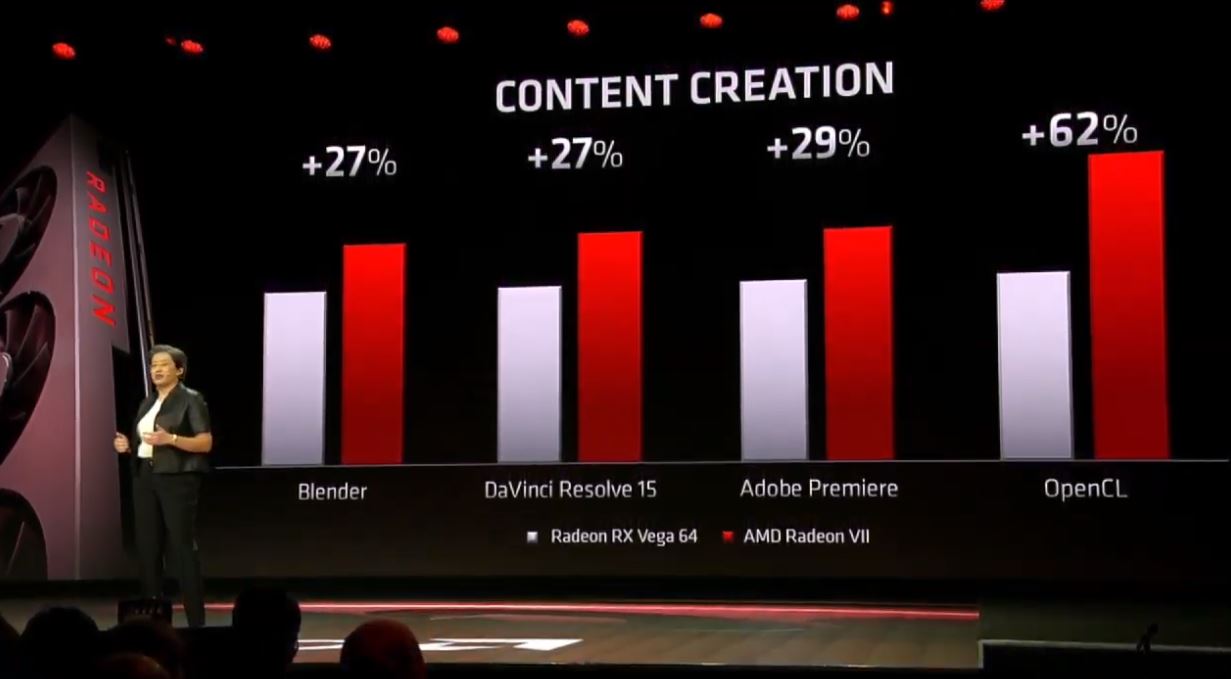 Next up, Zen 2 and the Ryzen 3000 series. AMD revealed less information than perhaps many hoped, and certainly, nothing was said regarding core count. Indeed, the only mention of the number of cores for Ryzen was the demo of Cinebench, where an 8 Core 16 Thread processor took on an I9-9900K. The CPU was said to be an engineering sample processor, and guess what? AMD won the benchmark… but there was no single thread testing taking place.
Lisa Su told the audience that there'd be more information coming in the following months regarding the Ryzen plans, but she did also allow a demo of Forza Horizon 4 to run (which also used Radeon VII for the GPU). It ran well enough, but without more information on the rest of the system specs, we can only guess.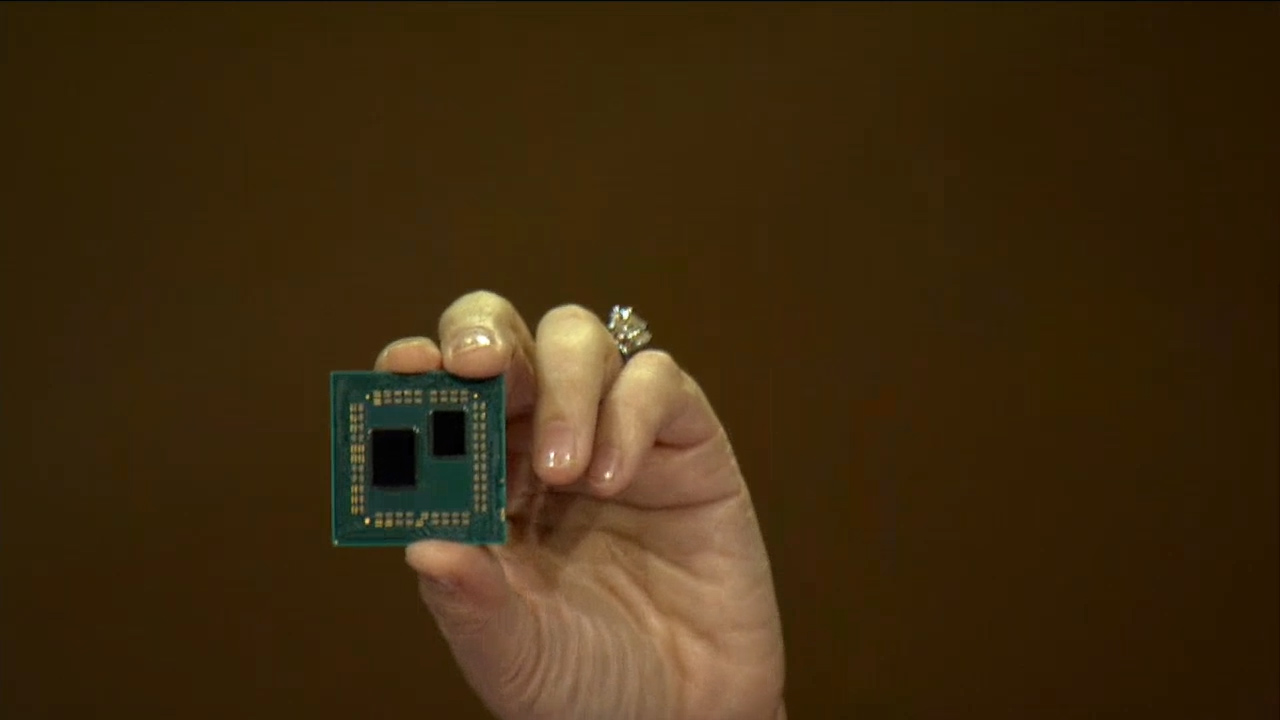 It's painfully obvious looking at the 'naked' CPU Lisa Su held up that there is indeed the space for another 8 processor cores. With the smaller die being an 8 core part, and the larger die being the IO controller. This very much mirrors what the Retired Engineer had mocked up (a well-known Twitter user) a few months ago, and also closely matches what I've been hearing through a few industry contacts.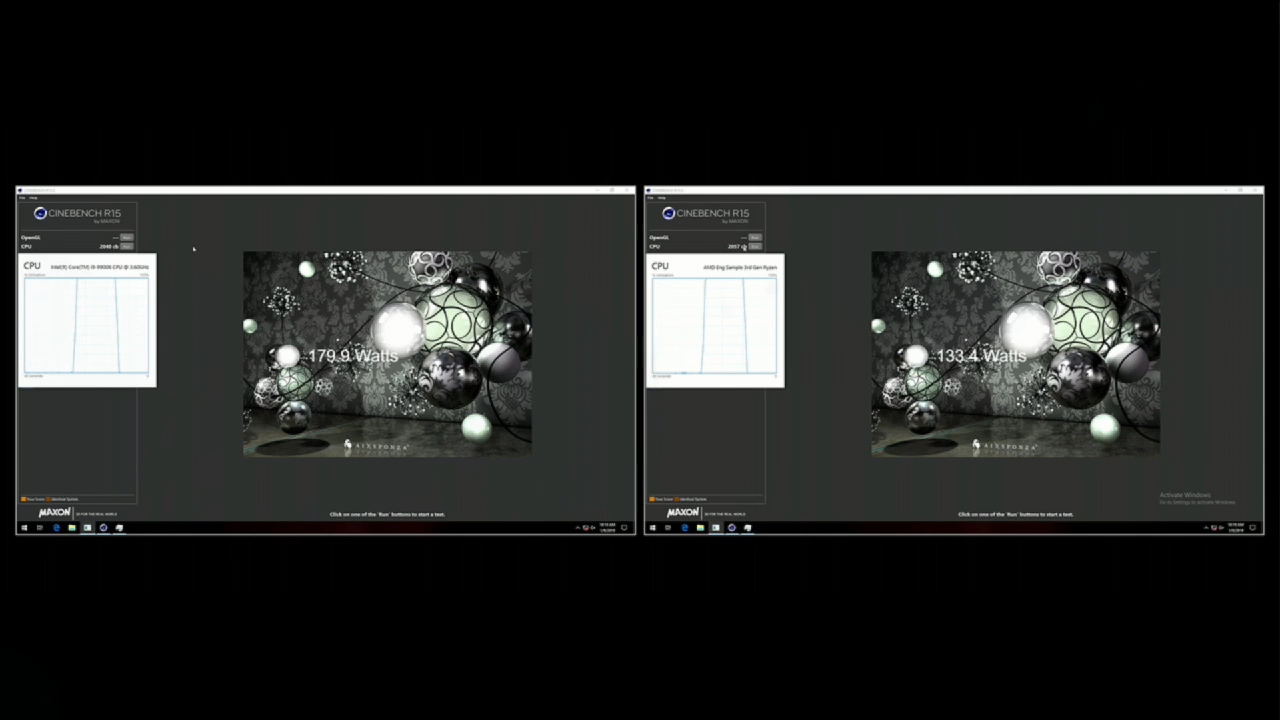 Does this mean AMD will go that route though? Well, increasing the core count would certainly be very nice from the PR standpoint, and also have the rather obvious benefit of helping thwart Intel who are doing the same thing with Ice Lake.
From another of our exclusive leaks, we'd said that the X570 platform would support PCIE 4.0, and Lisa confirmed this on stage too – but didn't confirm other details, such as the USB 3.2 and 3200MHZ RAM support we've heard.
Stick with us here at RedGamingTech and we'll keep you updated with the Ryzen 3000 series and other Zen 2 developments, Navi, Radeon VII and so much more!
Other Articles You Might Like