There was a lot of expectation heading into AMD's Next Horizon event – we knew it was unlikely they'd spend much time on gaming, with a possible mention of the Radeon RX 590 being about the most we would hope for. But now the event is over, it's clear why the company opted to not live stream it to Twitch and YouTube – the event was intended for gamer's at all. But, despite that – there was a lot of information buried for those of us into technology.
Firstly, let's get the headline over with first – the second generation Epyc chips (known as ROME) will indeed be up to 64 cores and 128 threads PER chip. So in a dual socket configuration, up to 256 threads can be crunching away at a problem. This is fantastic for cloud and HPC types of environments, and its of little wonder Amazon are opting to bring AMD onboard as a CPU supplier.
The reason so many cores can be packed into such a small space is pretty simple – 7nm. The bullet points for this 7nm process by TSMC is double the density, 50 percent of the power consumption for the same performance, or 1.25x performance for same power.

By and large, Intel's 10nm (assuming it ever gets off the ground) and TSMC's 7nm are pretty similar in terms of what they can achieve in the real world. The major benefit here is that AMD get their product out sooner than Intel, and obviously that's gonna sting.
AMD confirmed Zen 2 is now sampling, with 7nm+ bringing in Zen 3 (which is on track) and Zen 4 in the design stages. There's little information exactly what those two chips are… but we can assume faster than Zen 2.
Zen 2 though has a number of changes which will improve performance of the chip – though clock speeds and IPC weren't officially confirmed by AMD (we'll get to the unofficial rumors of what's happening later on).
AMD have tweaked the front end of the chip, which is responsible for grabbing new instructions and predicting what the chip will need next, along with cache of instructions and so on. AMD have improved the branch predictor, instruction prefetch, instruction cache and increase the size of the Op Cache (though didn't give specifics of how much).

Team red also made a big deal for the improvements to floating point, doubling the Floating Point Width to 256-bit (from 128 of the original Zen) and also increasing the Dispatch and Retire Bandwidth, and doubled the load / store bandwidth., In theory at least, this will mean the CPU is just better at shunting data around… but the wider floating point width will be of particular interest to cloud providers and HPC. Oh, and also we see hardware mitigations for Spectre (the company weren't vulnerable to meltdown).

So in a nutshell, the chips are drastically faster and more efficient than before. AMD also confirmed the new chiplet design, which combines a 14nm IO controller with the 7nm zen cores. AMD opted for this approach because shrinking the IO controller wouldn't have been worth it, the payoffs and scaling doesn't justify the effort.
This means that the design for the CCXs has now changed, and if you recall – the original Zen and Zen+ processors had 4 cores per CCX. So in the case of say the 1700X, there were two CCXs, each providing 4 cores – so that's 8 cores total. ThreadRipper 1950X has 4 CCX's for its 16 cores… and so on.
Now, AMD upped the number for its chiplets to 8, so each Zen 2 cluster is 8 processors and 1 IO controller. This of course means that in the case of the flagship ROME product, we'll see an 8 by 8 configuration for its 64 cores.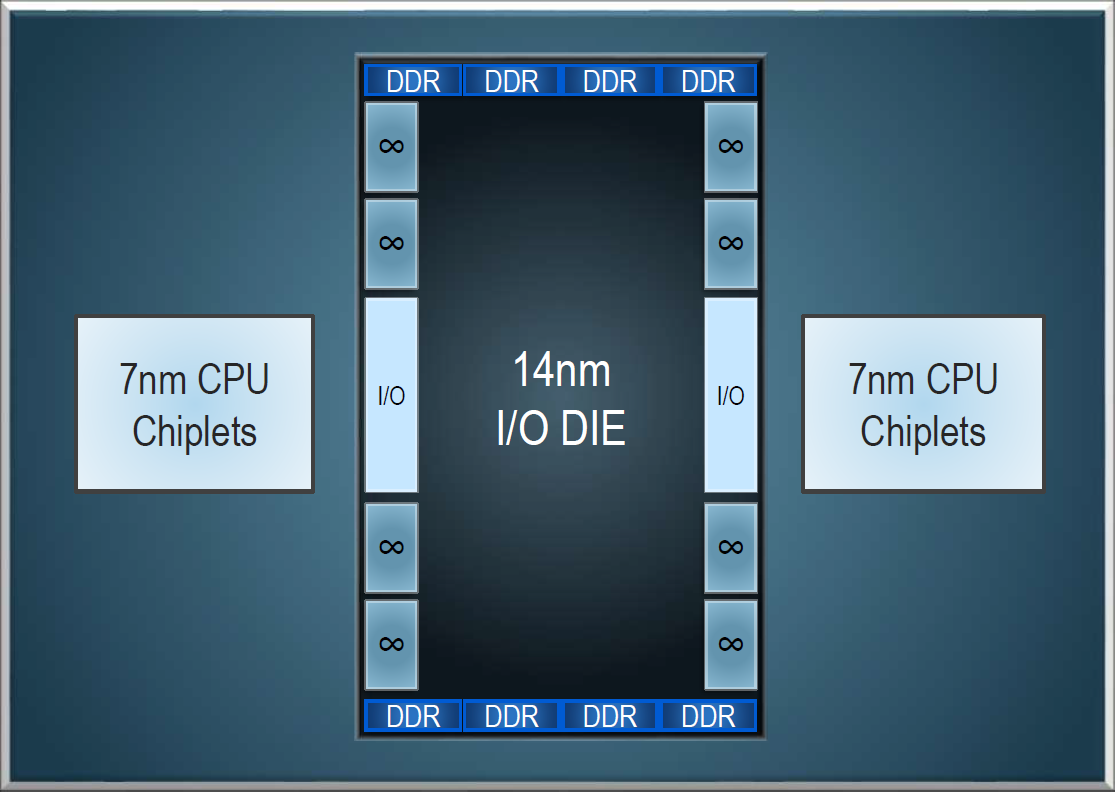 How this will impact what is now the mainstream desktop is anyone's guess. A few theories are that we could say the 3000 Ryzen series go up to 16 cores, or we could see AMD produce smaller configured Zen 2 CCXs for Ryzen 3000 (for possibly cost reasons), OR we can just see a single 8 core CCX.

Although AMD do love the core count advantage, so it's possible Ryzen might see 6 core CCXs (possibly because of binned parts, so the ones produced with all 8 working go for Epyc, with 1 or 2 damaged parts get turned into Ryzen 3700X and so on).
AMD didn't give us clock speed information – unfortunately. All we got were a couple of benchmarks that showed Intel getting their butts kicked. Dual Intel Platinum 8180M were pit against AMD's 64 Core Epyc, and in this instance AMD did beat Intel… from the wording, it would appear they didn't overclock the CPU and as of now there's performance left on the table.
It's unclear if AMD mean they're still finalizing the clock speeds or not, but either way – its an impressive win. But of course a benchmark here or there isn't an entire picture, and how AMD compete in single thread performance is still important – even in the data center. Highly virtualized environments might mean a client only has 1 or 2 physical cores, so of course the faster they are the better.
And naturally gamers will want every single mhz, every single FPS they can grab out of the next generation Zen 2 architecture. The rumor is that we're looking at 4.5GHZ with a 15 percent or great IPC gain over the previous generation – but those are with engineering samples, so might be better in retail… and that's assuming the rumors were even accurate at all. But given all of the changes AMD have unveiled with Zen 2, 15 percent IPC performance does make sense.

There's no comparison here though against their older generation, twice the socket performance of their first generation Epyc, and Zen 2's double floating point performance means that we're looking up to 4x the improvement for Epyc Rome. That's quite the number, and AMD are very happy to shout it from the rooftops (and more power to them, I say).
If you're currently on an AM4 platform – whether you'll be able to plonk in a Ryzen 3000 CPU into your say X470 motherboard remains at best, a mystery. There's certainly compatibility between 1st and 2nd generation Epyc, but with the understanding you'll be missing out on say PCIE 4.0.

But whether the AM4 platform would be capable of running say 12 or 16 cores, even with all the bios updates in the world, is something likely only AMD know.
There'll be a lot more info emerging from AMD in the next few weeks no doubt, and given Ryzen has traditionally launched in April, we can suspect there'll be a special event focused on that very thing early next year most likely.
Intel have confirmed they'll be holding an event December 11th, to discuss new architectures. Whether this is CPU, GPU or both (or something entirely different) wasn't disclosed. We can bet Intel won't want AMD have be ahead for long, and we do know that the company will be bringing out Arctic Sound (their discrete GPUs) in 2020… so there's a lot for them to play for.
While there's still a lot more to talk about, it's probably best for the dust to clear a little and for leaks to start happening over the following days for a deeper analysis. But for now, Intel (actually, the industry) have been put on notice by AMD. With news AWS jumped in bed with AMD, their stock went up almost 10 percent – and while that might go down, there's confidence there. AMD are making the cost of licenses, energy and space cheaper for providers. And while HPC / server and IT markets are generally conservative (there's the old running joke – "no one ever got fired for buying Intel") with the huge savings and performance AMD are offering, the cloud providers will take notice.
For content creators and gamers, AMD have incredible flexibility here. They can quite happily bump the core count of their mainstream products to 16 cores, increase the core count of ThreadRipper 3 to 48 cores, but with less memory bandwidth (however that happens) and basically dominate the desktop and HEDT market. Or they could be more conservative, release a 12 core part, keep threadripper at 32 cores, then bump either if they feel they're under pressure from Intel.
As usual, stick with us here at RedGamingTech, because we'll keep on top of the situation and let you know all that's happening!
Other Articles You Might Like