I've spoken a few times on Youtube about how AMD has been absolutely crushing it against Intel when it came to the the sales and revenue at Germany's biggest tech retailer, Mind Factory.  Now we have a new report for December, thanks as always to the Reddit user Ingebor.
There's quite a lot to discuss in this report, so let's begin with the number of CPUs sold from September 2019 to December 2020. Mind Factory sold a staggering 35,000 Ryzen CPUs, most of which were Ryzen 5000 Zen 3 or Ryzen 3000 Zen 2 processors.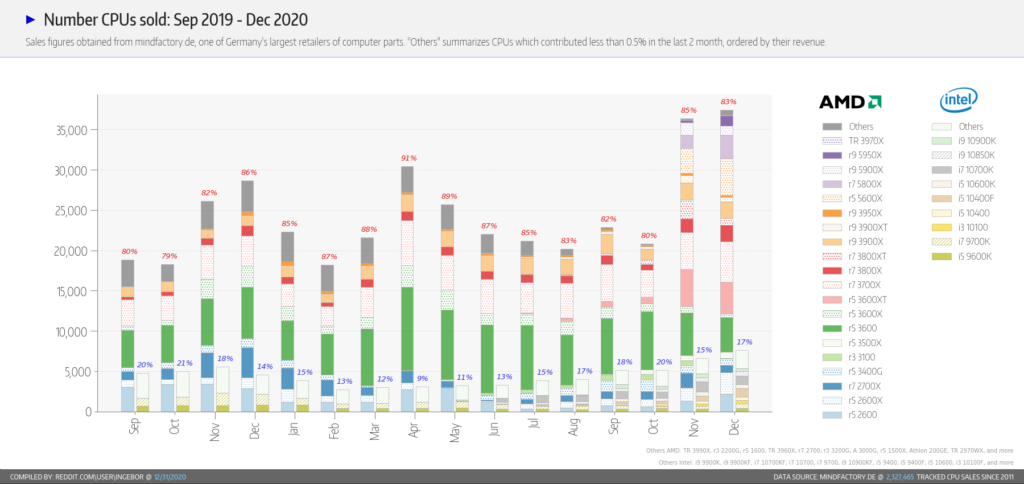 As you can see, AMD have been demolishing Intel's CPU sales rather handidly for some time, and December just continues along that trend. They commanded an impressive 83% of the total share for the number of CPUs sold, leaving Intel to scramble for the scraps at the table – just 17%. While this is just a single retailer, it's still telling of just how much of a success Ryzen is. AMD have earned the title of comeback kings for a good reason.
Moving onto to revenue, however, and the story continues along the same track.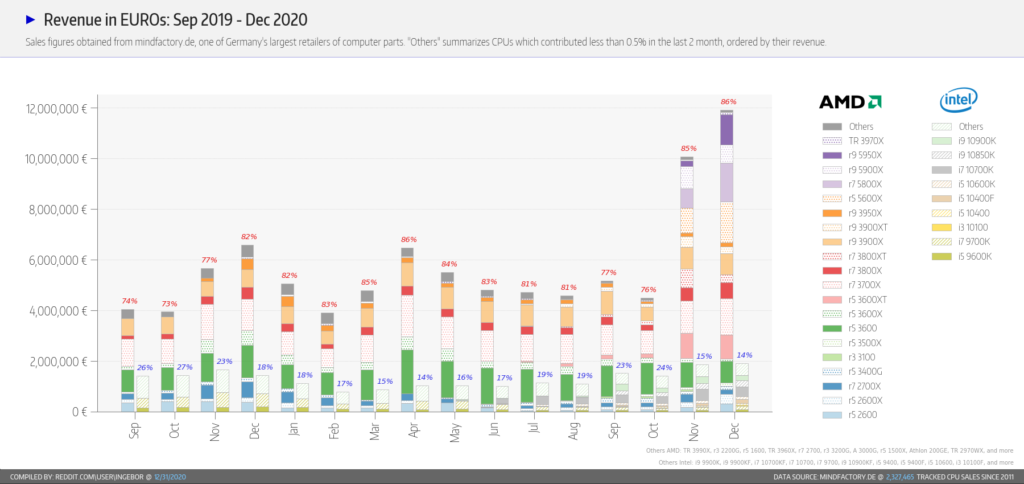 The revenue split here is very very similar to the percentage we saw earlier, with 86% of revenue being from AMD and 14% going to Intel. However, there is something else to take away from this. December also reported 12 million Euros in revenue, which was the best revenue figures coming from Ryzen processors so far. Intel weren't exactly counting pocket change here, but they reported just below 2 million Euros. Ouch.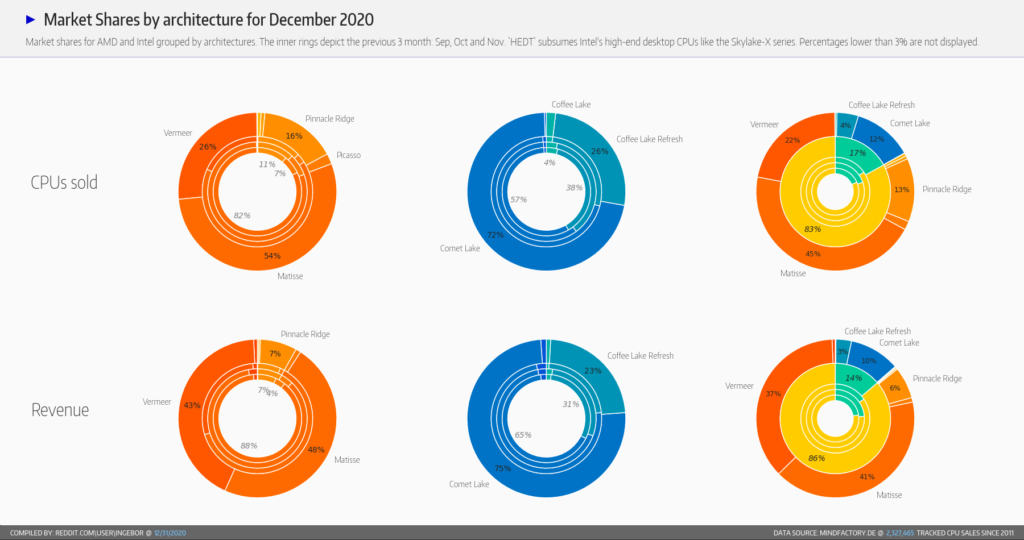 Ingebor also provided a breakdown of exactly what architectures made up those sales. Ryzen 3000 Zen 2 processors continue to be the fan favourite, with 54% of AMD sales and Ryzen 5000 Zen 3 CPUs pulling in 26% of the total sales figures. It's tough to say what these figures would look like if the massive shortages which plagued the big tech launches last year didn't happen, but it probably would look something like this due to the price increase we saw for Zen 3. For Intel, we can see that Comet Lake still took the largest slice of the pie with 72%, with Coffee Lake bringing up the rear.
AMD have been on an absolute tear against Intel for sometime, and this is just another win in the column for team Red. Intel's Rocket Lake is looking promising in terms of performance, but many PC enthusiasts have concerns about the power draw and temprature of the parts. Of course, they aren't out yet, so it will be interesting to see if the final release silicon can finally give AMD some competition.
Other Articles You Might Like
Tagged with
AMD
,
amd vs intel
,
hardware sales
,
intel 10th gen
,
mind factory
,
ryzen
,
ryzen 3000
,
ryzen 5000
,
sales
,
sales records
,
zen 2
,
zen 3
.