It's always interesting to see what GPU maker's do with each generations 'bleeding edge' graphics cards such as the RTX 2080 ti or the Radeon VII, but the budget focused graphics cards is where the real scramble in the market lies. Not only do they sell in higher volumes directly to customers, but also tend to be super popular with system integrators too.
For a number of years now, for the lower end performance tiers AMD has relied on Polaris, but in the face of stiffening competition from Nvidia and with a newly launched architecture, it was clear AMD would eventually start replacing the lower tier SKUs in its Radeon lineup with Navi.
To that end, the company are reportedly launching the Radeon RX 5500 graphics card, which will sport 22 Compute Units (1408 Shaders) and either 4 or 8 GB of GDDr6 memory, albeit only on a 128-bit memory bus.
The clock frequency of the memory isn't known yet, but with 14gbps memory it would be 224GB/s (14000 x 128 / 8 = 224,000), and at about the fastest memory we can realistically expect, 16gbps, bandwidth will be 256 GB/s.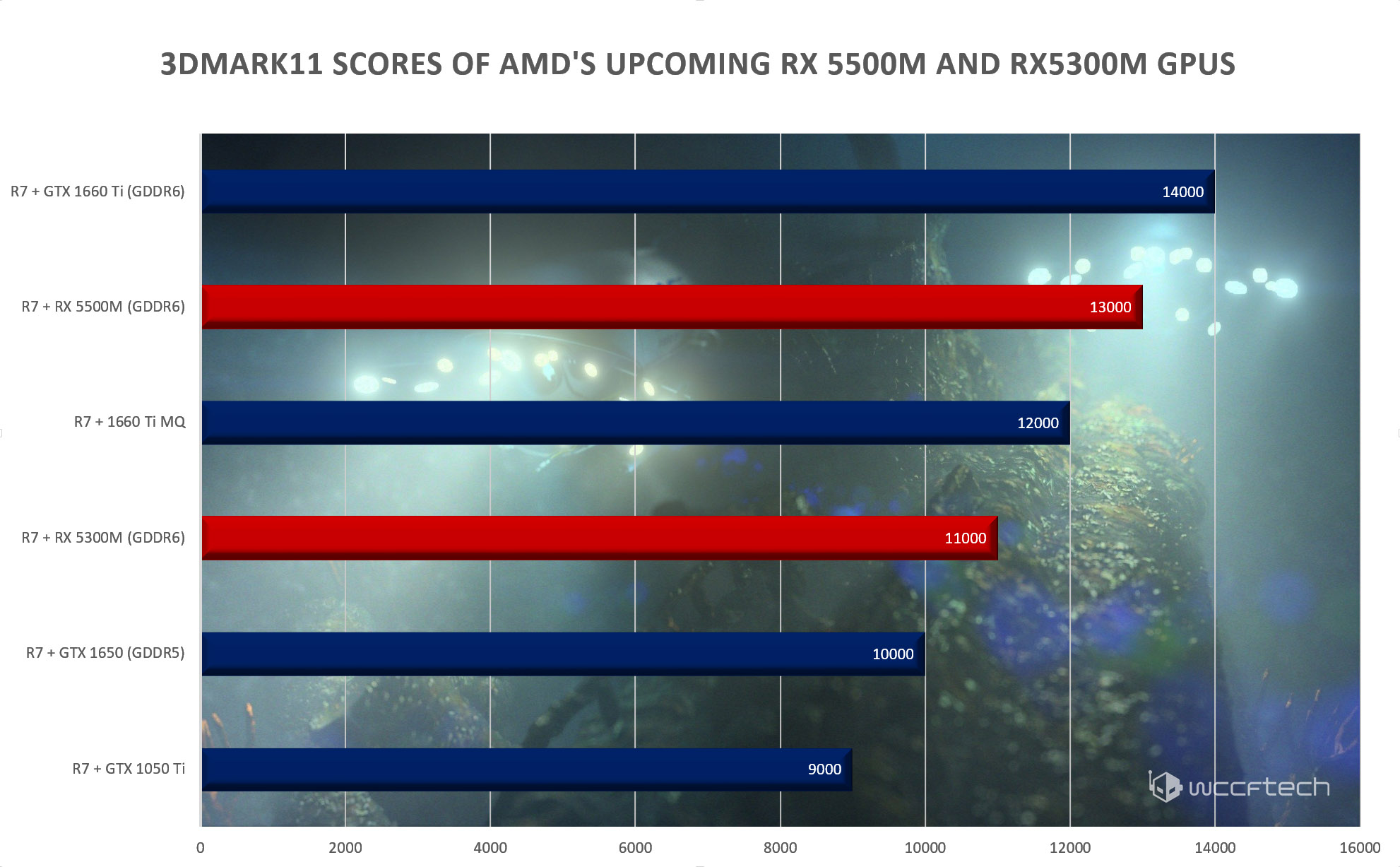 Given there are 2560 shaders in the  RX 5700 XT with 448GB/s bandwidth, proportionally 224 GB/s would be a little low for the card (exactly half the memory bandwidth (448GB/s vs 224GB/s), but the RX 5500 has 1408 Shaders, instead of just 1280 which would be half of 2560)). It will be interesting therefore to see if the RX 5500 is bandwidth constrained.
According to VideoCardz, we're expecting these cards to have some type of soft launch on the 7th of this month, but no price has been announced as of yet. Being realistic, we can probably guess they'll be about 200 bucks, (give or take say 20 dollars).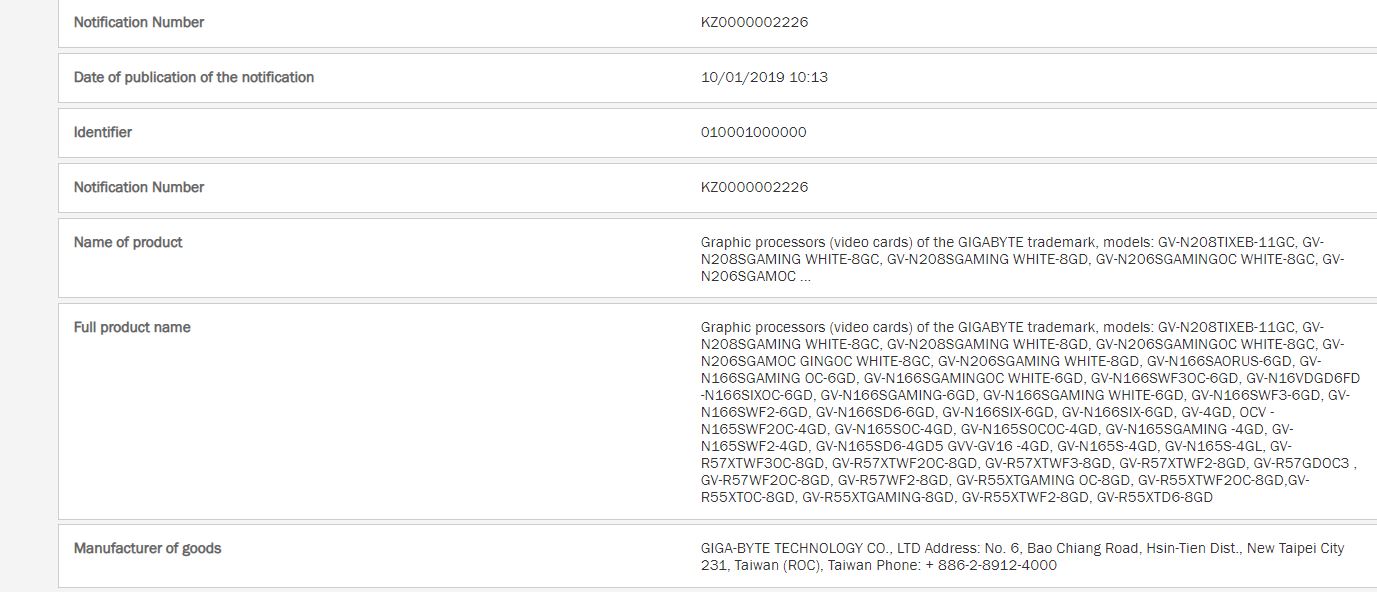 WCCFTech actually leaked the rx 5500M (the mobility variants) with a benchmark and specs, and if accurate it should provide a lot of trouble for Nvidia's GTX 16xx series laptop SKUs.
In the EEC listings from Gigabyte, we see no listing of 'XT' versions of the cards, so it'll be curious if they end up not launching an RX 5700 XT.
Not to be outdone, there are also two new cards on the way from Nvidia, the first the GTX 1650 Super and the second is the 1660 Super.
The rumor mill has it that the GTX 1650 Super is actually the previously rumored GTX 1650 ti (basically, it got a rename before it was even launched), and will feature around 1024 to possibly 1152 CUDA cores. This is a significant step above the 896 found in the bog-standard GTX 1650, though memory configs remain a mystery.
By far the most baffling card in the lineup is the GTX 1660 Super, rumored to have only 1408 CUDA cores, but outfitted with 6GB 14gbps memory. That's the same number of CUDA cores as the 'vanilla' 1660, but with much faster memory (which only has 8gbps memory compared to the Super's 14gbps). BUT the GTX 1660 Ti has 1536 CUDA cores, but only 12gbps memory.
So basically the 1660 Super has fewer CUDA cores than the 1660 Ti, but faster memory, but both are significantly faster than the GTX 1660 vanilla. Very weird indeed, and it'll be interesting to see which model cards become EOL after these launches.
Nvidia's new GTX 16xx cards are expected to launch late this month, so a few weeks after these new AMD's new Radeon cards show up.
A little off-topic and focused on naming scheme for a moment, it's very interesting we're yet to see ANY real tangible leaks for say…. the RX 5600 or 5400. It's possible AMD's naming scheme will closely mirror that of its CPUs.
So, Radeon RX 5300 would be much like a Ryzen 3 CPU – the lower end of the performance stack, a Ryzen 7 CPU would be higher-end, like the RX 5700 series, and so on. I'd actually quite like that as it'd be easier for the less technically inclined to know that say an AMD CPU 3 and GPU 3 series are the lower end, CPU 7 and GPU 7 are high-end no matter what fancy box art that an AIB wraps the GPU in.
Other Articles You Might Like