AMD's latest GPU architecture 'Tonga' has been unveiled in the form of the R9 285 already, which sports a 256 bit memory interface. But rumors are floating about the full Tonga GPU (the R9 285X) will feature 2048 Stream Processors and a 384 bit memory bus.
With their main competitor, Nvidia now enjoying a successful launch of their Maxwell GPU range,  and with rumors the GeForce GTX 960 will be soon join the GTX 970 and 980, AMD can't afford to sit on their butts. During a recent interview concerning the release of the R9 285 in India, AMD's Raja Kodori was discussing the Tonga architecture. It's now surfaced the full Tonga GPU architecture (known as Tonga XT) features a 384 bit memory bus, which is split into six 64 bit memory controllers.
Rumors also point to both a 3GB and a 6GB variant of the card. The R9 285 features just 2GB of RAM in comparison. From what we known so far, there's going to be 32 Compute Units (CU) which makes up the Tonga. For all intents and purposes, this will mean the Tonga and Tahiti have the same basic configuration.
Of course, this isn't to say there aren't going to be improvements over the Tahiti architecture. As we've discussed in our Radeon R9 285 review, the GPU was a little faster than the 280 (which it's replacing) despite the narrower memory bus. There are multiple reasons as to this, including the compression of data. This improves the GPU's efficiency.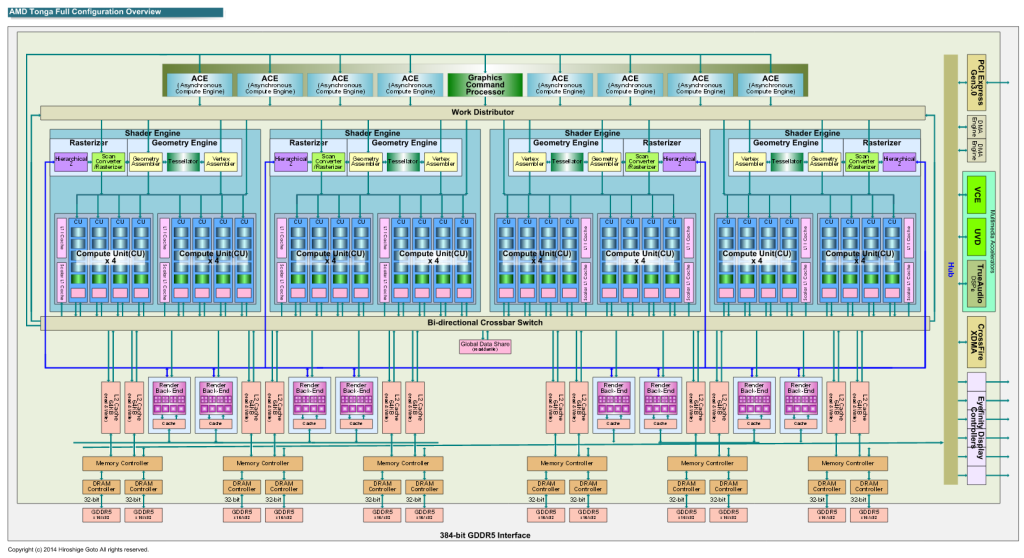 I, for one, will be interested in the final clock speeds of the full Tonga part. Considering the 285 we were sent overclocked like an absolute demon, there's likely room left in the architecture for more.
The reports also have it that Tonga is fully HSA compatible,  so features such as GPU Compute Context Switch and GPU Graphics Preemption are already part and parcel of the Tonga's architecture. We do know there have been multiple improvements in the Tonga GPU for compute. These include a beefed up ACE count and linked global data share. For more info check our full R9 285 review.
It's too early to say just how well this card would end up competing against Nvidia's Maxwell parts. In theory, levels of performance similar to the Maxwell GTX 960 or 970 are possible, but clearly final ROP count, clock speeds and other factors will play a major role in frame rates.
From the perspective of raw performance, the Tonga GPU seemed to scale very nicely with core clock, with the GPU's core making for greater gains than memory when we were overclocking the card. Clearly however things can change in the full Tonga XT iteration of the GPU.
With all of this said, if the part is a great price it will automatically find itself a segment in the market. AMD have the chance to delivery a good counter to Nvidia, but then again if time keeps ticking on we might see the Tonga R9 285X become the 300 series.
Other Articles You Might Like
Tagged with
AMD
,
architecture
,
DirectX 12
,
DX12
,
GPGPU
,
gpu
,
graphics card
,
hsa
,
Mantle
,
radeon
,
tonga
.