Details for AMD's upcoming range of Vega powered graphics cards have started to emerge, with the top dog, the Radeon Instinct MI25 outperforming Nvidia's Pascal powered Titan X graphics cards handily in certain applications, and crushing Maxwell without issue.
Currently, there are three distinct versions of the MI range, the MI6, MI8 and finally, the MI25. These numbers aren't just random, but actually, represent the amount of TFLOPS of performance each card is capable of outputting.
Starting with the MI6, the card is 'passively cooled' and puts out about 5.7 TFLOPS of FP32 performance, has 224 GB/s memory bandwidth and appears to be powered by Polaris 10, squeezing under the 150W TDP mark.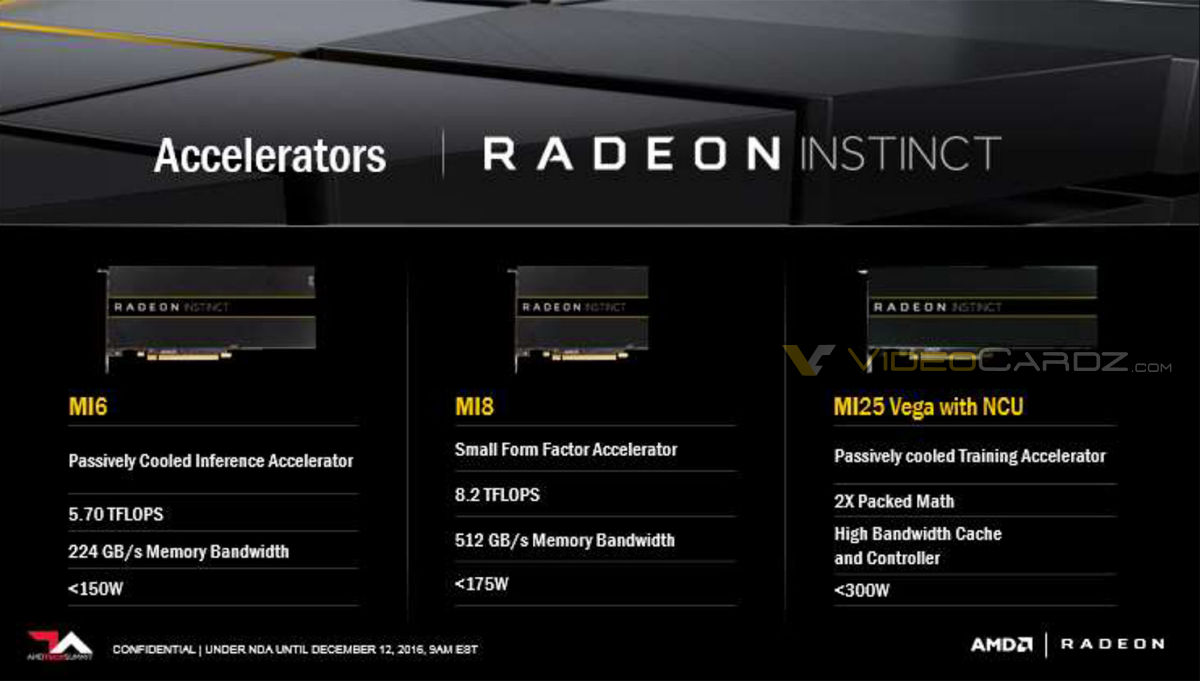 Next, we have the MI8, which bumps up the FP32 performance to 8.2 TFLOPS, with 512 GB/s memory bandwidth and Small Form Factor compliant (but isn't passively cooled). This accelerator operates at 175W TDP.
Finally, we have the Vega 10 powered MI25, which puts out 12.5 TFLOPS of FP32 performance, or 25 TFLOPS of FP16 (half precision) performance. Unlike its smaller brothers, it has High Bandwidth memory and controller and has a TDP of about 300W.
So AMD is really focusing a lot of the MI25's marketing around its FP16 performance, which isn't surprising given FP16 performance is not only higher (great for PR) but also FP16 is sufficiently accurate for deep-learning, machine learning and many other HPC tasks.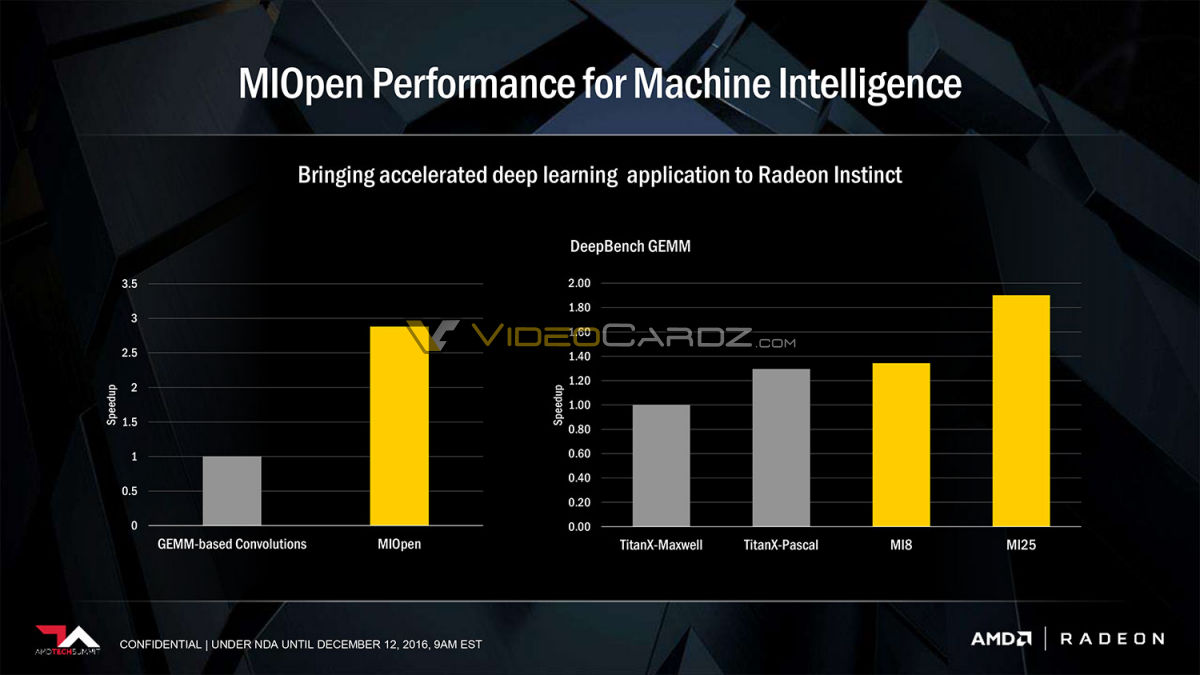 We've talked quite extensively about FP16 vs FP32 in part one of our PlayStation 4 Pro analysis, and we'd encourage you to read it over if you want more info on how this might benefit games (assuming AMD push this technology onto their gaming focus graphics cards… which is pretty likely).
It's worth noting that these aren't 'graphics cards' in the way you and I might think of them, they lack video outputs. You can instead think of them as co-processors for the system to offload tasks onto.
There's also no much information regarding the Stream Processor and clock speed configuration of the Vega-based MI25. For example, currently, GCN (Graphic Core Next) architectures from AMD feature 64 Stream Processors per Compute Unit, thus a 36 CU RX 480 sports 2,304 Stream Processors.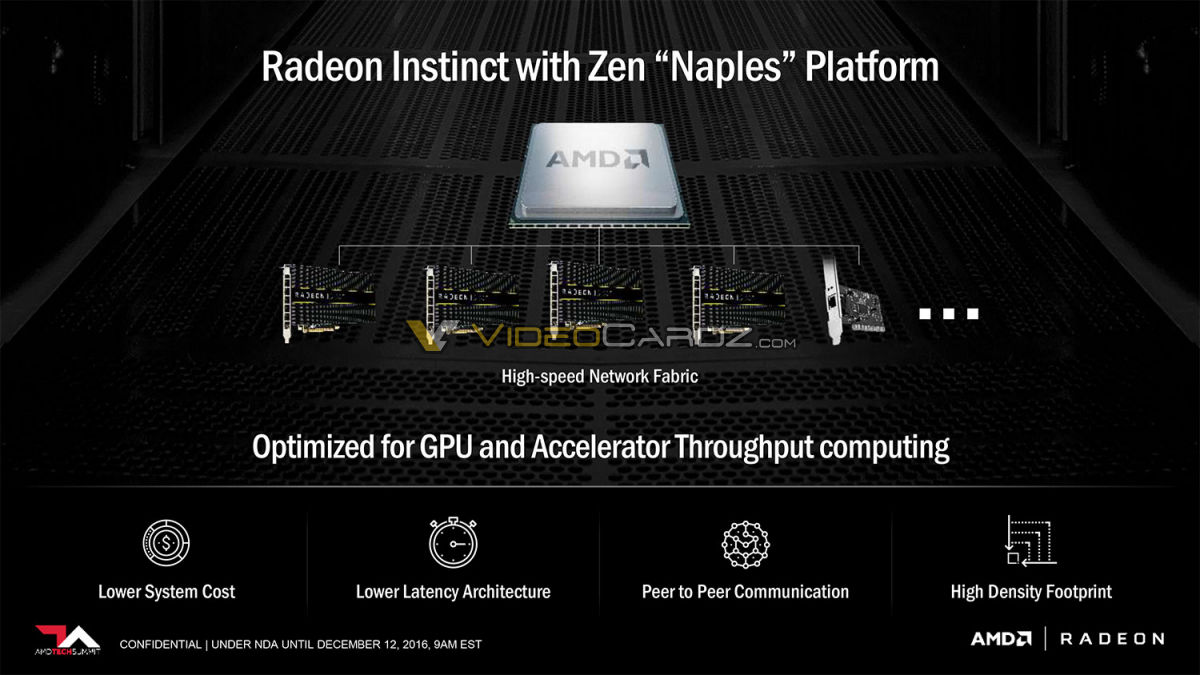 Whether AMD has kept this configuration for Vega or not (I suspect it's likely they have, but we'll need to wait for official confirmation) and what clock speeds they're running the MI25 remains a bit of a mystery.
Remember, that Polaris 10 runs at 1,266 MHZ as a standard, so we can likely assume higher clocks for Vega (given rumors). Assuming 4,096 Stream Processors, AMD would need to hit just over 1,500Mhz for the GPU to reach 12.5 TFLOPS of FP32 performance. We can calculate this with 4096 * 2 ops per clock * clock speed.
Regardless, the performance of the card is impressive – assuming AMD's performance numbers are to be believed. Even the Pascal-based Titan X is around 70 percent slower than the MI25 in DeepBench GEMM… an impressive achievement.
AMD are also keen to boast about how their new graphics accelerators (Radeon Instinct) will run with the Zen based Naples, with high-speed network fabric and low latency being the key. Impressively, up to 120 Radeon Insinct MI25's can be plopped together, putting out up to 3 PetaFlops of performance. I think the answer here is that yes, it probably could do a spiffy job at running Crisis.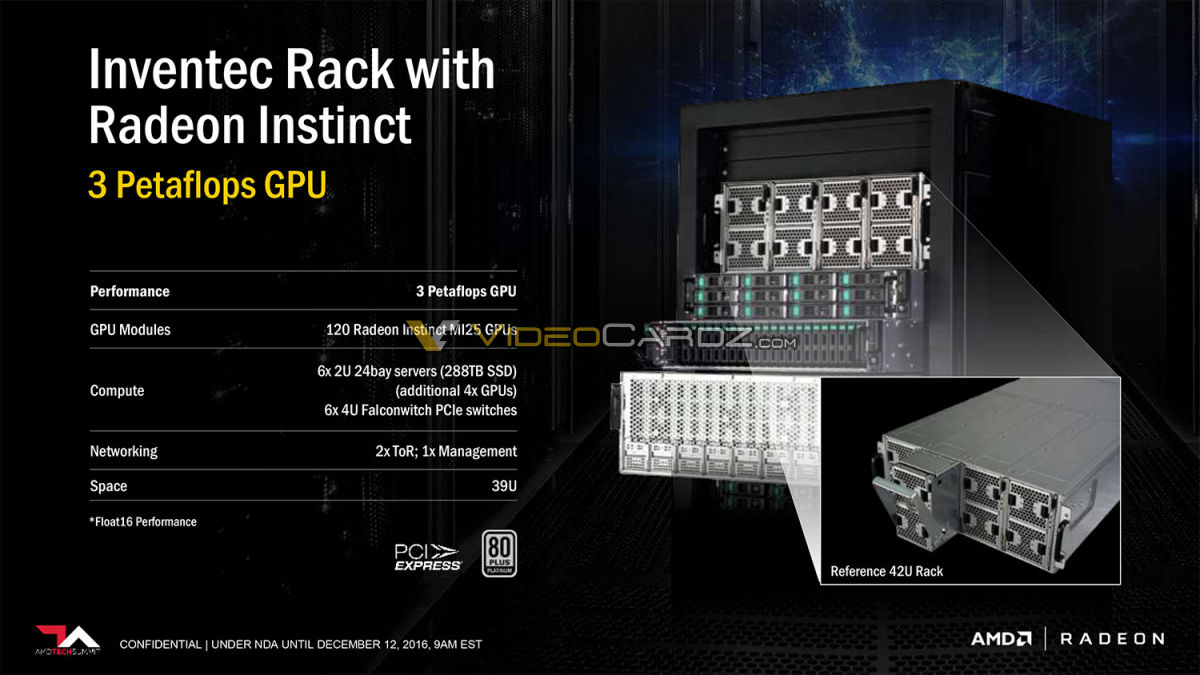 Interestingly, all of this information closely resembles previous 'leaks' telling us that Vega 10 will indeed sport performance of about 12 TFLOPS (FP32), with dual configurations of the card doubling this (so 24TFLOPS).
Finally, a chart has popped up on ChipHell forum – though there is a lot of questions regarding the validity of its accuracy. Essentially it lots various GPUs from both Nvidia and AMD with their respective performance. Graphics Card, Architecture, Process, Stream processors, Clock speed, Memory type, Memory Bus Width, RAM clock speed, VRAM, Performance, TDP and finally Actual TDP.
The reason this chart hasn't been given its own article or pride of place in this article is due to how skeptical I am of its accuracy. I personally believe it is either a fake or someone has created it as a prediction and then this chart was picked up by other websites. A few things concerning me include that it lists the GTX 1080 Ti and also the 500 series from AMD, where there is very little information on either.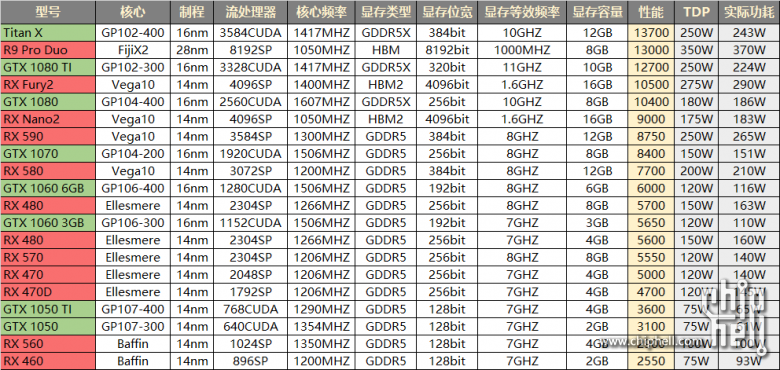 For instance, the closest we have concerning the specs of the GTX 1080 Ti is that it will sport the same core as the Titan X Pascal, but with fewer CUDA cores and 10GB VRAM. Estimates back in November of this year, peg the card with between 44 and 52 SM units.
As for the 500 series from AMD – there's multiple possibilities, including the RX500 series using the Vega 11 line of cards, or perhaps something a little different. A few days ago we'd spotted Polaris XT2, Polaris 12 and Vega listed in Mac drivers, so how the first two architectures fit into all of this is a little puzzling.
I'll save further speculation for this article, because with the upcoming New Horizon event taking place tomorrow, there's a chance a lot of these questions will be answered.
Thanks to Yalaz and MemeRooney for the tips emailed into us. Image credit – VideoCardz.com
Other Articles You Might Like