Despite Nvidia's RTX 30 series of cards launching, and AMD taking the CPU performance crown with Ryzen 5000 series and being very competitive with their Radeon RX 6000 series, the hardware shortages have left a lot of people still without next-generation PC hardware and wondering if they should just hold on to what they've got until Nvidia's Lovelace and AMD's RDNA 3 and Warhol see release.
Given these shortages, I decided to reach out to several of my sources and try and get an understanding as to the release schedule for hardware and what type of performance targets we can expect. Many of these sources have provided excellent information in the past (such as with my Ryzen 3000 and 5000 information and all of my RX 6000 information), so I have a high degree of confidence this information is pretty accurate.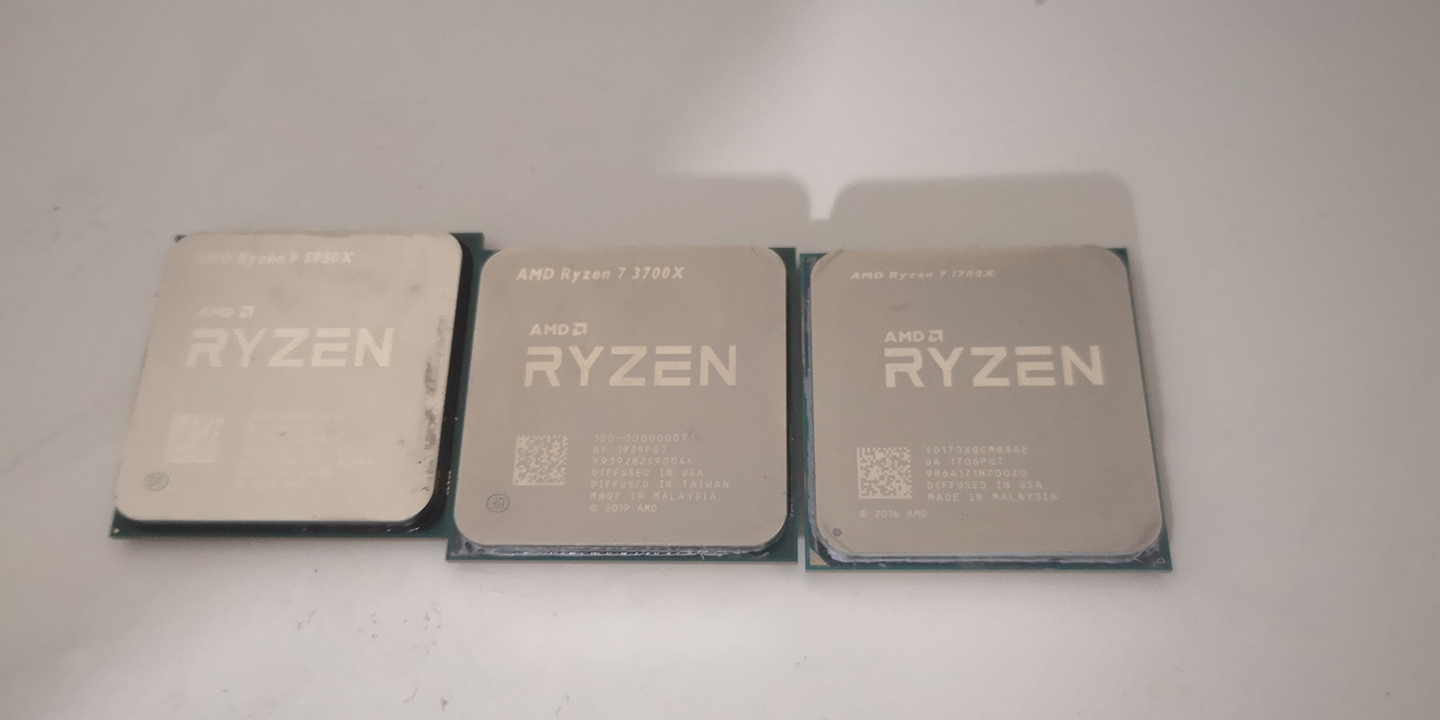 Let's start things out with the GPU market, as I think it's by far the most volatile right now given the rise of GPU mining once again. I had more recently released a video detailing that two sources had told me that RDNA 3 had an internal performance target of 2.5x over RDNA 2 (which had been explained to be flagship product vs flagship product, or I guess Radeon RX 7900 XT vs Radeon RX 6900 XT, assuming the naming scheme holds true for next-generation).
I'm more confident that this target is indeed accurate, as I've since backed this up with another source familiar with AMD's plans. It seems that Dr. Lisa Su and her team are indeed wanting to be ultra-aggressive with their GPU roadmap and plans to fight Nvidia. Speaking with another source, familiar with Nvidia's own products (and then later backed up by a second source), RDNA 3 being 2.5x faster than RDNA 2 was on the higher end of Nvidia's internal estimates, but nothing that they'd be unprepared for.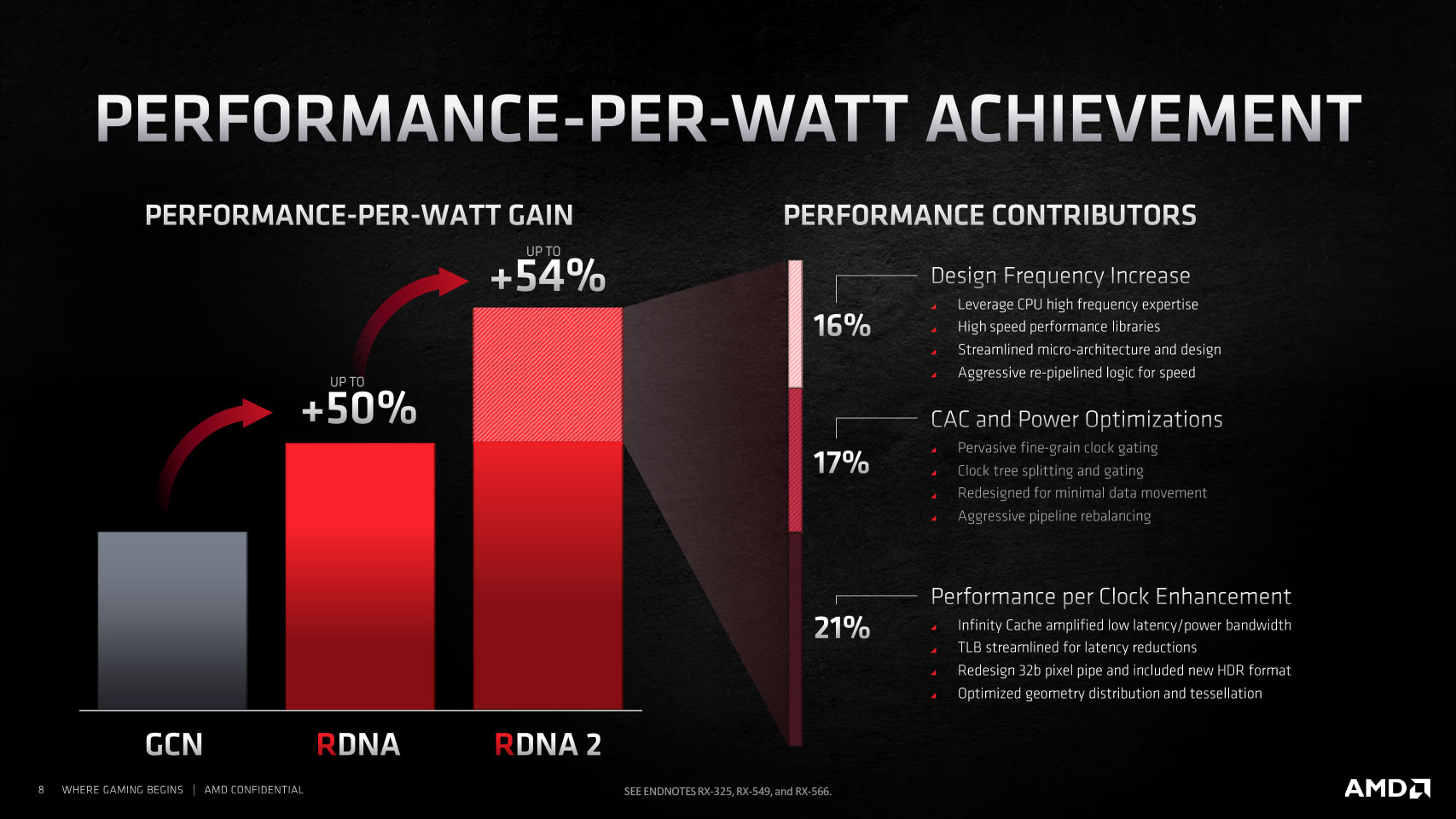 Apparently, Nvidia had thought of a 2x – 2.5x increase was most likely for Navi 3x, given AMD were pursuing chiplets for RDNA 3 (though we'll discuss those more in just a moment). A source had also told me that AMD would definitely be improving their ray tracing solutions drastically, being much more "Nvidia like" in its performance. Though Nvidia's DLSS solution would apparently remain superior to AMD's own offerings, an important point we'll touch on more in a moment.
To this end then, Nvidia's Lovelace seems to be similar in its targets, and Kopite7Kimi has already given early details into the number of CUDA cores being over 70 percent greater for AD102 (thought to be Lovelace's largest die) than GA102 (Ampere's).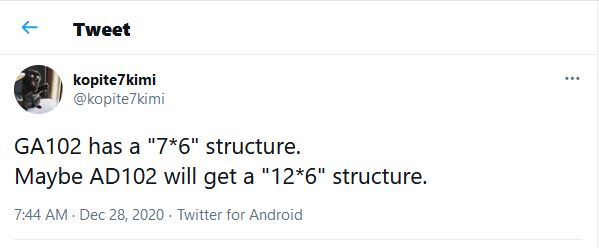 I have been hearing of improvements in cache, much higher clocks (thanks to 5nm) and other architectural improvements. Basically, any concerns Lovelace would be a small side-grade to Ampere seems unfounded, despite it not being originally planned, and the original goal of Nvidia had apparently been Ampere to Hopper (which is MCM).
I'd also covered in this same Nvidia video too that apparently, they were also very aware of Intel's GPU plans, with Intel Xe reportedly "pretty good" at Ray Tracing (competitive to Nvidia). Though I'm also hearing another concern of their plans is Intel's plans for solutions for the data center, using both their CPU and GPU silicon, combined with OneAPI. But this is outside the scope of this article and perhaps something I'll touch on in the future.
Getting back to AMD then, RDNA 3 is apparently coming on rather well, and I was told that the release date of RDNA 3 is definitely not this year, much like Lovelace, so if you NEED a GPU this year then I am fairly certain you won't find RDNA 3 launch this year.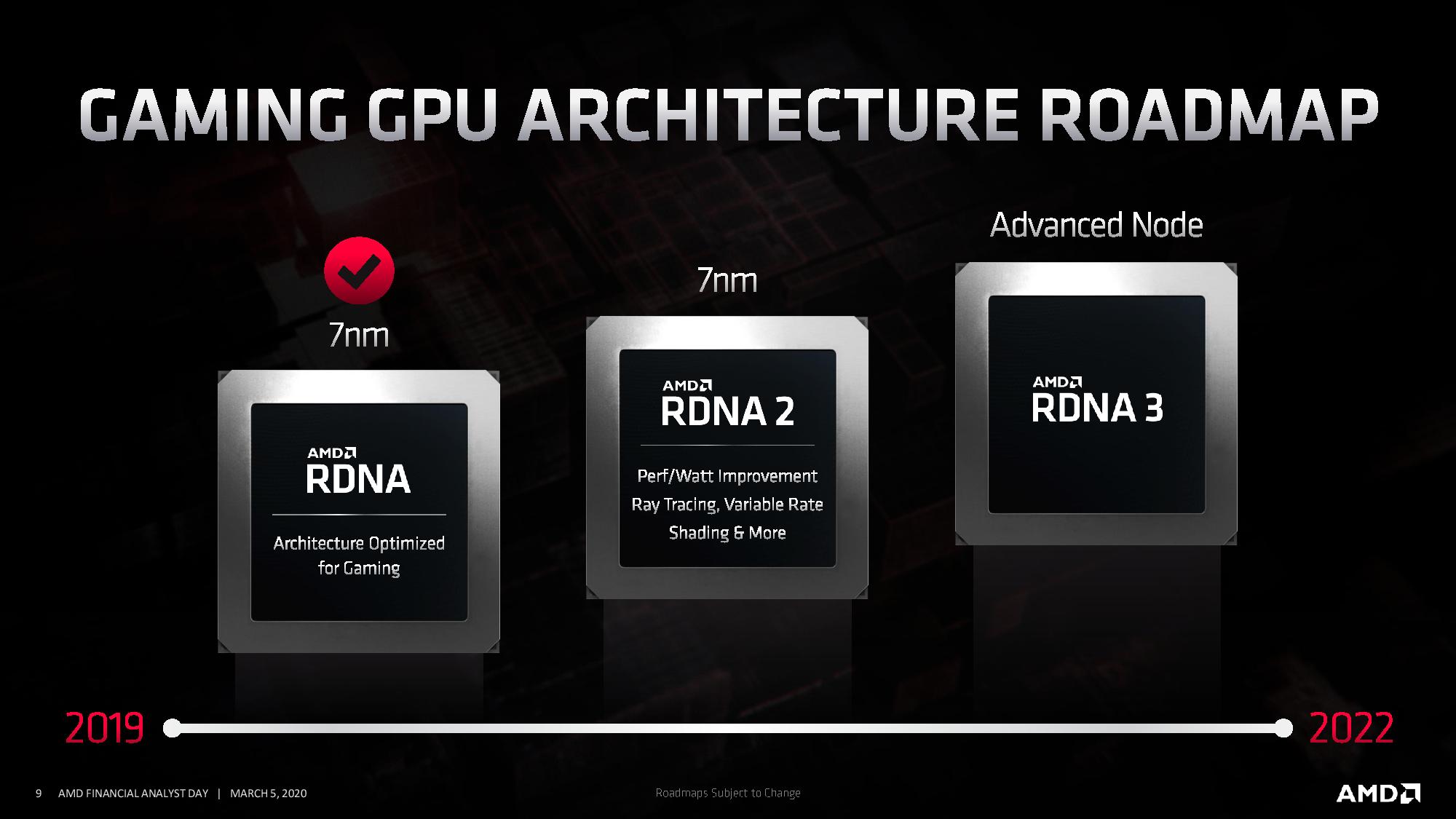 Plans are a bit less clear regarding a possible RTX 30 refresh (I guess, RTX 30 super series), and of course the situation with the RTX 3080 Ti has been ever-changing. But, for AMD at least, RDNA 3 is next year. I believe it is the 1st half of 2022, but I've had only one source outright tell me this, whereas one other hinted this is true but wouldn't confirm it, and the third just stating that it's "definitely not 2021".
Oh… you're not satisfied with that info and want more, huh? Okay well, I've got you covered. RDNA 3 is an MCM (chiplet) design, but also monolithic too. Navi 33 (so, the lower end SKUs you would assume), is apparently Monolithic in nature, but Navi 32 and 31 are MCM (Chiplet). I was told that there are two types of die, with the first being for the GPU's compute units and the second die being IO in nature. I had recently examined the MLA (Machine Learning Accelerator) patent, which basically is like Nvidia's Tensor Cores, albeit in chiplet form. But was told there's definitely no MLA on RDNA 3, and it is strictly the two chips I mentioned above.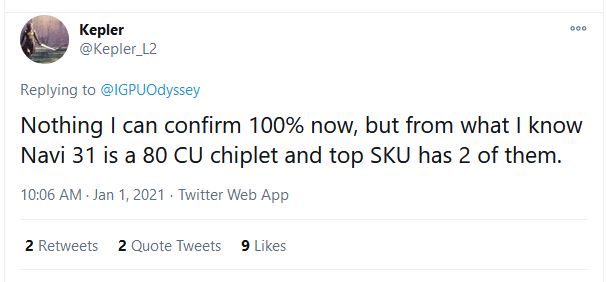 Reading this back, I suppose you could think of it as more similar to AMD's Zen 2 or 3 chiplet design for a Ryzen 3950X or a 5950X, with the Compute Units and other such components housed in two separate chiplets (Kopite7Kimi stated in public there is two of these dies on RDNA 3, though one of my sources had stated it might be only 40 CU per die, not 80, although skeptical this information is true, so I am currently thinking 80CU per chiplet).
The monolithic Navi 33 die is more of a mystery, and I was rather surprised to hear about it. I don't know the specs yet, and it's rather interesting that AMD would design a die with integrated IO rather than simply using a single chiplet with IO. Perhaps there's less than 80 CU in these GPUS, though. Perhaps we could be seeing 64 CU or something like that, with Navi 33 being then cut down for whatever GPU products (so, a 64 CU SKU, a 40 CU SKU and so on), but to stress, this is a guess, I do not know Navi 33's specs yet, only that it's monolithic whereas its bigger RDNA 3 brothers (Navi 31 and 32) are chiplets.
I was also told that CDNA 2 (for data center and nothing gamers would buy of course) would see a release date this year, but I have fewer details on CDNA 2, so until I can get more information clarified I will remain silent on what I was told, for now at least.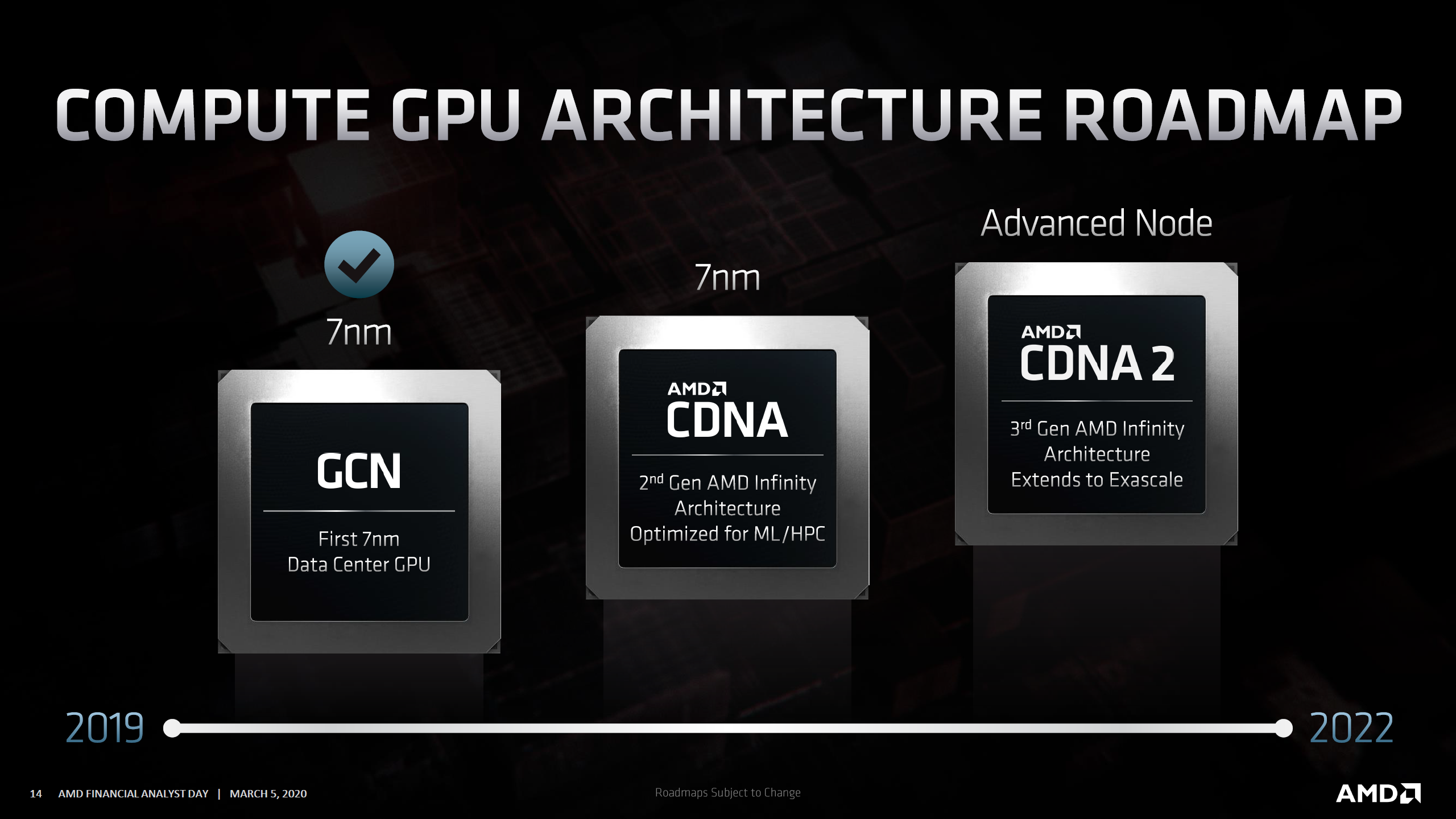 I'll also throw in that I was given a little information about RDNA 4, but it's a little early to share much of it, not least of which because it would give AMD's competitors perhaps some insight into the companies plans. I was told that it's still being bought up (obviously), but so far its coming along rather well. We'll also see a difference in how chiplets for RDNA 4 function versus RDNA 3 too, but I'll discuss this more in the future.
For those who want CPU related information, I was told a little about Zen 4 and AMD's "Warhol", with Warhol being also known as Zen 3+, which we'll start with. Warhol is apparently releasing this year according to my source, in Q4 (so the Zen 3 refresh is Q4 2021).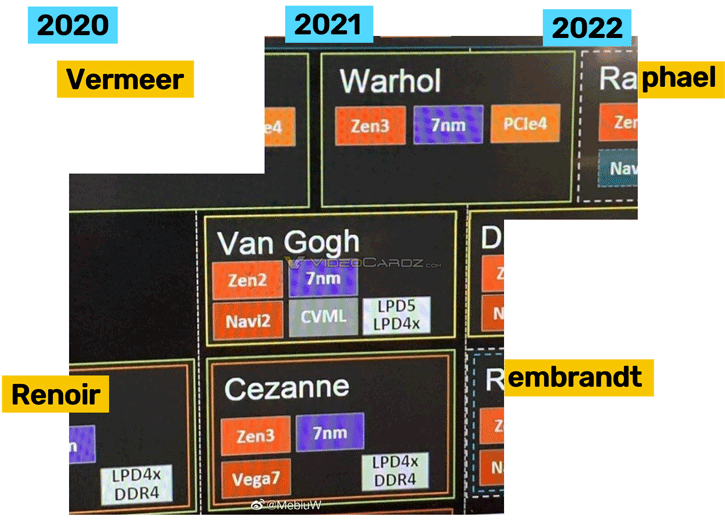 I had previously been told by another source quite some time ago they thought it was "early 2022", but this new information is much more confident, so unless there's a delay (unlikely I'd say) AMD will release Warhol this year. I believe the naming scheme will be Ryzen 6000, but of course, this can change until close to release. This is particularly true given a partially leaked roadmap also stated 2021 for the launch of Warhol too, so my information seems to tally up with this, and of course, gives us the period in the year it launches. It would also mark roughly a year after the launch date of AMD's Ryzen 5000 series too.
AMD Warhol is a refresh, and so the core count remains unchanged at the top end compared to Ryzen 5000 (16 cores, 32 threads) and I was told that it's a refresh, so there are modest IPC bumps, but it's nothing earth-shattering. Ironically, the one thing I cannot get cleared up yet is if Warhol is AM4 or if it's AM5. A source quite some time ago had told me that Zen 3 was the final product on the AM4 platform, and AMD had stated that the 400 series boards wouldn't house upgrades after Zen 3, but the leaked Warhol section of a roadmap seems to indicate that it's got PCIE 4 support, which would hint that it's AM4, and another more recent source had told me he's "pretty sure" it's AM4.
Indeed, prior to the release of Zen 3, I had leaked that there were a few reasons for this continued core count of 16. The first is that Intel just wasn't putting enough pressure on AMD to raise the number of cores for Zen 3 (Ryzen 5000), but also the dual DDR4 memory channels was a limitation. If you increased core counts, and don't have enough bandwidth to feed them, then the usefulness of the extra CPU cores is questionable at best even with a great cache structure.
It seems then that Warhol will likely face off against Intel's Alder Lake S desktop processors close to the end of this year, which would be interesting given the BIG.Small nature of Alder Lake, and possibly an IO advantage for Intel too (assuming AMD really doesn't support PCIE 5 and DDR5 with Warhol).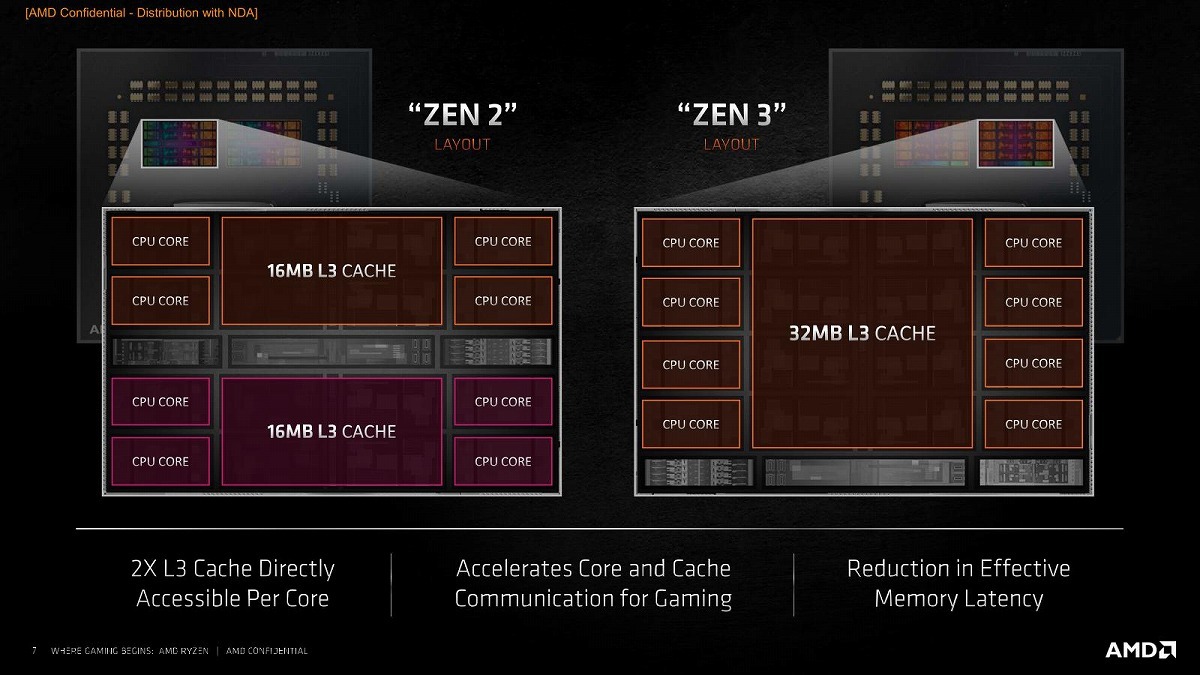 I was also given a little information regarding Zen 4 too, and I'll throw it in here. Zen 4 has a rather decent IPC gain over Zen 3, and I was told that it's impressive but nothing "out of the ordinary" for AMD, matching AMD's own comments that Zen 4 would offer an IPC gain in-line with what we've seen from them in previous architectures. I wouldn't assume it'll be over 20-ish percent, though of course IPC on average, though of course IPC is a bit of a difficult beast.
Interestingly though, I had a source all but confirm a higher core count for Genoa (the server Zen 4 parts), and seems that it is 96-cores. I'm way less certain on that part though but was told that Genoa isn't just impressive because of IPC. Apparently, the DDR5 memory is also benefiting AMD's platform extensively here, and I'm told by a separate source that Genoa easily outclasses AMD's older products by a long way for server and that it's a "crazy" fast.
Other Articles You Might Like
Tagged with
AMD
,
and warhol
,
gaming news
,
performance
,
rdna 3
,
rdna 3 chiplet
,
rdna 3 performance
,
release date
,
rx 7000
,
ryzen
,
ryzen warhol
,
warhol
.