Finally we're starting to get a good picture of what AMD have planned with Zen, their successor to their Bulldozer lineup of CPU's. Just yesterday we covered a leaked block diagram of the Zen, which gave us an insight into the inner workings of the CPU at a core by core level, demonstrating (among other things) the CPU could handle a 512-bit float.
Today we've a diagram emerging from Planet3dNow detailing the workings of a Quad Core unit, which (as you'd probably guessed by the name) is made up of four Zen CPU cores and a bunch of Level 3 cache.
For AMD, at the most basic level, four Zen Cores and a chunk of Level 3 Cache (8MB) make each Zen Unit. This can be thought of in a very similar way to how the GCN architecture works, where 64 ALU's (along with cache and other components) come together to form a Compute Unit, and many CU's form the basis of the GPU.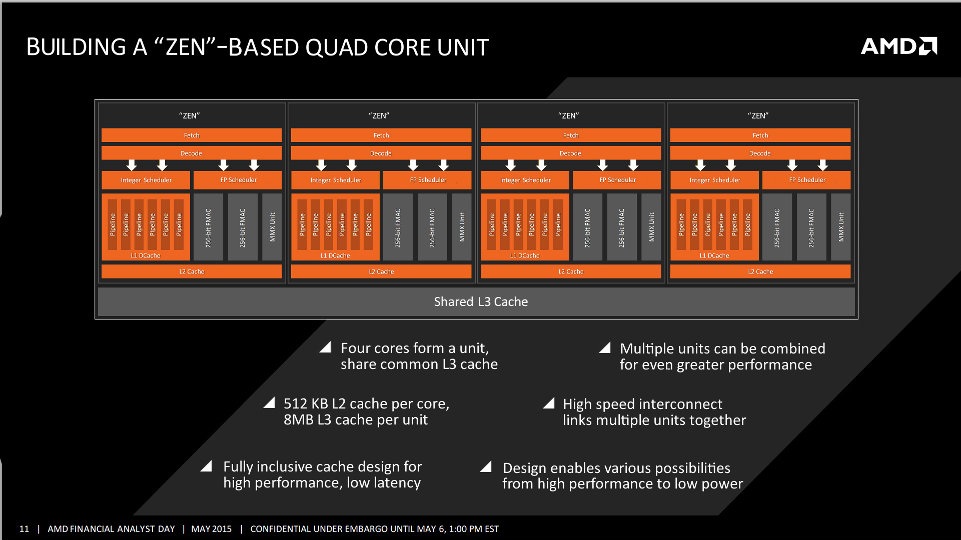 AMD are rather aggressive in their marketing claims, happy to point out that the design is low latency (particularly the cache) and of course each of these Zen Quad Core Units 'talks' to another using high speed connections. While the power requirements aren't displayed (other than hints on the slide that the designs to support low power) rumors hint that the Zen's go up to 140W TDP.
From what we've heard during previous leaks and rumors, AMD plan on fitting a whole bunch of these Zen modules together, for both desktop and server based solutions. For example, a 16 core Zen APU (which also sports a GCN based GPU) is likely going to be one of many product offerings available in the server market.
We don't know the exact release date, but as we've said many times, AMD's own roadmaps point to a 2016 release date, and they'll be using Global Foundries (unsurprisingly) to produce the chips in a 14nm process.
A little information has also popped up from Fudzilla regarding the Opteron processors. The 32 core Opteron, will be a MCM (Multi Chip Module) design comprised of four dies, each die houses eight X86-64 Zen CPU cores. Furthermore, each MCM with 8 cores has two memory channels, handling up to two DIMMS per channel. One can easily do the math and realize that in theory this will allow upto 16 DIMM slots – a rather large amount.
With the Opteron Zen, each core will have 512KB of level 2 cache, and share 8MB of lavel 3 cache. Naturally, the CPU will support DDR4 memory, and indeed can handle up to 256GB per each of the eight channels. For communications, you can expect PCIe Generation 3 SATA, several 10GbE Ethernet ports and more besides.
So – all in all, it's looking good for AMD on the desktop and server front. But of course, it's far from a clean win. It's vital to remember Intel will be releasing Skylake by the end of the year (well, quite a bit before, assuming their schedule holds up) and who knows what the performance of Intel's CPU's will be in 2016 or 17.
If you've recently gotten into PC gaming, you might not know Intel were once behind AMD – not just in performance, but also in X64 technology. Intel's early Pentium 4's in particular were pretty terrible, but they eventually pulled back performance with later models by introducing Hyper threading and ramping up the clock speed.
As we'd discussed in yesterday's article, AMD's Bulldozer design excels in certain tasks, but unfortunately for basic integer and single thread performance (which is what a lot of games rely on) suffered.
Let's hope for highly competitive offerings from both companies, if only for the good of the customer.
Zen Quad Core CPU Block Diagram
AMD's Zen CPU quad core block diagram has leaked onto the internet, and we also have details of the high end 32 core CPU's too.
Brand:
AMD Zen X86-64 CPU and Opteron
Other Articles You Might Like