AMD have officially given the date it will unveil their upcoming next generation processors, known as Zen to the world. Taking place in Austin, Texas on December 13th of this year, the event will play host to members of the press and also be livestreamed around the world.
AMD are promising to not only demo the new Zen chips, but also allow the public hands-on access with the silicone to put the new CPU's through their paces before the products are launched early 2017 to the eager masses.
AMD's statement is short and to the point, "Join AMD at New Horizon on 12/13 at 3pm CST for an exclusive advance preview of our new "Zen" CPU ahead of its 2017 Q1 release. New Horizon is AMD's fan-focused event, designed to engage our most dedicated customers.
As well as a hands-on preview of the power of "Zen", attendees will be able to talk to the AMD minds behind the chip itself and grab expert gaming advice from eSports & Evil Geniuses legend PPD.
The event is hosted by industry veteran Geoff Keighley, who'll introduce special guests throughout the day."
So the stage is set, but while we wait for the New Horizon to livestream, what do we know about Summit Ridge and what can we anticipate is going to be revealed?
So what do we know about Zen's specs?
Zen is probably AMD's most anticipated products for a decade, and represents a total redesign and departure from their current CPU lineup. From an aerial overview of the processor, it is aiming to bring the company within parity with Intel – both in terms of single threaded performance and also multi-threading.
We've discussed the low level technical side of Zen previously (check the article if you want a truly in-depth analysis of all the architecture changes), but there are a number of radical difference in the hardware. The first (and most obvious) is the introduction of SMT (Simultaneous Multithreading) which allows a single physical core to handle multiple threads. It's possible AMD will dub their spin on the technology 'ThreadRipper' based on a recently filed patent, but we'll have to wait for official confirmation.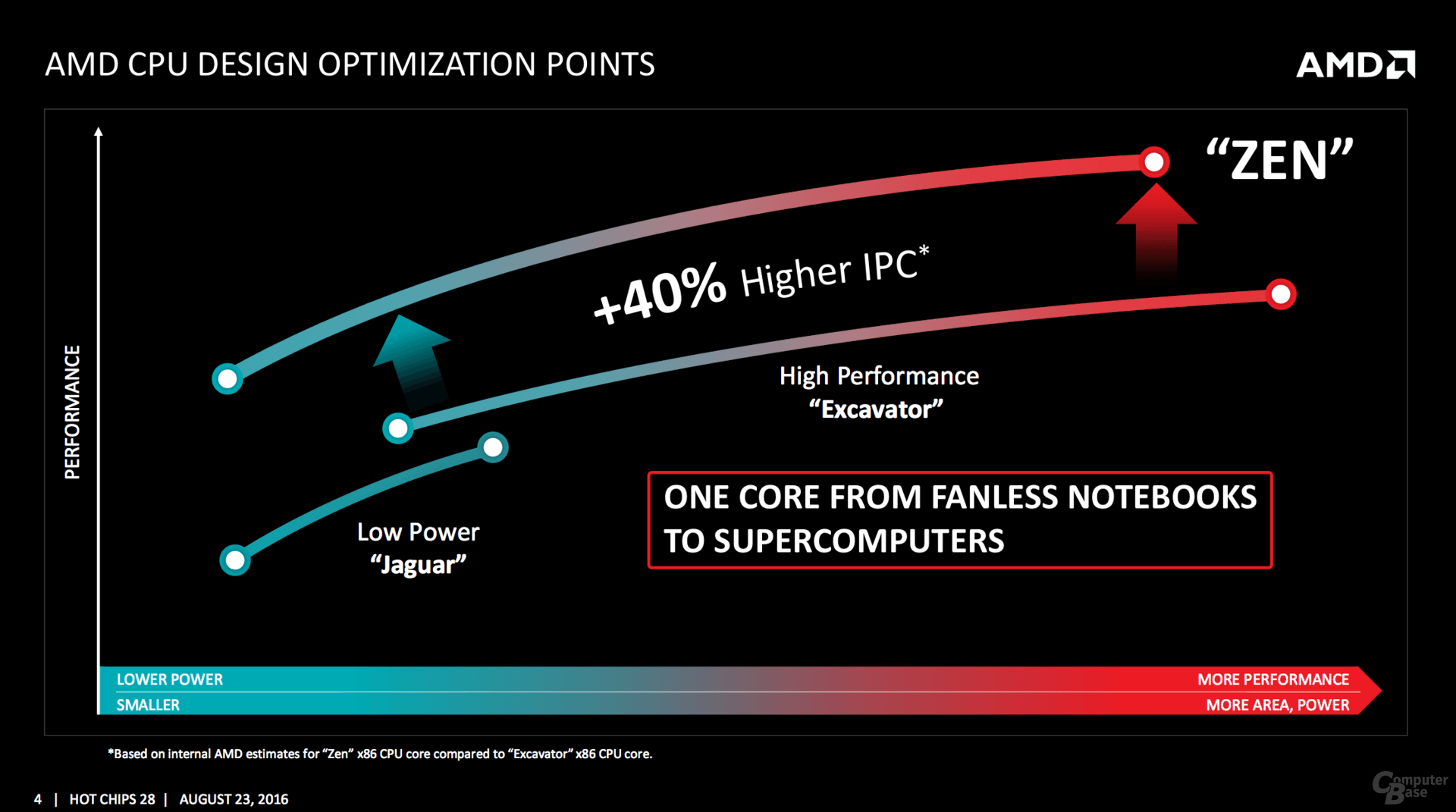 For basic products, the highest end CPU for desktop will be an 8-core / 16 thread part, and there is also thought to be a 4 core / 8 thread Zen, and finally a 6 core / 12 thread version of Zen. The rumors tell us that AMD are 'thinking' of calling these CPUs SR7, SR5 and finally SR3 – with SR7 representing the 8 core / 16 thread desktop Summit Ridge, and SR 3 the low end.
AMD are aiming for at least a 40 percent improvement per clock over their legacy CPU products, and are tackling this in a number of ways.
Firstly, Zen is built in modules of 4 CPU cores (known as a CPU Complex – 'CCX'), each of these four CPU cores are connected to a central 8MB of Level 3 cache, which is 16-way associative and 'mostly' exclusive of each cores individual 512 KB of L2 cache. In theory, this will reduce the chances of the same data occupying both L2 and L3 cache, thus wasting space. Each of these cores can access each cache, meaning the chips have been designed for multi-threading. Bandwidth across caches also spikes compared to older generation, with a 2X and 5X performance increase for L2 and L3 cache respectively.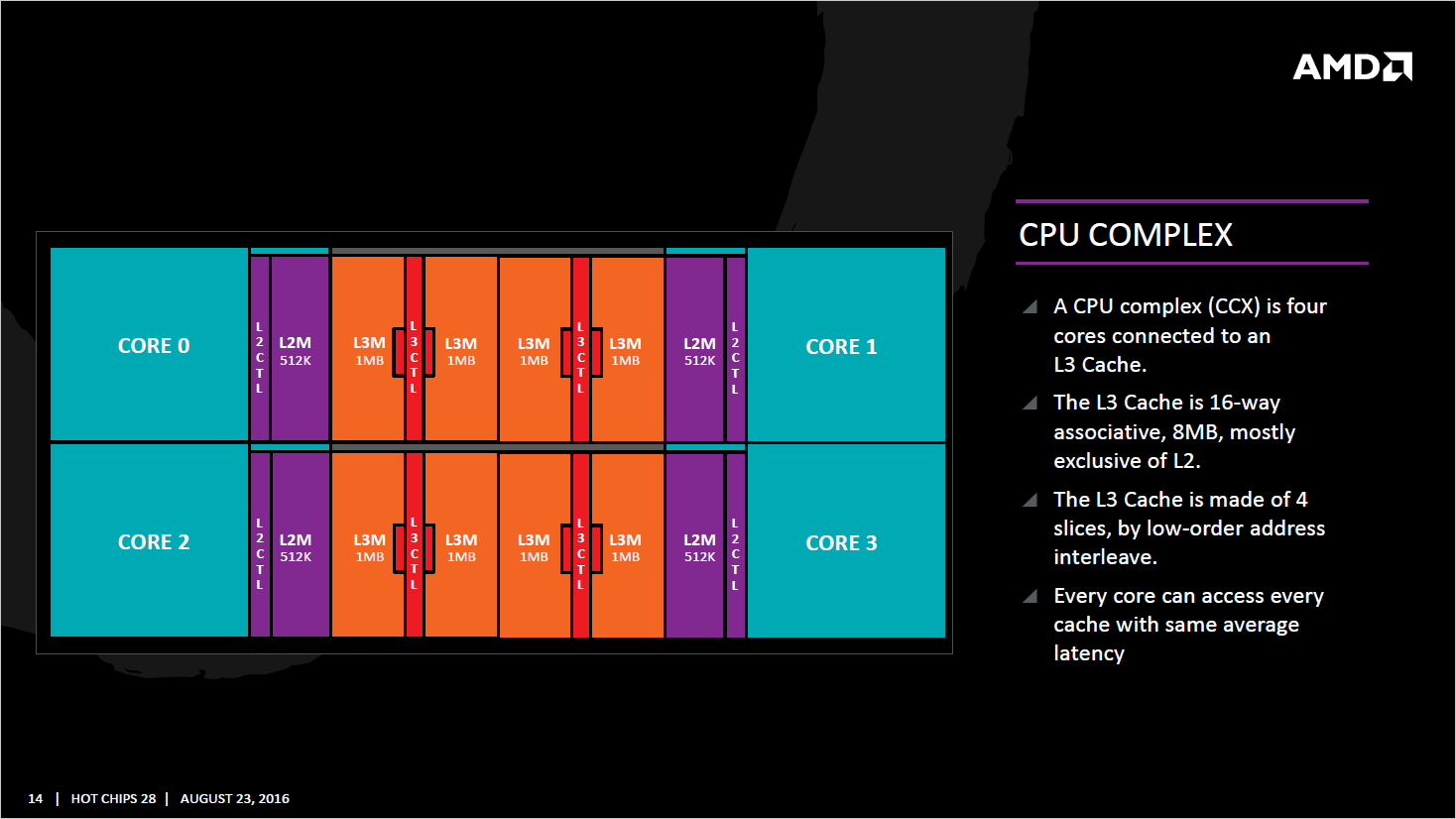 AMD also have taken Zen's core's to task, improving both floating point and integer performance drastically. The CPU has better branch prediction, allowing the CPU to better follow the logic of programs and 'predict' what data to load in next, and larger scheduling units for both Integer and Floating Point, raising them to 84 vs 48 and 96 vs 60 (also respectively) of their older generation. Combine this with better Op Cache, a more robust queuing system and a bunch more stuff (we covered in the Zen technical analysis) the CPU is faster at processing data, but also much better at actually grabbing the requisite data.
The current series of CPU's (such as Bulldozer) suffer notably from poor floating point performance, and AMD aren't keen for Zen to suffer a similar fate. With much larger registry entries, and Zen allows the dispatch unit to send off an instruction to both the Int and FP in the same cycle, and as one can imagine this increases the throughput and the processors efficiency considerably compared to the alternative approach, which would be for the CPU to alternate per cycle (for example, FP dispatch cycle 0, INT dispatch cycle 1, FP DIS Cycle 2…).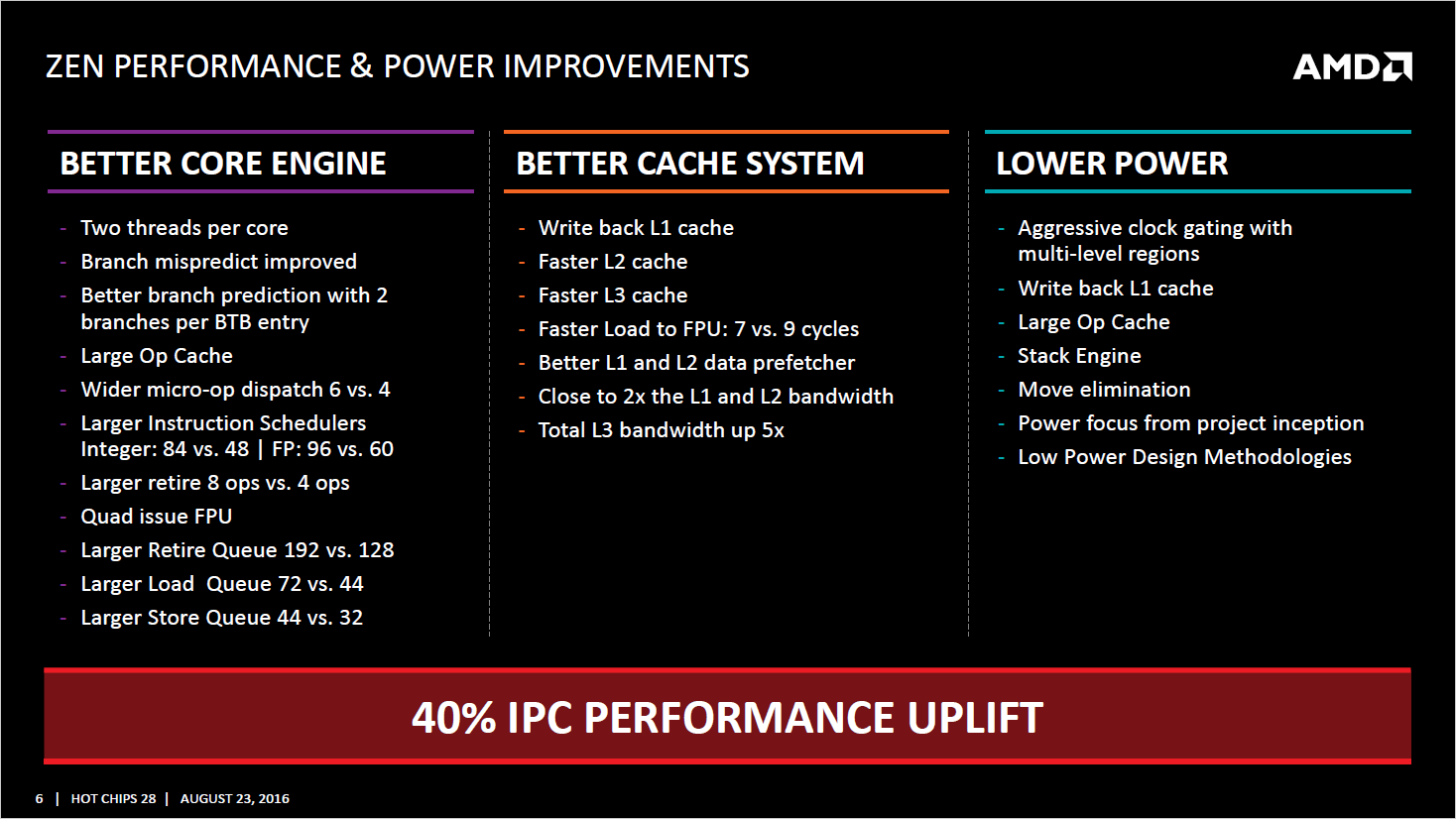 While we could keep talking about the hardware changes of Zen (and we did in our analysis) the changes to the processors power consumption also are worthy of discussion. AMD employ aggressive clock-gating which saves power in the CPU by essentially 'switching off' parts of the processor not being used, and with a write-back L1 cache and larger Op Cache there's less 'fetching' of instructions because there's a greater likely-hood more common instructions will be already held somewhere on silicone rather than farming of to RAM.
What do we known about Zen's Performance?
Ultimately, specs sound cool on paper – but it's what those specs 'do' which is the most important part of Zen. AMD have (unsurprisingly) kept rather quiet on much of the processors performance, aside a few key comments and demonstrations. There is a lot of rumor and leaks – so we'll tackle most of them here.
Firstly the 'official' IPC for Zen is about 40 percent over the previous generation of processors, and this tallies up rather well with the (now infamous) blender tests we've seen which pitted an Engineering sample Zen running at 3 GHz vs a Broadwell-E 6950K (at the same clock speed). Zen pipped the Broadwell to the post (by a narrow margin) – and this was all AMD needed to show to bring an air of excitement to their product launch.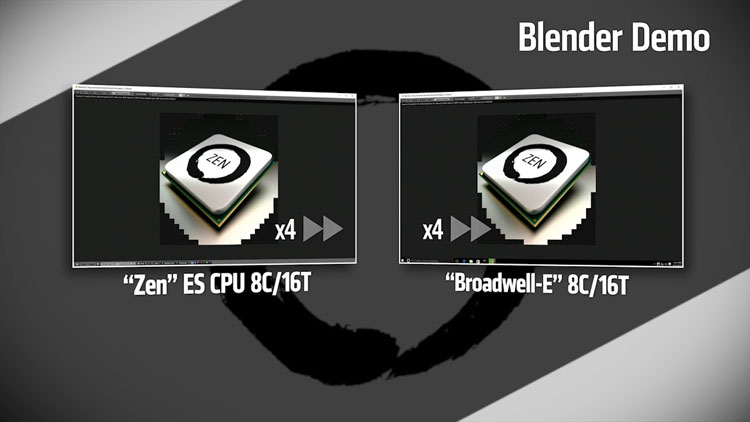 A plethora of other leaks, rumors and tests appear to collaborate AMD's own official results, with the CPU (depending on the benchmark and test) pretty damn close to the performance of Intel's current Skylake range of processors. Some reports also tell us that these results were with incomplete memory controllers (supposedly the RAM was limited to just 2133 MHz) for those particularly Engineering Samples – leaving the possibility that the CPU's final performance might improve in bandwidth intensive tasks. These same rumors pegged the 8 core / 16 thread part as outperforming Intel's I7-5960X.
From a general point view, it appears that AMD have nailed the performance of Intel's current chips to within a margin of a few percent either way, but I'm sure certain applications and games will slightly tip their favor to either AMD or Intel specifically – which has been the normal in the tech industry since well, forever.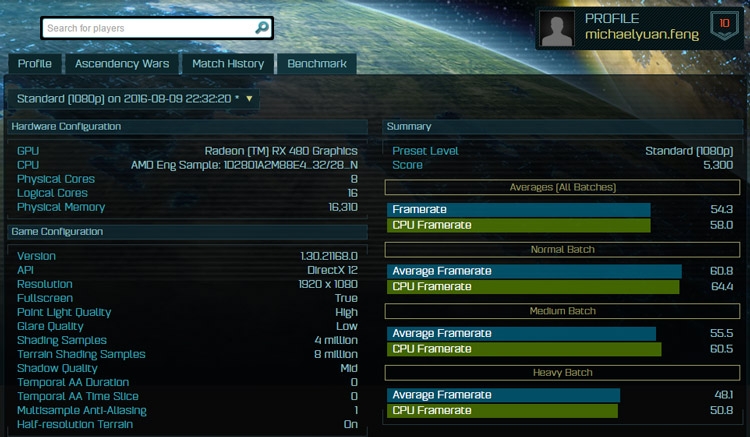 For other applications there have been a few benchmarks showing performance in Ashes of the Singularity, unfortunately the results appear to be very early engineering samples, but do provide a glimpse of what the company have been working on behind closed doors.
There are some questions which remain unanswered – chiefly clock speeds. Assuming Zen's clock for clock performance is similar enough to Intel's current lineup, then clock speed really makes the difference on tasks. Intel's Kaby Lake I7-7700K may sport just 4 cores and 8 threads (paling in comparison to the SR7 / 8 core / 16 thread Zen) but it does have a clock speed of of 4.5 GHz, which makes it no slouch.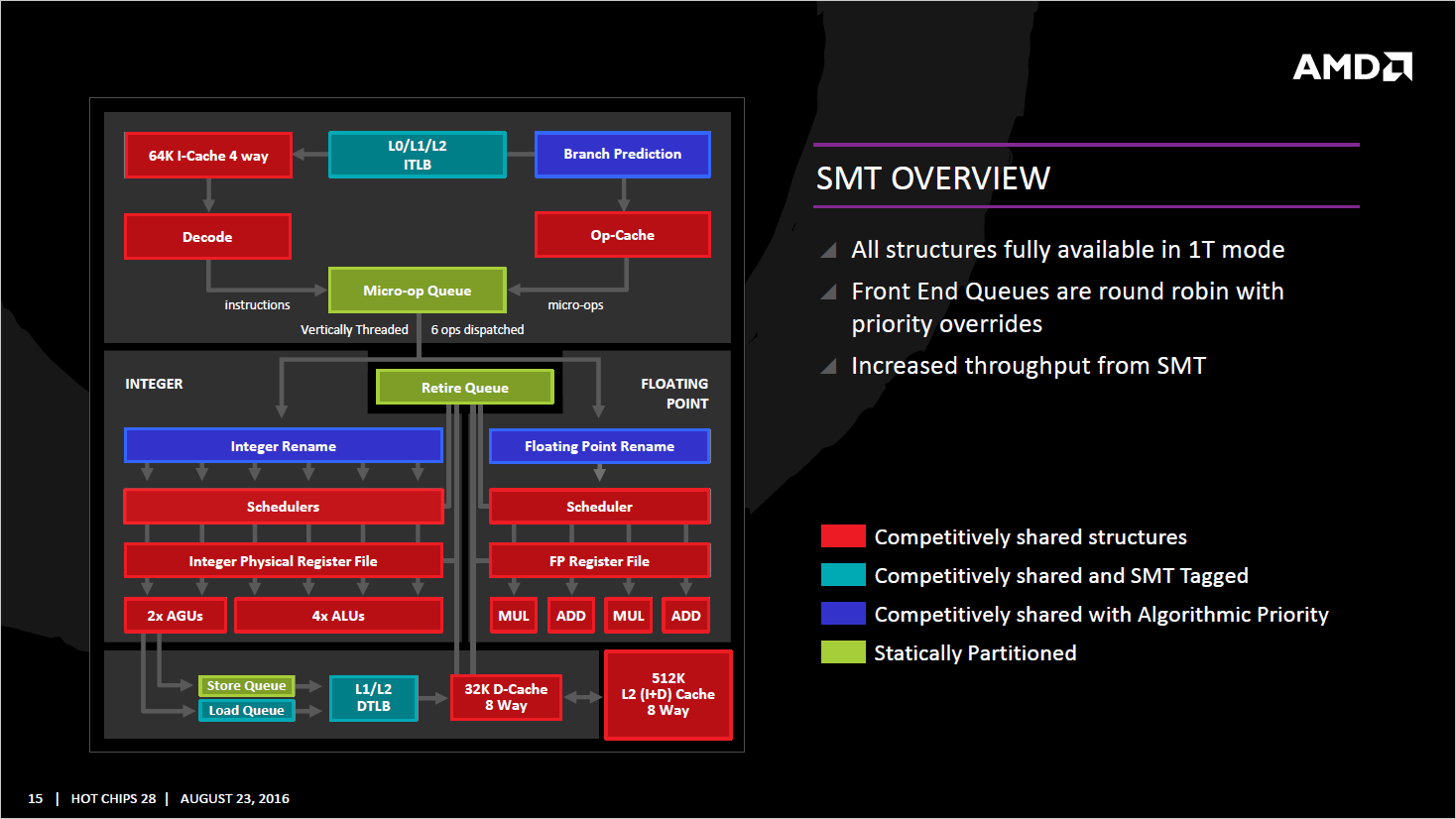 Officially, we know the Engineering Sample Zen ran at just 3 GHz, but some reports place Zen's base clocks of between 3.3 to 3.5 GHz, while others insist they're because of early silicone and it will get better. Supposedly the chip has hit 5GHz with LN2, but this is down to poor voltage scaling.
This leaves us with three distinct possibilities concerning Zen's final clocks if AMD want to be successful in the eyes of the public. The first is they're going to be close to Intel's to make little difference in the real world. The second is they're slower – but AMD offer additional cores for a similar price point. The third is they're slower, but AMD offer the same number of cores for a lower price point.
We do know AMD are working on 'black edition' Zen's, which will sport higher clocks than regular SR7's, both in default and will also overclock higher too, but we can expect to pay a price premium for those particular products.
What about Zen's platform and overclocking?
The desktop version of Zen (once again, known as Summit Ridge) uses the companies AM4 socket and platform. There will be a plethora of different board variants, but for folks wishing to game or run high end applications, we suspect you'll wish to stick to either the X370 or the B350 boards.
The X370 is the highest end boards, and offer two PCIE 3.0 x16 slots (though more can be added if the AIB coughs up for the requisite components) for either SLI or CrossFire. AMD also add in fine grained overclocking controls, which we can presume will give users more tweaking options for memory timings, additional frequencies and possibly (theory here) more robust power distribution to the CPU to reach higher clocks.
The B350 does support overclocking, granted with more toned down options and perhaps more notable is the absence of the secondary PCIE slot.
With all of that said, all Zen desktop CPU's will have the ability to overclock (from what we known) via the multiplier, but how far you'll be able to push them above factory frequencies remains to be seen. Supposedly the chip runs at 1.3 volts at default, but with better cooling you can push the chip up to 1.5v for the higher end.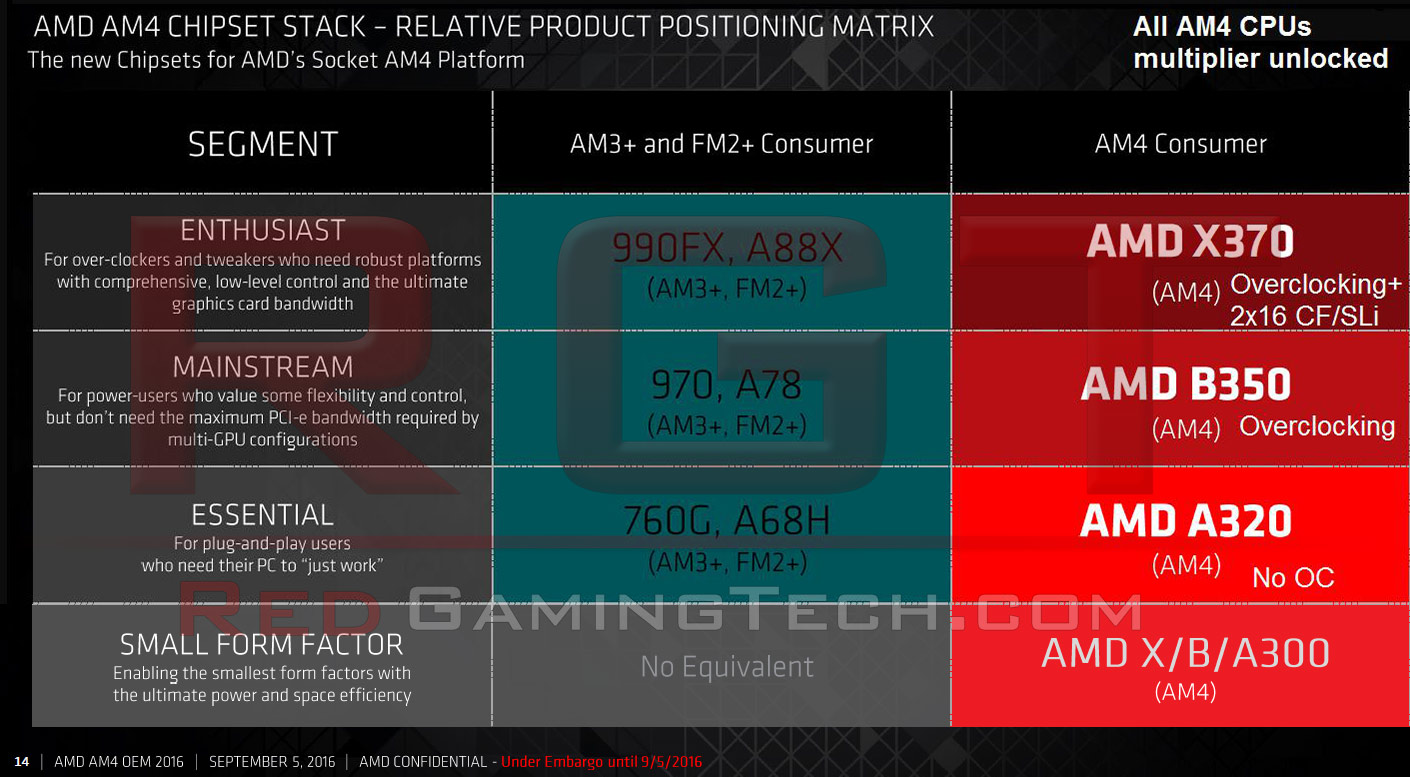 Finally, the AM4 motherboard supports all of the modern technologies you'd expect in a platform – including DDR4 support (dual channel), USB 3.1 Gen 2 native, NVMe, SATA express. I suppose the elevator pitch would be 'AMD catches up to Intel'.
It's fair to say that the event name of 'New Horizon' is certainly an apt one – it's AMD's chance at fixing the issues plaguing their current lineup of processors and platform and become market leaders. And they have done just that several times before – the early Athlons either beat or competed with Pentium 3 / 4's, and who can forget the mark their first Athlon 64's made on the market when they were released, not just faster than the competition, but ushering in the age of 64-bit for home users.
Anything else I should know?
Well, the processor lineup is pegged for release early next year, with the rumours telling us AMD are focused on getting the higher end SR7 parts out the door first, which makes sense from a PR standpoint.
Pricing is still up in the air, with 'leaks' telling us that the 8 core / 16 thread models will be available at only around the $300 US dollars which is an insane price when you think about the possibility of that amount of power. Naturally these prices aren't certain (as yet) and it's possible that the real CPU overclockers and power users will want might be the black editions (assuming that's real) and in those cases, rumors peg those particular processors as up to $500 US dollars (though all other specs are the same, so it's likely yield and cherry picked sampling).
AMD are facing a lot of pressure to put out a competitive product – but considering the company have been working on Zen for about 5 years, there's a good chance they can deliver. The company are in a better position because Intel have precious little to counter them with (at least in terms of core count) for the mainstream until late 2017 or early 2018 with their Coffee Lake series of CPU's. Coffee Lake will sport up to 6 cores (still shy of Zen) but with lower power consumption and reportedly higher clocks than even Kaby Lake is currently hitting.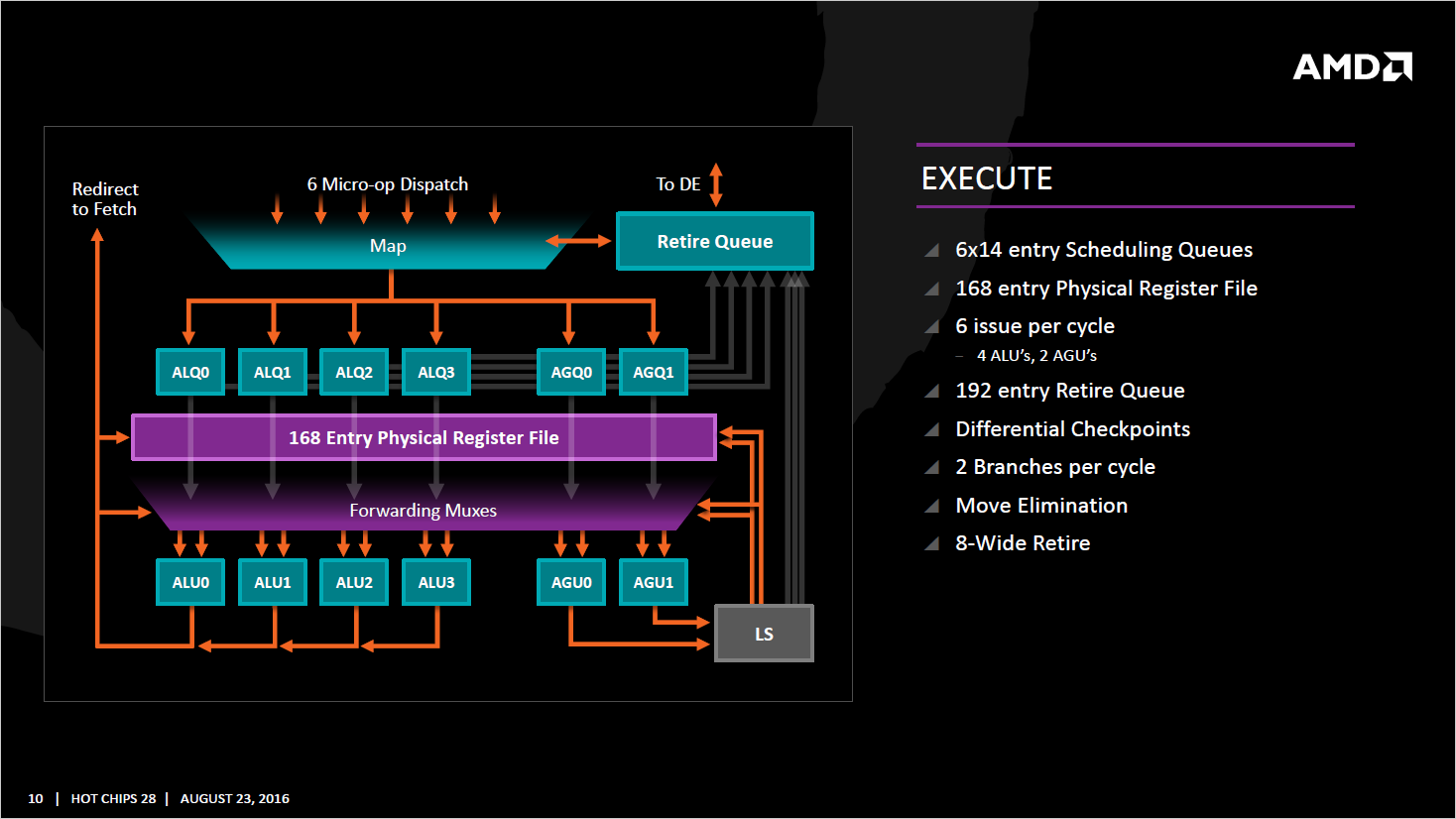 In 2018 we can assume AMD will be closer than ever to releasing Zen+, which as the name suggests is a tweaked version of the same architecture. I hesitate to use tick-tock with modern computing, so we can assume (to borrow Intel's own language) it will more likely be the optimize phase of the cadence – that is taking what works and tweaking it for greater performance. We can only assume Zen+ will sport higher clock speeds and lower power consumption, but with luck we'll also see better IPC too.
The processor also sports advanced hardware encryption as yet found in Intel CPU's, including the fact that a secondary ARM processor runs on a Zen soc, allowing the CPU to essentially have data encrypted and decrypted while resident in the systems RAM. Not only that, but servers and mainframes will be more secure, because VM (virtual machines) can operate within their own designated section of memory. Each section of memory is gated, so data cannot be snooped by a user even with full admin privileges.
Therefore team red have two product launches to wow users early next year – Zen, and of course Vega, the update to their current Polaris GPU architecture. There's no shortage of Vega rumors to go around, but we'd originally thought Vega would co-exist with Polaris, essentially being Polaris with more Compute Units. This isn't the case, and instead it appears to be a more efficient and more powerful version of Polaris.
It's possible we might see the introduction of the improved FP16 support currently being enjoyed in the PS4 Pro, and Vega 11 line will replace the current Polaris hardware, while the high end users will be catered for with Vega 10, sporting HBM2 for insane memory bandwidth and up to 16GB of VRAM.
So we're certainly left with a lot of questions – but one thing is for sure – AMD have all of the attention they could want right now. It's down to them to show us what they're planning on December 13th during their new Horizon Event.
There are also other reports which tell us other things too – such as the fact overclocking is currently planned on being supported through the OS only – but it's uncertain whether this remain consistent for the retail launch of Zen. One might argue hardcore and tech enthusiasts might be put off without the ability to dive into the BIOS and make quick changes to FSB, especially those who run hardware hoping to hit overclocking records or prefer to reduce the software running in the background of their OS.
It's obvious AMD are going all out with the livestream and event, hoping to use their hardware fans and the technology press to spread the word of their new processor. With such a lull in the CPU industry over the past few years they've got the stage largely to themselves. They're fully embracing eSports (like most technology and gaming companies) and it will be interesting to see exactly what's revealed. Let's hope for more benchmarks, official pricing and an actual release date!
We'll just need to wait and see what is true!
Other Articles You Might Like