There has been quite a lot of hype surrounding the Apple M1 GPU, which employs a big.LITTLE design. That chip in itself managed to match a GTX 1050Ti desktop GPU, and now the Apple M1X appears to be more impressive than that.
This is according to Youtuber Dave2D, who recently did a feature on the redesigned 14 and 16 inch MacBook Pro models, which feature the M1X silicon. We've previously heard that Apple is working on two new custom chips, codenamed Jade C-Chop and Jade C-Die. They are both expected to have a total of 10 processing cores, but the GPU cores will either be a 16 core or 32 core configuration.
Dave2D believes that one configuration we can expect for the MacBook Pro 16 inch is one with 32 GPU Cores, due to the larger die size of this particular config. But, what about the performance this MIX model has to offer? According to Dave2D's report, we can expect to see a 32 core GPU on a 40-watt power limit that will deliver the same performance as an RTX 3070 laptop GPU at less than half the power.
Keep in mind, however, that these results are an estimation based on results from the GFXBench 5.0 Aztec benchmark at 1440p.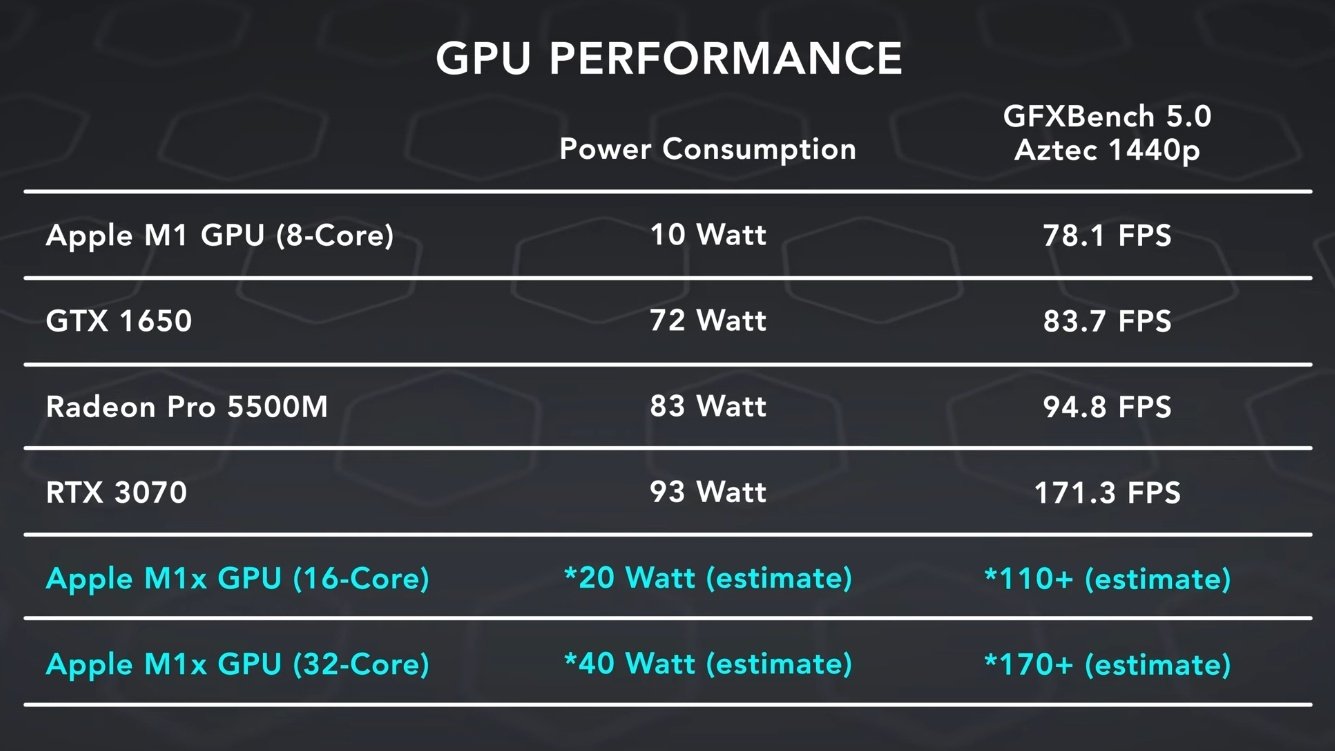 Of course, whether or not this actually happens in a real-world scenario is a different story entirely. But if these estimates are accurate, the Apple M1X GPU is going to be monstrous.
We will have to wait for the release date of the new MacBook Pros before we see how accurate this is, but it's safe to say that the M1X definitely has my interest.
Other Articles You Might Like