Disclaimer: We received this GPU from AMD to review.
For the past year, PC gamer's have been spoiled for choice in the GPU market, with an excellent range of hardware from both vendors to fit in almost any budget; from the ultra expensive bleeding edge cards such as the GTX 980 Ti or Fury X, to the budget gaming cards such as the Radeon R7 range. But with the 380X, AMD aims to target a neglected area in the market and fill the performance gap between cards such as Nvidia's GeForce GTX 960 and their more expensive GTX 970 graphics cards.
To do this, the R9 380X utilizes the very same Tonga core found within the Radeon R9 285 graphics card (released late last year), but with a key difference; the R9 380X is the uncut tonga, so it has 2048 functional Stream Processors opposed to the just 1792 of the R9 285 (or R9 380, as they're the same card). Interestingly, AMD have opted to not release a standard reference board – and have instead left its board partners to choose their own clocks (for both memory and core). Rumors have circulated AMD have planned to released the fully fledged Tonga architecture for almost a year, but now a gap in the market has opened up, it makes perfect sense for them to finally release the GPU.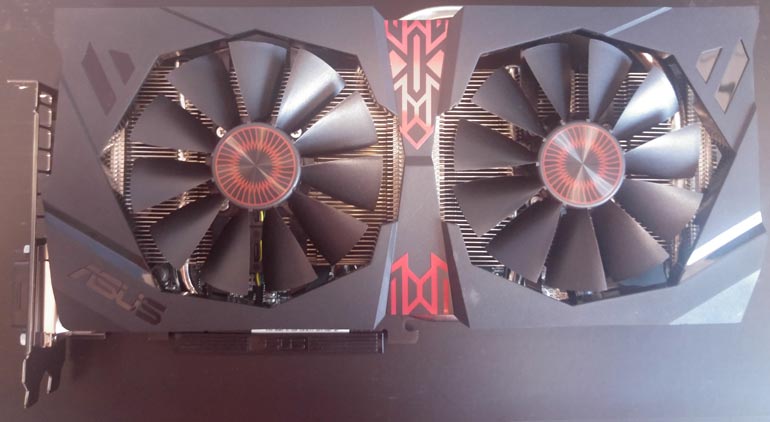 If you need a refresher on the Tonga architecture, AMD drew a lot of inspiration from the same cores found within the R9 390 series of GPU, using the very same quad shader layout, allowing Tonga to render four primitives per clock (as opposed to just two) of their older GCN cards. Other changes include drastically increasing the number of Asynchronous Compute Engines (now the GPU features eight), and other architecture improvements which allows much better tessellation performance. Tonga also boasts an improved instruction set, adding native support for 16-bit floats and integer values; these reduce memory bandwidth consumed and power when 32-bit values aren't needed.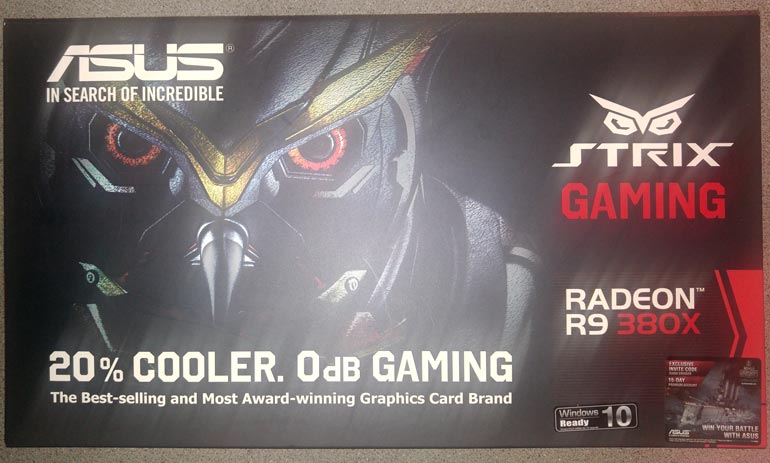 Tonga's other big change comes from lossless compression. AMD claim's a saving of around 40% by allowing the GPU to both read and write frame buffer color using this lossless compressed format. The R9 380X does however come with higher memory clocks than those of the 285, bumping actual bandwidth from 176GB/s to over 182GB/s.
| | | | | |
| --- | --- | --- | --- | --- |
| | Nvidia GeForce GTX 960 | AMD Radeon R9 380X | AMD Radeon R9 285 | AMD Radeon R9 390 |
| Shader Cores | 1024 | 2048 | 1792 | 2560 |
| Texture Units | 64 | 128 | 112 | 160 |
| ROPs | 32 | 32 | 32 | 64 |
| Core Clock | 1126 / 1178MHz | 1030 MHz | Up to 918Mhz | 1010 MHz |
| Memory Clock | 7GHz GDDR5 | 5.7 GHz GDDR5 | 5500MHz GDDR5 | 6GHz GDDR5 |
| Memory Bus Width | 128-bit | 256-bit | 256-bit | 512-Bit |
| Bandwidth | 112.2 GB/s | 192 GB/s | 176 GB/s | 384 GB/s |
| TDP | 120W | 190W | 190W | 275W |
| Power Connectors | 1 x 8-Pin | 2 x 6-Pin | 2 x 6-Pin | 1x 6-Pin & 1x 8-Pin |
| Fabrication Process | 28nm | 28nm | 28nm | 28nm |
| FP64 | 1/32 FP32 | 1/8 FP32 | 1/8 FP32 | 1/8 FP32 |
The above comparison gives an indication how the R9 380X stacks up against its closest competitors from Nvidia and AMD themselves. If you're wondering what's going on with the GeForce GTX 970's memory, ROP and TMU configuration, remember Nvidia had the PR disaster regarding the cards specifications; essentially sending out incorrect figures to websites regarding what the card is capable of. The above table reflects the "real" numbers of the GTX 970.
ASUS Radeon R9 380X STRIX Gaming Overview
For this review, we were sent the ASUS R9 380X Strix Gaming graphics card. The graphics card box comes adorned with the usual cool artwork (both ASUS and MSI have the boxart game down) and a sticker on the front reminding you that the card is indeed Windows 10 ready. ASUS claims that the card runs 20% cooler too (a claim which of course we'll test in this very review!). Opening up the box you'll be greeted with a another box, in pure black with a "STRIX" logo emblazoned on it. Opening that up reveals an excellently packaged and padded card, complete with the "usual" extras.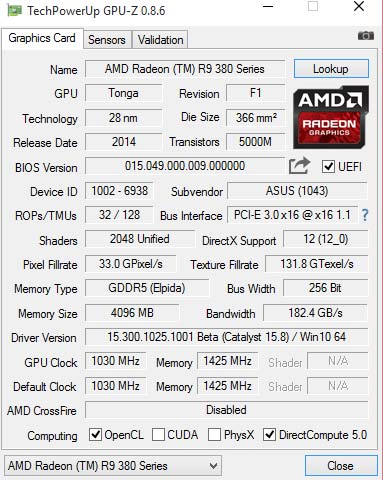 The smaller, thinner black box (with ASUS written on it) contains the usual power converters, drivers and software, stickers, warranty and manual. The actual card comes buried under all of that, and personally I love the simple design. The DirectCU II cooler sits on top of the card, with beefy heatpipes to help better dissipate the heat from the core, RAM chips and VRM's. The two large black fans cover much of the cards top, with just a few red and black patterns to break up the black and metal color scheme.
ASUS are rather boastful of the zero noise technology – which essentially means the fan's won't spin while the card is below a certain temperature threshold. For noise levels – with the case open (and just under the desk near us) up to about 50 % fan speed isn't noticeable (in a quiet room) but above the 70% mark and their noise will definitely start to bug you. It's worth nothing that while leaving the fans on "auto" while overclocking, they rarely hit above the low 40 percent mark – and this was within all tests, including FireStrike extreme.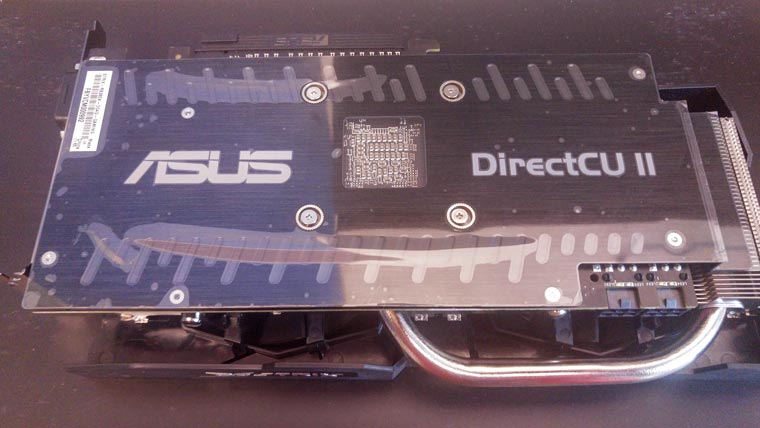 The rear of the card features a rather nice back place (which has a side benefit of making holding the card a little easier) with just a couple of logos and screws to hold the entire contraption together. As you'd expect from a higher performing graphics cards, you're expected to hook up the R9 380X directly to the PSU using 2x 6-pin PCIe connectors. The card is 10.64 inches in length, so an average sized case won't have much of a problem housing the ASUS' R9 380X; and at the cards rear are the exhaust ports (the card will take up 2 slots) and 2x DVI (DVI-I and DVI-D), 1x HDMI and 1x Display Port.
Test Rig:
The system we used was our standard test setup. An Intel I-7 Haswell 4770K (overclocked to 4.4GHZ), 16GB DDR3 memory (running at 1750MHZ), Windows 10 installed on an SSD. We're using the latest AMD Drivers available at the time of benching, 15.11.1 (Crimson). All of the games and software were using the latest available versions All of the driver settings for both AMD and Nvidia were left to their respective factory defaults – we've set the graphical options manually in games and of course v-sync was disabled.
Benchmark tests were run multiple times (3 times) and the best results for each card in question was used. Regarding the Radeon R9 285 benchmarks: essentially this is the same GPU and architecture found on the Radeon R9 380 (non X), only with slightly lower core clocks. Performance results for the Radeon R9 285 and the R9 380 will likely vary by only around 1 frame per second; but in the interests of honesty we're using the results for our own R9 285.
ASUS Radeon R9 380X 1080P Benchmarks
A small note regarding the benchmarks – on games which feature AMD's "Mantle" API, we have used this exclusively to test the cards performance. If you're running an AMD card and Mantle is available, it wouldn't make sense to simply run in DirectX 11 mode because there's no drawbacks to Mantle.
While we didn't have enough time to have a full benchmark run through with Mad Max, it's worth noting that the title (which is extremely well optimized) regularly hit 90 FPS+ on the R9 380X. For some gameplay of the title, feel free to checkout the embedded video review!
| | | | | | |
| --- | --- | --- | --- | --- | --- |
| 1920×1080 (average) | AMD R9 380x | AMD R9 390 | AMD R9 285 | GTX 970 | GTX 960 |
| Crysis 3 + FXAA | 55 FPS | 74 FPS | 46 FPS | 72 FPS | 45.9 FPS |
| Metro: Last Light | 57 FPS | 80.3 FPS | 51.06 FPS | 81 FPS | 52.15 FPS |
| Tomb Raider Ultra TressFX + FXAA | 67.7 FPS | 82.8 FPS | 49.9 FPS | 80.1 FPS | 58.3 FPS |
| Sleeping Dogs MAX + Extreme AA | 52.8 FPS | 70.8 FPS | 43 FPS | 68.3 FPS | 43.7 FPS |
| Bioshock Infinite | 86.57 FPS | 97.4 FPS | 70.44 FPS | 109 FPS | 69.25 FPS |
| Batman Arkham Origins Max & MSAA | 92 FPS | 111 FPS | 78 FPS | 114 FPS | 79 FPS |
| THIEF Max + FXAA | 94.6 FPS Mantle | 82.1 FPS Mantle | 63.1 FPS Mantle | 82.1 FPS (DX11) | 71 FPS (DX11) |
| 3d Mark FireStrike (GPU ONLY) | 9,448 (GPU test only) | 12,146 (GPU test only) | 7,685 (GPU test only) | 11,522 (GPU test only) | 7,338 (GPU test only) |
| Shadow of Mordor Ultra + Max Texture | 57.16 FPS | 78.4 FPS | 45 FPS | 71.5 FPS | 41.06 FPS |
| Grand Theft Auto V (V. High, MSAAx2) | 61.5 FPS | 81 FPS | 55.2 FPS | 89 FPS | 55.7 FPS |
| Witcher 3: Wild Hunt (ULTRA) | 43 FPS | 57 FPS | 36 FPS | 62 FPS | 35 FPS |
ASUS Radeon R9 380X 1440P Benchmarks
While the Radeon R9 380X's primary market would be gamer's who're running 1080P displays, the card is capable of pushing the frame rates at 1440P for many modern titles; this is particularly true if you're not focused on a hard 60FPS lock. If you're a "60 frames per second or nothing" kind of gamer, you always have the option to reduce the Anti-Aliasing or other graphical options to give you extra performance to play with.
| | | | | | |
| --- | --- | --- | --- | --- | --- |
| 2560×1440 (average) | AMD R9 380x | AMD R9 390 | AMD R9 285 | GTX 970 | GTX 960 |
| Tomb Raider Ultra TressFX + FXAA | 45.8 FPS | 56.3 FPS | 39.2 FPS | 53.5 FPS | 37.2 FPS |
| Bioshock Infinite | 52 FPS | 69.35 FPS | 45 FPS | 71 FPS | 46 FPS |
| THIEF Max + FXAA | 66.8 FPS | 71.8 FPS | 58.2 FPS | 51.7 FPS | 32.2 FPS |
| Grand Theft Auto V (V. High & MSAAx2) | 41.4 FPS | 56.5 FPS | 35.2 FPS | 62.2 FPS | 35.8 FPS |
| Shadow of Mordor Ultra Preset | 42.3 FPS | 58.1 FPS | 34.2 FPS | 59.5 FPS | 26.7 FPS |
| Witcher 3: Wild Hunt | 30.7 FPS | 39.2 FPS | 26.9 FPS | 39.7 FPS | 23.9 FPS |
Overclocking the ASUS Strix Gaming Radeon R9 380X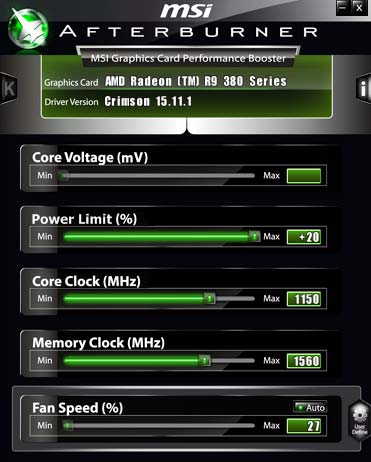 There's a myriad of tools and utilities available which offers end users the ability to tweak the clock speed settings of their graphics card. Like always we've opted to stick with MSI's Afterburner software – primarily for ease of use and its popularity among power users. As is always the case with overclocking, you're going to be up against the silicone lottery and therefore your mileage will vary.
The bad news is that the Core Voltage is greyed out, leaving us only "Power Limit" to help crank up the core and memory clocks; but despite this, the 380X managed to push the clocks up. As is typical with most of our reviews, we slowly cranked up the clocks individually and then tuned them together for best possible performance. With the "Power Limit" tapped out at +20 percent, we settled on a final core clock of 1150MHZ and a final memory clock of 1550 MHZ. While the card wouldn't crash at higher speeds, we occasionally noticed speckling during the more intensive benchmarks (FireStrike, we're looking at you!) and decided to air on the side of caution and back the clocks off a little.
The good news though is that it's still a substantial nudge over the factory defaults of the card, pushing the core up almost 12 percent and the memory clocks up around 9 percent. This improved performance over the board, with 3DMark FireStrike nudging over the 10K mark and Tomb Raider hitting 73 FPS. Essentially, raising the clock speeds provides a linear increase in performance based upon the clock speeds you manage to reach.
AMD's New Drivers – Crimson
Rock-solid, functional and stable drivers graphics card driver are the corner stone for any gaming PC. It's all well and good having the latest and greatest GPU, but if the drivers (which tells your PC how to communicate with the hardware) aren't up to scratch, you're going to have trouble. Historically, Nvidia's driver support has been pretty damn solid, but over the last few months AMD have rethought their approach with GPU drivers, and it must be said they've hit the nail on the head.
Launching the "Crimson" series of GPU drivers, AMD have managed to make their software considerably friendlier to use, providing everything from multi-monitor tweaks, 3D profiles for your various applications (say, disabling MSAA for one game, or forcing V-sync on another), overclocking settings and much more.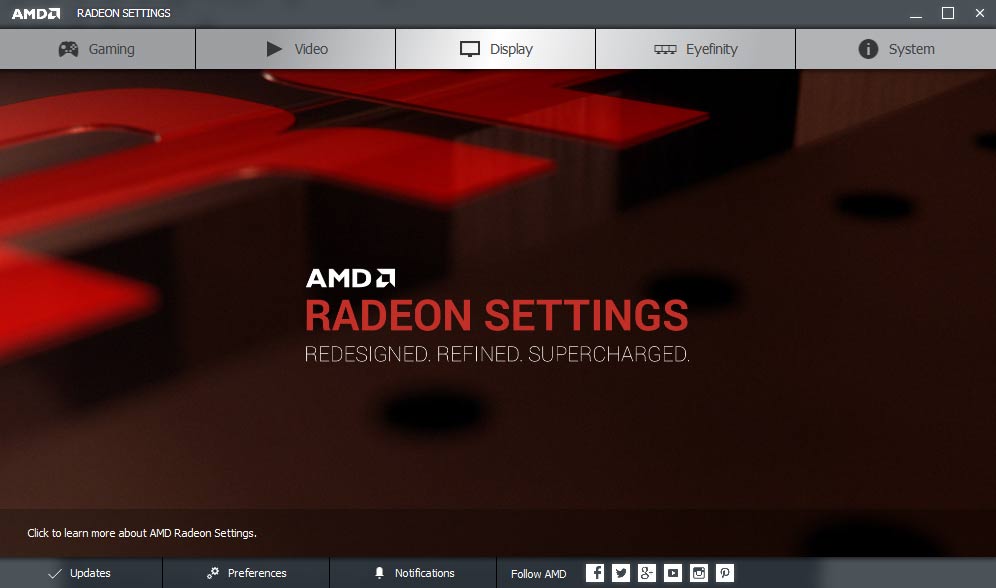 Perhaps one of the best additions though is official and total support for DownSampling (AMD call this "Virtual Super Resolution") which is the act of internally rendering a game at a higher resolution and then reducing it for your monitors output. For example, if you own a 1080P screen and wish to improve the overall graphical quality (reducing 'jaggies' from Aliasing, texture quality… that type of thing) you could run the game at 1440P internally. Essentially, this is the reverse to what a lot of console developers are forced to do, where they're running a game at say 900P and then upscaling it to 1080P for your TV's output. DownSampling on AMD hardware wasn't easy – and something Nvidia certainly had an advantage in, so it's great AMD have fixed this.
If you prefer the old driver layout, or need to access some advanced functionality (for example, more advanced color profiling) then you're still able to access the tried and true Catalyst control panel.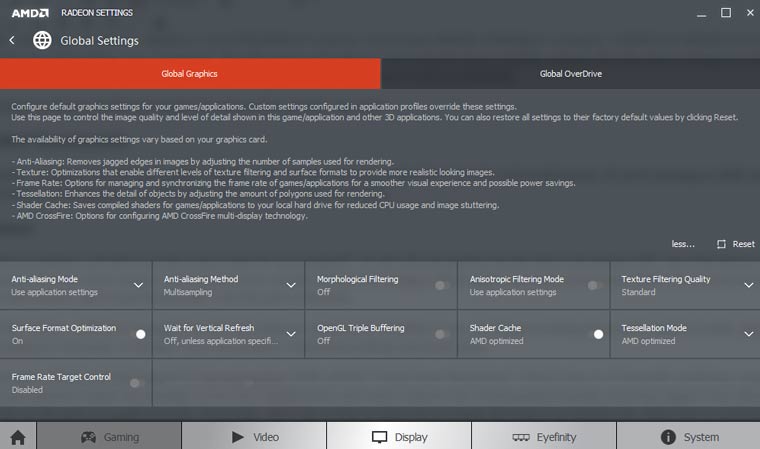 ASUS Gaming STRIX Radeon R9 380X Verdict
AMD's R9 380X has a distinct advantage in the market right now – it doesn't have any direct competition for a similar price point. The GTX 960 sits at a cheaper price point, but offers noticeably lower performance, while the GTX 970 is the reverse. In AMD's own lineup, the R9 380X and the R9 390 are probably about the best bang for buck GPU's in the current Radeon lineup, with the negligible price gap between the R9 380 and the R9 380X making the latter a fairly obvious choice.
From the perspective of raw performance the GPU slaughters the next generation consoles when multi-platforms are concerned, allowing a combination of higher graphical settings, higher frame rates and better resolution. If you've already invested in a fairly decent desktop (such as an FX 8350, or an Intel I5 based rig) plopping in a card in this price bracket (whether its the R9 380X or similar) allows you to easily transform your PC into a gaming monster.
If you're looking for a 1080P card, the ASUS Gaming Strix R9 380X is perfect – providing ample performance to crank out frame rates of 60FPS in all but the most demanding of games. But for those who're wishing to play 1440P, you might want to think about an R9 390 or a GTX 970 – if you're unwilling to comprise graphical settings and you must play at 60FPS.
Thanks to the changes AMD have made with their drivers, one of the biggest complaints against the cards has thankfully been nullified. It's not that the drivers were "bad" before, I personally never had stability issues (for example) but the updates have certain gone a leap to make them more intuitive to use. The recent inclusion of officially sanctioned DownSampling is also nice, as it wasn't long ago in the grand scheme of things AMD users were forced to use third party applications and hope for the best they could get the functionality working with the game of their choosing; now it's just a case of enabling a tickbox.
There's nothing really bad to say about the Radeon R9 380X, and unless Nvidia can counter with hardware at a similar price point, they've effectively left this section of the market all to AMD.
If you want to check out my review of the ASUS Radeon R9 380X, go here and for my review of the MSI GTX 960, go here.
To buy this card in the US, go here: Asus AMD R9 380 4GB Strix
To buy this card in the UK, go here: Asus AMD R9 380 Strix
Occasionally, we include links to Amazon. If you click on one and make a purchase we may receive a small commission.
Other Articles You Might Like