EA decided to finish off their E3 Conference with a bang in the form of Battlefield Hardline. They showed off a 32 man game which was running on PlayStation 4 for all to see as Battlefield takes the all out warfare on the the streets yo.
I've been a Battlefield player since Battlefield Bad Company, so while I haven't been around as some of the old school players from the 1942 days, I consider myself a devoted Battlefield fan. Initially when I heard about Battlefield Hardline, 2 things came to my mind. One was that this is essentially the return of Medal of Honor but with Battlefield name slapped on to it since Medal of Honor bombed so hard it was shelved. Essentially Hardline has become the fill in game till Battlefield 5. Secondly I thought what are they going to do the vehicles? Police don't have access to Attack and Stealth Jets, Attack Boats, Attack Helicopters, AC-130's, MBT, IFV and Anti Air vehicles what is this going to be? A Battlefield game focused on probably transport and armoured vehicles?
Well turns out my second thought was right, but the question remains, is that a bad thing? In my honest opinion, no it doesn't mean the end of Battlefield and how it is going to now suffer the same fate as Call of Duty in terms of a yearly game with little to no innovation. The reasons this could be a good thing is a few things and the first one which I do believe is quite a big is the change of the theme. Since Call of Duty 4, Military shooters have been pouring in like no tomorrow and even though Battlefield was actually one of the first games to go modern with the massively loved Battlefield 2, I think its about time that we have a new theme and be honest, when was the last time you played a Police themed game?
Now at the time of this article, I've been watching the Hardline Streams over on good old Twitch. And I've noticed a lot of positive things from the game that Visceral have implemented that has put the skill back into Battlefield and I'll talk about my honest opinions on them.
Firstly and this is a big one depending on what side you sit on. In Battlefield 3, DICE introduced a mechanic called "Suppression". Suppression is a when the player is shooting at a player and even if you don't kill the player who were hosing down with bullets you still have a negative effect on them in terms of adding bullet spread, visual weapon sway and blurring your screen and adding weapon sway and increases the recoil. Now some people liked this as it was said that if a Light Machine Gun is hosing you with bullets keeps you pinned you wouldn't exactly be able to return fire accurately and to be fair that is a fair point. However realism should never ever take priority of gameplay and especially considering if it effects the fun factor. Now I see what DICE was trying to do with Battlefield 3 and Battlefield 4 but it just didn't workout so well and I'm happy to say that it is gone from Battlefield Hardline and it is not missed at all.
Screen clutter has seemed to be addressed in Hardline, when things got crazy in Battlefield 4 with all the chaos, the screen got far too cluttered with things on screen when you were in ADS (Aim Down Sights). You would see enemy markers, objective markers and vehicle markers along with the kill feed and chat. In Battlefield Hardline all of that goes when you're in ADS, all you see is enemy markers and something small like this is a godsend.
A negative that I've seen is a gadget that only the Assault or the Operator is Hardline has, it looks like a little adrenaline shot and how it works is when you've been killed, instead of going to the respawn screen you can wait a moment for the enemy's to pass and then jab yourself with the pen and away you go read to murder the enemy's who took you down. I'm hoping this gets removed or severely toned down. At the moment the only way to counter this is to either kill someone with a headshot or spray some extra shots into them if you suspect that they have the pen. If you get run over, melee killed or killed by an explosive, won't be able to use it. Hopefully the community speaks out against this. If you get outplayed you shouldn't have a crutch to get back at your killer.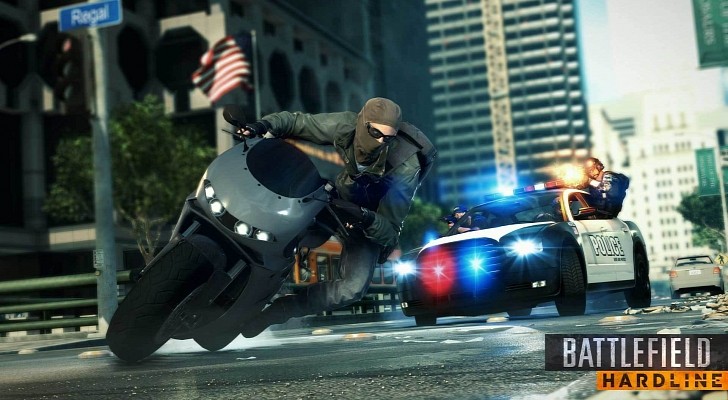 One of the biggest problems in Battlefield 4 that really holds the game back is the stupid amount of explosives, play a game of Battlefield 4 and the grenades and launchers and under mounted launchers really to break the game and it turns it from a FPS to a First Person Grenade Fest. Hardline has removed most of the nonsense from what  I've seen. You only have the one grenade and your RPG's for vehicles and that is it. This could change as there is only one map availible and I don't think everything is availible but this is a great step in the right direction.
Due to the removal of suppression, the weapons have been given a bump up in difficulty in handling such as mobility and recoil which to be honest I'm happy with, I'll take something more consistent like recoil over the randomness of suppression, the hit markers have been given a small upgrade. when you now headshot a enemy the marker goes red. While this is a small feature it helps a tonne in terms of given the player critical information. Vehicles have also been improved, from the sounds of the players, they handle much, much better in terms of handling and collision detection, given the games emphasis on transport vehicles compared to Modern Battlefield games, this was a very important thing to address.
One of the best things they've added is the ability to take ammo from a Support player (Enforcer in Hardline) and health from a Assault player (Operator in Hardline). Gone are the days where you have to jump around the player up and down screaming for ammo, support players were notorious for being oblivious as a newborn to your needs. All you need to do now is walk up to them and press the button on screen and bam you get points and the players gets the points, We all win.
The netcode was a massive problem in Battlefield 4 at launch and up until a week ago did it get a patch to improve it's netcode to bring it line with Battlefield 3's netcode. Visceral has said that whatever changes that DICE are doing with the BF4 CTE will make its way to BFH and hopefully Hardline has a much, much better and smoother launch then Battlefield 4 did and to be honest it has to because DICE/EA and Visceral can't afford to have the problem again.

The unlock system has been given a much needed tweak and improvement, want that shiny new AK-47 with you're favourite optic? Well now you can get it whenever you want as long as you saved up enough in game currency you can buy it. No more ridiculously long grinds like in Battlefield 4 and hoping you get the random optic you need from Battlepacks, it's been made much more simple and to be that's much better. While I'm all for keeping a games longevity, there are much better ways to do such as regular updates, expansions and adding new features, not by adding overly long grinding mechanic to the unlocks. Less is more in the case.
One thing they've removed is the counter knife, which DICE introduced in BF4 to stop people from panic knifing, but it didn't work if you got knifed from the back, sadly they removed that from BFH. I'm not a fan of insta kill panic melees. Games need to do what Halo does, 2 hits from the front to stop the insta kills but one, swift hit from the back.
Lets talk about the vehicles, most of the vehicles in the stream and from what's been leaked is mostly transport vehicles with a transport helicopter and a scout helicopter. Scout Helicopter seems to be the same as it is in BF4 along with the transport helicopter. Given there is no other offensive air vehicles in Hardline, I will be focusing on getting real good with the scout helicopter to punish the infantry players. Small arms also do damage to vehicles like the motorcycles and police cruisers but the Armoured vehicles you'll have to whip out you're trusty RPG.  Although I will miss the epic vehicle warfare of previous Battlefield games, I'm willing to give BFH a good try.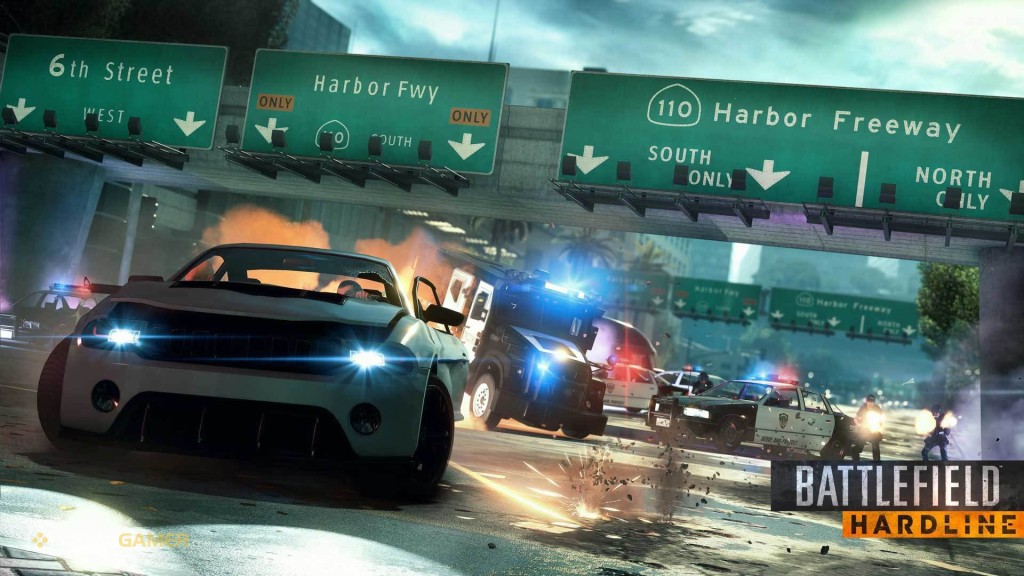 a new mechanic that Visceral has added which needs to be tweaked so that you don't have the ever hated commander mode, UAV spam. If you execute a melee animation that does kill the player if you use the baseball bat or baton, you will cuff your victim and are given the ability to interrogate them and what happens is that you will then be awarded with the enemy team showing up on your radar for the entire team, now given how easy and how often this will happen, I'm hoping they will change it to maybe on you get the reward or it pings the small area near your or at the most, only your squad see's this. If you make it too easy to find out where the enemy team is, you essentially removed the ability to flank or play smart since you've been spotted and it wasn't a mistake of your own.
Regarding the resolution and FPS, the game is stated to run at 1080p and 60FPS on Xbox One and PlayStation 4, hopefully this is true 1080p and a constant 60FPS for the next gen consoles and not a 900p situation and a inconsistent framerate. PC will obviously be able to handle higher resolutions and framerate if your monster rig can handle it and I'm guessing the lovable PlayStation 3 and Xbox 360 will probably run the game sub 720p at 30FPS.
Overall, I'm looking forward to Battlefield Hardline, but I do have my concerns, given the appalling state Battlefield 4 came out in and the time it has taken to fix it and the games imbalance I am hesitant to get another Battlefield game but I'm not completely discoruged. I'm a big beliver in second changes and Battlefield has that second change to show me and the community that they have learnt from the mistakes of BF4 and that it won't happen again. If EA nail this then if we do get a annual Battlefield game, they will be different enough to not suffer the same fate as Call of Duty. Visceral handles Hardline and any other game that it decides to work on next, while DICE work on the epic and massive traditional modern themed Battlefield games.
Other Articles You Might Like