For many users, there's more to a graphics card than its ability to push the frame rates in the latest games; there's also professional workloads to take into consideration too. If you're a gamer, it might be tempting to nab a cheap Pascal card (and even then, Turing is faster, and with Pascal missing features such as DLSS the GeForce 20 series still has more bells and whistles), but for those who also want to run professional workloads on their graphics cards, the RTX 20 series is probably the better way to go.
In this particular article (and video) we'll investigate using several of the most popular rendering benchmarks out there, including Octane, Cinebench and SpecView Perf so if you're on the hunt for a graphics card for both gaming and professional workloads, you'll have a better understand what is the best value for money.
For the two RTX 20 cards, MSI has kindly loaned us an RTX 2070 Gaming Z (full review and gaming performance coming very soon) and we also have a Gigabyte WindForce RTX 2080 Ti (which is our own graphics card).
https://www.youtube.com/watch?v=TdI2v4bUNo4
Before we proceed, there's a note we need to make concerning OctaneBench; currently OTOY haven't updated the benchmark and it is using 3.06.02 of their rendering engine, which is a problem because if you try to run Turing based cards on the benchmark, it'll pop up with a message that the card is unsupported. To fix this, we nabbed the trial of the 3.08 Octane Render from OTOY, and then manually did a copy and paste of the relevant files into the benchmark directory. This bypassed the issue and the benchmarks ran – and we, of course, tested all 4 GPUs in our test suite using these files.
We obviously cannot give you a link to the files we modified (as OTOY would rightfully be upset with us), but you can follow our steps easily if you want to follow along with our benchmarking and testing methology to figure out how much of an upgrade you'd get from your current setup.
The second caveat is that some software hasn't yet been fully updated to take advantage of Turing's improved architecture yet, so software such as Octane will likely improve in performance during the coming months. When this happens we'll retest, but for the here and now we can only talk about the performance we have this very moment – but it is worth remembering that there's a good chance these numbers will tip further in GeForce RTX 20's favor in the future.
Let's start out with SpecViewPerf13 – we let the software run through the entire gamut of tests on all four cards.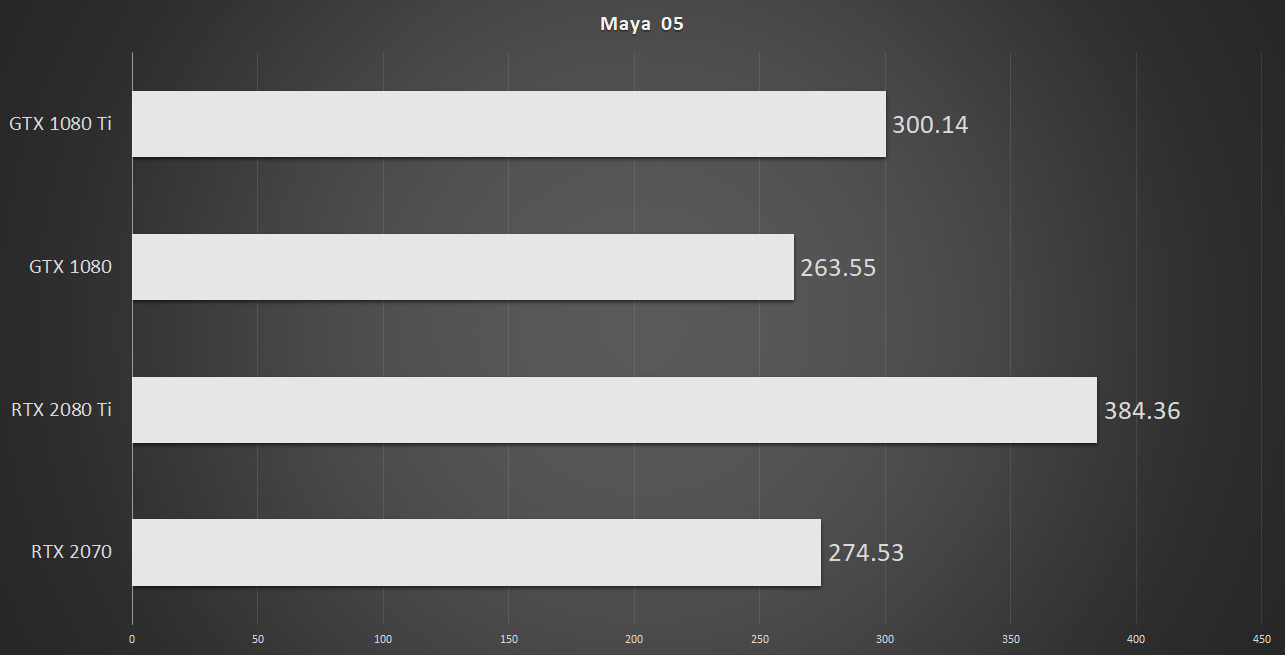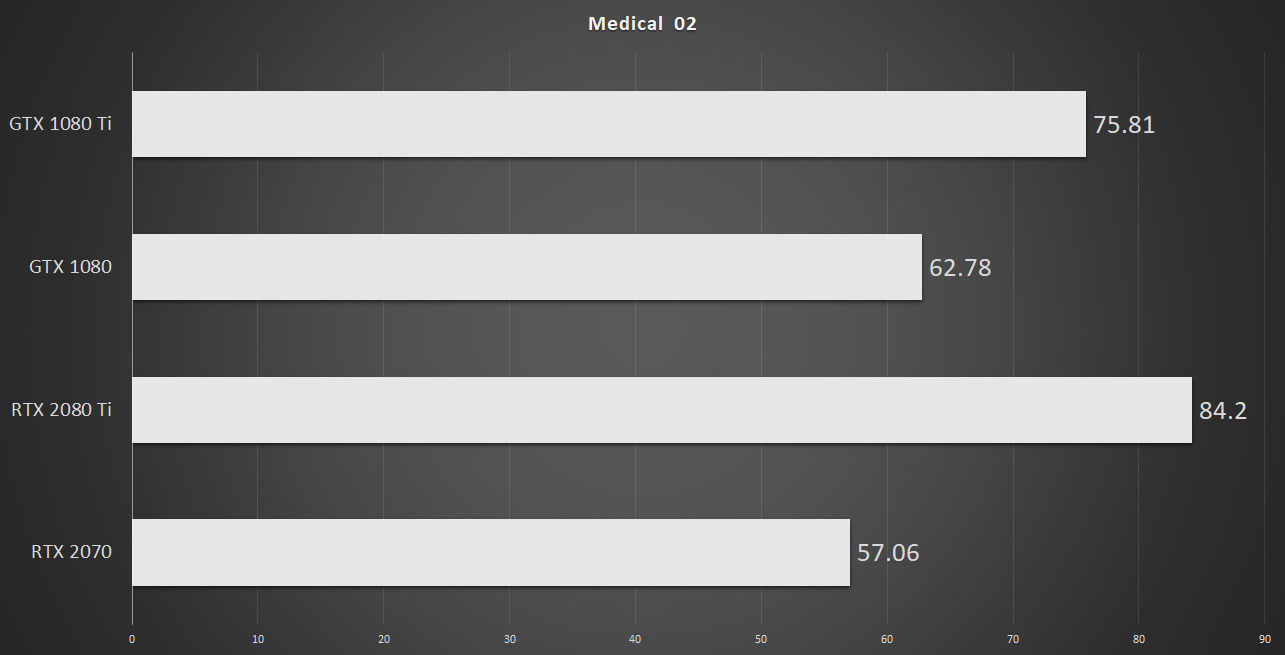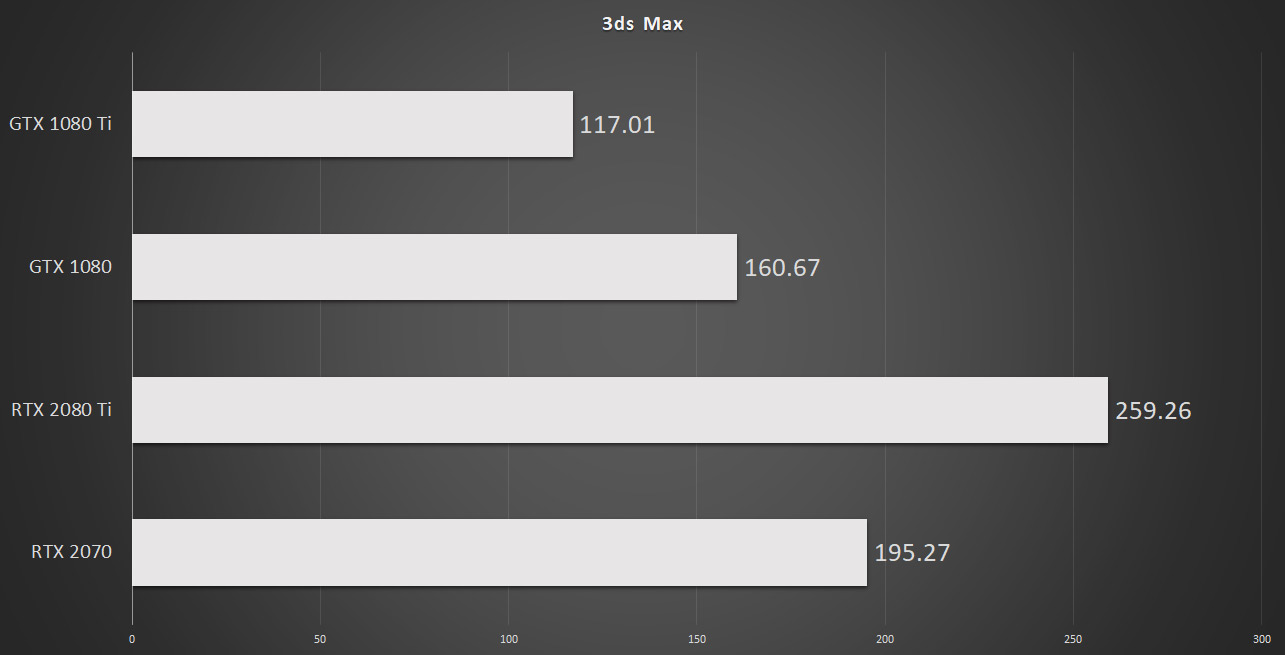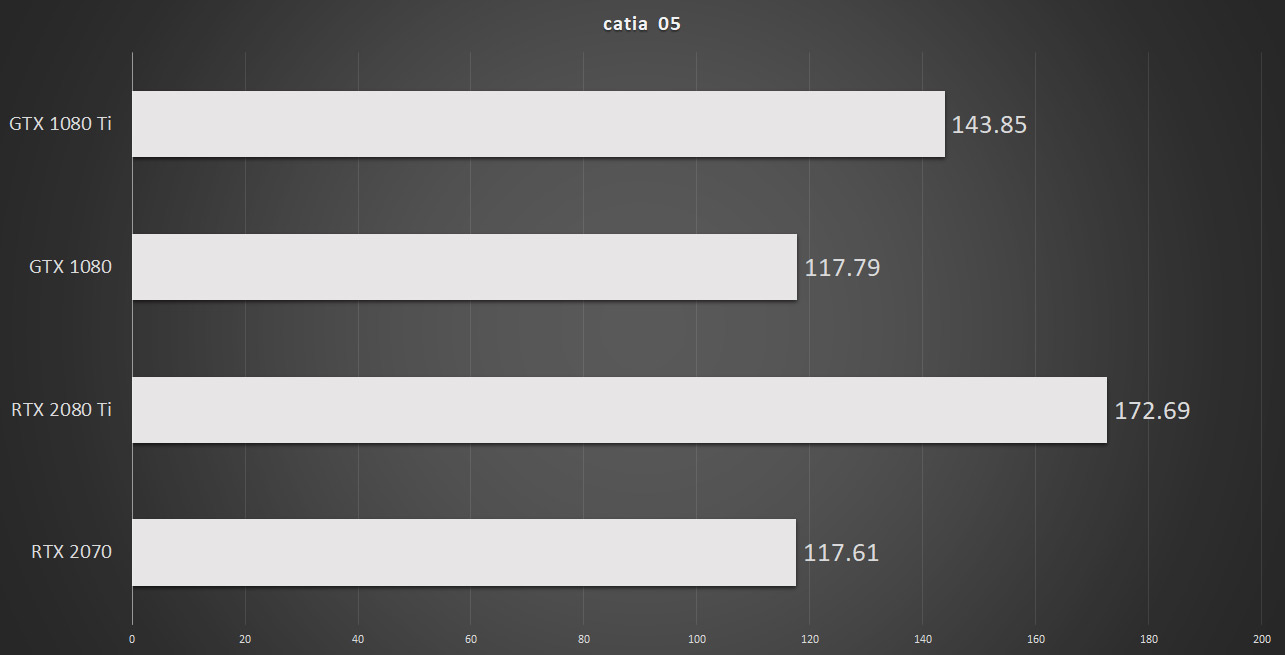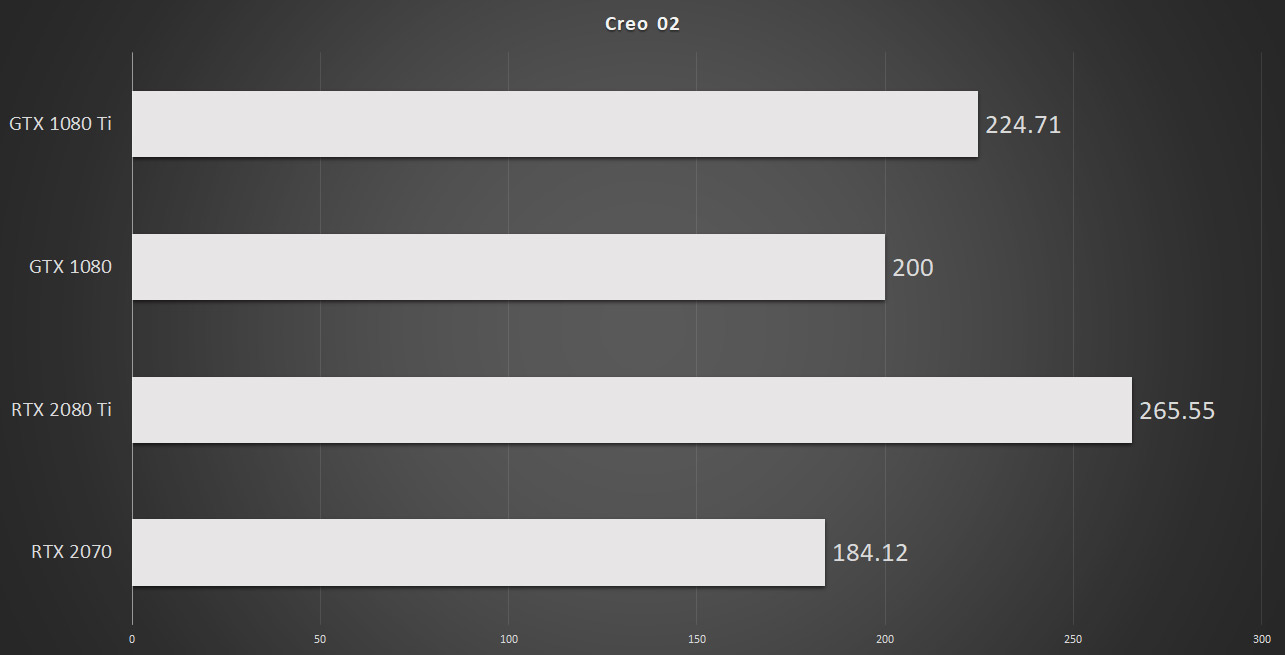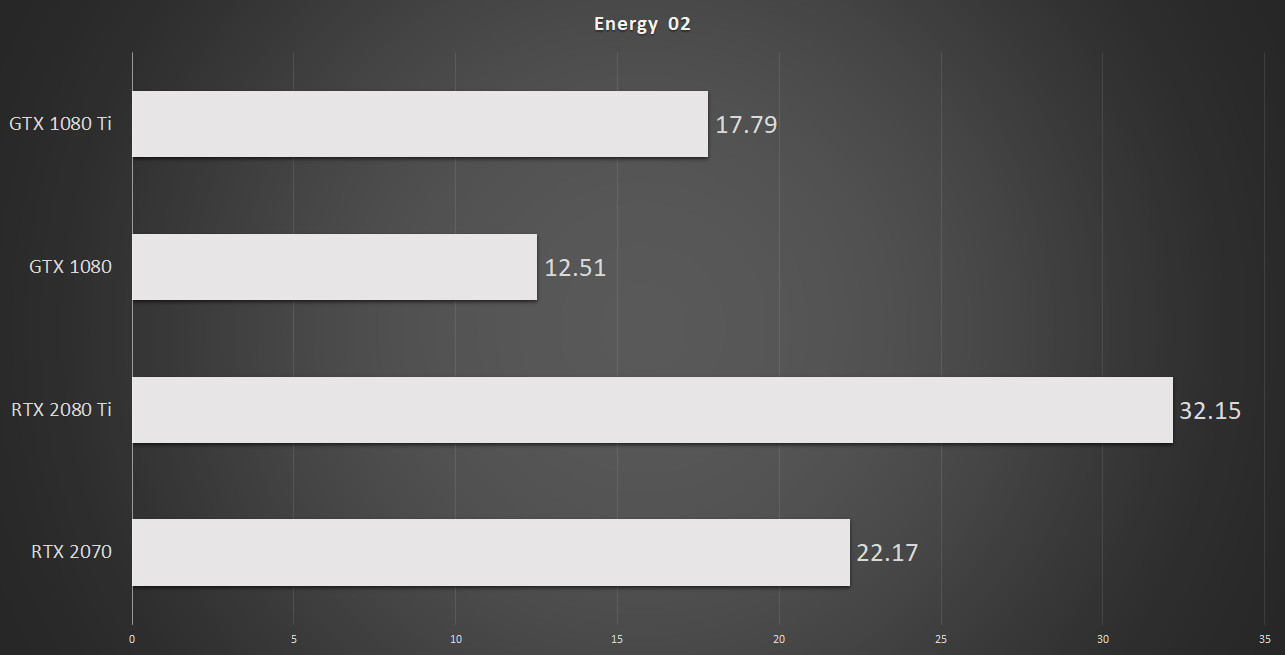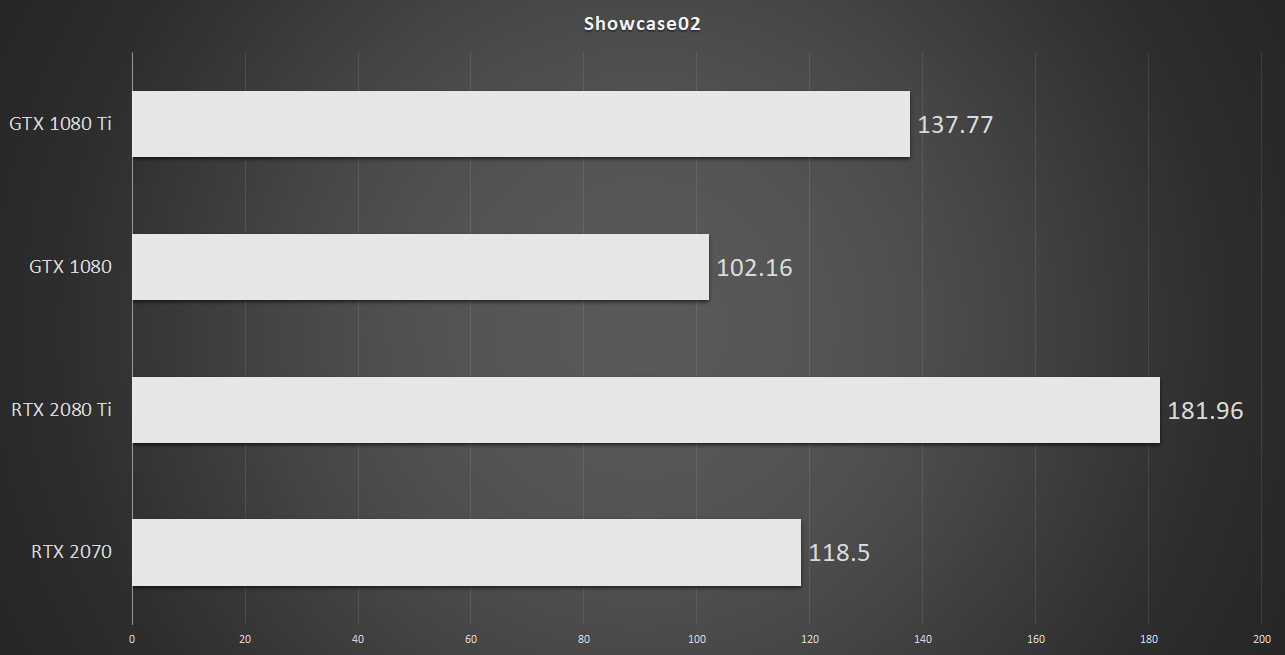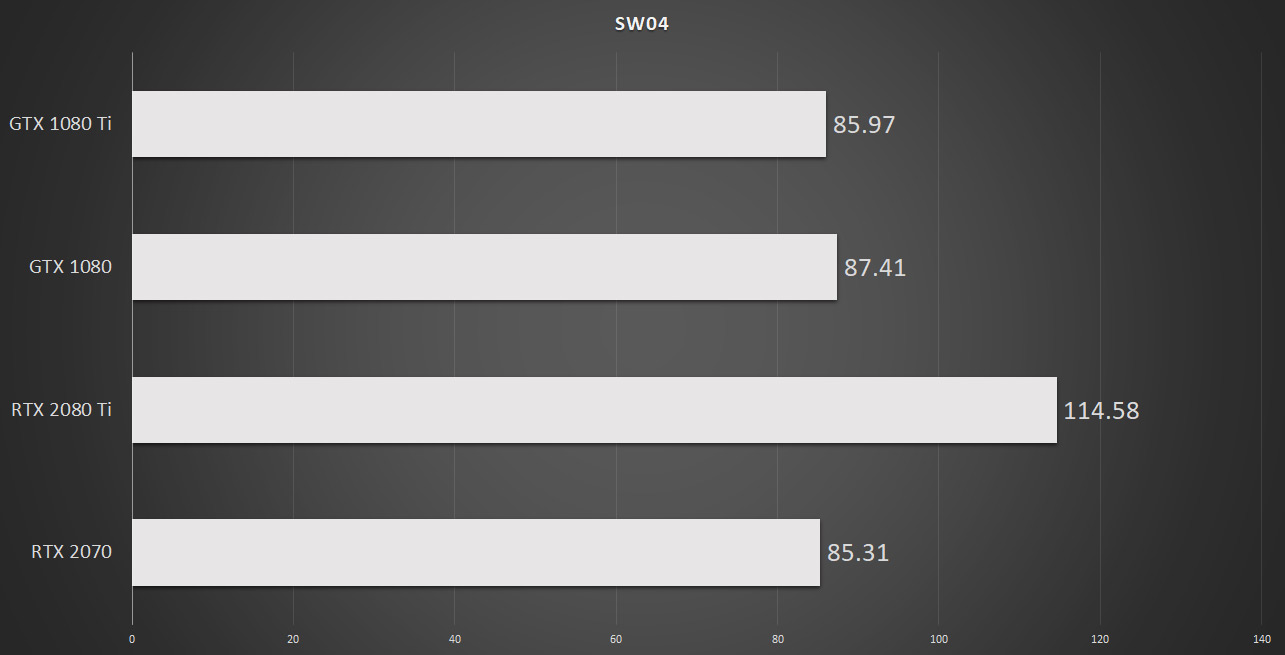 It's pretty clear that some benchmarks such as Maya, Creo, and Energy have drastic improvements when used on the Turing architecture. How much of a benefit you will see really depends on the complexity of the models (or the complexity of the project) you're working with of course – and it's not like your performance in 3ds Max with a GTX 1080 is going to be unusable if you're a beginner. But once again, benchmarking Turing in 3ds Max shows a clear improvement and if you're handling more serious workloads, the RTX 20 series will come into its own.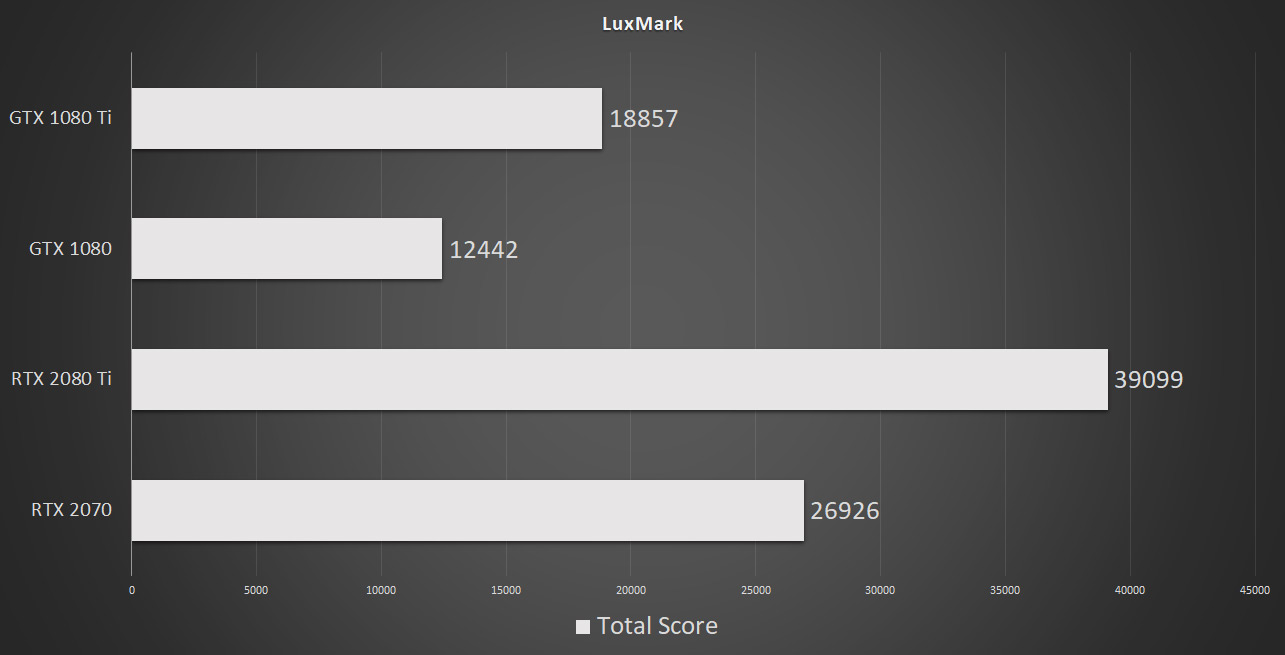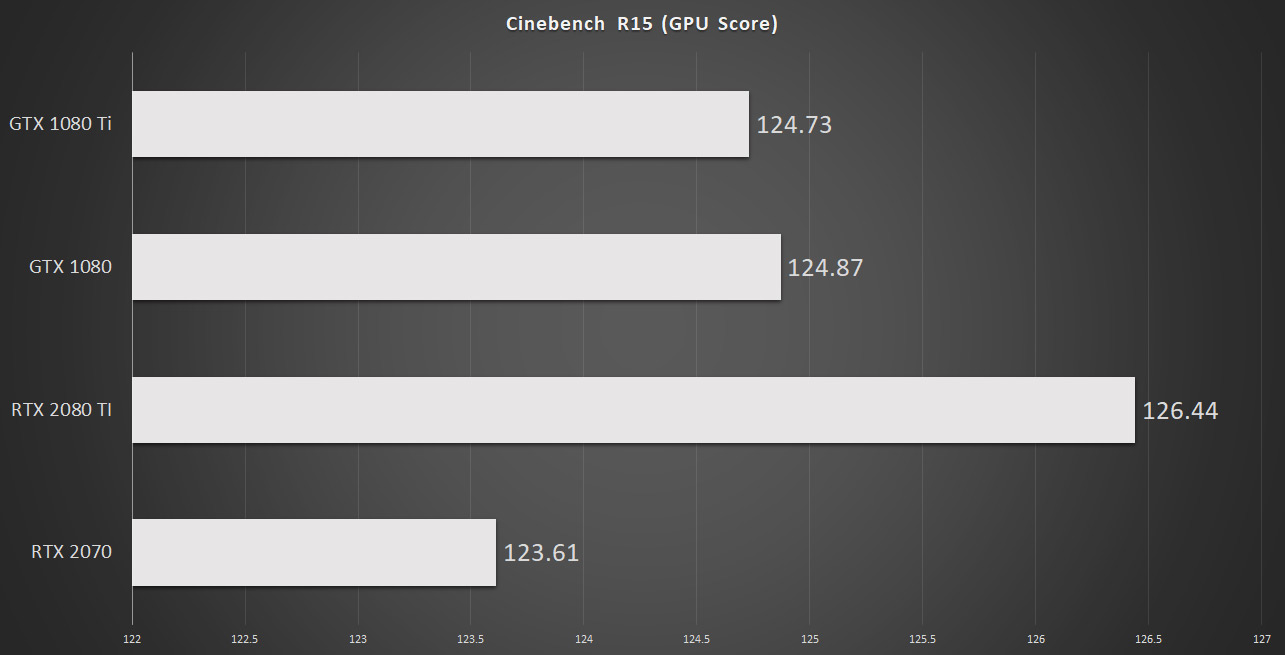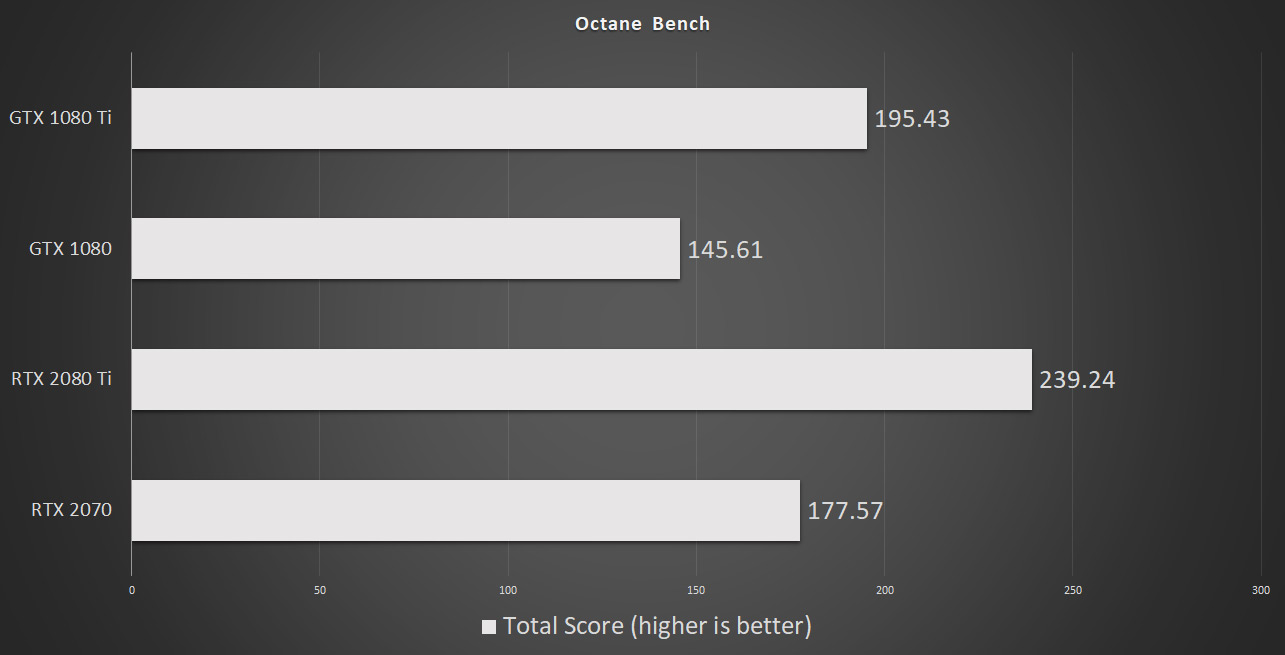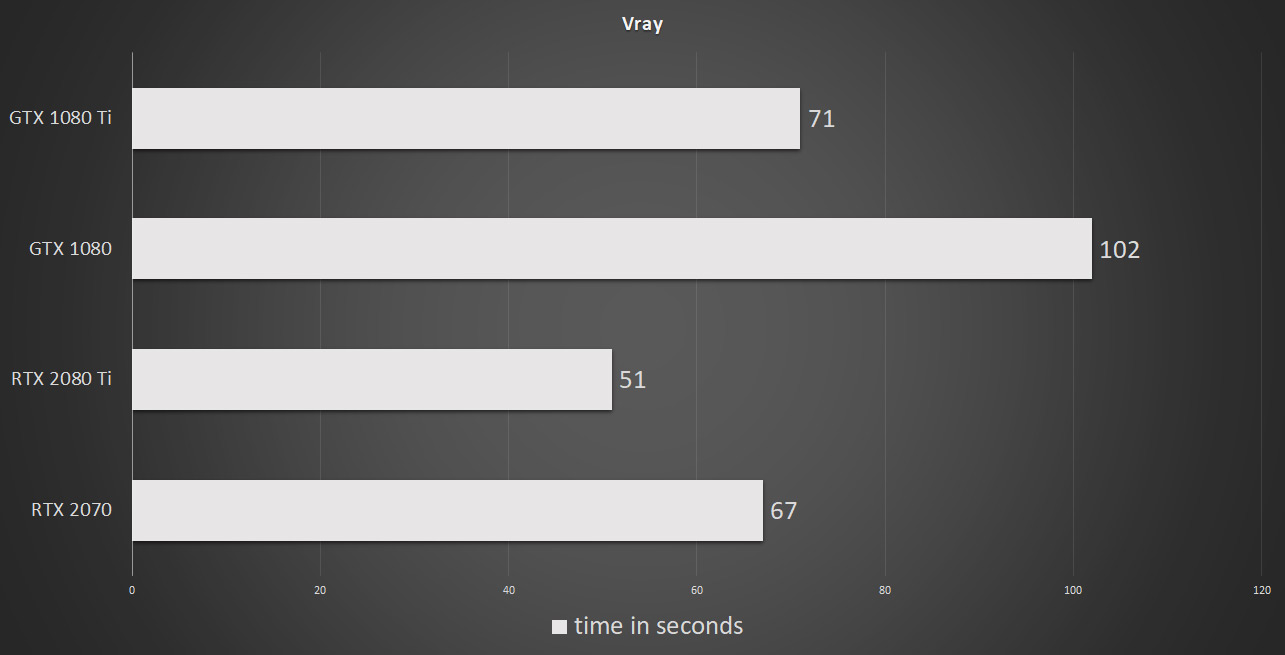 As you can see, V-Ray really likes Turing – and support for Turing and RTX is something Chaos Group has publically committed to in multiple blog posts.
If you are wanting to buy a consumer gaming card (so we're discounting the Quadro series here, along with the Titan V) which offers productivity, Nvidia's Turing series offers the best performance. Currently, the Pascal cards are around $370 USD for a GTX 1070, with the GTX 1080 retailing around 100 bucks more. This puts the RTX 2070 and the GTX 1080 pretty much even in pricing, with the RTX 2070 available for about $500 USD.
Switching gears to the 2080 Ti and yes, it's considerably more expensive, with the cheapest cards falling between 1300 – 1400 USD, there's a considerable difference between it and a GeForce GTX 1080. But if you're a gamer who also relies on a powerful graphics card for content creation or scientific purposes, the raw performance of Turing is probably worth the investment.
Finally, you could also consider an AMD card – which does offer very impressive performance in their own right, but for gaming they're behind the Geforce line of cards, and a Vega 64 is roughly the same price as an RTX 2070  but if you're an AMD fan (or want to grab a freesync monitor to save some pennies) then by all means consider AMD as an option.
We'll tackle game further soon, but other than Ray Tracing (which is still rather early), DLSS seems very promising. Our early testing of the Final Fantasy 15 demo concluded with us looking rather favorably on the new technology. It's certainly still early days, but performance with DLSS 4K was distinctly better than native 4K, with very similar visual quality (and frankly, you'd be very hard pressed to notice the difference during action).
With that said; for those on a budget and looking at the used market and able to snag a good deal, then a GTX 1080 Ti will certainly be just fine for hobbyists, and if you already have a GeForce 1080 Ti and are debating on upgrading, only you can decide whether or not Turing is worth the cash. There's a very good chance (particularly if you are primarily gaming at 1440P) that a GTX 1080 is more than enough gaming grunt for the next year at least, so whether the additional rendering/prosumer performance is a compelling enough reason to upgrade now to GeForce 20, or if you should hold on to what you have is down to you.
Buy RTX 2070
Buy RTX 2080
Buy RTX 2080 Ti
Other Articles You Might Like