Few would deny the impact AMD's Ryzen CPU family has had on Intel's strategy over the past couple of years. The Ryzen 7 parts in the original 2017 lineup essentially pushed Intel to raise the core counts in its mainstream processors, and Threadripper too has put lots of pressure on the HEDT (High-End Desktop) offerings.
In November we see AMD launch the Ryzen 9 3950X (the 16-core AM4 offering) in the mainstream, and also the third generation Threadripper platform and processors.
Intel though will be responding with Cascade Lake X, and while there are some technical improvements in the 10th gen HEDT offerings, the real story here is the drastic cut in price.
Let's take the top-end SKU of the current generation (the I9-9980XE) and the top end SKU of Cascade Lake X (the 10980XE). Both are 18 core CPUs, clock speeds on CLX are higher (we'll get to that in a moment), but the price has been cut 50 percent.
While the I9-9980XE would run you about $2000 USD, the 10980XE will be priced at 1k USD. The exact price per unit on a tray is $979, but we can expect them to sell at retailers for about 1k USD.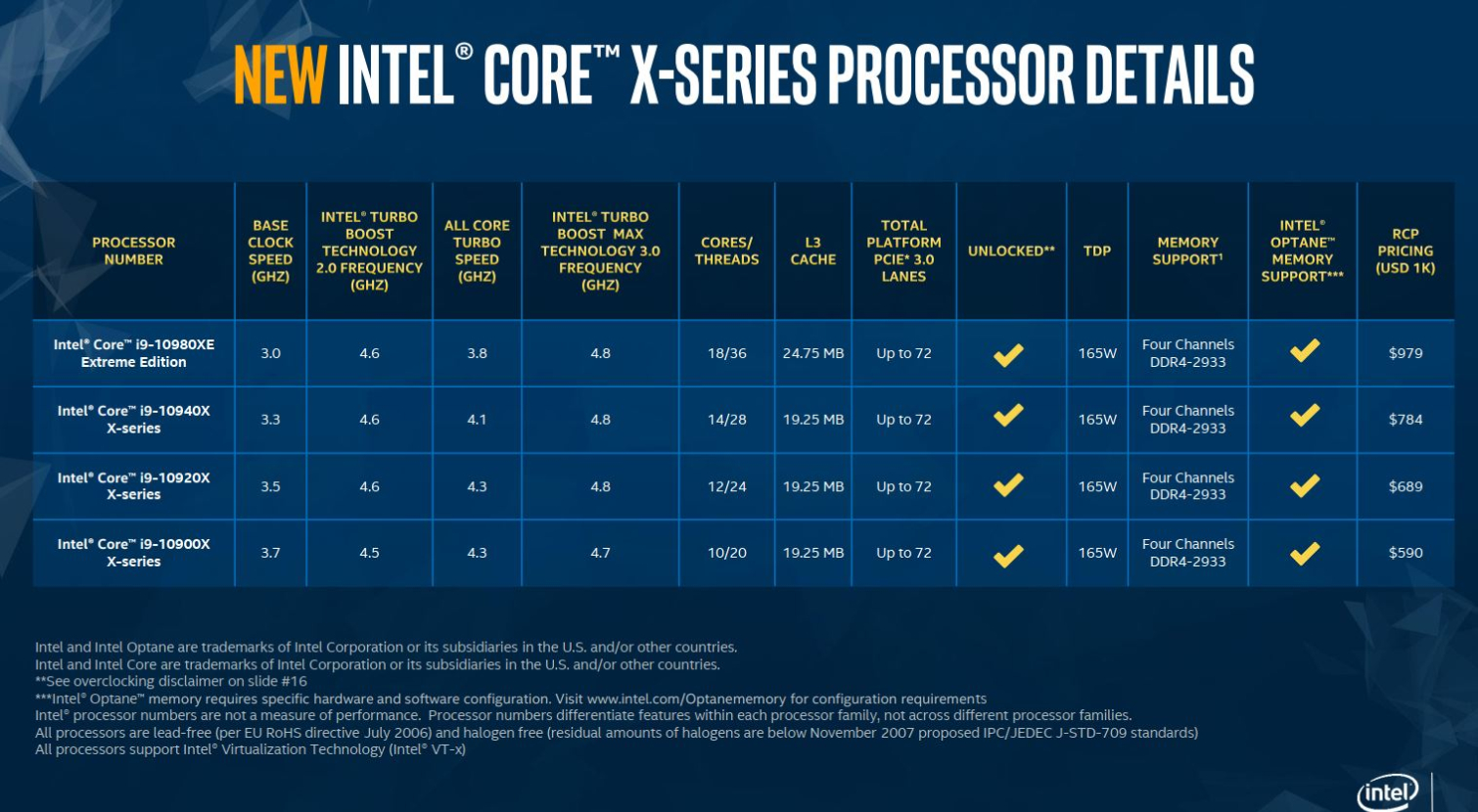 The "Empowering Creators" slide which leaked last month now makes much more sense, with the Intel Skylake-X at 1x (measuring performance per dollar), and arch-rival AMD's second-gen Threadripper CPUs sitting between 1.30x and 1.61 times.
The Intel Cascade Lake-X, however, is 1.74x – 2.09x. I had speculated in a video we might be seeing a price cut, but I'll confess I didn't expect it to be quite as drastic as this.
Now we know that this slide is 100 percent legit (you never know with leaks), and with have the prices, we can also see that Intel is acknowledging that their current 9th gen Skylake-X CPUs aren't good value compared to AMD's.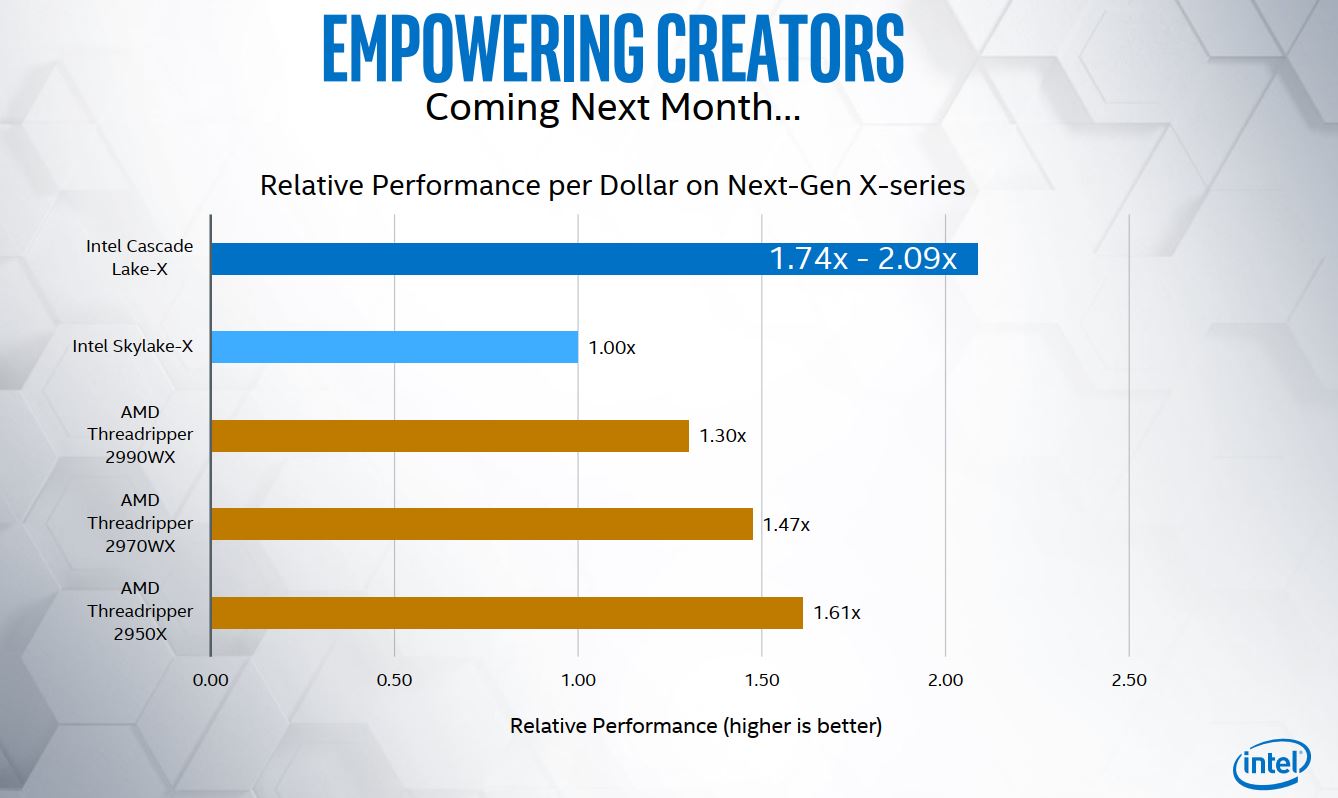 They are both admitting the issue and telling us (their customers) their solution. So let's examine the specs and the prices of Cascade Lake-X.
Here's an official press slide with the four newly announced SKUs. You will notice that the lowest end CPU here is 10 cores, 2 more than is found in the I9-9900K.
At a guess, this is so that when Comet Lake finally launches, we won't have a completely bizzaro situation with a HEDT platform offering lower core count CPUs than what is found in the flagship mainstream. Basically, the lowest end SKU for HEDT will be the flagship core count of mainstream (though we can predict the 10 core Comet Lake will likely have higher core clocks).
You will probably have noticed Turbo Boost 3.0, which is a new feature to the CPUs, and will likely really help those who are buying the platform but also want to do some gaming on it too.. or indeed any other workload which is lighter and pushes up to four cores. With Turbo Boost 2, it pushed the speeds of just two CPUs, so this is a definite and welcome improvement,
There are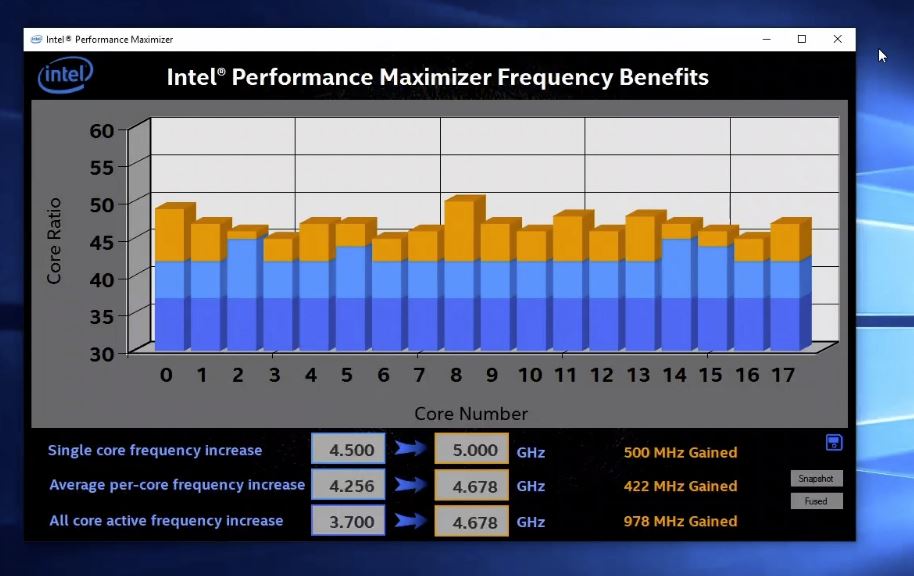 also general improvements across the platform – including support for 256GB of memory with officially supported speeds of 2933. Intel has also equipped the platform with 72 PCIe lanes in an effort to fix a major flaw in the previous generation.
Intel are also boasting that we'll see a 'Deep Learning Boost' too, though we'll need to test how much of an improvement there is. But Intel basically has said they've added a new instruction on the chip which can between double or triple performance of code (FP16 or Int8 AVX-512 Vector).
There's also Wifi 6 and 2.5G Ethernet support too, but if you want to take advantage of those features it's going to require a new motherboard. Oh and the final thing, Intel also nudged more security mitigations directly onto the silicon, which is definitely nice.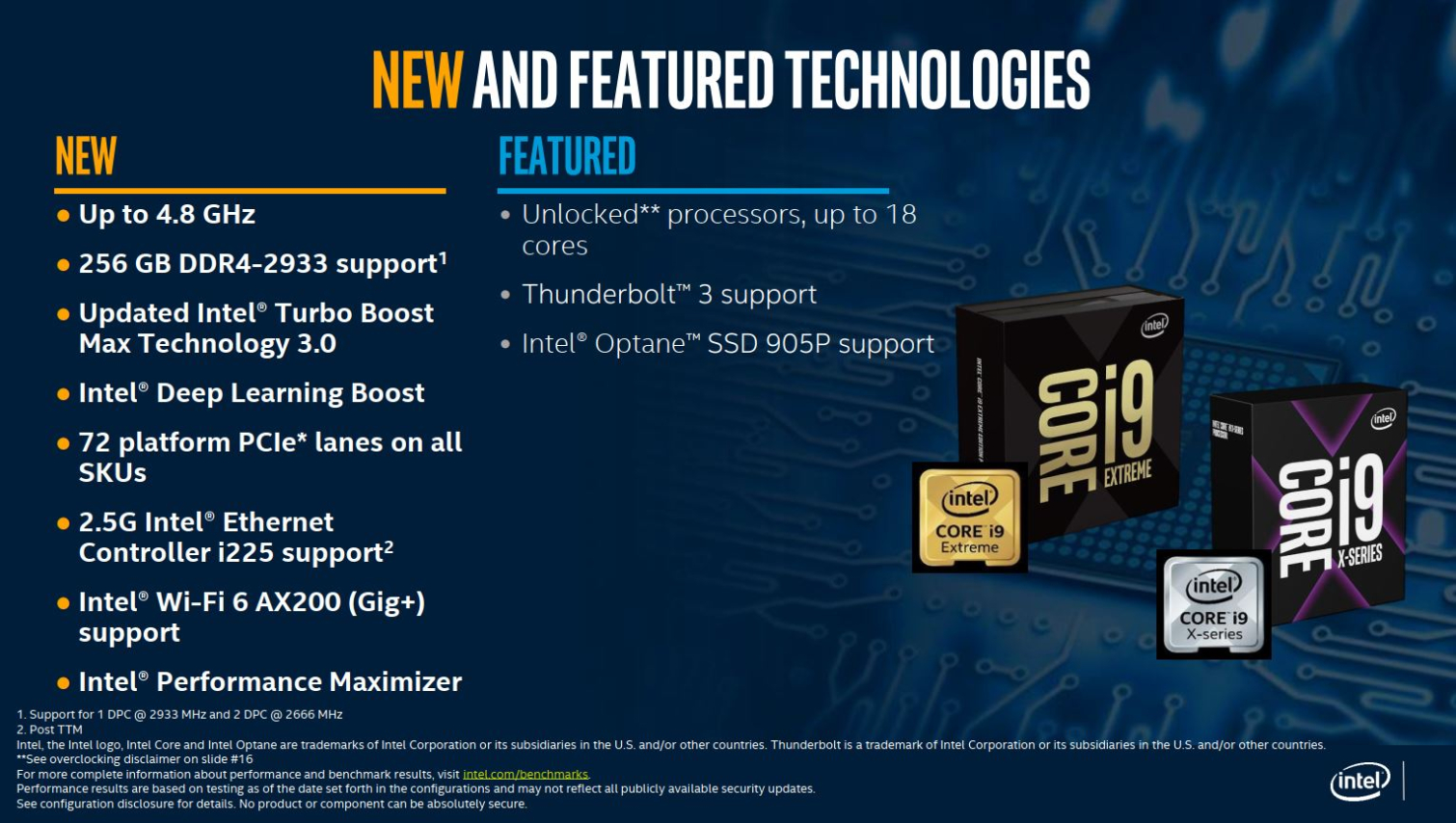 Conclusions (thus far)
In technology, things are always fluid and changing – and it's hard to predict where the chips will fall (so to speak) when Intel launches Cascade Lake-X as it arrives essentially to face the next-gen Threadripper onslaught. We don't a comprehensive leak for the AMD's next-gen HEDT platform yet, but the rumor has it that we'll see it bifurcated in a content creators platform and a workstation type of platform. With the workstation model having 8 memory channels (compared to 4) and possibly double the core count – but until there's an official word, we can only speculate.
We can certainly guess though that AMD's platform will go up to at least 32-Cores (it did for the second generation), and in their own marketing materials confirmed that it'll start out at 24 cores. AMD will have Intel beaten in core counts, but Intel will likely have clock speeds on their side, and also likely be excellent for deep learning too.
We'll need to wait and see on how each performs, but I suspect they'll both happily exist on the market – particularly given the much lighter price of the CPUs.
This is Intel fully admitting they've got an AMD problem, and Intel has responded the best they can in the short term. It will be fascinating to me what this means in terms of Comet Lake.
With any luck, we'll see Intel keep the price of their 10 core Comet Lake SKU as low as possible (ideally no more expensive or even cheaper) than the I9-9900K is now. If Intel can do this, and crank clock speeds, gamers and users who have workloads which really value CPU clock speed will definitely have a good reason to grab Intel. I suspect though that the ryzen 9 3950X will still be the CPU of choice for content creators on a budget, or those who need lots of CPU cores.
The reality is that this is excellent for end-users, and let's hope this continues.  Intel launch Cascade Lake X in November, so we can expect more info to be out by then.
Other Articles You Might Like