Microsoft might well be working on a cost reduced Xbox One console, if recent rumors and evidence is accurate. This isn't anything new in the console industry, where as technology evolves, the systems become cheaper to produce, and processors can be shrunk in size.
Currently, the Xbox One's APU is built using the tried and trusty 28nm process, and is extremely similar to the Playstation 4's. Essentially, the APU contains a cluster of CPU cores (the AMD Jaguar, running in two clusters of four CPU's, providing a total of eight) alongside the systems GPU. It's likely however, judging from a post over at Beyond3d Microsoft are transitioning to a 20nm process.
The Xbox One's chip is actually more expensive to build than the Playstation 4's, for the simple inclusion of the Xbox One's rather infamous eSRAM. If Microsoft were to shrink the process down to only 20nm (known as a die-shrink, the processor would be help reduce costs, and in theory at least, pave the way to a smaller console. Since the SOC would be smaller, it requires less power and puts out less heat, therefore overheating is less of an issue.
A senior manager over at AMD, Daniel McConnell, has this to say in his profile ""successfully planned and executed the first APU for Microsoft's Xbox One Game Console in 28nm technology and a cost-reduced derivative in 20nm technology." Additionally, another key point was "Assembled and grew two cross-site execution teams for 2 successive XBOX APU revisions. This included developing key technical leads into senior positions allowing for successful execution and future team expansion to handle more SOCs."

As of the time of writing, the Linkin profile isn't show as active, but still, the evidence is pretty clear. Adding to this is a job opening, where Microsoft advertise for an electrical engineer. "development of the memory subsystem" and evaluating "different solution options for performance, functionality, stability, cost and risk for the memory subsystem within the platform." Another key point being, "Prior experience debugging and bringing up memory subsystems, specifically familiarity with DDR3/DDR4, experience with DRAM memory subsystems and DRAM memory training algorithms". 
Currently, the Xbox One's APU contains 14 Compute Units, however for the sake of yields, 2 are disabled, leaving a total of 12. These Compute Units make up the Xbox One's GPU, which is using AMD's GCN architecture. Due to the presence of the eSRAM, the Xbox One's APU had to give up space for the extra CU's which are present on the PS4 (it has 18 enabled, but 20 are on die, once again two are 'spare' for the sake of yields).
It's important to stress what this is not – this isn't a sequel to the Xbox One. More likely, this is a similar situation to the Playstation 3 slim models, or the smaller Xbox 360s.
So we're left with a few obvious questions, and a few obvious answers. We know that AMD and Nvidia are both working on shrinking down to 20nm, but haven't done so yet. Rumors indicate AMD will be moving to 20nm for their R9 3xx series. And we known Nvidia had issues with yields and price, hence their decision to stick with 28 nm for current Maxwell parts. But we know they're planning to shrink things down next year.
TSMC, which is responsible for the production of the APU's have started to produce 20nm devices, but things aren't quite so quick. New processes can have lower yields (for all intents and purposes, lower yields equals more defective silicone). This completely offsets the cost of reducing the size of the chip, because now a higher percent of your components end up being useless.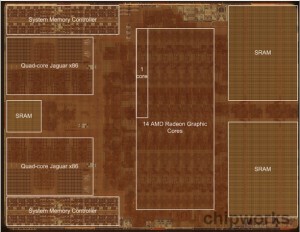 Shrinking down to 20nm should cut power requirements by about 25 percent, and TSMC assert clock speeds can raise by up to 30 percent. But let's face it, that's not going to happen with a console. Unless we're going to have a situation like the New 3DS, and that's unlikely for a 'proper' console.
The memory situation is the other clear question. It's fairly obvious from the jobs description we'll not be seeing GDDR5. Currently, Microsoft are using DDR3 2133MHZ RAM, running on a 256-bit memory bus (providing 68GB/s memory bandwidth). For possible solutions, Microsoft could be going with LPDDR3 (the LP stands for Low Power). It's typically found in mobile devices, and requires… well, lower power than its normal DDR3 counterpart. High density memory modules would also mean fewer are required to be soldered onto the board. Thus, a smaller (and therefore cheaper) main board.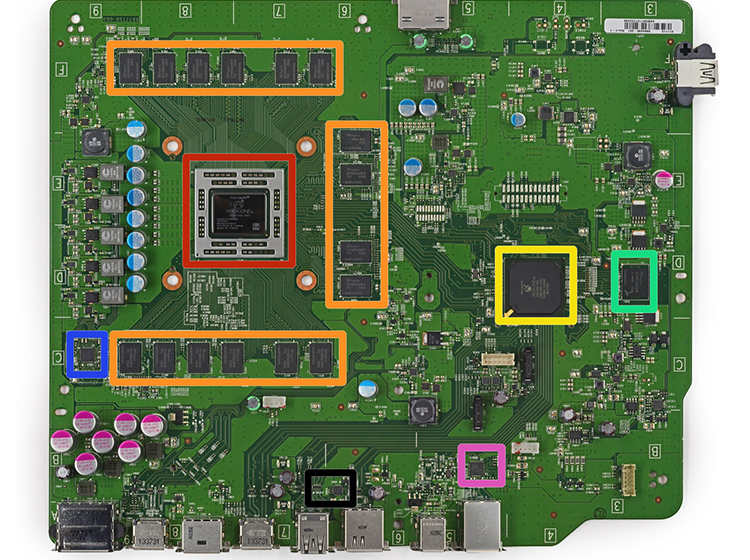 Another option would possibly be DDR4, which is also discussed in the job spec. DDR4 is still quite expensive, but clearly the price will dwindle over the next few years. It would also require quite a bit of work to get, well, working.
Interestingly enough, there were rumors that the Kabini (and the Jaguar APU's as a whole) would run on DDR4 last year, with some modification. Furthermore, the desktop version of the APU that would work with GDDR5. It's possible therefore that AMD could quite easily modify the APU to work with GDDR4, but all of this would require changes to the mainboard too.
It's possible we'll see a few revisions of the Xbox One for this very reason. Let's call them A, B and finally C. Revision A is the current XBox One. The second revision, B, would the die shrink (and possibly smaller form factor) and finally revision C which features a smaller board, the die shrink and possibly integrated PSU too. Of course this is only a theory, and certainly isn't confirmed or rumored yet.
To those who've followed technology for some time, this news is hardly a revolution. Heck, even the Master System from Sega, way back when had multiple iterations. The XBox 360's of course was probably the most important, as the RROD was a notorious issue plaguing early units. The slimmer model certainly helped things, eventually moving both the GPU and CPU from separate dies onto the same piece of silicone.
With this all said, the Playstation 4 is likely to follow suit. It doesn't take a technology genius to know Microsoft aren't the only ones who'll want to reduce costs. Cutting down costs means it's cheaper to produce, and thus they can get their system into more peoples homes.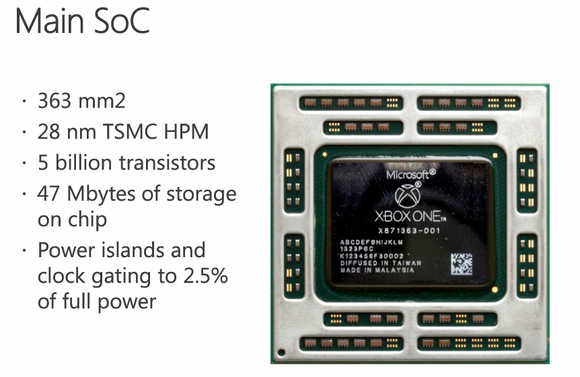 Consider points such as even the boxes the systems come in being smaller, less cost of cardboard, more can be packaged into the same truck, therefore reducing distribution costs (particularly handy if the systems are being shipped internationally).
Fortunately, both the Xbox One and Playstation 4 have been fairly reliable this console generation, so there's less and worry with failure rates. Bottom line – if you're looking to buy a new system for Christmas, and this news has put you off, it's far from an announcement. We might not see the systems actually hit retail until 12 months from now, only Microsoft, Sony, AMD and TSMC know for sure.
A final upside to a redesigned Xbox One would be Microsoft fixing common complaints with the current design. The two common grievances users have with the machine are both the external power supply and the non upgradeable HDD. The PSU issue I don't mind so much, but base unit which requires less power could possibly have the PSU squeezed into the internals. Particularly if we consider the lower thermals of the device too.
The Xbox One's hard drive has been a common source of complaint. Early versions of the Xbox One's dashboard didn't even have a reliable way to calculate used space on the machine. A rather silly oversight. Despite Microsoft providing high speed USB 3.0 ports for external Hard Drives, the ability to open up a cover in the machine and swap out the (frankly small) 500GB model for a larger one would be welcome. Hell, maybe Microsoft would put in a 750 or a 1TB model as standard.
Credit to the teardown images: IFixIt
Xbox One APU Die Shrink to 20nm
Microsoft and AMD appear to be working on a die shrunk version of the Xbox One's APU, bring the process technology to 20nm to produce a slim lined xbox one
Manufacturer:
Microsoft and AMD
Other Articles You Might Like