The price of larger SSD's have fallen over the past few years, and gone are the days where ever low performance drives would cost you an arm and leg for such a minute amount of space, you'd wondering which of your OS features you could uninstall to squeeze a few of your frequently used applications on the last remaining megabytes of space.
With game and application installs quickly ballooning, it's fortunate that improvements in SSD memory technology have managed to keep up the pace. With more competitive prices, gamer's and power users no longer are being forced to scrimp and save MB's, and it's becoming all the more practical to install of your memory hungry games on a large SSD (or two).
With all of that said, Crucial (which is a brand of Micron, if you didn't know) throws its hat into the ring with the MX300 750GB 2.5-inch SSD.
The MX300 750GB SSD comes in the traditional 2.5-inch form factor, with a 7mm to 9.5mm spacer bundled in the box if you need it for say, a laptop. Crucial have also provided 'data migration software' in the form a fully functional copy of Acronis True Image HD. This is certainly a welcome inclusion; Acronis True Image is a very nice piece of software and as you would expect, is used for cloning drives for backup purposes, or migrating your current Windows / OS install onto your shiny new SSD.
In the opening paragraphs of this review, we've discussed how SSD sizes have been growing rather rapidly over the past few years, but despite this the prices of the drives are getting cheaper than ever, and this is creating a surge of SSD sales. So what gives? New memory technology – that's what, and while it's outside the scope of this review to fully explain SSD technology, we feel it's important enough to at least discuss some of the finer points of the technology at play.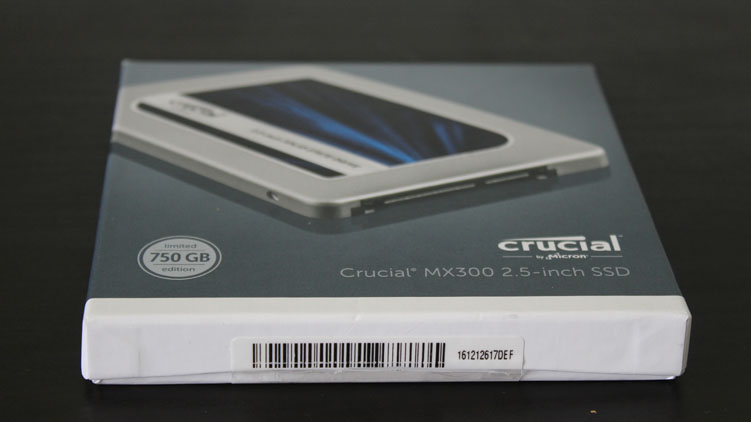 The Crucial MX300 isn't the first drive to use the 'new' 3D NAND flash technology, but it's certainly the first to do so at a mainstream price. 3D NAND is something the entire memory industry is slowly shifting towards, away from the older 'planar NAND' flash memory. In a nutshell, 3D NAND has memory cells 'stacked' vertically in multiple layers, which addresses the two fold issues of both cost and increasing storage space.
Crucial also point out the MX300 drives reduces energy consumption over older drives (not a big deal in a high end rig featuring a 600W+ PSU, but it is a nice bonus for laptop owners), and this is partly thanks to 3D NAND too, as it can in some instances reduce energy usage.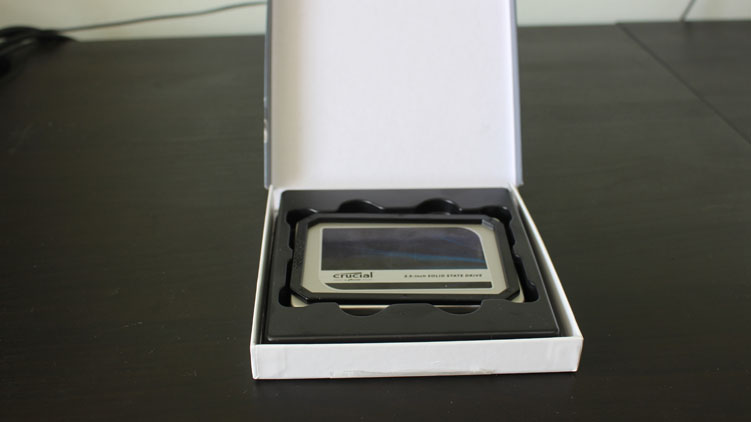 Now we've the basics of 3D NAND technology out of the way, the Crucial MX300 750GB SSD is Micron's first 3D NAND based SSD set up in a 384Gbit (48GB) 32-layer 3D TLC (so each memory cell can store up to 3 bits of data) configuration. Because the MX300 uses 16 of these dies, the actual drive capacity is technically 768 GB (48 GB * 16 dies = 768GB) of raw flash memory, the remaining space is apparently used for background activities such as wear levelling (basically the act of remapping a corrupted memory block to one of the 'spare' good ones).
Crucial has been certain that the MX 300 lives up to the feature set reputation of the MX brand, and the drive supports encryption, SLC caching for better performance, and a generous 3-year warranty.
On paper (the official spec sheet), the Crucial MX300 750GB should offer pretty darn impressive performance. Micron claim's a sequential read speed of 530MB/s, with the write speed being a touch slower, at 510 MB/s. Random Read IOPS and Random Write IOPS are at 92K and 83K respectively for the drive.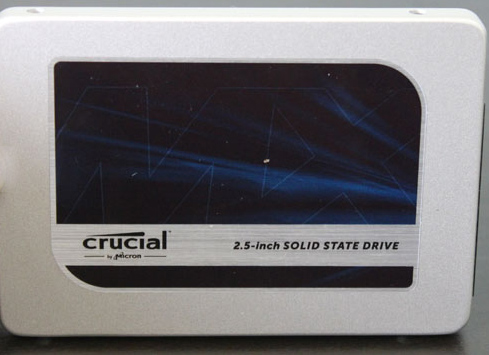 As we mentioned just a moment ago, the MX300 750GB supports hardware encryption, and does so for arguably all the important standards: AES 256-Bit, TCG Opal 2.0, IEEE-1667 and finally is compatible with Microsoft's eDrive too.
Various performance and reliability features have been added by Micron, including Dynamic Write Acceleration, Adaptive Thermal Protection, TRIM support, SMART, ECC (Error Correction Code), Power Loss Protection and a redundant array of independent NAND. In theory at least, reliability shouldn't be a concern for some time with the MX 300.
Pricing and looks of the Crucial MX300 750GB
Crucial's MX300 has a fairly understated, brushed metal look, which is perfectly fine tucked inside the drive bay of your PC or laptop (or other device). It's color scheme is largely dominated by its silver / metallic colored plastic, with a label with 'MX' written faintly in a large bold silver outline. Naturally, the Crucial and Micron logos are plopped on the label in a silver strip, with the only other writing informing you that it is indeed an SSD with a 2.5-inch form factor.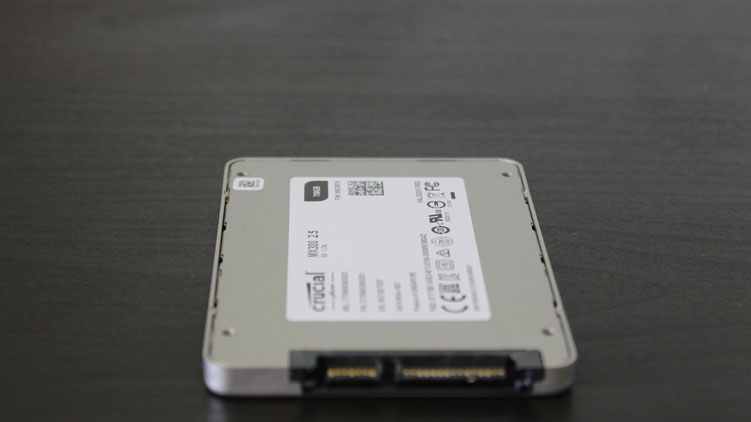 Behind the Crucial MX300 is the only formal writing of the space of the drive (750GB in this particular case), other pertinent information includes the usual smattering of product IDs, serial numbers and other such manufacturing information.
As you can likely guess, there's only two connectors on the drive, the SATA 6Gb/s connector and the power terminal. Aside that, you're given the usual mounting holes, and that's pretty much your lot. It's a simple arrangement aesthetically, but to my mind works perfectly to help fit in with a wider range of case color schemes (assuming you're even able to view it with your given case).
The price of the MX300 as of the time of writing is currently £157 or a shade under $170 US Dollars, which is damn impressive when you think how much space the same amount of cash would have bought you just a year or two ago.
SSD's are often not the first thought of a lot of gamer's who're looking for faster performance, and in cheaper, budget systems where just a little extra cash can go towards a faster GPU or nicer CPU it's an understandable compromise. But for those with the extra cash, the falling prices and larger storage of drives is starting to make SSD's a good investment.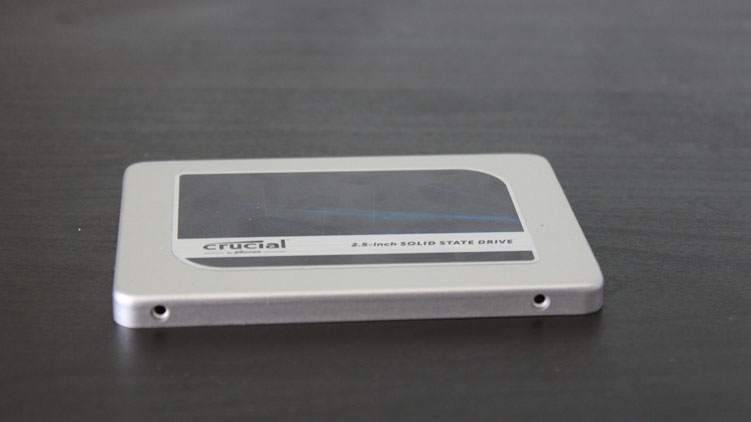 The MX300 750GB for example is large enough to contain the majority of even the most enthusiastic gamer's library (or at least, the games they're currently playing and have installed). The use of SSD's might not be so obvious as say upgrading your old GTX 680 to a shiny new GTX 1080, but the faster performance does make a tremendous difference for loading times and a smoother experience. This is particularly true with larger, open world games or other titles which rely heavily on texture streaming (I'm looking at you Batman: Arkham Knight). You'll often find considerably less stuttering on the SSD based installs.
Performance
For testing the drive, we opted to use a mixture of real world games and applications along with a synthetic suite too. To help those gamer's who've been wondering if they should jump from a traditional Hard Drive to an SSD, we decided to pit a few benchmarks against a regular mechanical drive. While loading times are certainly faster with an SSD, extended gameplay sessions will quickly reveal a more tangible difference. As we hinted at earlier in this article, SSD gaming just feels smoother.
Anvil Storage Utilities is up first, and the performance shown is a combination score from reading and writing a variety of data at different sizes, including Seq 4MB, 4k, 4K QD4 and 32K and 128k. The purpose is to show how the drive handles different sized data. As you can see from the below graph, the Crucial MX300 750GB slightly pips the Kingston HyperX Savage to the post.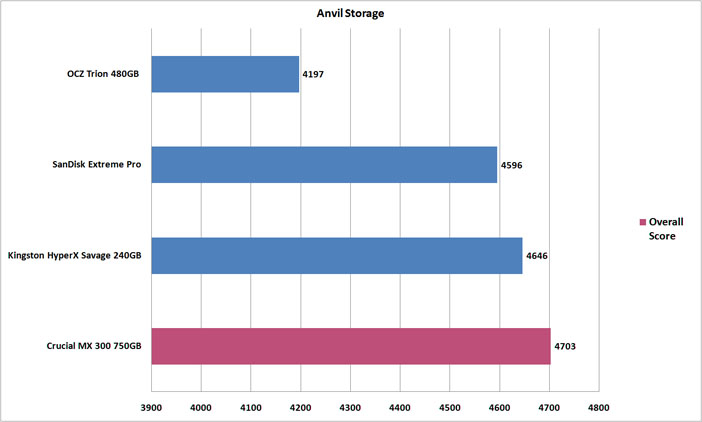 Things change a little when it comes to AS SSD, which aims to test not just read and write times (once again on Sequential data, 4K and 4K-64) but this time also takes into account access times. While the Crucial MX300 is slightly slower than the OCZ Trion and HyperX Savage when it comes to pure reading and writing speed, it does have access times in its favour, and thus just about scores the win in terms of 'overall score'.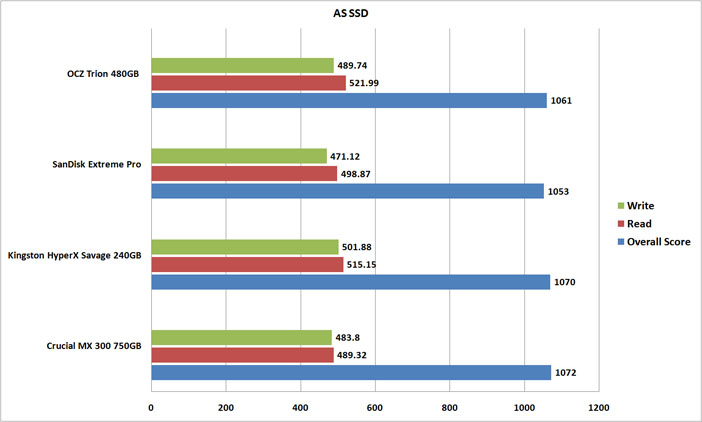 Crystal Disk also has a similar story, with this particular test switching to focus purely on 4K Q32T1 Read and Write times. The MX 300 sounds beats its brother, the MX 200 1TB to the finishing line, but loses out to the Samsung 840 Evo in pure write speed, but comes out slightly ahead in reading the data back.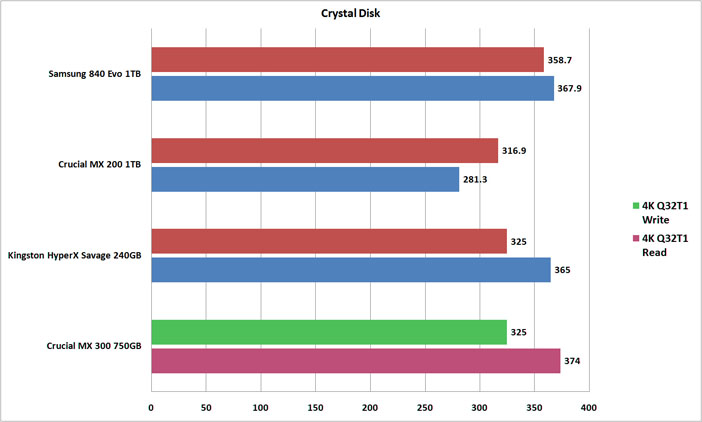 We'll now switch things up to synthetic gaming by asking PC Mark 8 to measure both read and write speeds of BattleField 3 and WoW. The reason this is quite a nice test is because the data is synthetic, and thus patches and other 'changes' to the real game don't skew the results. Speaking of the results, they speak for themselves – with the SSD's performance being largely interchangeable from each other. This is often the case with newer SSD drives – but all drives stomp their mechanical cousins into the dust, and that includes both SSHD / Hybrid drives.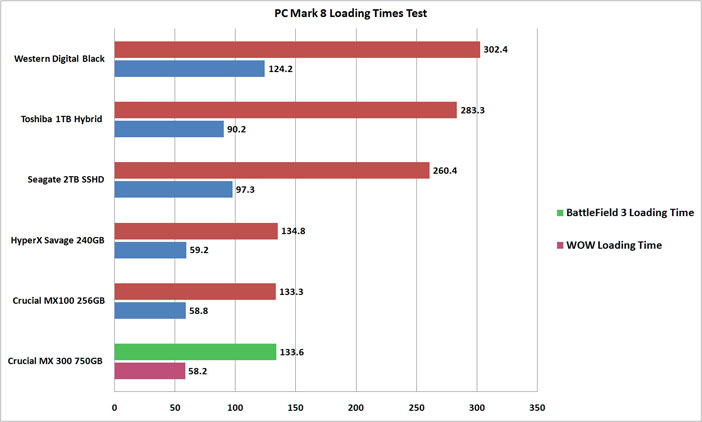 Now we take on a 'real world' task of loading up SUSE on a VM (Virtual Machine) by use of VirtualBox. The test was simple enough – we installed two identical versions of SUSE on a Samsung mechanical drive and on the Crucial MX300 750GB. Both machines launched separately and were configured with 3GB of RAM and 128MB of video memory. Loading times were measured from the moment we pressed the 'start' button up until the moment we could double click an icon (kInfoCenter) and the application load so we could interact with it.

Our final set of comparisons are much the same test as SUSE, only switching the Virtual Machine tests for games – in this case Witcher 3 and Rise of the Tomb Raider. For clarification, both games are running at their highest graphical settings at 1080P, latest patches. RotTR is running DX12 on Steam, while Witcher 3 is the GoG version (full disclaimer, we were sent Witcher 3 for review by CDProjektRed). As is pretty clear, the difference between running on an SSD versus a mechnical drive is pretty damn profound, and once again 'playing' the game is a lot smoother, particularly in a title like Witcher 3, where large, open world environments require a lot of loading and data streaming from the drive.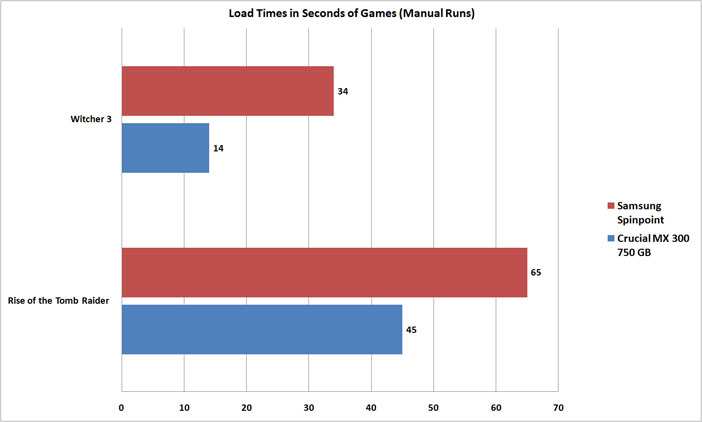 Crucial MX300 750GB Verdict
SSD's are a harder product to review than say, a video card due to their impact and value being harder to show off in pictures and graphs, but be that as it may, if you've been reading over this review you'll probably have a fair understanding that we're fans of Crucial's MX300 750GB drive.
For value for money – it's a pretty damn good deal, and thanks to technology such as Micron's 3D NAND flash we're seeing drive sizes balloon while keeping costs down. This means we're finally in an age where it is financially viable to have a large SSD (or two) to hold all of your most played games and applications. As someone who runs a YouTube channel (and therefore does his fair share of editing and switching between applications), having all of your video, audio and other most used applications on an SSD is nice, and we're glad we made the switch to SSD's some time ago for system drives.

But with that said, we've not been really super convinced until the past year or two the 'average' gamer should look towards an SSD to hold their Steam, Origin or other PC gaming libraries. Fortunately, with the pricing Micron have settled on for the Crucial MX300 750GB (once again,  £157 or a shade under $170 US Dollars), we're extremely happy to recommend the drive to folks who're looking to make the switch either a couple of smaller SSD's or mechnical drives to a single, faster solution.
In terms of performance – the drive doesn't quite come out on top, but for the 'average' home user workloads (such as loading applications, hosting the odd virtual machine and of course gaming) the drive performs well enough that you'll be extremely happy with the performance. Essentially, with a large amount of random write workload, the drive can stall a little – but, for gaming and loading applications this shouldn't be an issue the average user will face.
Overall, the Crucial MX300 750GB is a recommended for those who're either looking for a budget or mainstream drive for general usage, or a truly excellent SSD for gaming. But with that said, if you really need something faster for OS functionally or other hardcore enterprise based use, then you might be better off making the jump to PCI-E / M.2 SSD drives. Unfortunately, the raw throughput of SATA 3 drives is limited by the port itself, and a 'faster' SATA Based SSD probably won't have a tangible performance boost.
Overall, we've really loved the Crucial MX300 750GB drive, and its highly recommended as a general work purpose drive or for your game storage needs. Stick around, as we're going to be testing it on the PS4 soon!
Buy the Crucial MX300 750:
Amazon US Link | Amazon UK Link
Please note the above two links are affiliate links, and we may receive some a small payment from Amazon for your visit (but obviously it doesn't affect the price for you!).
Other Articles You Might Like