Cyberpunk 2077 had sadly suffered from what can only be described as a disastrous launch. While many people are having great experiences with the game with minimal bugs, that isn't the case with everyone. Of course, the most publicised issues with the game are the ones plaguing the last gen consoles, the PS4 and Xbox One. But a nasty save game corruption bug has been found on the PC version.
As discovered by Tom's Hardware, several users on the CD Projekt Red forums and Reddit have complained of the save corruption bug, and through some testing realised that the issue pops up once their save data was larger than 8 MB. The bug appears as an error message, which reads "saved data is damaged and cannot be loaded" and the player can no longer progress with the game. With a game as huge and time-consuming as Cyberpunk 2077,  the loss of save data is a huge loss.
Naturally though, the users on Reddit and the forums for the game decided to do some digging to see what exactly was causing these issues. One user in particular went the extra mile and took all the data that other games had provided and decided to do some deep-dive testing.
According to their findings, the main cause of this bug seems to be crafting.
"Test 1: After loading in, I immediately opened my inventory and dropped every item I could out of my inventory and saved. File size reduced by 2KB to 7,963KB. Picking the items back up and saving reduced the file size by an additional 14KB to 7,949KB. Repeating these steps, dropping items again decreased file size by 2KB to 7,947KB. However picking the items up increased file size by 2KB this time, back to 7,949KB. I then crafted 39 weapons (Ashura – 15 rare, 15 epic, 1 legendary), this decreased file size by 158KB to 7,791KB. Dropping just those crafted weapons decreased file size by 2KB again and picking them up increased by 2KB.
Results – Inconclusive but a good starting point. The first reduction of 14KB when picking items up could have been caused by items being deleted when dropped(?). Spending materials seems to be a good way to decrease size.
Test 2: Reloaded original save size of 7,965KB. Crafting the Ashuras (37 this time due to perk proc, which did not change the amount of materials used) reduced file size again 158KB. This could indicate that the materials used amounted to the same reduction and the variation of amount crafted did not have a noticeable impact (wrong…), however it was only 2 less crafts. Dropping and picking up resulted in the same 2KB decrease/increase.
Results – Inconclusive but now let's look at drawing down materials.
Test 3: Reloaded original save size of 7,965KB. I crafted approx 3k MaxDox MK.3 (9 common, 3 uncommon) to draw down item component count. Ended with around 50k in total components, approx 36k reduction. I saved after the craft was done and my file size was at the max 8,192KB. I dropped the 3k that I crafted, saved, still 8,192KB. Finally, sold to drop box, waited two days for drop box to clear it's inventory, saved and still hitting the 8,192KB file size. All are saves are corrupted.
Results – …wtf
Test 4: Reloaded original save size of 7,965KB. Instead of doing a lot of crafting, lets upgrade legendary items to draw down everything at once with not a lot of interactions. Upgraded legendary weapon until legendary items were empty as was done in test 2 with the Ashura crafting (29 legendary item component was the limiting factor). This reduced every item and upgrade component count, file size at 7,800KB, about in line with crafting the Ashura. Let's get rid of more rare and epic materials then since legendary was depleted. Crafting 50 epic headgear pieces (12 uncommon, 9 rare, 15 epic) resulted in a file size of 7,821KB, 21KB increase. Let's try crafting legendary item components to go back to upgrading then. Crafted 25 Legendary crafting components, upgraded various items until depleted, file size now at 7,834KB, 13KB increase.
Final results – No clue and I wasted more time. I could do more testing but I think this is enough for anyone in the same boat of "How can I fix this" to just not waste time and wait for an official response."
If you're a big crafter in Night City, this issue is undoubtedly ringing rather large alarm bells in your head, so the next question is obviously "How can I fix it?"
At the moment, sadly there is no official fix or response from CD Projekt RED. But, it's safe to say that this GIF probably depicts an accurate portrayal of their head offices at the moment…
However, a moderator confirmed that while there is no "fix" as such, you can reload a backup of the save to try and rescue your progress from the clutches of oblivion.
"First," they said, "back up all of your save files by copying them to a folder on your desktop or something. Then, do a verify / repair of the game. After that, try loading. If it still doesn't work, erase the "corrupted" saves and replace them with the backups. Keep doing this as you troubleshoot. It can often be the loading process, not the saving process that borks a save."
This is also backed up by a troubleshooting post on the Cyberpunk 2077 support page on GOG, but it also confirms that even if this issue is fixed, the game saves that have been corrupted cannot be recovered.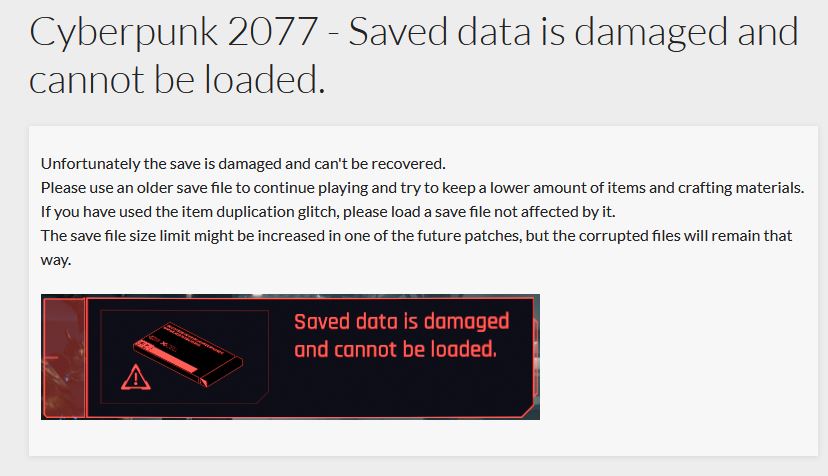 I suppose the moral of this story is back up your save files right now if you're playing Cyberpunk 2077 on PC.
Other Articles You Might Like