The long wait for Dark Souls 3 is finally over, as it is now officially out in the West.
Here I will be discussing the PC port of the highly anticipated From Software game. As you might know, I did discuss this in a video yesterday, so this article is for those who might not have the time to sit through a ten minute video.
My specs: i5 2500k at 3.3 GHz turboed to 3.7 GHz, a GTX 780Ti and 16GB RAM on Windows 10.
First impressions of the PC version are positive, with framerate being pretty solid across the board. The game pretty much remained at 60 FPS, even when fighting groups of enemies and the first boss.
There was the occasional odd drop in frame rate, where the game would lose 10+ frames, but this didn't seem connected to anything within the game so it's possibly something on my end. It also didn't happen very often and the game would very quickly recover.
But, overall performance is solid, at no point did I feel frustrated by input lag or low performance. (FYI I'm using an Xbox 360 controller.)
The graphics options were pretty much what you'd expect, with presets and tweakable custom options. The only real complaint is anti aliasing is simply "on" or "off", with no mention of the type of anti aliasing used.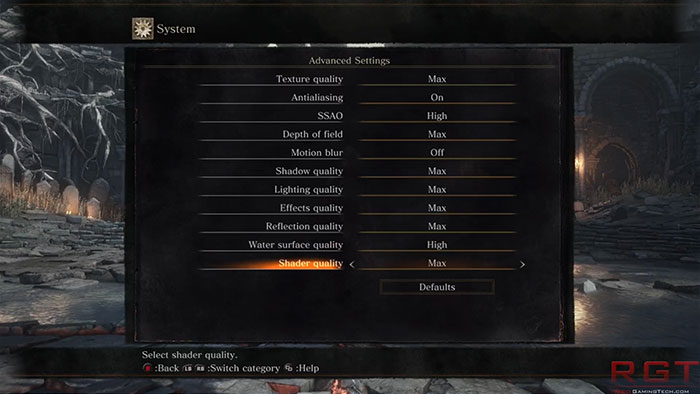 Other customisation options for things like audio, online options, HUD and camera controls are also what you would expect.
Things were looking good for the PC version of Dark Souls 3 until I reached the first bonfire. When I first began the game, I started as a Pyromancer. Shortly after reaching the first bonfire with this character, the game crashed.
Thinking this was just an anomaly, I restarted the game and again crashed within 10 seconds of reloading that character at the first bonfire. After a brief trip to Reddit, I discovered that this is a pretty widespread bug.
At the moment, there are two known fixes: play the game as a Knight class, or change your lighting to low. The second method does seem iffy on whether or not it works, but I can confirm that changing to a Knight fixed my issue.
This issue is pretty bad, and hangs a dark cloud over an otherwise well executed PC port. There are other users reporting crashes in different places, so if the fixes I mentioned here don't work, I suggest you head on over to there.
Some users have reported stuttering issues, but I personally didn't experience any issues here. The thing that really perplexes me about this situation is a critic with early access via review code experienced this issue on PC about three weeks ago.
It's fairly likely that From and Namco knew about this crash… and yet, the wait between the Japanese and Western release was not used to fix this game breaking issue. Oh dear.
Hopefully we can expect a patch soon. My overall verdict is that overall, Dark Souls 3 is fine on PC, but sadly marred by some big issues. Once those have been fixed, I would happily recommend the game on PC.
Other Articles You Might Like