Despite both Skylake and the upcoming Kaby Lake both running on the same socket type, there were fears that Kaby Lake wouldn't be backwardly compatible with the 100-series motherboard chipsets, and Intel were being pretty damn quiet on the issue too.
But we've finally have confirmation that should mean that current LGA 1151 platform owners will be in-luck! MSI have already started releasing early BIOS support for the Kaby Lake processors, despite the CPU's not hitting retail stores (at least if you're wanting a desktop part) until the first quarter of 2017.
Current MSI motherboards (such as the Z170A Gaming M5 motherboard which we've reviewed) were released to with a then updated chipset for the Skylake range of processors (such as the I5 6600K or the I7 6700K). So with this news, owners who've already got their hands on a series-100 motherboard and want to save some cash when upgrading to Kaby Lake are in luck.
"MSI, world leading and most popular gaming component brand, is pleased to announce that all current MSI 100 series chipset motherboards fully support the next generation LGA 1151 socket processors. The BIOS updates are now made available for download via the official MSI website."
With that all said, the upgrade from Skylake to Kaby Lake isn't going to revolutionise performance, likely providing around a 10 percent IPC over a similarly specced Skylake part (for example, the 6700K vs the 7700K). For if you've currently got say an I5 and thinking of making the jump to an I7, it's certainly more tempting.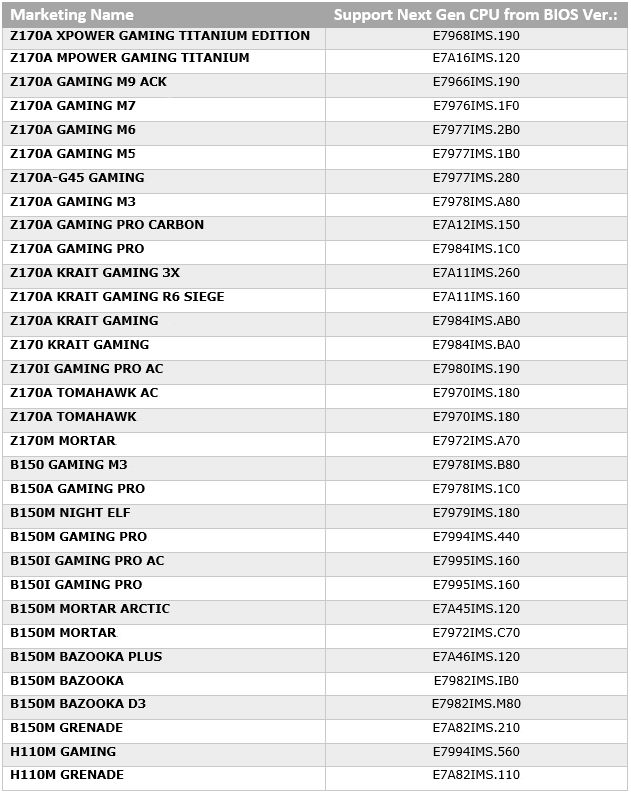 But, sticking with the 100-series chips does mean you not able to benefit from the Intel Optane technology bought in by the 200-series and its SKU's which include the higher end Z270, H270, Q270. If you're primarily a PC gamer, this probably won't be a huge deal, but if you use a lot of tasks which need high disk IO, then the jump to the 200-series makes more sense. Other benefits for Kaby Lake includes additional PCI Express lanes and native USB 3.1 support rather than relying on a third party chip.
Naturally, while MSI have pledged BIOS support, your mileage may vary if your motherboard vendor chooses to do the same – but it's a pretty safe bet most will – if only for PR.
Other Articles You Might Like