Benchmarks and further confirmation of the specs for the new and upcoming flagship desktop processor for Intel's upcoming Kaby Lake lineup, the I7-7700K have leaked out onto the internet, which shows for power users looking to overclock, maybe the jump from Skylake isn't so pointless as originally thought.
The Kaby Lake Core I7-7700K takes the technology found in Skylake and further refines it, leading to not just the usual IPC improvements (which means more work is done per clock, IPC = Instructions Per Clock), but Kaby Lake's refined 14nm+ process also allows Intel to crank the processors clock speeds higher. For point of comparison, the Intel I7-6700K (our review here) comes with a default clock of 4Ghz, and Turbo's up to 4.2Ghz.
Kaby Lake's I7 7700K ramps this up to a default clock of 4.2 Ghz as the base, and numerous reports peg the boost clocks at 4.4Ghz+, essentially meaning you're getting the double whammy of faster clock speed and a better optimized processor core. In theory we should see the CPU have something left in the tank for those who wish to tinker around with overclocking.
With that said, let's discuss the one leaked benchmark. The I7-7700 scores 6131 in Single Thread performance, with a multi-core score of 20243 (for record, the processors core configuration remains the same as the 6700K, so that's 4 cores and 8 threads). This decimates the single threaded performance of the Skylake I7 6700K which scores just around the 4300 mark. Naturally this is due to the higher clock speed and also improvements in IPC. The other factor to take into account is of course one benchmark doesn't necessarily equal other benchmarks.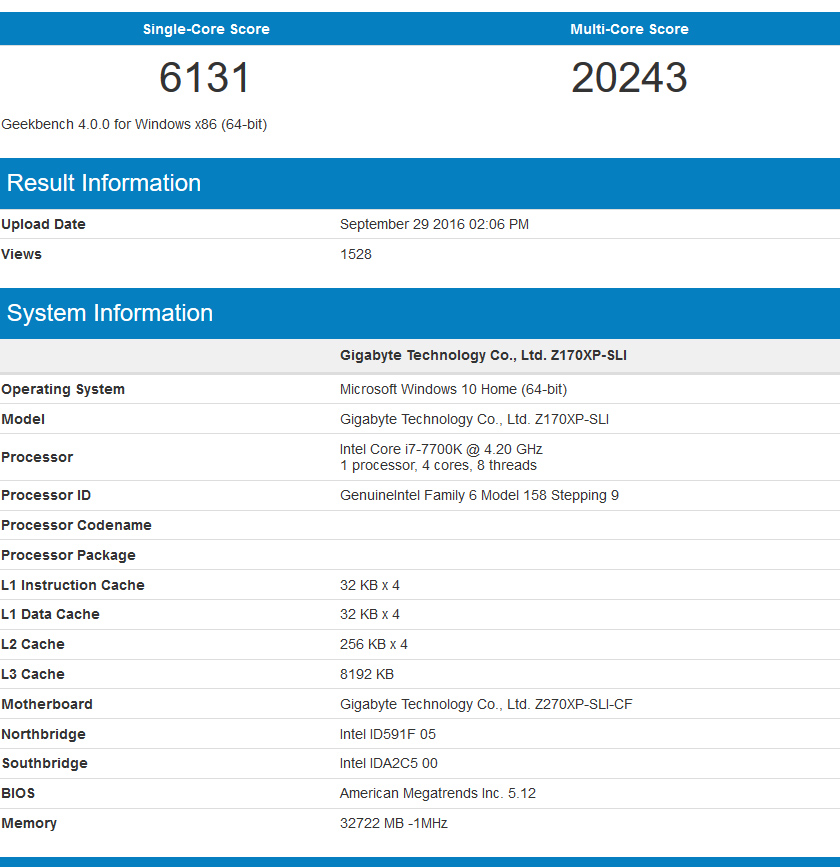 The specs for Kaby Lake also pop up, and we're looking at 32KB L1 Data and Instruction cache per core, 256KB L2 per core, and 8MB of total Level 3 caching too. The CPU was tested on a Gigabyte motherboard, with Windows 10, 32GB DDR4 RAM and naturally benchmarked using GeekBench 4.
Multi-threading scores meanwhile offer about a 20 percent improvement (once again, taking this 'stock' I7 7700K versus an I7 6700K).
All in all, this means Kaby Laky is an interesting upgrade for folks with Skylake, but we'll have to wait for more benchmarks (when the processor is finally released) to formally make a recommendation. As we reported a few days ago, Kaby Lake appears to be happy to run on Series-100 motherboards, providing your motherboard vendor releases a BIOS update, and to be in danger of repeating ourselves, this provides a great upgrade path for folks with say a 6600K who've developed the need for more threads.
The only few issues with Kaby Lake is that it'll be competing directly against AMD's Zen and there's still not really enough cores / threads for extreme power users. In reality, the ball is really in AMD's court to convince us that our money is better going to them. Supposedly, the AM4 Summit Ridge X370 platform will offer robust overclocking for power users, and with the increased number of PCIe lanes Zen might be an excellent choice for gamers and power users alike.
But Kaby Lake is also looking extremely promising – and as usual, we can't ever count Intel's shear market force out of the running. For more on the I7 7700K benchmarks, checkout the GeekBench website.
Other Articles You Might Like