Intel is refreshing its current 8th generation processor line up in a pretty significant way with the 9th generation. It's switching a focus from Hyper Threading (reserving that for the I9-9900K) and upping the physical core count from 6 cores to 8. Overall then, this is a clear move to help push competition with AMD and their Ryzen 7 series of processors.
Naturally, these processors are supposedly on sale in the next month or two (there's a few different release windows that are being banded about), but we have a few leaks to tide you over regarding pricing and performance. Let's start things with Sisoft Sandra and the I9-9900K. The processor specs aren't anything surprising… 8 cores, 16 threads (it's the only 9th generation processor for the mainstream with HT remaining intact), 16MB level 3 cache total, 256KB L2 cache per core. With just a few processor cores active, we can see clock speeds turbo up to 5GHZ. Although there's another recent leak which shows the I7-9700K chips are capable of an all core turbo at 5.5GHZ.
For the first entry we see a total score of 281.22 GOPS
| | |
| --- | --- |
| Dhrystone Int | 346.12GIPS |
| Dhrystone Long | 353.77GIPS |
| Whetstone Single-float | 249.39GFLOPS |
| Whetstone Double-float | 209.35GFLOPS |
The second entry is 778.73Mpix/s for total score:
1206.80Mpix/s
Multi-Media Long-int
463.10Mpix/s
Multi-Media Quad-int
7.19Mpix/s
Multi-Media Single-float
843.79Mpix/s
Multi-Media Double-float
463.77Mpix/s
Multi-Media Quad-float
24.25Mpix/s
Below is a combined screen shot of both results: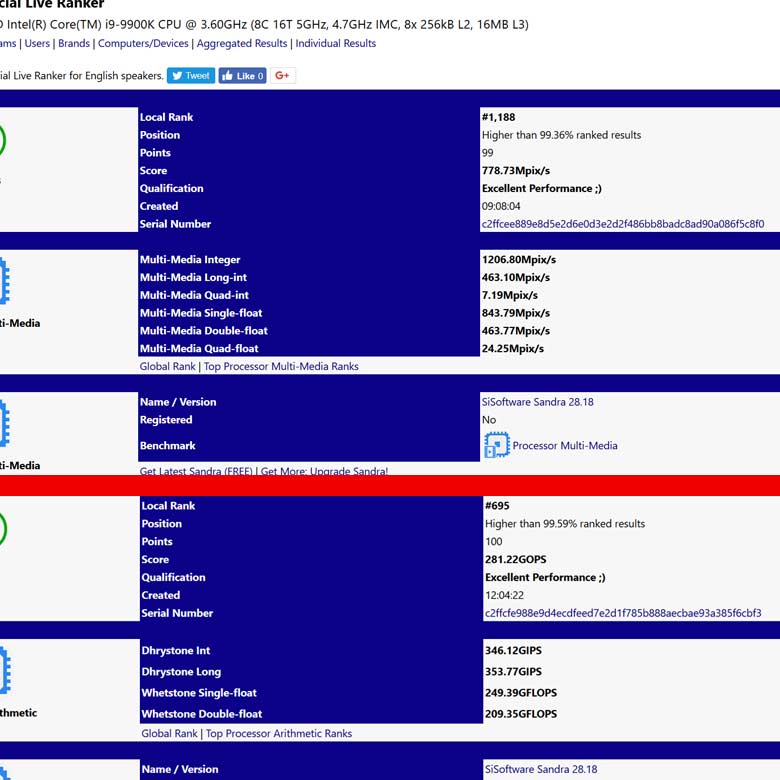 We also have three retailers which have been naughty and leaked the pricing of the  Core i9-9900K, Core i7-9700K, and Core i5-9600K processors. The I9-9900K is looking to cost about 500 USD (slightly over) when you factor in Euros to Dollars and take away taxes. The I7-9700K is $416 and finally, the I5-9600K will be 257 USD. The stores in question are Alza.cz, PC21.FR, and finally Informaticazone.
Clearly, the I9-9900K is pretty darn expensive, at over 500 USD… when you compare that against the Ryzen 7 2700X (about 300 USD) there's a significant difference in price. Although perhaps the biggest competition in performance and price is the Threadripper 1920X, which currently costs around $450 USD for 12 cores, 24 threads.
Sure, Intel's processors will certainly have the clock speed advantage, but as we discussed in our recent MSI B450 Gaming Pro Carbon motherboard review (where we also reviewed the Ryzen 5 2600X) for gamer's on a budget, the value of AMD's processors is hard to argue against. The Ryzen 5 2600X currently retails at $225 USD, making it an excellent value processor for gamers or content producers on a budget.
Now don't get us wrong, Intel's processors are fantastic, and it's clear that the I9-9900K is be incredibly powerful, but this is merely to say that Intel's processors will be certainly facing stiff pricing competition from AMD. It will be interesting to see if AMD respond by reducing prices further still down their product stack, and what the 7nm CPUs next year will do for both companies.
Other Articles You Might Like