At CES 2015, Intel have announced a plethora of Broadwell based CPU's, but if you're a gamer you're likely to be extremely disappointed by the announcements. The Broadwell U range focus on lower power consumption; thus are perfect for say a notebook, but not so much use for a high performance desktop.
Broadwell U follows a fairly logical progression of the Haswell U lineup, with power consumption cut to a rather impressive 15W and 28W dual core CPU's. These CPU's spread a wide gamut, from the lowly Intel Celeron all the way to the Core i7.
While these ultra low power dual cores CPU's are impressive, sporting a 14nm architecture (meaning a rather nice Die Shrink) and impressive headroom (plus the usual performance improvements), us PC gamer's will be waiting on the 'real' I5's and I7's, in other words Quad core processors.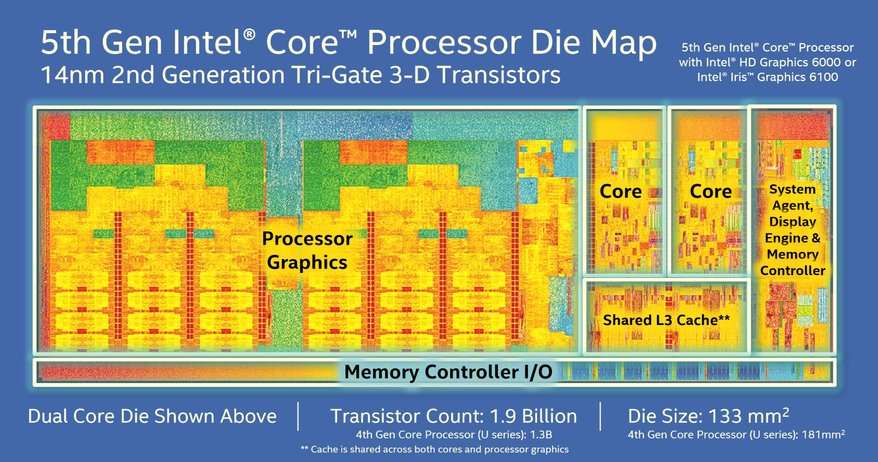 At first glance, Intel's decision to have I7 Dual Cores is pretty confusing to customers, but one must remember they're aiming them for different markets. Arguably it's still not the best move for them to make, and I'd prefer unity over the product ranges, similar to Nvidia's decision to number the Geforce GPU's based on the Maxwell architecture to 9xx for both desktop and mobile.
Complicating things further still, Skylake is looking set to arrive mid this year. Various motherboard providers are advertising and planning their wares, and back in December several rumors popped up that we'll be seeing SkyLake's 100-series boards at Computex (which is in June). If that's the case, SkyLake (which is Intel's 6th generation CPU) will arrive virtually at the same time as the BroadWell lineup., because this same rough time window is when Intel assure us that we'll have BroadWell for desktop.
The real feather in the cap for Intel, in regards to Broadwell, are the improvements to the GPU. Intel are telling anyone who'd listen that you'll gain about 22 percent additional performance (on the GPU) compared to the previous efforts. That's not too bad, and should mean that ultra thin notebooks have enough power to run older games, or possibly some newer ones, if you're willing to compromise the details a bit. No SVOGI for you!
Naturally, the lower power consumption also translates into more battery life, which should also mean richer and higher resolution screen displays. It's hardly a revelation though is it?
From a personal standpoint, if you're using a decently clocked SandyBridge (for example, a 2500K) or something a bit newer, say an Ivy Bridge, smart money is to just wait and watch the show. There's few who'd deny the BroadWell U has potential – but much of that is for lower power devices. If you're looking for a high performance device, then you'll be better off waiting for SkyLake.
But, if you're interested in witnessing the 'power' of the Broadwell U processors, then take a look below for more information on what the 1,9 Billion transistors will get you.
Other Articles You Might Like