Benchmark's of Intel's Skylake CPU's have arrived onto the internet, and assuming they are genuine, show a performance increase of about 15% over the previous generation.
*edit* – a new leak featuring benchmarks comparing the 6700K versus the Devil's Canyon have emerged here.
It's fair to say that the CPU market has been a little stagnant of late, and while there have been a few interesting chip releases (such as the Intel 5820K) there certainly hasn't been any performance breakthroughs. Intel's Skylake has certainly benefited nicely from the hype machine, from gamer's and power users who're clamoring for extra performance on a X86 desktop.
If the leaks over at PCFRM are accurate, and you take the die shrink into account, the performance of the Skylake-S (for example) is certainly reasonable, but aren't as impressive as one may have hoped for.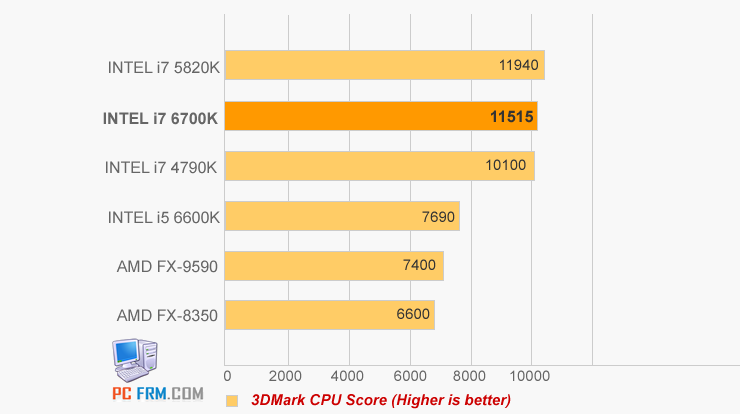 It's been traditional since the release of Intel's Sandybridge for each successive generation to improve IPC performance by about 10 percent. This means that if you're running a 2500K at a given clock speed, Haswell's 4670K at the same clocks will sport about 20 percent over it (since it's two generations ahead).
Many had enthusiasts expected Skylake to break this 'tradition' and instead reach about 20 percent IPC performance, instead (assuming the leaks are accurate, and also basing it on only a few tests) the performance is about 15 percent ahead of what you can currently enjoy with your Haswell.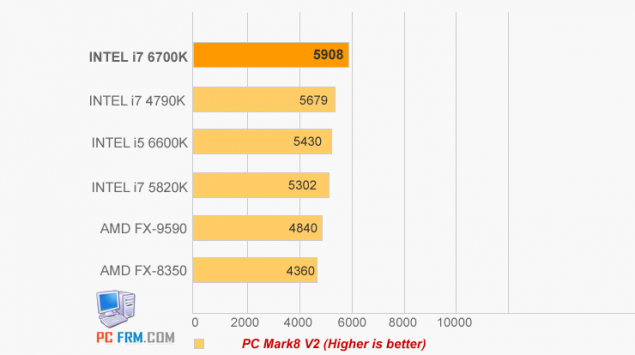 Of course, there are certainly architectural advantages to enjoy with a Skylake, for example, DDR4 support and lower power consumption. But one also must remember that the 6700K (for instance) runs at a lower core clock than Devil's Canyon – 4.2GHZ boost versus 4.4 of DC.
Upcoming Skylake Desktop X86 CPUs
| | | | | | | |
| --- | --- | --- | --- | --- | --- | --- |
| CPU Model | Cores | BaseClock | Boost Clock | Cache | TDP | Unlocked Design |
| Core i7-6700K | 4/8 | 4.0 GHz | 4.2 GHz | 8 MB | 95W | Yes |
| Core i5-6600K | 4/4 | 3.5 GHz | 3.9 GHz | 6 MB | 95W | Yes |
| Core i7-6700 | 4/8 | 3.4 GHz | 4.0 GHz | 8 MB | 65W | No |
| Core i5-6600 | 4/4 | 3.3 GHz | 3.9 GHz | 6 MB | 65W | No |
| Core i5-6500 | 4/4 | 3.2 GHz | 3.6 GHz | 6 MB | 65W | No |
| Core i5-6400 | 4/4 | 2.7 GHz | 3.3 GHz | 6 MB | 65W | No |
| Core i7-6700T | 4/8 | 2.8 GHz | 3.6 GHz | 8 MB | 35W | No |
| Core i5-6600T | 4/4 | 2.7 GHz | 3.5 GHz | 6 MB | 35W | No |
| Core i5-6500T | 4/4 | 2.5 GHz | 3.1 GHz | 6 MB | 35W | No |
| Core i5-6400T | 4/4 | 2.2 GHz | 2.8 GHz | 6 MB | 35W | No |
Taking a peak at the above table, and once again using the highest end CPU listed, the Core I7-6700K, we can see that it's very 'business as usual'. Four CPU cores and HT, which is a bit of a disappointment and makes for a rather difficult decision if you'd migrated to a 5xxx series CPU, but not just game but also run a variety of applications grateful for additional threads.
Applications specifically written to take advantage of Skylake's strengths (for example, updated AVX and 512-bit registers) could likely see a nice boost in performance.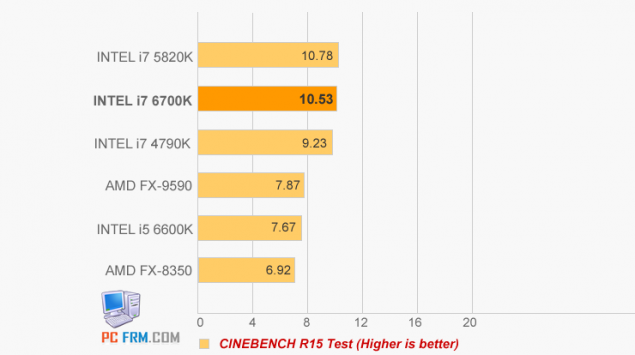 Is the 6700K Skylake a good upgrade?
Pure speculation time (along with a hefty dose of opinion!) – I've a feeling many will opt to simply wait out Skylake. Switching to DDR4, a new motherboard and CPU is rather expensive – if there's only a small performance boost to be had.
From a gaming point of view – we've got to really wait to see how games benefit from DX12; but from early impressions, DX12 is going to love multi-threading. If that's the case, for high end gamers (running multi GPU setups) they're probably going to want more than 4 cores.
It's possible therefore they will want to switch to Broadwell-E chips, which (according to rumors and roadmaps) will appear in 2016. It gets even more dicey when one considers that it's possible the release date will coincide with AMD's Zen Processor.
If rumors of the Zen are accurate, the 'smallest' Zen CPU will cram in 4 CPU's, and higher end ones handle can be up to 32 in size (albeit, for servers, primarily). I'm certainly not suggesting Intel can't compete with Zen, far from it, I'm pointing out that it might lead to a rather interesting time in the CPU market. One must also consider the leaked slides (and released info) on Zen, which points to it having considerably better integer and single thread performance over previous AMD CPU's too.
Naturally, Intel do have a Skylake successor in the works, now known as Cannonlake (formerly Skymont), which is a "tick", a die shrink of Skylake's 14nm down to only 10nm. What other changes will be made to the architecture are still unknown.
Other Articles You Might Like