For the mainstream user, Intel's CPU offerings have been somewhat predictable over the years; with the highest end offerings touting 4 physical cores and up to 8 threads thanks to Intel's HyperThreading technology. Sure, there are processors such as Broadwell-E, but the CPU's are typically more expensive, and the cost for the platform (memory and motherboard) often puts off a lot of users.
Intel's are shaking up the status quo with Coffee Lake, which will finally see the now infamous quad cores be bumped up to hexa-core configuration, allowing up to 12 threads to run (thanks once again to HyperThreading). The lineup and release schedule for Intel's Coffee Lake processors has leaked out onto the internet thanks to BenchLife, giving us a tantalising glimpse of what the future of Intel's desktop SKU's hold.
There will be four different Coffee Lake SKU's, and for those unfamilar with Intel's Alpha Name suffice we have Coffee Lake-U (Ultra Low Power), Coffee Lake-S (Performance / desktop parts… we can presume there'll be the unlocked K parts too), Coffee Lake-X (extreme) and finally Coffee Lake-H (mobile with high performance graphics).  According to the leak, the 8th generation Intel processors will start emerging onto store shelves in the 1st quarter of 2018 as those 4 SKU's.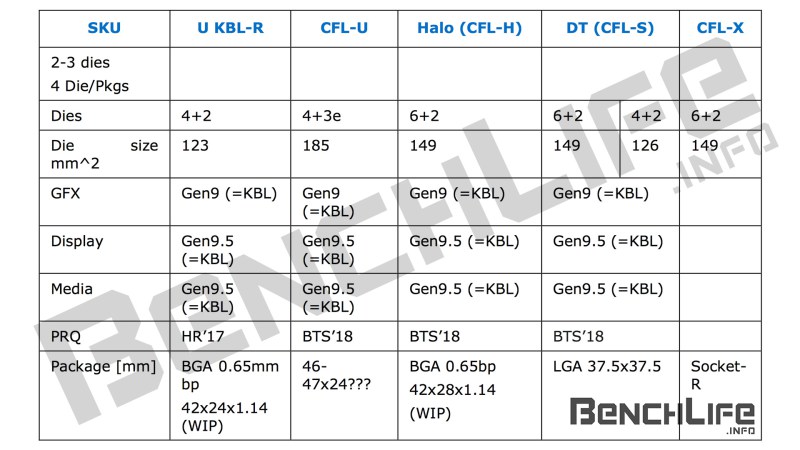 This is where thanks get a little more complex – for the launch of the new Skylake-X and Kaby Lake-X processors Intel will launch another socket in the shape of LGA 2066 in the second quarter of 2017. There's quite the difference between Skylake-X and Kaby Lake-X in number of processor cores. Skylake-X features up to 10 physical processor cores (20 threads), where as Kaby Lake-X has just 4 cores and 8 threads. Coffee Lake will appear on the LGA 2066 platform and act as a half-way house between the 4 core designs and the full blown 10 core processors. As you can imagine, it will sport 6 physical cores and hyper threading. Give that it's listed as a 6+2 part, we can presume that the CPU will also feature a GT2 graphics core too.
For the 'mainstream' desktop though, we will see Coffee Lake-S, which once again will be offered in two flavors, a 4 core and 6 core offering, both of which come with a GT2 graphics core bolted on. Because Coffee Lake is for all intents and purposes a refined Kaby Lake, we can expect slight tweaks to the architecture, and thanks to the refined 14nm process node there's a possibility that we can also enjoy a nice boost in clocks with Coffee Lake 6 core too.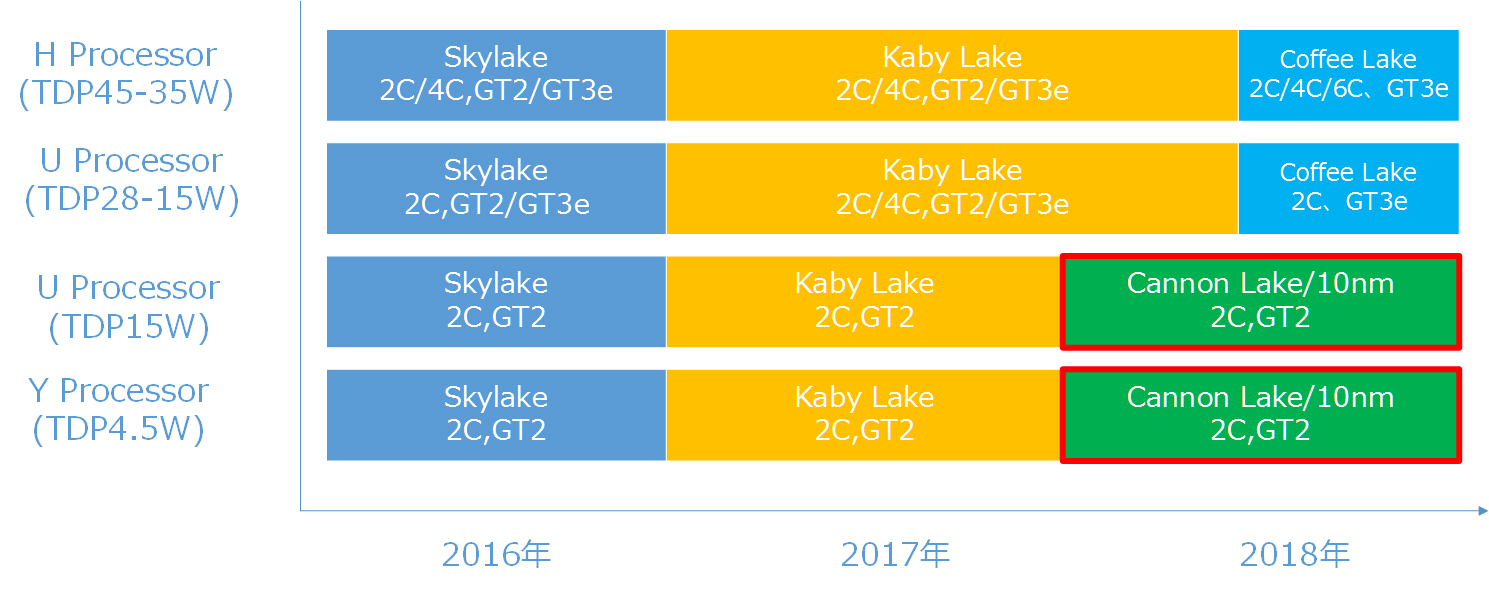 Naturally Coffee Lake does enjoy a few extra tweaks here and there though, including native support for DDR4 memory running at 2400Mhz (though only dual channel). Another nice improvement comes in the form of additional PCI-E 3.0 16x lanes, which are perfect for SSD's, high performance graphics solutions and so on.
For those interested in higher end mobile solutions, the Coffee Lake-H has you covered, bumping the number of processor cores once again to 6, and with a high performance GT2 graphics solution (once again, it's a 6+2 configuration). We can make a pretty safe bet and guess that the cores will be running at a lower frequency however, or some other concession is made or it would drain through battery life fairly quickly.
What does all of this mean? Well, really it depends on the timings of the releases for the next few years. If the rumors about Zen's performance are accurate, AMD's Summit Ridge can likely compete with Intel's 6850K without too much difficulty… and that puts Intel in a bit of a stick situation. With Kaby Lake releasing within the Zen time frame (give or take a month or two) we can expect strong arguments to be made on both sides.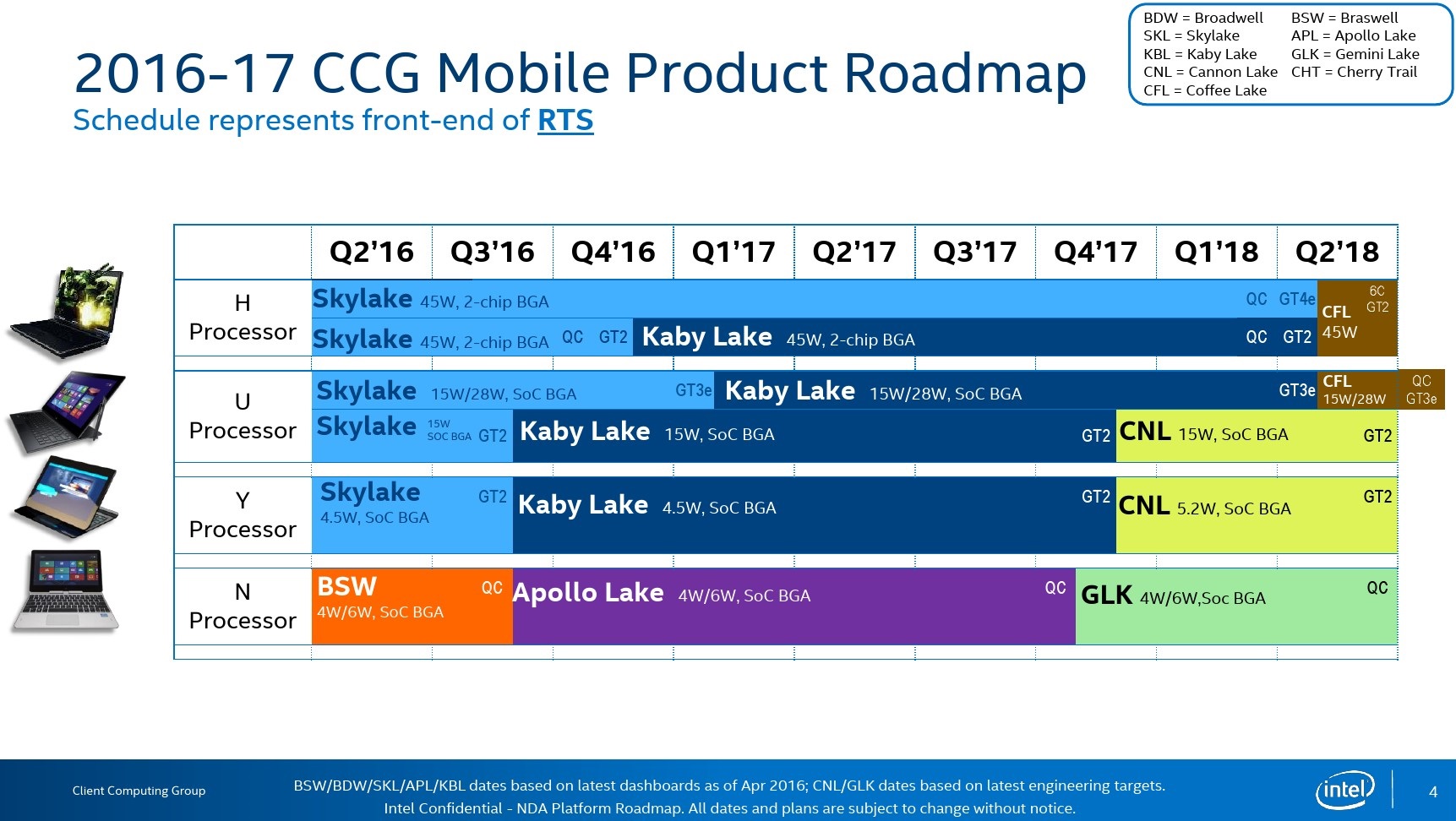 Zen is 'supposed' to clock to about 4.2 GHz, but there's debates whether final retail silicone can go higher than this (we're not referring to the higher end clocked Zen chips AMD will release at a price premium, just for sake of clarification). Assuming this number is accurate (or even + a few hundred Mhz) Intel have the single thread clocks 'won'… but then there's the shear number of cores. If the rumors about pricing of Zen (see the link above) are accurate, you're going to be able to pick up a 16 thread CPU for just over $300 dollars. Even if that price is bumped to 350, it's hard to argue that you're getting better value.
This is even truer when thinking of how many cores games are starting to use now thanks to DX12 and Vulkan slowly becoming the standard. Oh – and this is assuming all you ever do is game, if you run virtual machines, do encoding, folding or any other processor intensive task, Zen starts looking the better bargin.
But that's early 2017, Coffee Lake 6 core might make things more uncomfortable on AMD, especially if IPC or clock speeds raise. It might be down to AMD to either counter with a price cut across their platform or CPU lineup, or perhaps release Zen+ (which we can presume will run at higher clock speeds and again small IPC gains).
All in all, it's a weird time in the desktop market. As usual stick with us here at RedGamingTech!
Other Articles You Might Like