Chances are pretty good that if you're in the market for a graphics card for under $300, you've been considering AMD's Radeon RX 5600 XT graphics card. Priced about $100 cheaper than the RX 5700 (which it shares many of the same specs with), this leads us to the inevitable question of if you should just pocket the extra change and go with the Radeon RX 5600 XT instead.
For this review, we'll be using MSI's Gaming X variant of the RX 5600 XT, which will be sent back after the review is finished. The Radeon RX 5700 was provided to us by AMD directly, though it is a reference design.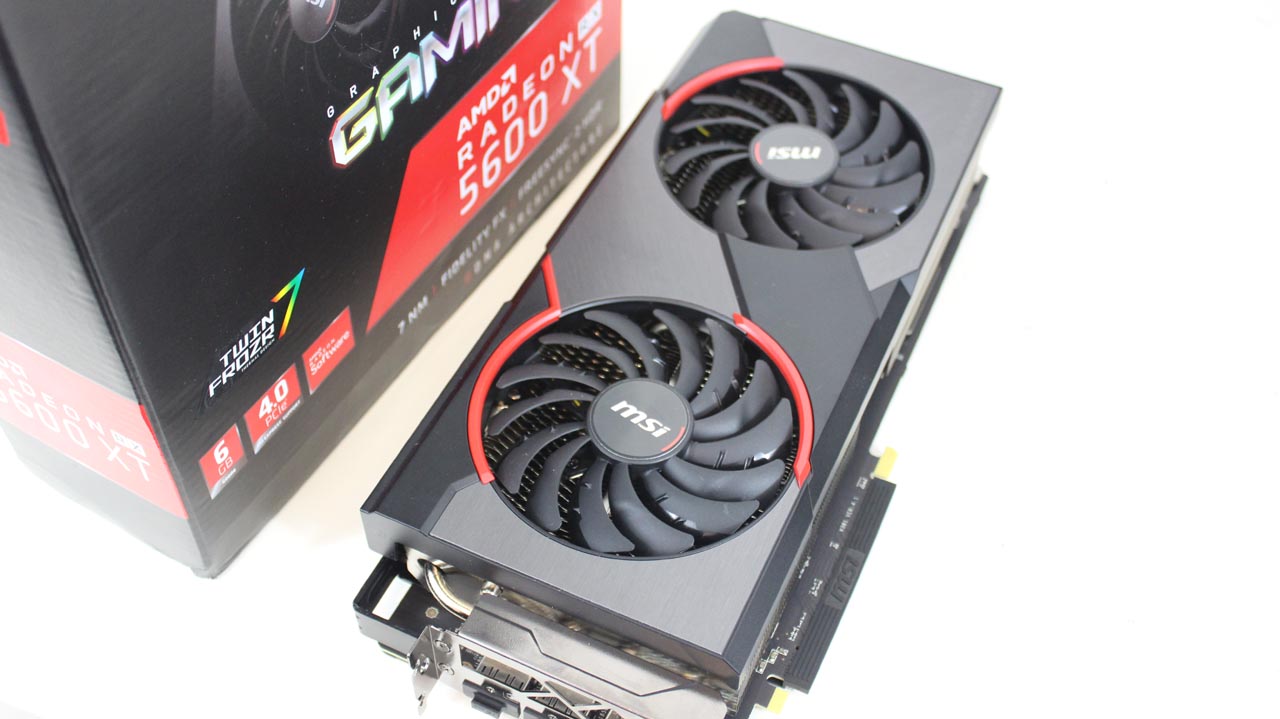 MSI Gaming X RX 5600 XT Features and Aesthetics   
If you speak to someone about the 'best' parts for a specific budget, there's a pretty good chance you'll get a variety of opinions, and good luck on the question of the best method to apply thermal paste to a processor. But the 'looks' of components to is very important, especially with windowed cases being all too common. 
MSI's RX 5600 XT is, subjectively, a rather attractive looking card. The basic shroud forming the cooler is neutral enough to avoid clashing with most color schemes, and the hints of don't come off as tacky or garish.  For rear IO, there's a single HDMI port and 3 DisplayPorts, pretty standard stuff for a modern-day AMD or Nvidia graphics card. 
https://www.youtube.com/watch?v=Dm7u8Z68hx0
The MSI Gaming X RX 5600XT also demands two 8-pin power connectors too. On the front of the card are two TORX fans (100mm if that's the kinda thing you want to know… I can't imagine why you'd want to know such things, I mean you're only watching a review of the card), which MSI claims reduces the noise of the GPU when the fans are up to speed. Honestly, I can largely get behind this claim – with the case open, during normal gameplay you can't really hear the fans at all with a semi-decent pair of headphones on, and even without them and just listening to speakers, with the default fan profile you certainly wouldn't call the noise intruding.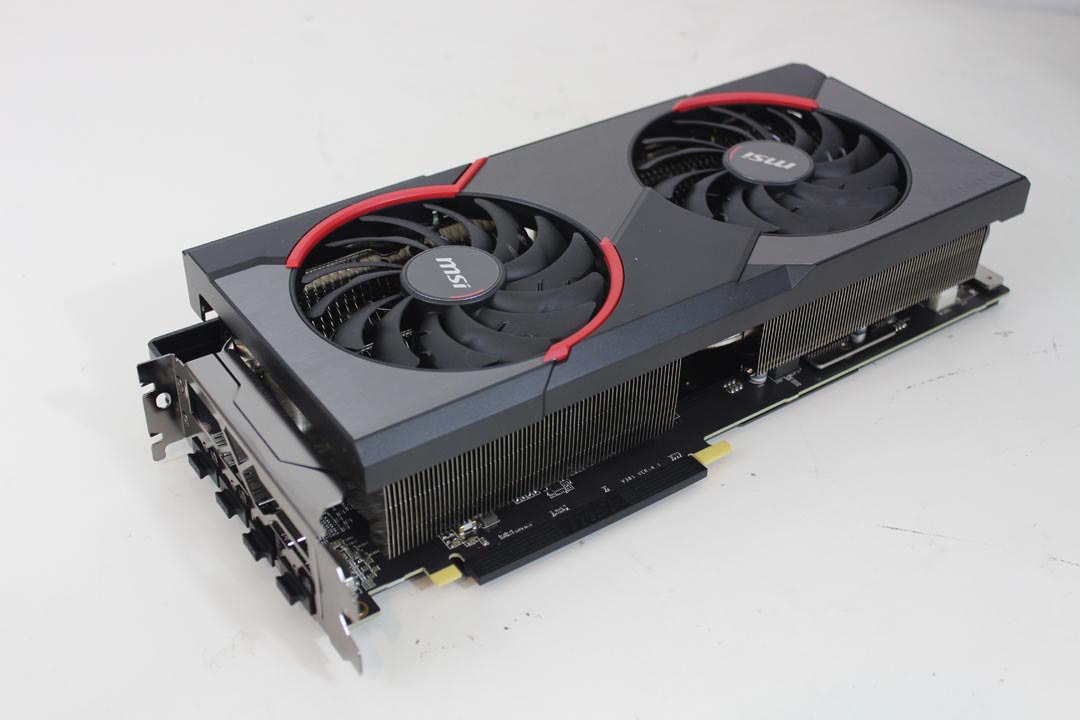 These fans also don't kick in with the GPU under lower usage, such as light gaming or watching a movie – and with default settings won't start up until 60 degrees. Once again, not an uncommon piece of tech for a modern GPU, but still.
There are 5 heat pipes which are 6mm running through the beefy cooler, with a 6th pipe slightly beefier at 8mm. 
If I had to pick one fault with the card – the shroud doesn't extend all the way to the outputs of the GPU and help push more of the heat out of the rear of the case, as personally I'm more a fan of exhaust kind of fans with my usual case set. It also kinda bugs me aesthetically too.
I will also spend a few moments pointing out that this isn't a small card at all. The MSI Gaming X RX 5600 XT is almost 30CM long (297mm2) and so, if you have a smaller build / cramped case I suggest bringing out the measuring tape!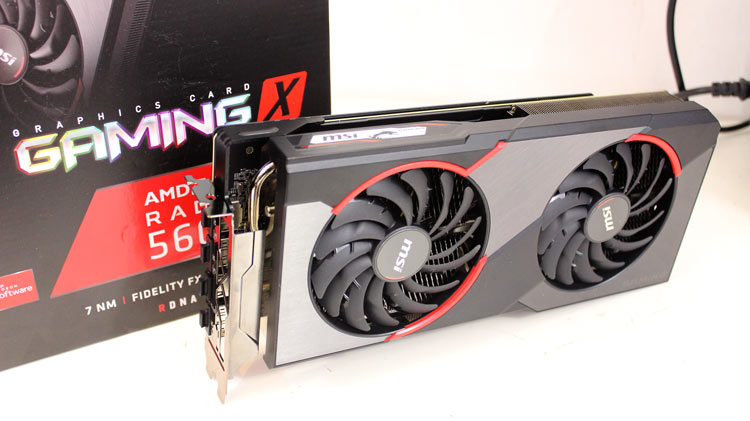 Gaming X RX 5600 XT Specs 
How the card looks is nice and all, but really what's under the hood is why you'll buy the card I would hope anyway. AMD basically used the same Navi 10 die found in the RX 5700 card, and snipped the memory bus down and also the amount of RAM, but the number of compute units remains the same as the RX 5700 (36 CU). 
For the Gaming X RX 5600 XT, MSI claims that the boost clock is 1750MHz, and the game clock of 1615 (just to remind you, the game clock is the typical frequency the card is expected to hover at during running a taxing 3d load such as… well, a game). From my own testing, the 1615 figure seems to be pretty conservative, and we saw over 1700MHz consistently during testing. There are also 36 Compute Units, the exact same number as the RX 5700 vanilla. 
Gaming X RX 5600 XT
AMD Radeon RX 5700
AMD Radeon RX 5700
Radeon RX 5500 XT
CU and Shaders
36
36
36
22
(2304 Shaders)
(2304 Shaders)
(2304 Shaders)
(1408 Shaders)
TMU
144
144
144
88
ROPs
64
64
64
32
Base Clock Speed
1420 MHz
1247 MHz
1465 MHz
1607 MHz
Game Clock Speed
1615 MHz
1375 MHz
1625 MHz
1717 MHz
Boost Clock Speed
1750 MHz
1560 MHz
1725 MHz
1845 MHz
Throughput (FP32)
8 TFLOPs
7.2 TFLOPs
7.95 TFLOPs
5.2 TFLOPs
Memory Clock Frequency
14 Gbps GDDR6 IF BIOS updated
12 / 14 Gbps GDDR6
14 Gbps GDDR6
14 Gbps GDDR6
Bus Width
192-bit
192-bit
256-bit
128-bit
Total Amount Memory
6GB
6GB
8GB
4GB/8GB
Typical Board Power
150W
150W
180W
130W
Again, the RX 5700 and Radeon 5600 XT are really similar, with AMD opting to cut back the memory of the RX 5600 XT cards to separate them from their bigger brothers. Originally the RX 5600 XT was designed around 12gbps memory on a 192-bit bus (so 6GB total), This was a pretty substantial cut from the 14gbps memory on a 256-bit bus (8GB total) of the RX 5700. 
As we'll see from the performance later in the review, this was clearly designed to make the RX 5700 cards more appealing, but the problem was that Nvidia responded and AMD was forced to crank the clock speeds up of the RX 5600 XT to the same speeds as the RX 5700, but still on a 192-bit bus.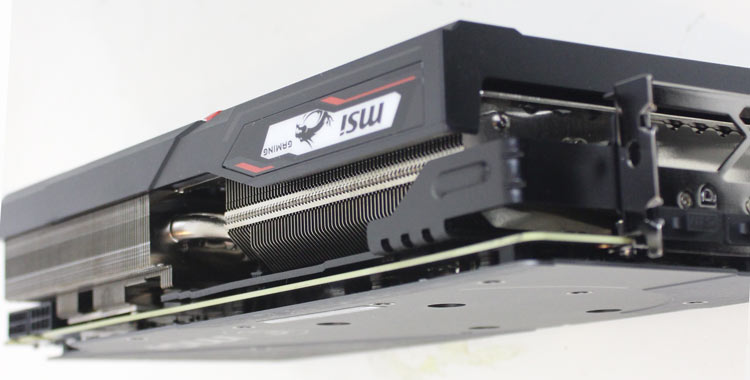 MSI's Gaming X Radeon RX 5600 XT has a BIOS on their website which allows you to update the card to 14gbps speeds within windows using the company's Dragon Center software. They have a pretty in-depth guide on how to do this, and the card I received has memory clocked at 14gbps. Performance loss for the slower memory depends on the game, resolution and graphical options, but about 5 – 7 percent can be gained running the card at higher speeds. 
Because my review sample came with the faster clocks and MSI are actively supporting and encouraging users to update their BIOS if they do end up buying a lower specced card, I decided to test the Gaming X card at the 14gbps RAM speed. 
The state of AMD's Radeon Graphics Drivers
Early in the Navi lifecycle, there were lots of complaints of black screens and other issues which really seemed to revolve around the drivers. This seemed particularly bad with users running things such as dual monitors, and most impacted the Navi (RDNA ) GPUs, with Vega and Polaris fairing much better. Despite even some of my friends suffering issues with the drivers (and doing the usual steps should as using DDU and even resorting to a windows windows reinstall) I couldn't replicate the problems, but these issues were pretty commonly reported. Indeed I even made a poll about this.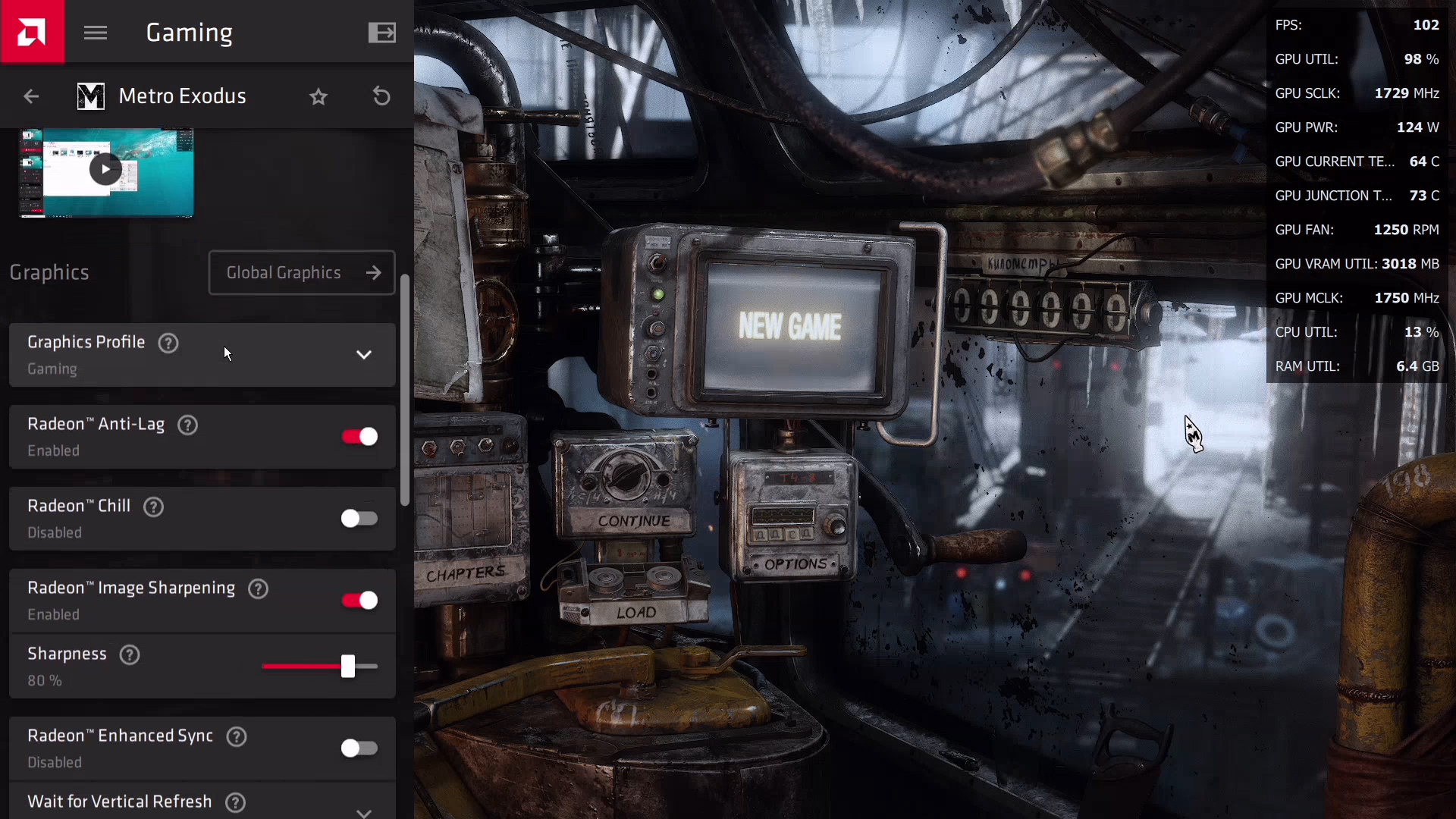 I am now however fairly confident many of these issues have been ironed out, and users now seem to be in general having a good and stable gaming experience, with AMD being pretty fast to release new drivers, usually having a new driver ready for a new big game drop. As always with PC gaming, problems can arise, but I am less weary of recommending an AMD card because of software now.
another big positive for AMD's drivers is that the GUI is easy to navigate, and provides fantastic features such as in-game performance metrics, easy access to tuning options such as Radeon Chill and anti-lag, and of course recording features and live streaming options. You can even set 'stuff' like Anti-Aliasing options and other such things too.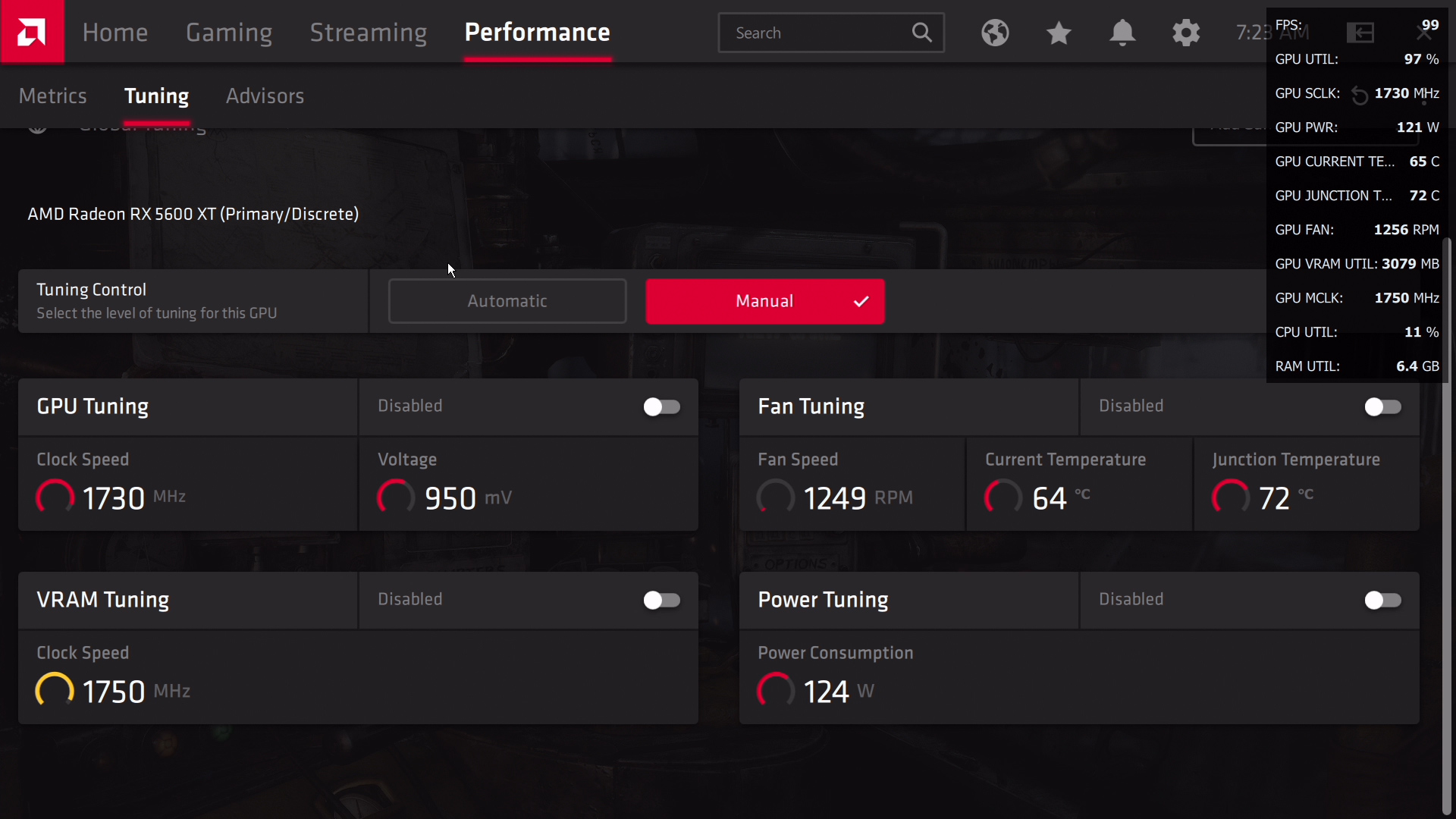 What's more, there's even basic video editing built-in too, allowing you to cut and trim the length of your recorded clips, and even export them as a Gif if you so desire. This isn't going to replace Adobe Premiere, as the software is designed to let you trim clips and help you easily export things as needed, but it's quite handy. 
Honestly, if you're 'used to' Nvidia's Drivers and worried about the switch in terms of the user interface, I think you'll be pleasantly surprised with how simple and tweakable AMD have made the later Radeon drivers.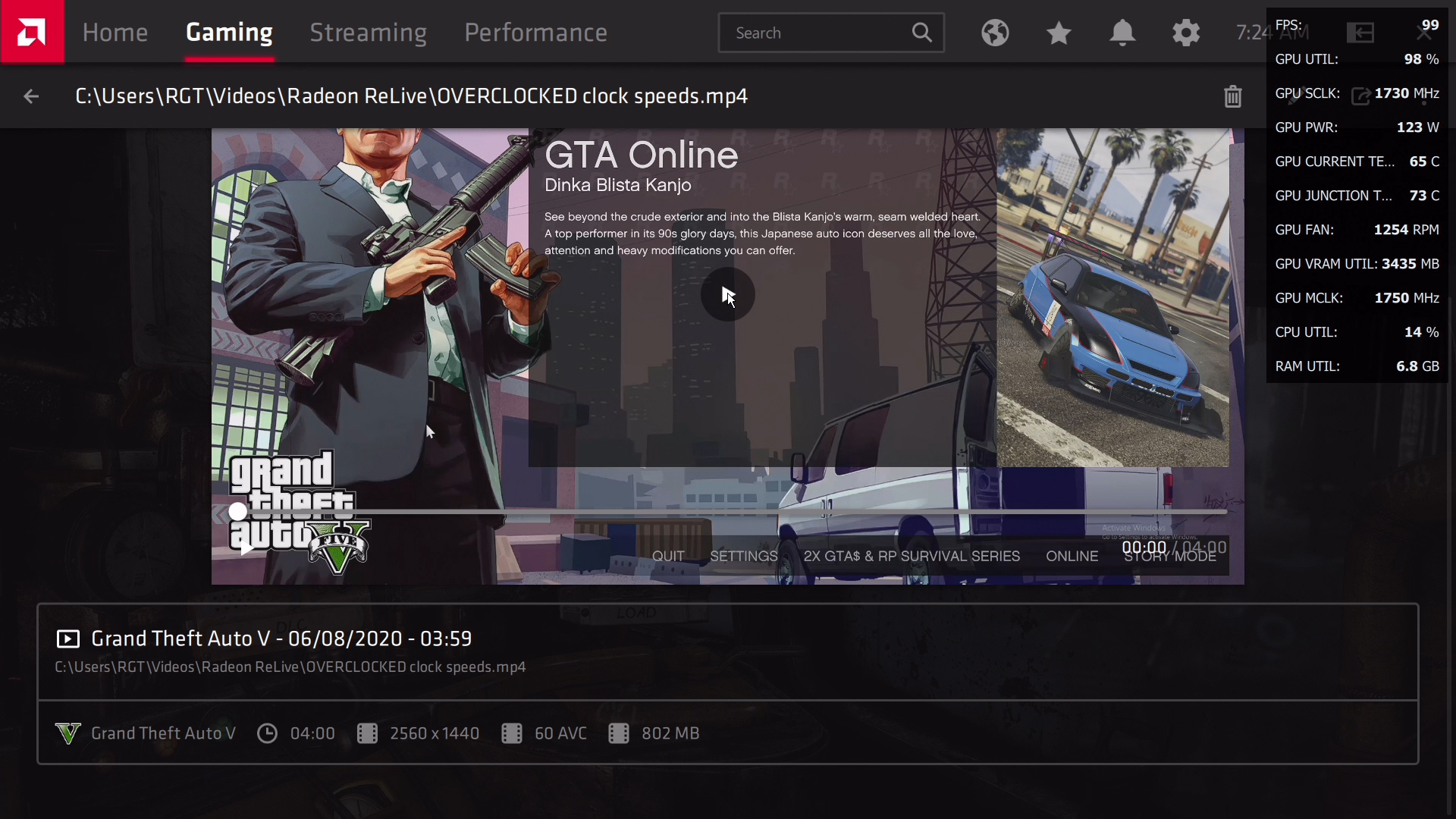 Testing results and configuration
 The Radeon RX 5600XT is not a low-performance card by any stretch of the imagination, but it's also not the kind of GPU designed for 4K gaming either (I mean, you could, of course, play games at 4K but would need to make concessions with graphical settings to hit 60FPS). To this end, I feel it's great for those aiming for either an ultra-high refresh rate 1080P display or a great foundation for a 1440P build.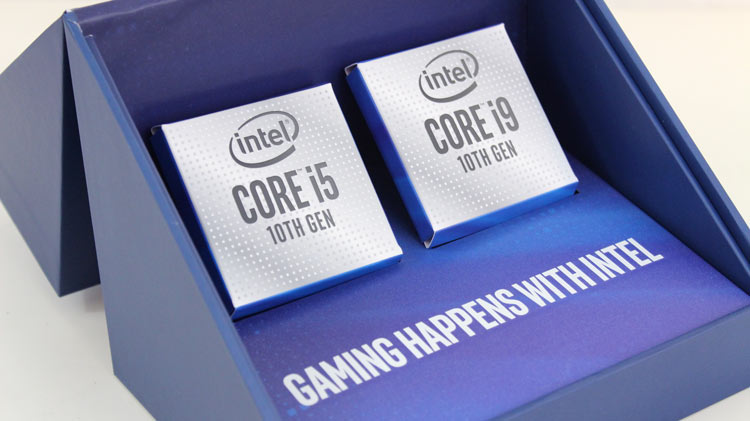 To this end, I have decided to test the GPU with a few different configurations. The first is an Intel 10900K, overclocked to 5.2GHZ for all cores. I am also running 32GB of DDR4 memory, with Windows and games installed on NVMe Samsung and Crucial drives. 
Thanks very much to Deepcool for providing the AIO for the CPU, as well as the 850W PSU and the case we're using too.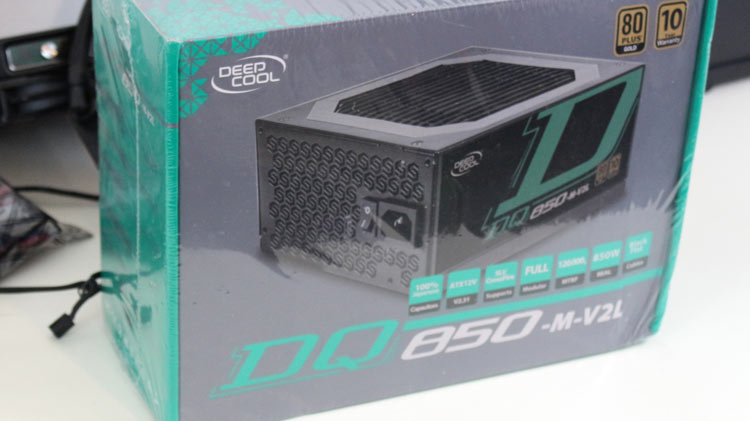 The second system is built using a B550 Mortar motherboard from MSI, with a Ryzen 3300X plonked in. The 3300X represents a great budget processor, putting out (roughly) the same performance as an I7-7700K (we'll delve more into this in a separate video) – giving a nice indicator of what type of graphical upgrade you'd get with an older system and thinking of a GPU upgrade, perhaps if you're waiting on purchasing Rocket Lake or 4th gen Ryzen, and also for those who hopped into AM4 with a budget option, perhaps just getting into PC gaming.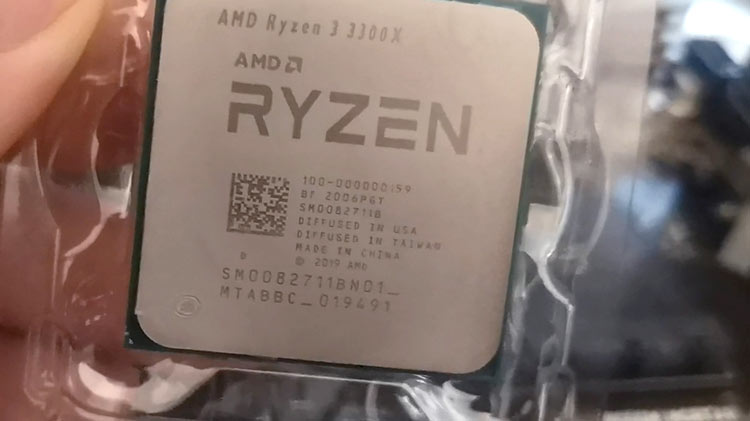 Unfortunately, I didn't have as much time to get results for the 3300X as it was on loan from AMD and the bulk of my time was CPU and tests with the RTX 2080 Ti, but I did want to throw in some benchmarks here for completeness sake. For the monitor, we used an MSI Optix Mag Curved display, 165hz at 1440P. The mode number is MSI MAG272CQR.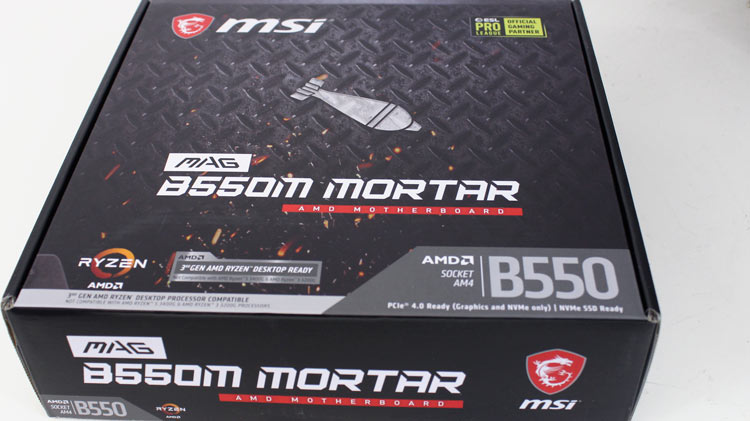 So then, without further ado – let's take a look at the performance results of the card. 
RX 5600 XT versus RX 5700 – How About the Performance?
Starting out with Gears Tactics, and this game is surprisingly taxing, particularly with higher quality settings such as Planar Reflections enabled. This title also sports a particularly interesting implementation of Variable Rate Shading, which unfortunately the first generation of RDNA doesn't support.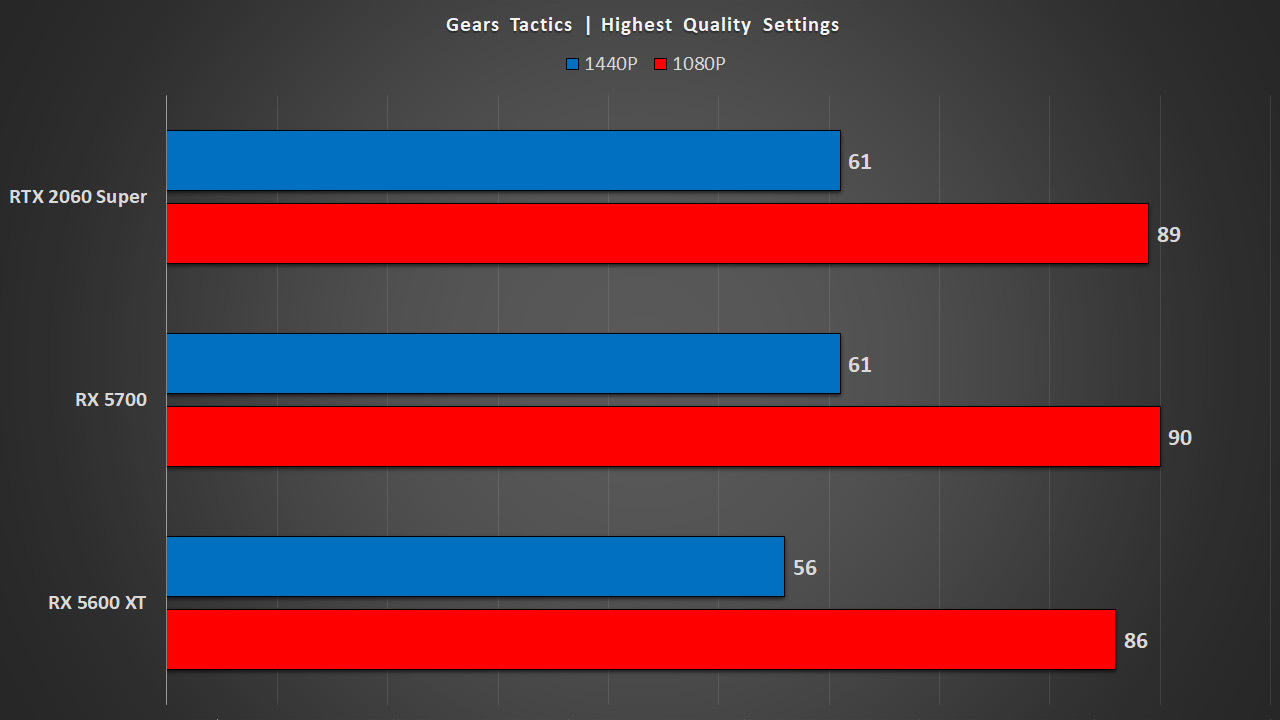 You'll see a similar trend for Gears 5 too – the RX 5700 leads over the RX 5600 XT alright, but the RX 5600 XT is holding its own very well.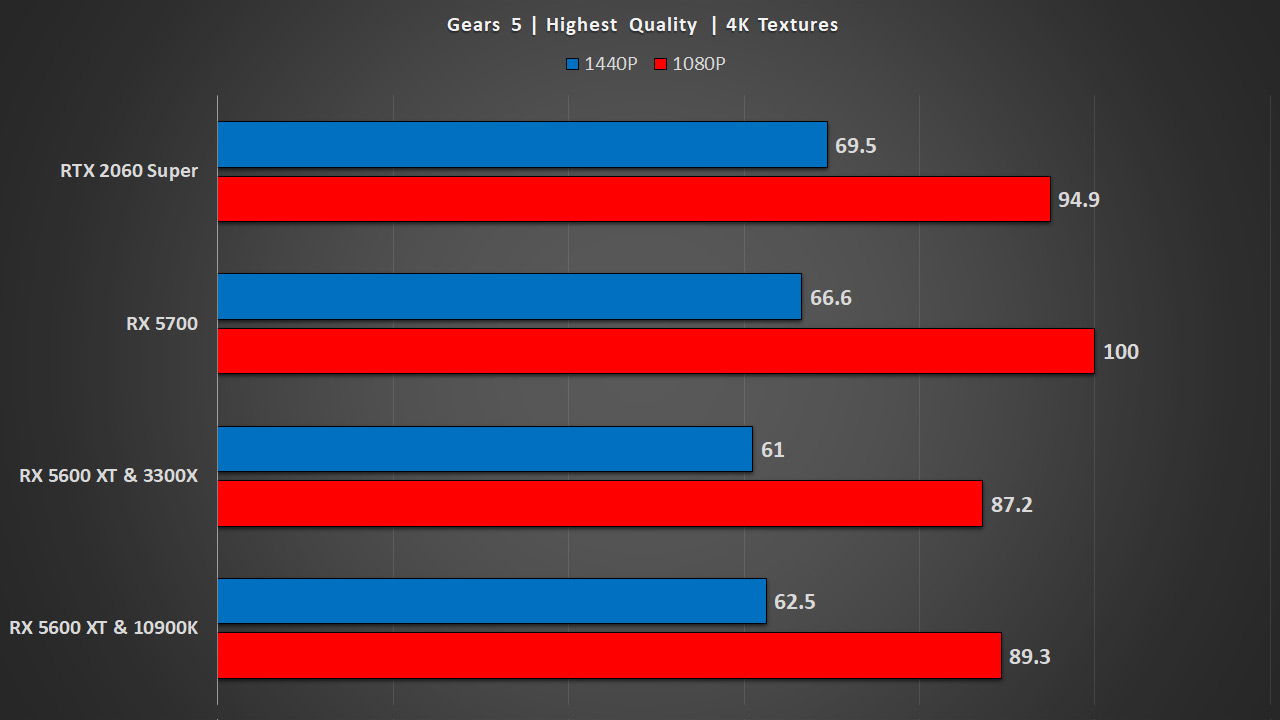 As we go through other games such as Grand Theft Auto 5 (which is still rather punishing on GPUS), we can see that the RX 5700 remains in a lead, but not exactly by a wide margin.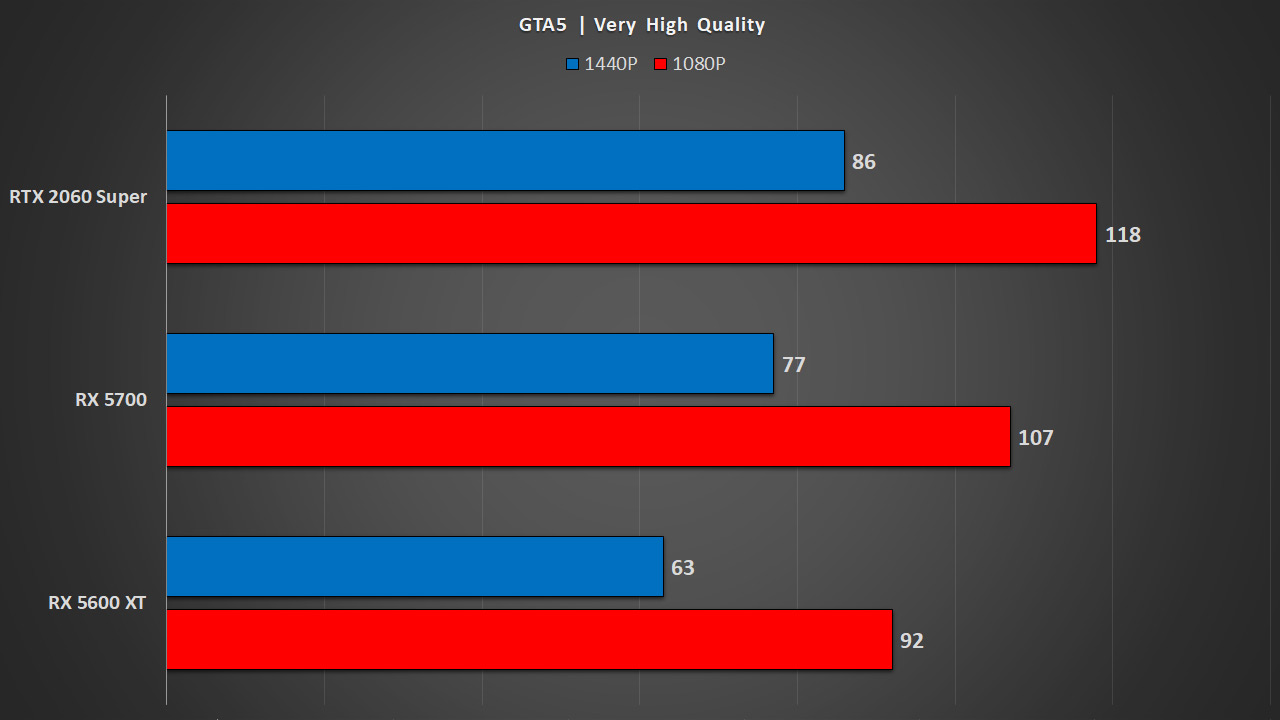 The RTX 2060 Super is generally the fastest card out of the bunch, although DLSS 2 and Hardware-Based Ray Tracing are the real wins over the RX 5700 card.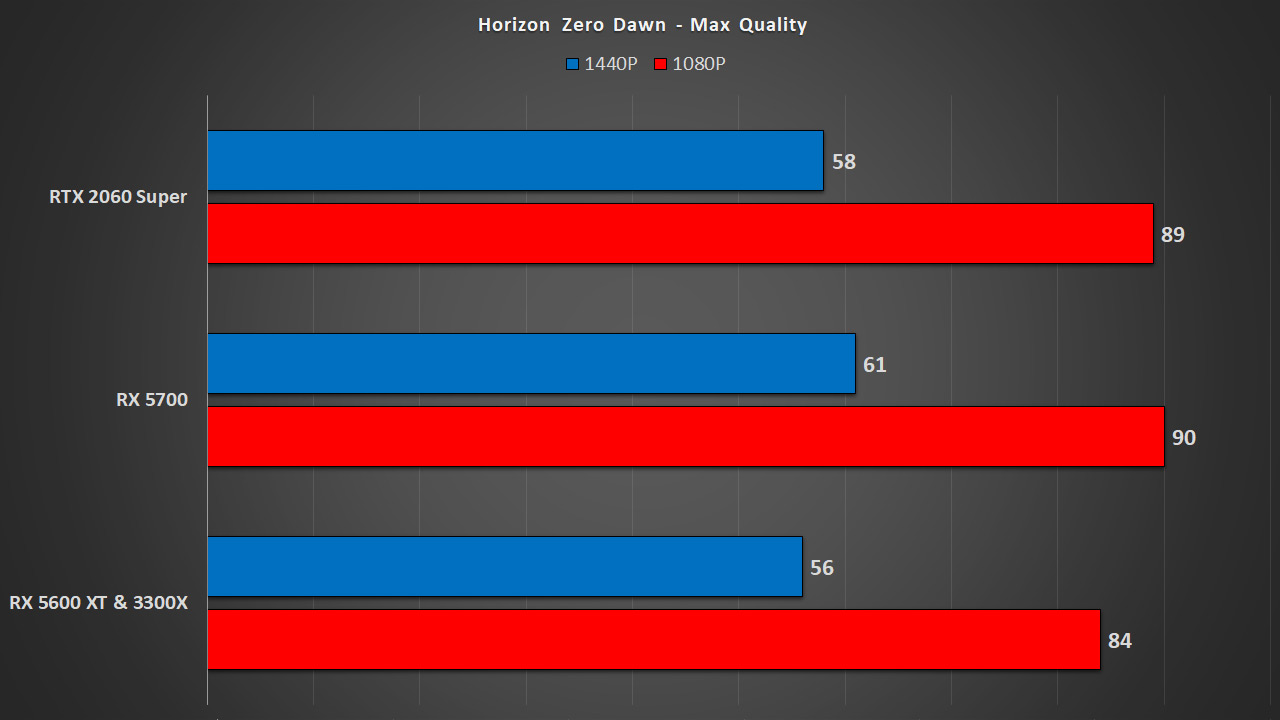 As for the Ryzen 3300X performance – we'll go over further results soon enough, but the CPU does great for pushing the frames on the RX 5600 XT. Personally, I think the 5600XT or maybe a 2060 super is about the most GPU you would want to pair with the 3300X, and certainly, in some more CPU bound titles, the 3300X will start to fall further behind something like a 3600X.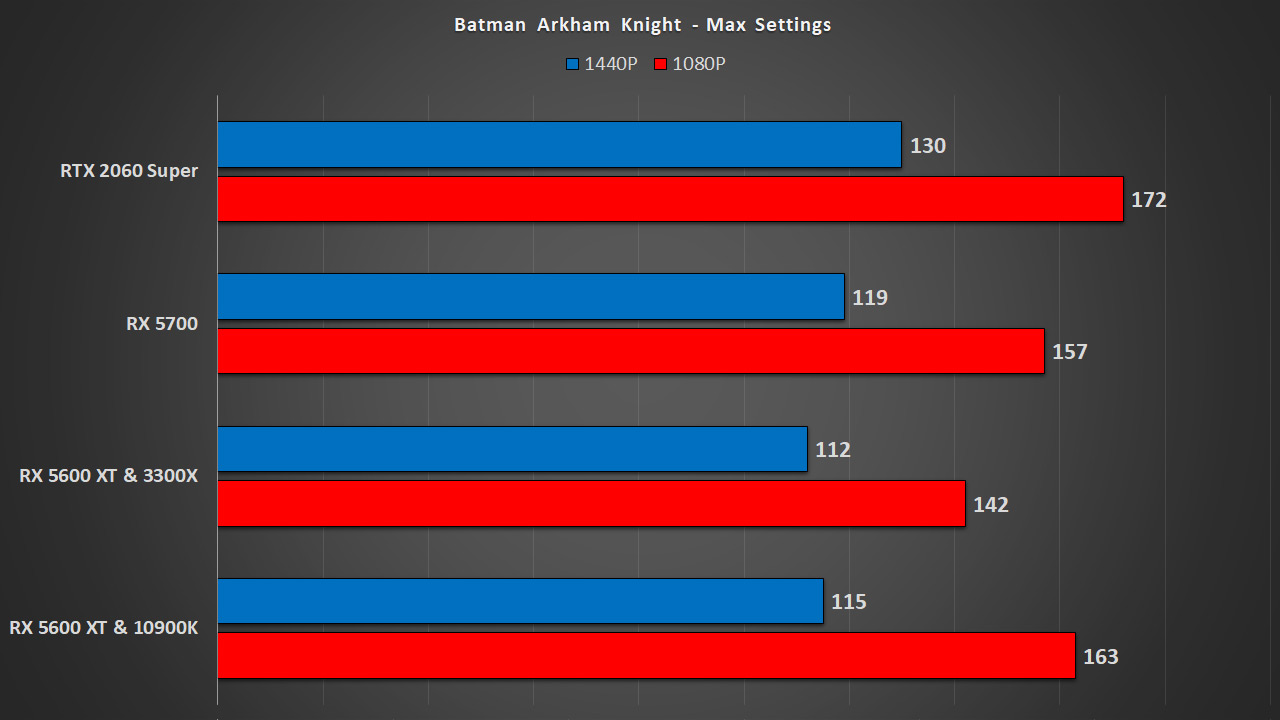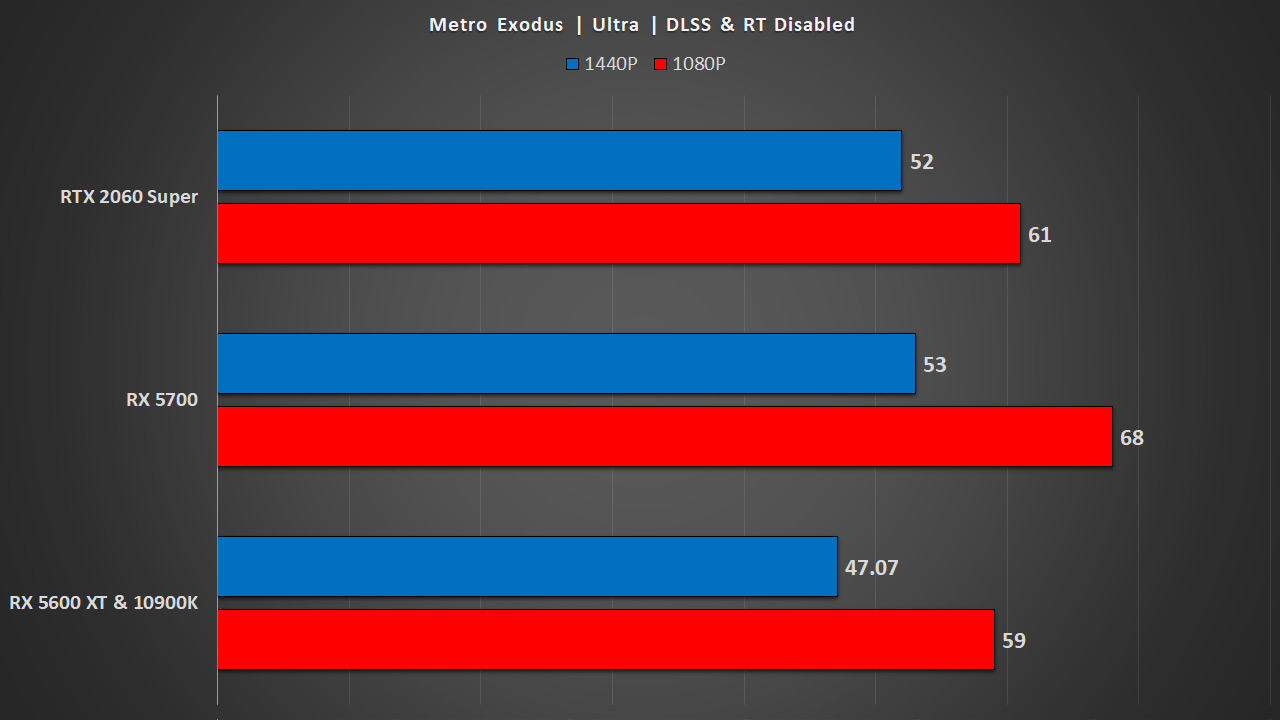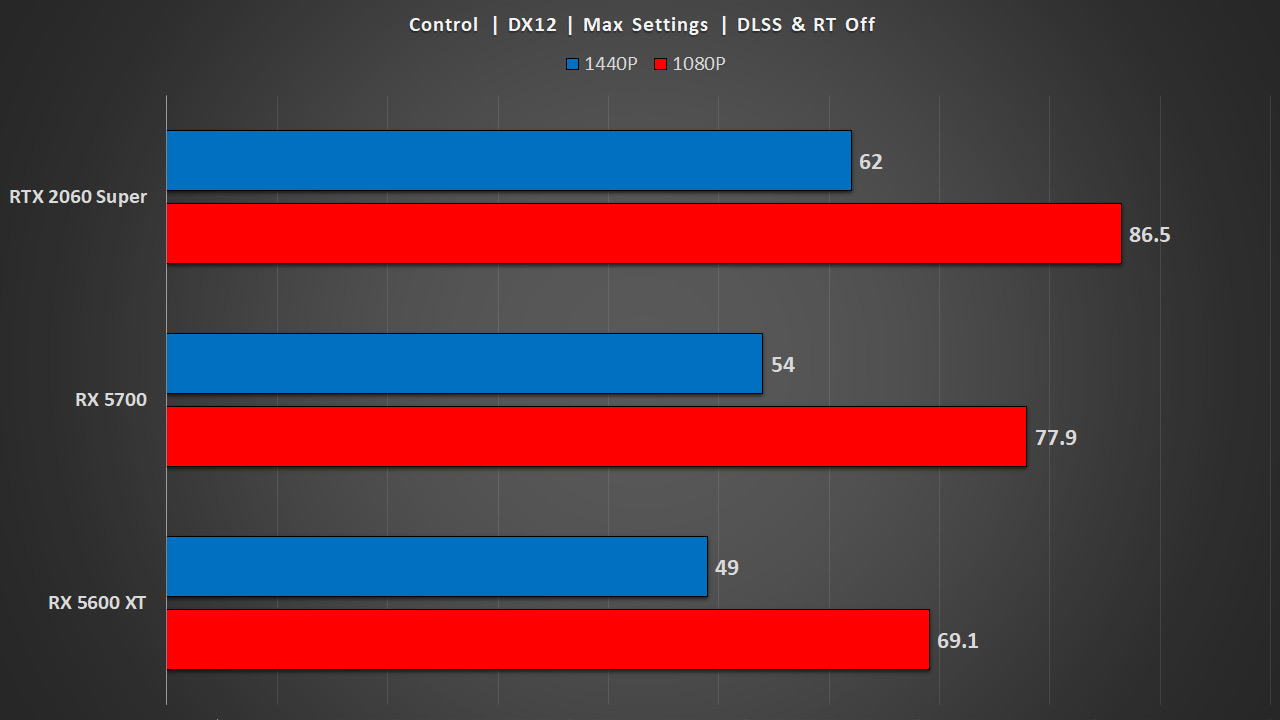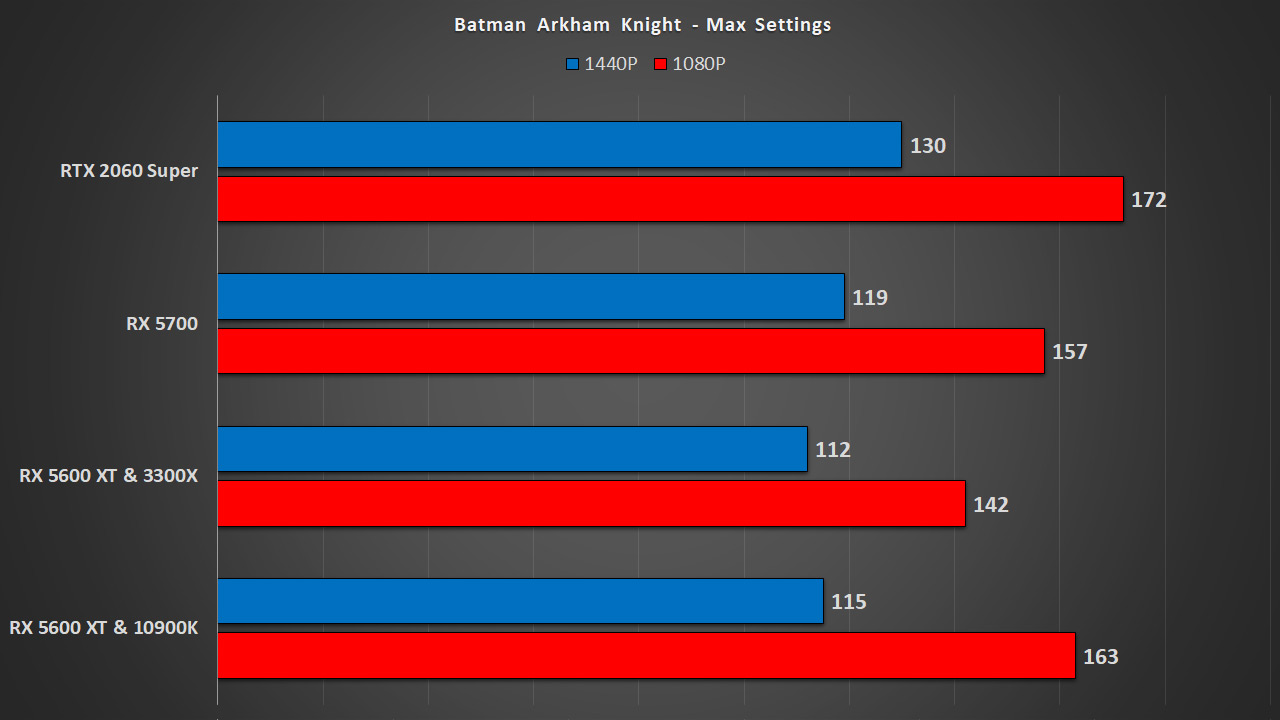 Conclusions – RX 5700 or RX 5600XT
Looking over the results then, it's clear why AMD had originally wanted to snip the GDDR6 clock frequency too – the RX 5600 XT is nipping often at the heels of the RX 5700, especially if you bring overclocking into the fray. Again, with our sample, we ran the clocks at 14,720MHz for RAM and with a bit of fiddling, the core was running just under 1800Mhz with titles such as Metro and GTAV being used as a stressor.
Does this make the RX 5700 cards a poor value option in the Radeon lineup? Well, I think there are merits for the higher end SKU. The extra RAM isn't ever a bad thing, and given how next-gen games will likely eat VRAM for breakfast, no one has ever said: "more RAM is bad". For now, 6GB is probably enough (particularly at 1440P) but who knows in a few years time. GTAV with all the settings maxed can become very memory hungry, as can Horizon Zero Dawn too (and other games with higher resolution textures).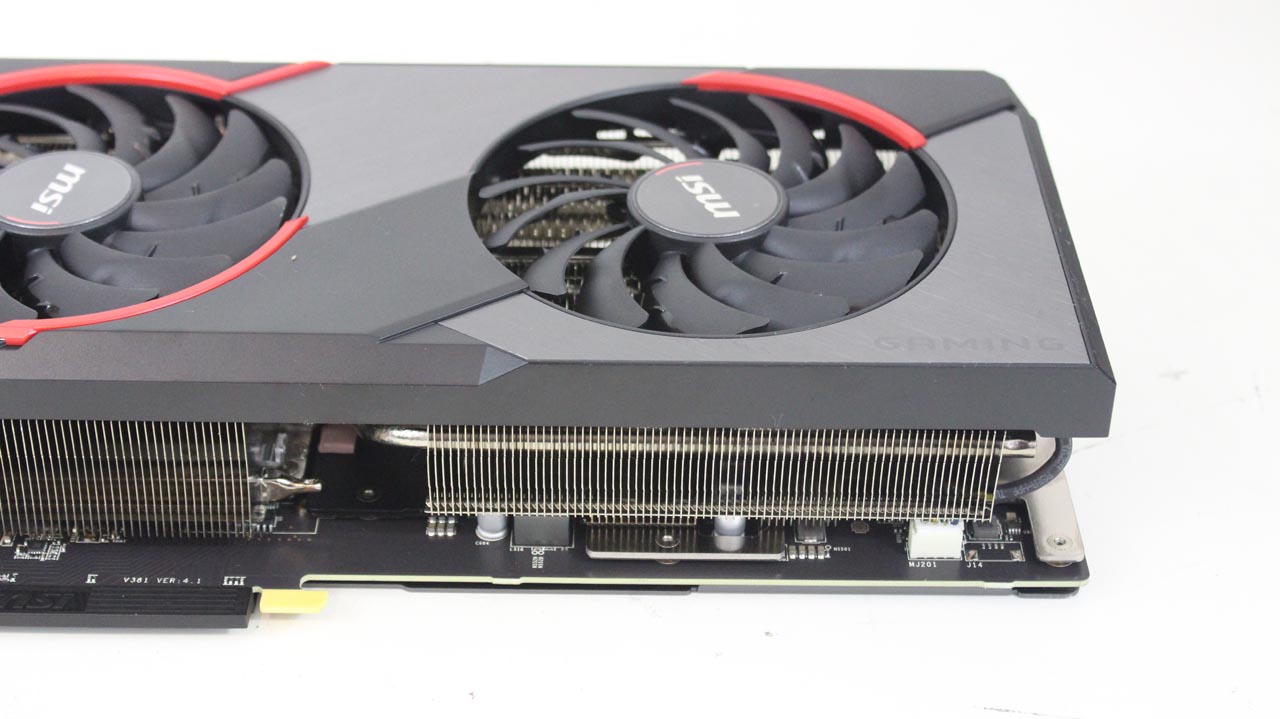 Personally, I think I would rather save a few bucks and go with the Radeon RX 5600 XT, but as always with any build and advice, this is a personal choice.
As for MSI's Gaming X card, the GPU is largely whisper-quiet, overclocks well enough, and looks gorgeous (once again, to my opinion). The only negative – the price. MSI's RX 5600 XT in the UK is about 300 pounds, which is only about 50 cheaper than the cheaper AIB RX 5700's, including from MSI themselves, and also 30 – 40 pounds cheaper than alternative AIB Radeon RX 5600 XTs. 
With this said, such considerations are nothing new with AIB variants. Do you go for the premium variants or one of the cheaper 'entry-level' variants of an SKU. With this card, you get higher clock speeds out of the gate, though of course you can tweak and nudge a reference design too. As always – it's down to you. 
Buy the RX 5600 XT through these links Amazon affiliate links to support us
Other Articles You Might Like