The JEDEC Solid State Technology Association have unveiled the specifications for Universal Flash Storage (UFS) 3.0; this updated UFS doubles performance over the previous generation of Flash Storage, and brings with it key additions specifically designed for the automotive industry.
Universal Flash Storage (UFS) is a specification often used for cameras, mobile phones and a plethora of other devices. Generally speaking, UFS uses serial interface and is highly optimized, thus high throughput can be achieved despite operating within a tight power consumption envelope.
Naturally, as demands for devices to handle increasingly large amounts of data (such as higher bit rate video), the storage for those devices must similar keep pace, not just in terms of storage space, but also transfer speeds. To this end, JEDEC boasts that UFS 3.0 will provide "a 2x performance increase over prior versions of the specification" over the previous generation of UFS 2.0 or 2.1. This translates into a maximum theoretical speed of 2.9GB/s.
The first generation of devices (UFS 1.0 and 1.1) was introduced back in 2011, and used only a single communication lane, allowing for a then impressive 300 MB/s bandwidth. JEDEC doubled both the bandwidth per lane (up now to 600) and also bumped the lanes up to 2 with UFS 2.0 and 2.1 (thus a maximum theoretical bandwidth of 1200 MB/s). With Universal Flash Storage 3.0, this has seen each of the two lanes capable of handling 1450 MB/s, leading to the theoretical maximum of 2900 MB/s (2.9 GB/s) combined.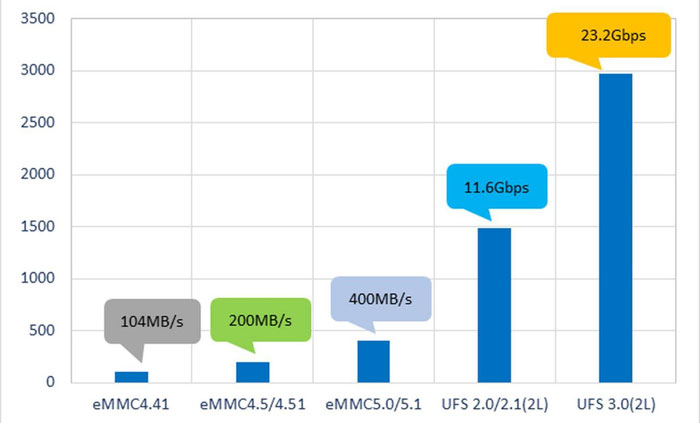 MIPI (Mobile Industry Processor Interface Alliance) technologies were a key player in creating the updated standard. Firstly the Interconnect Layer, MIPI M-PHY v4.1. According to the MIPI Alliance "The specification targets applications that have a particular need for low pin count, lane scalability and power efficiency." and "MIPI M-PHY uses a differential signaling with an embedded clock. It provides two transmission modes with different bit signaling and clocking schemes intended for different bandwidth ranges to enable better power efficiency over a broad range of data rates. The achievable peak transmission rate is 11.6 Gbps on one lane and 46.4 Gbps over four lanes. The high bandwidth per lane can reduce the number of lanes required."
We also see UniPro (Universal Protocol) updated from 1.6 of the previous version to 1.8. UniPro is a high-speed interface technology for interconnecting integrated circuits in mobile and mobile-influenced electronic devices. UniPro 1.8 works combined with the M-PHY V4.1 to form the interconnect layer of Universal Flash Storage 3.0.
There were also two key changes made for the usage in the automotive market. The first was extending the temperature range to -40 up to 105c, allowing the memory to be reliable in harsher conditions. The second was adding a refresh operation with added control mechanism, and this was designed to improve device data reliability.
Additionally, the UFS Card Extension was updated to version 1.1, although the changes were fairly minor, including support for HS-G1/G2 and G3, along with the addition of power definition for the card, RMS and peak.
The full list of the changes for UFS 3.0 are as follows:
Use of MIPI M-PHY v4.1 and the recently released MIPI UniProSM v1.8 specification to form the Interconnect Layer
Introduction of M-PHY HS-Gear4, with a data rate up to 11.6 Gbps per lane, a 2x performance increase over M-PHY HS-Gear3
Utilizes Adapt support in MIPI M-PHY v4.1 and QoS support defined in the recently released MIPI UniPro v1.8 specification to support more reliable link communication by monitoring and training the communication channel
Continues support of 2-Lanes, max data rate of 23.2 Gbps
2.5V VCC power supply enables lower power consumption and support for the latest NAND technology
Temperature event notification, including device alert based on a pre-defined temperature range
RPMB Regions, supporting multiple RPMB keys with multiple associated RPMB regions. RPMB regions are fixed at manufacturing and are now also configurable at manufacturing.
Device Error History: Logging mode defined for the device to enable in-system debugging
Features targeted for the automotive market: Extended temperature range (-40C, 105C) and refresh operation with added host control mechanism to improve device data reliability
Below is a comparison table between the different UFS versions.

"UFS 3.0, UFSHCI 3.0 and the UFS Card Extension update offer a host of enhancements over the prior versions of these standards that will help product designers enable significant improvements in mobile devices and related applications," said Mian Quddus, Chairman of the JEDEC Board of Directors and the JC-64 Committee for Embedded Memory Storage and Removable Memory Cards. He added, "The addition of features specifically for the automotive market underscores the commitment of JEDEC members to continue to evolve the UFS ecosystem to meet the needs of the industry and, ultimately, the consumer."
Other Articles You Might Like