Microsoft announced before E3 2014, that they will be selling the Xbox One without the Kinect due to popular demand.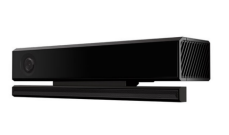 Fans were outraged that they would have to buy the console with Kinect 2.0 instead of the option of purchasing it as a stand-alone accessory like the previous Kinect that was released for the Xbox 360.
Although Microsoft have announced the Kinect-less Xbox One, now being sold, they have stated on many occasions that they will not be giving up on the Kinect and that the system would benefit more with it included.
To prove they are not messing around, Microsoft has graciously delivered the Kinect to the PC gamers to bask in all its glory. Sarcasm aside, I do believe Kinect would bring benefits to some enthusiast out there, from; developers, gamers and even to the casual users with media PC's to control with this optional accessory.
There is one major downside to the Kinect 2.0 (please, let's forget the past quarrels)….is the price! For you to have a Kinect of your very own, you will have to fork out a staggering £159/$199….!? This is shocking due to the fact that with the subtraction of the Kinect from the Xbox One console announced, released last month, the system was only reduced around £50/$100. The pricing for the Kinect 2.0 is very steep for the PC as apparently there is no different to the Xbox One version. I can see a lot of enthusiasts being disappointed by the amount they will have to hand over for this piece of tech.

New Kinect has been priced at £159/$199 and will be released July 15th. It should be mentioned, that the Kinect also ships with no software.
Other Articles You Might Like