During Gamescom, Nvidia announced 3 distinct GeForce SKUs all based on the new Turing architecture, the top of the line card being the RTX 2080 Ti, followed by the RTX 2080 and finally the RTX 2070 GPU. Given it's been over two years since the company released Pascal, hype has been pretty unreal; particularly because of the hope of real time ray tracing in video games.
But, let's face it – we also want to know what type of performance we're going to be seeing in traditional titles too. Nvidia have released a few benchmarks slides and a couple of other things have leaked – the TL;DR being that the company claim we'll see up to a 50% improvement in performance with the Turing cards. Nvidia showing off a slide with the RTX 2080 being about 1.5x faster than the GTX 1080 with just the usage of shaders, and about 2x faster with the use of DLSS (click here for more on what DLSS is).
But today a Time Spy GPU Score has leaked of a Generic VGA Nvidia Graphic Device, scoring 10,030 points. How does that compare to a GeForce GTX 1080 Ti? Well, typically a GTX 1080 Ti will score around the 9,400 to 9,800 points (I say typically, because it depends on overclocking). Meanwhile, the GTX 1080 vanilla will hit the low to mid 7K mark.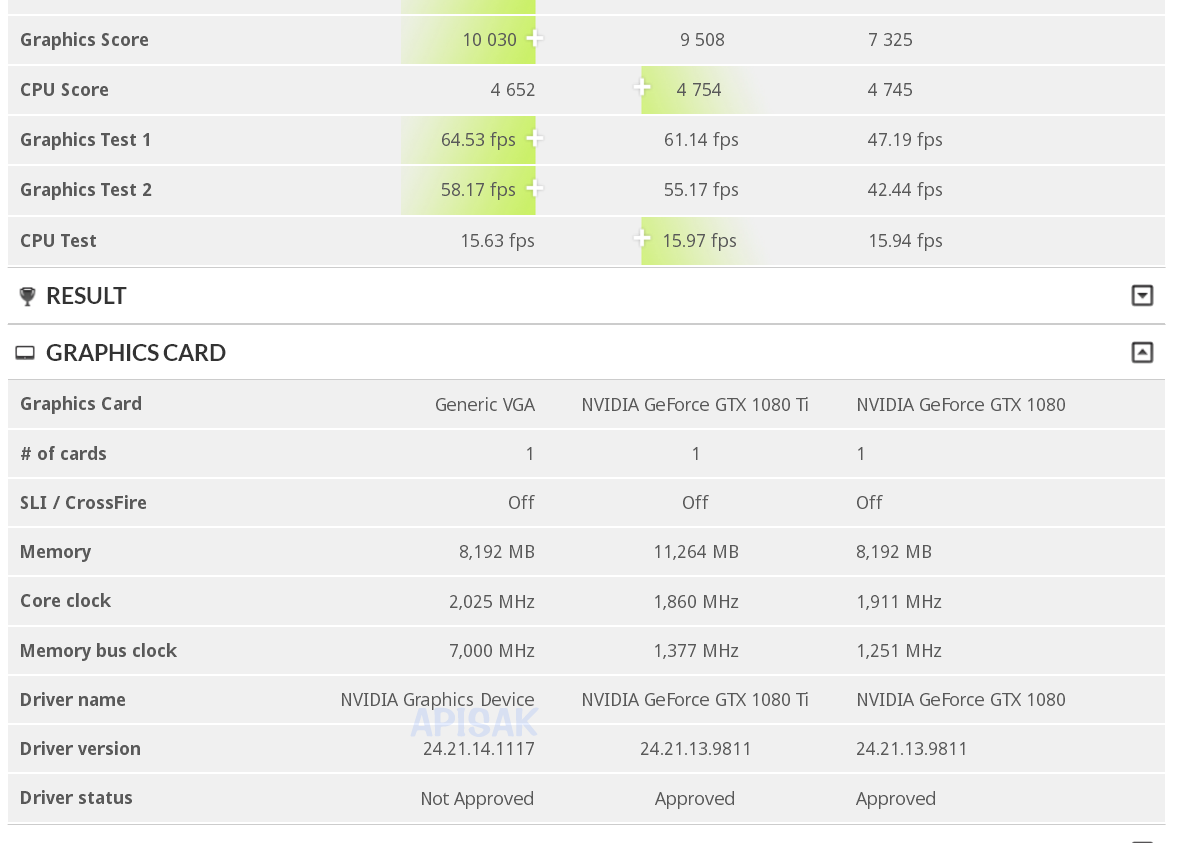 So what we're looking at here is a Turing based GPU, slightly outpace that of the GTX 1080 Ti. Now looking at the specs of the GPU, it has 8GB of ram running at 7000MHz (14gbps) which is clearly using GDDR6 RAM. It's running at 2025 MHz for the core clock, which could mean its either being overclocked OR (more likely) the Boost Clocks that it's hitting. That's pretty darn good.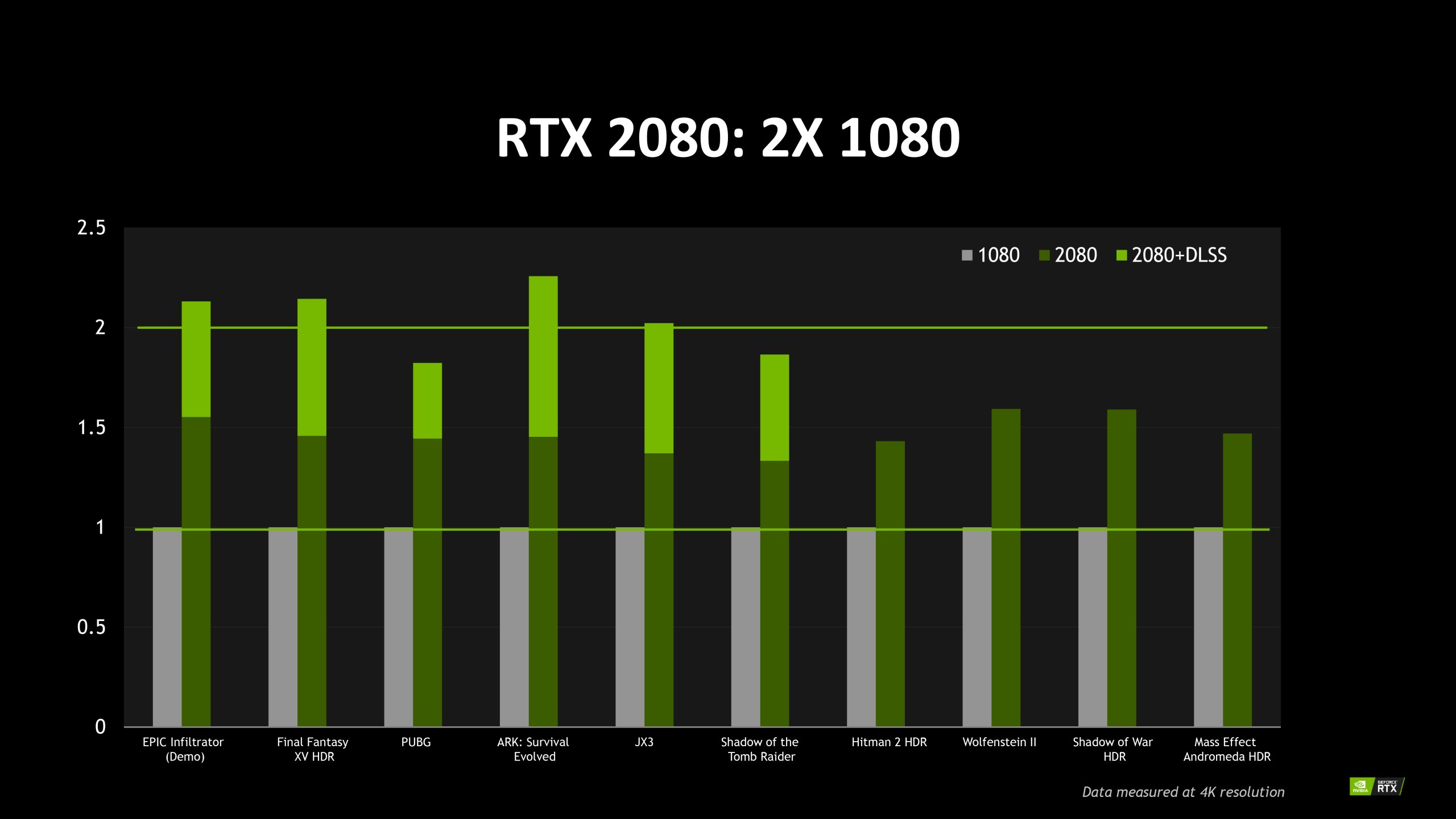 So now you might ask which card it actually is? And there is the rub, we don't know. It could either be the RTX 2080 or the RTX 2070 graphics card, because the core clocks are pretty similar, and they're both using the same RAM configuration (8GB GDDR6 on a 256-bit bus at 14gbps).
There's also another slight snag too – from rumors, drivers are currently super duper early for these cards, so even if it was an RTX 2080 card, the performance might not be exactly representative of what the final product will get.
So – let's explore a moment, can it possibly be the RTX 2070? Well, the answer is quite possibly. Nvidia did beat the Maxwell GeForce GTX 980 and 980 Ti with the Pascal GeForce GTX 1070 graphics card.
We can also take the performance of the the 'Relative Shader Performance Graph' and see that 3dMark is hitting about 1.6x performance over Pascal. Of course, Nvidia just writing 3dMark in that graph is like me writing "I get 200 FPS in Tomb Raider with my PC" but not specifically stating the version of Tomb Raider… is it Rise of the Tomb Raider, Shadow, or hell, the original game which debuted in the 90s? 3DMark could imply TimeSpy Ray Tracing, but I am unsure about that, because it's also roughly in line with the performance of Shadow of War, Deus Ex and other titles.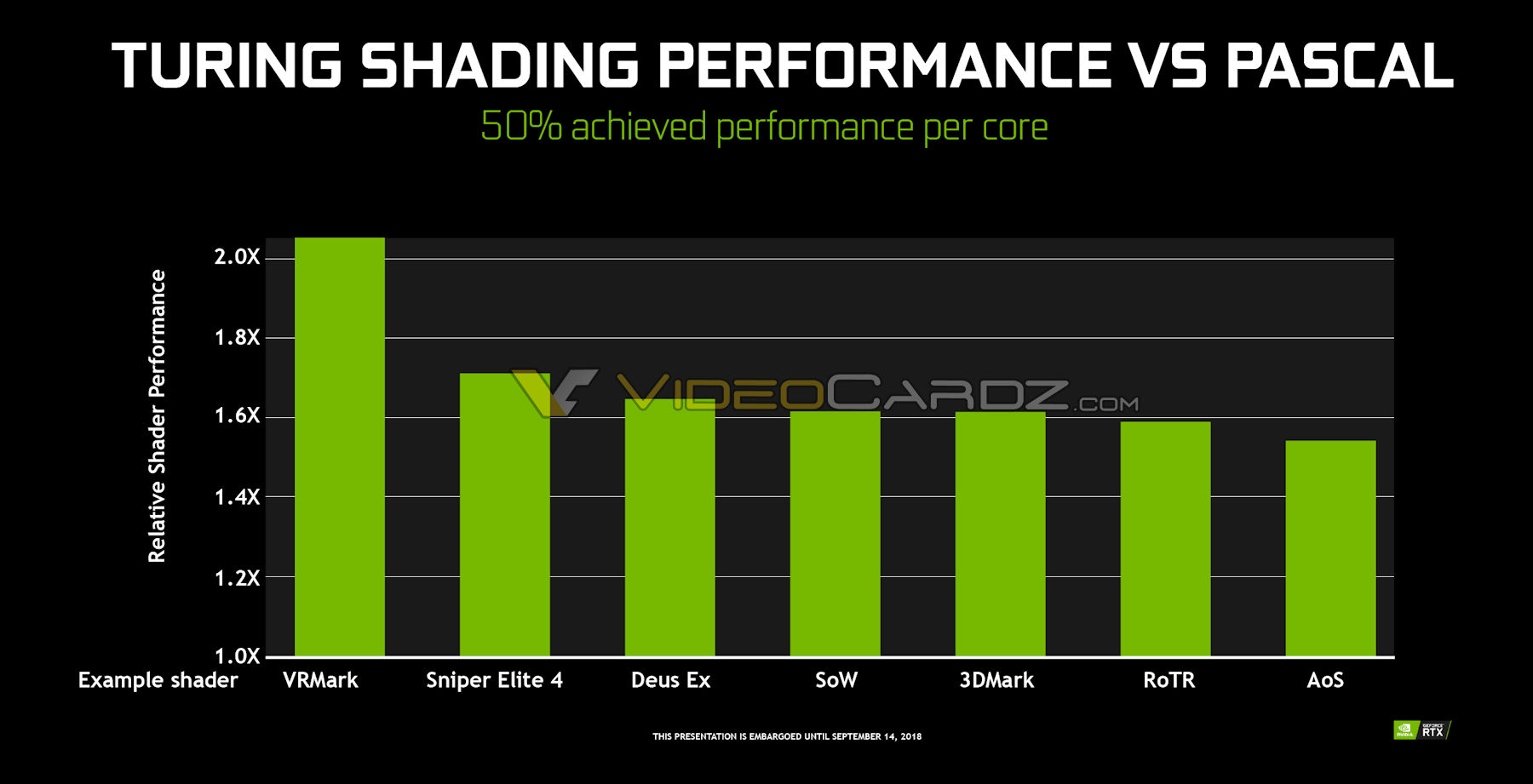 There's a pretty significant difference in specs between the RTX 2080 and RTX 2070 cards too, see the table below for more information,
RTX 20 series comparison
NVIDIA GeForce RTX 2070
NVIDIA GeForce RTX 2080
NVIDIA GeForce RTX 2080 Ti
GPU Core
Turing GPU (TU104)
Turing GPU (TU104)
Turing GPU (TU102)
CUDA Cores
2304 Cores
2944 Cores
4352 Cores
TMUs
144
184
272
ROPs
64
64
88
GigaRays per Second
6GR
8GR
10GR
Cache
4 MB L2 Cache???
4 MB L2 Cache???
6 MB L2 Cache
Core Clock
1410MHz
1515MHz
1350MHz
Boost Clock
1620MHz
1710MHz OC Model
1710MHz
1800MHz OC Model
1545 MHz
1635MHz OC Model
CUDA Core Compute Perforance
7.5 TFLOPs
10.1 TFLOPs
13.4 TFLOPs
Memory Capacity
8 GB GDDR6
8 GB GDDR6
11 GB GDDR6
Memory Speed
14gbps
14gbps
14gbps
Memory Bus
256-bit
256-bit
352-bit
Memory Bandwidth
448GB/s
448GB/s
616GB/s
Power Connectors
8 Pin
8+8 Pin
8+8 Pin
TDP
185W
215W
250W
Price
$499 USD
$699 USD
$999 USD
Price (Founders Edition)
$599 USD
$799 USD
$1,199 USD
With any luck, we'll learn more soon enough. But once again, benchmarks and official reviews aren't expected until mid next month (pretty much a few days before launch) so we'll have to wait until then for concrete information. There are reports though that games can hit 100FPS at 4K on the RTX 2080 Ti, which is rather impressive…
The key take away here is (and this is a personal opinion), it's very likely these cards are going to be very impressive when released, particularly as drivers mature and improve.
Source of this leak – TumApisak on Twitter.
Other Articles You Might Like