Back in 2017, AMD shook up the desktop market by bringing 8 cores and 16 threads to the mainstream and decimated Intel's then-current 7th generation (Kaby Lake) and it's 4 cores when it came to multitasking. Sure, Intel did have the clock frequency advantage, but if you were doing anything more than gaming, Ryzen just made sense.
Intel was naturally forced to respond – bumping up the core count to 6 and then 8 cores for their 8th and 9th generation processor lineup respectively. But now AMD is at it again, and Matisse is going to sport up to 16 cores and 32 threads for the mainstream. Rumors abound that Comet Lake (Intel's Coffee Lake successor) will go up to 10 cores, though I have heard there will be small architectural changes (including bfloat support…).

But in the here and now, AMD will be in an amazing position in the desktop market. I've been told that single core workloads could be running up to 5Ghz for the retail silicon, though all core clock frequencies are lower. I've been told between 4,550MHz and 4,650MHz… which is still very decent indeed.
But there's been another interesting leak, and it is in the form of an older engineering sample processor that we first saw months ago. This processor is known as "2D3212BGMCWH2_37/34_N" has a base frequency of just 3400MHz, and a max frequency of 3700MHz. It's a 12 core part, and we first saw it tested several months ago, albeit with memory running at only 2666mhz and with a single channel memory configuration.

This provided us with a glimpse of what to expect to Ryzen 3000, but with only dual channel meaningful comparisons were… difficult. But the latest benchmark changes this, with faster memory (3200MHz) and also in a dual channel configuration. We're also looking at a different motherboard platform too – so it is possible that the CPU managed to hold onto slightly higher clock frequencies (or the BIOS improved performance too)… but the benchmark results from the single channel configuration versus the dual channel are the following: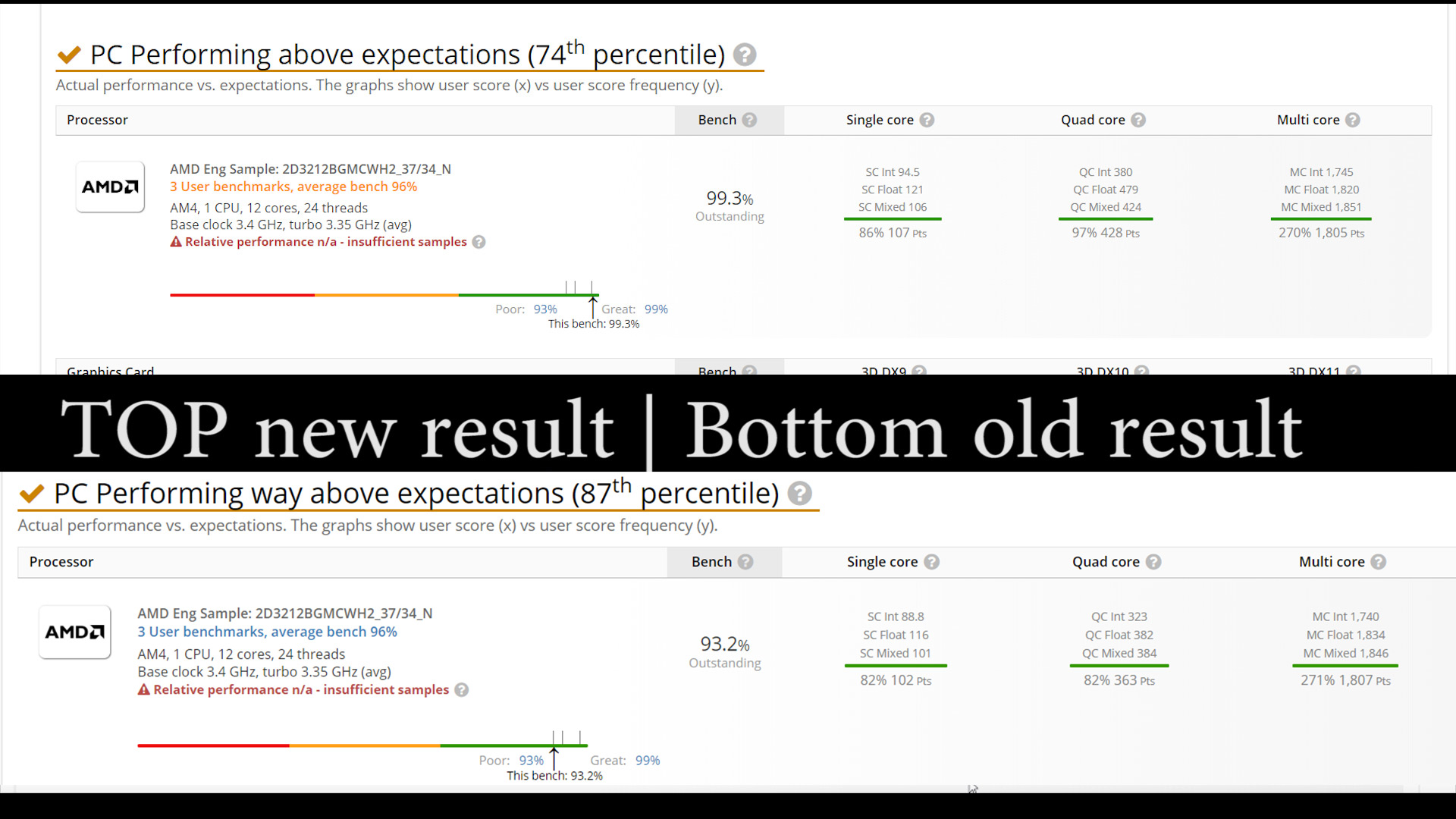 Int single: +6.4 percent increase
Float single: +4.3 percent increase
Mix single: + 5% percent increase
In the below comparison you can also see a significant difference in latency also.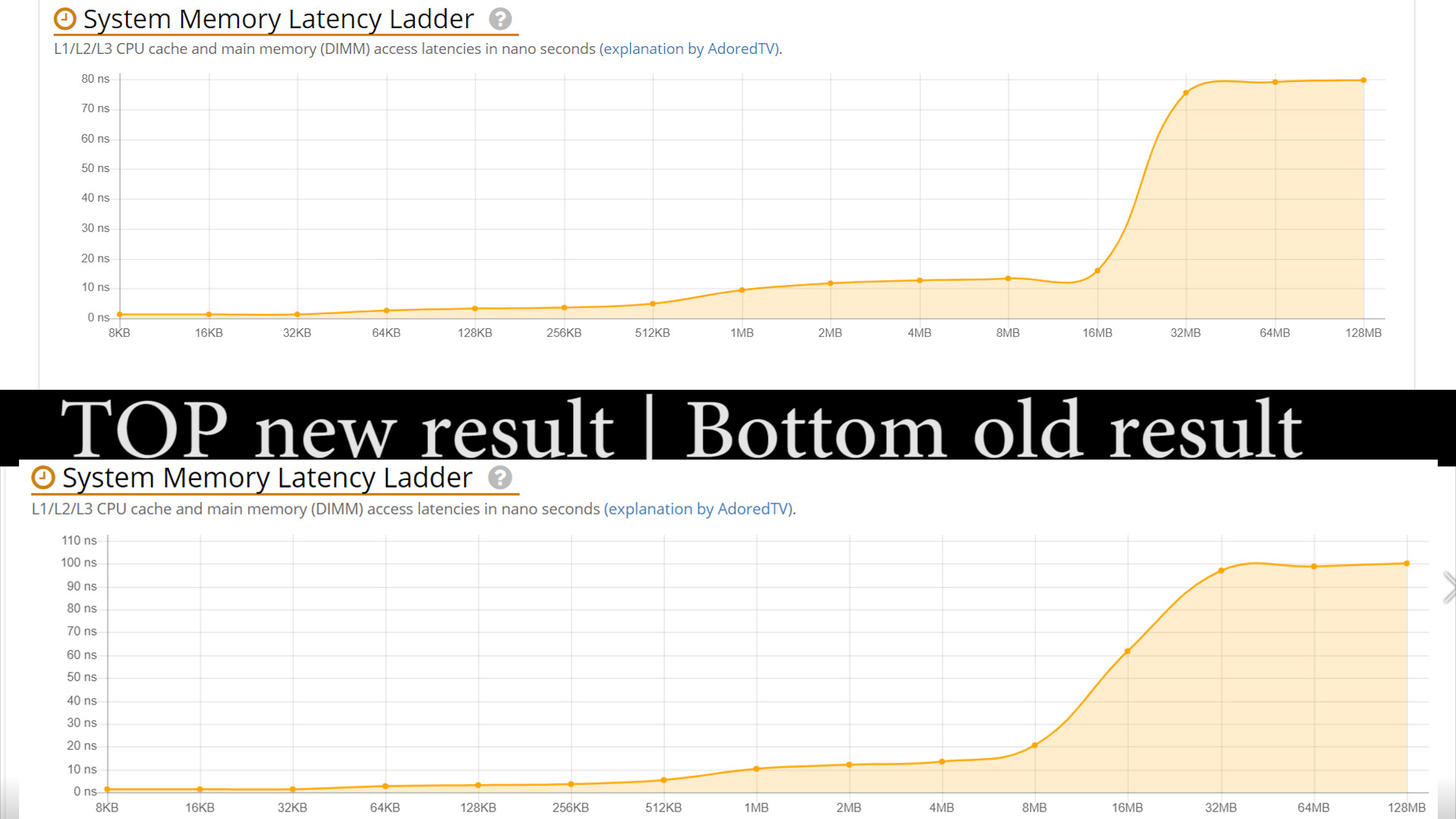 But we're not done yet, because we can also compare these results against AMD's first generation ThreadRipper processors. The 1920X is a 12-core CPU, but does enjoy a slight frequency advantage to this engineering sample.
Believe it or not, the 12 core matisse engineering sample actually wins here, despite losing in both clock frequency and also only having dual channel memory compared to the Threadrippers quad channel memory. Looking through the userbenchmark results, some 1920X results are better than the ES Matisse, but those have generally been tweaked, overclocked and tweaked.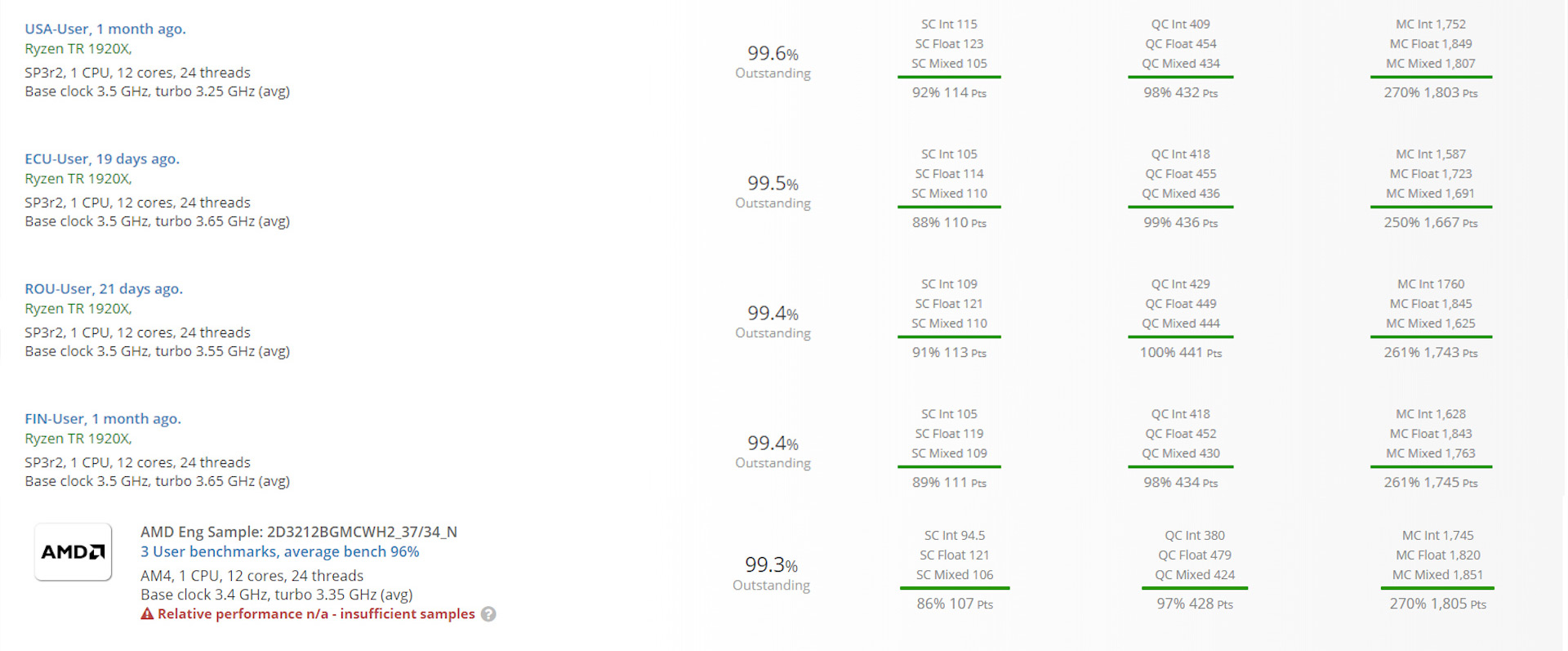 Don't forget that retail CPUs will be running with their all core clocks well over 1GHz faster than the engineering sample here. It will be super interesting to see how well Matisse scales with both memory speed and timings (so say 3200MHZ memory with super tight timings vs 3466 MHz with looser timings) and also testing the impact of multitasking.
We have conducted some extensive IPC testing of the second generation Ryzen processors against Intel's 9th generation, and clearly running at the same frequency and Intel barely holds onto a lead in some applications. Assuming the IPC gains for Zen 2 are as impressive as we're hoping (I've heard about 8 percent average, though some workloads being a little higher).
AMD claims that in base case scenarios we could see a 29 percent IPC gain from the first generation Ryzen, though this is with applications that use both Integer and Floating point instructions (so basically best case scenario).
Other Articles You Might Like