Microsoft's UWP is come under a lot of heat for the forced usage of Vsync which effectively destroys both FreeSync and G-Sync from AMD and Nvidia respectively. Microsoft have thankfully taken the feedback onboard and during their GDC 2016 session titled DirectX 12 Advancements, claimed two additional API flags will fix this glaring flaw.
The presentation was hosted by Program Manager Chas Boyd and Max McMullen, serving as the Principal Development Lead; and the pair announced that while UWPs fixes are on-going and will have more information during Microsoft's own Build conference which is held in just a few weeks.
With any luck, Microsoft will also address other concerns with UWP (such as applications Black Box nature and other missing features) during the build conference, which allow the Windows Store to be more competitive in the market place for many gamer's.
The team also confirmed that Shader Model 6 is also on the way and currently they are targeting hardware capable of Feature Level 12.0+. Unsurprisingly Microsoft also point out the requirements of the latest software (both driver and Operating System) to run it.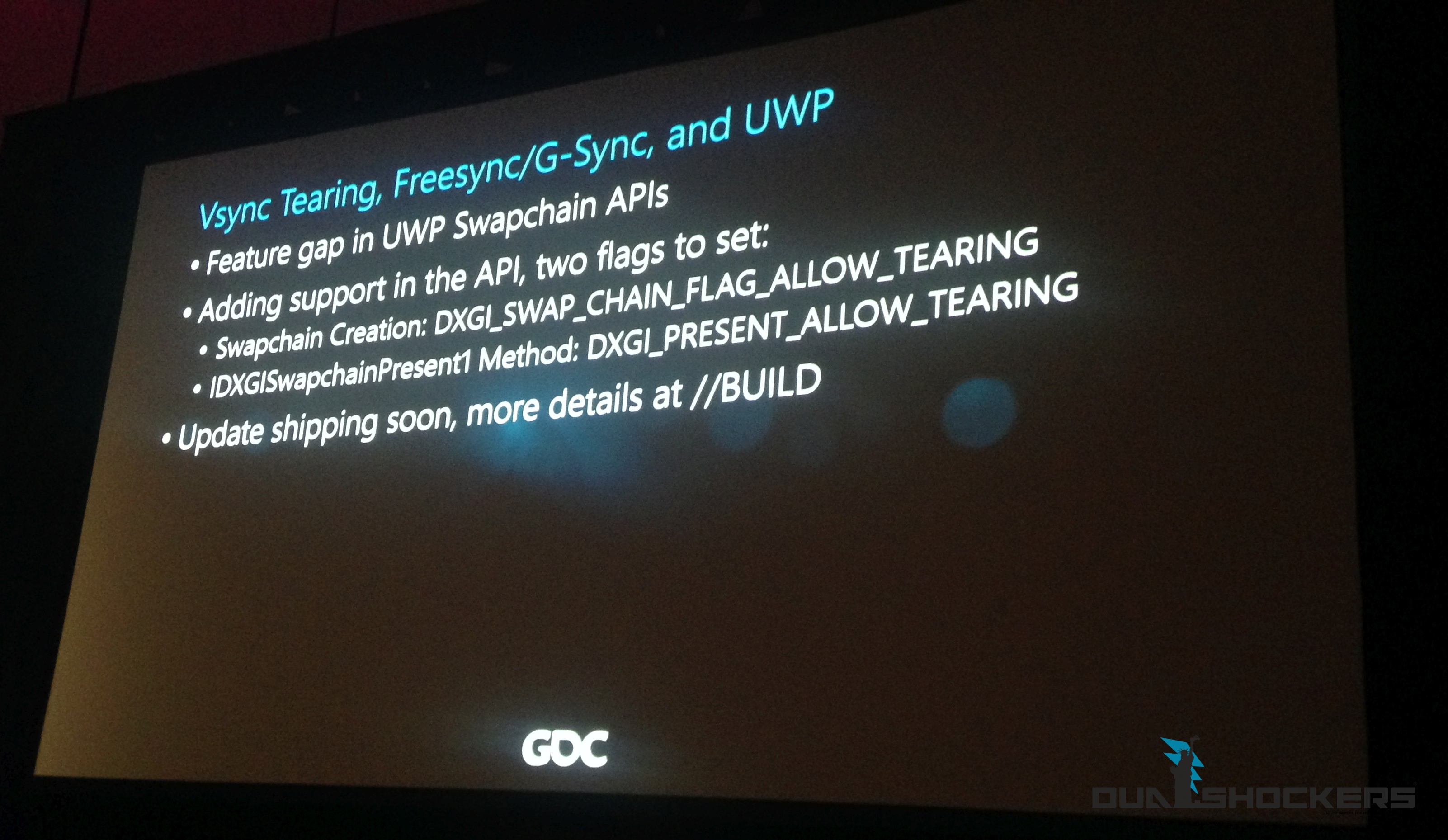 Microsoft are also committing to fully embrace the HDR standard, believing that adoption rates of HDR capable displays for end users will likely be faster than even 4K. Theoretically the move to HDR will be especially beneficial to gamer's, because shadows and lighting sources should be considerably higher in quality. Specular highlights, explosions and sparks are just a few of the examples given. Essentially the large range of colors able to be displayed should prevent the "color crush" currently associated with current displays. By 2017 it's being predicted a lot more HDR capable devices will be finding their way into customer's homes, thus making the push towards the HDR standard in DirectX 12 all the more important.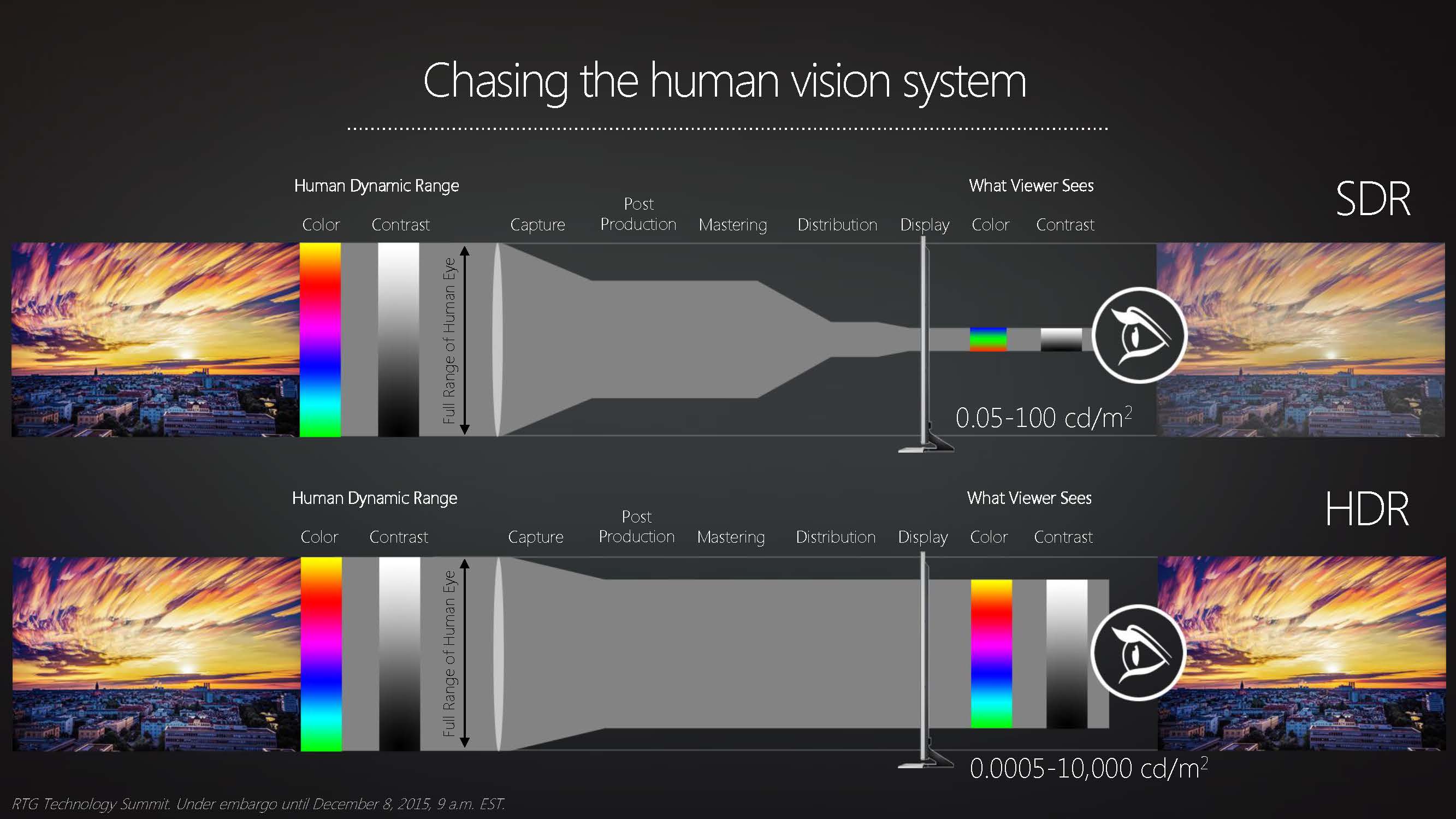 Microsoft's desire to push HDR closely mirrors that of both AMD and Nvidia, and recently AMD announced they would be campaigning to push both higher refresh rates and wider color spaces to monitors aimed at FreeSync. This decision should allow colors to not get lost, and should be more accurate to how the artist originally intended them; and for example – a len's flare during an explosion won't completely wash out the "sparks" or colors from that explosion (as a basic example). Colors should be more vibrant, and better match how they would look in reality.
Finally, and not a new development – Microsoft have confirmed its desire to provide PIX (Performance Investigator for Xbox) on the PC platform; which should mean development for the system should be considerably easier than now when porting DX12 titles. With PIX developers are able to see how certain assets or processes in a scene affect its performance – for example, is a certain piece of geometry too complex for a certain graphics setting; or perhaps a certain texture pushes the GPU's memory budget up too much and requires further compression for the 'medium' setting? Microsoft are pretty proud of its creation for the Xbox One, and numerous advances in PIX mean the tool has been crucial to get the most of the systems limited 32MB eSRAM.
Source: Dual Shockers
Other Articles You Might Like