AMD currently have an answer to Nvidia's mid-range offerings with their RX 5700 and RX 5700 XT graphics cards, and in the next few weeks, custom variants of those GPUs will be filtering onto store shelves from AIBs such as PowerColor.
But, with the discontinuation of the Radeon VII graphics cards (although, Radeon VII wasn't that much faster than RX 5700 XT when overclocked anyway), AMD doesn't have a graphics card to compete with Nvidia's higher performance model graphics cards, such as the RTX 2080 Super, and of course the RTX 2080 Ti.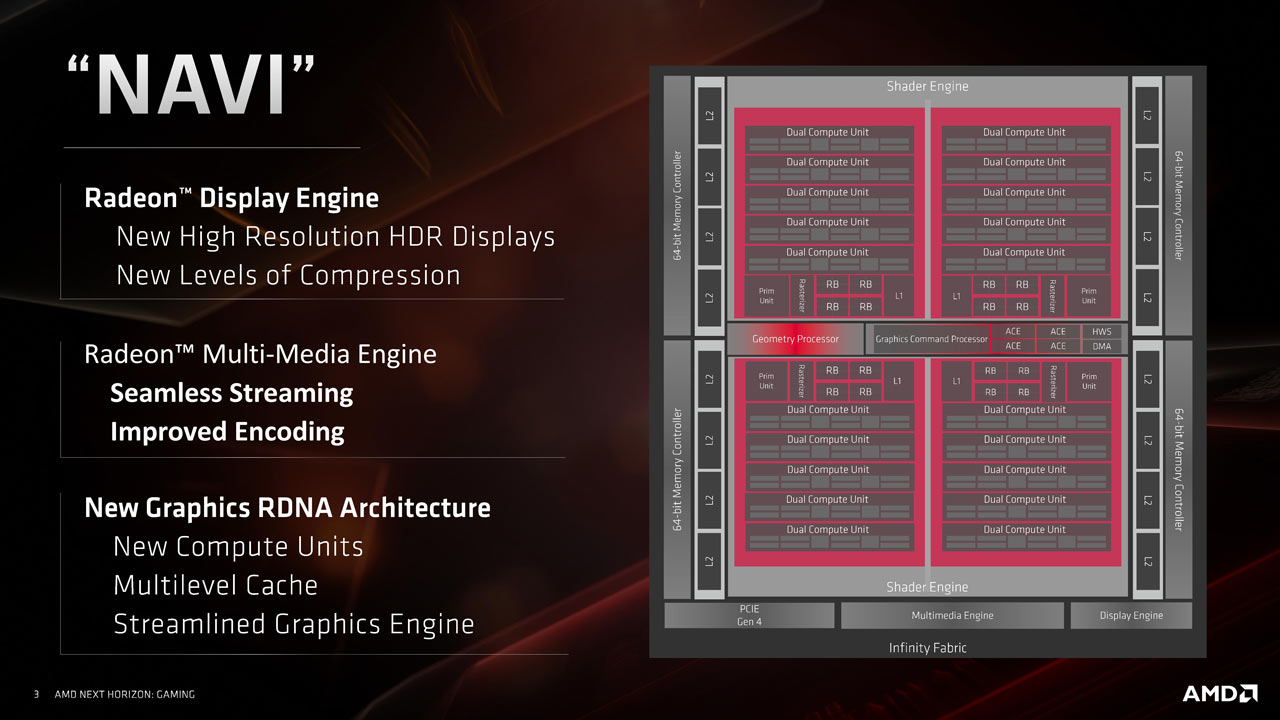 Navi 10 (which is the GPU found inside the heart of the RX 5700 series) goes up to 2,560 shaders (40 Compute Units), and sports the first generation RDNA architecture. This architecture is significantly more efficient than say, Vega, when it comes to gaming tasks.
There has been no shortage of rumors that the company are working on a 'bigger die' variant of Navi, with up to 4,096 Shaders and even Lisa Su has teased that they are coming. This is on top of several benchmark leaks for what we believe is Navi 14, which sports 24 Compute Units, and would appear to be a GPU designed around competing with Nvidia's GTX 16 cards.
So now I have set the stage, I'd like to bring in what I was told last night by a source who has been reliable in the past via a phone call. I have in the past leaked the 7/7 release date for Ryzen 3000 and Navi (I was original source of this leak), Leaked the existence of 7nm Vega for Gamers (then also the Radeon VII details and images prior to its launch), and also leaked several things for RDNA (including the second generation featuring Ray Tracing).
I've had several other exclusives (including stuff from Intel and Nvidia), and aside from a few misses, most of my exclusive info has proven reliable in the past. I have several sources for information for Intel, Nvidia and of course AMD. The source of this info though hasn't given me a 'big' story in the past, but has provided some added details to stories in the past, and has been pretty reliable and accurate.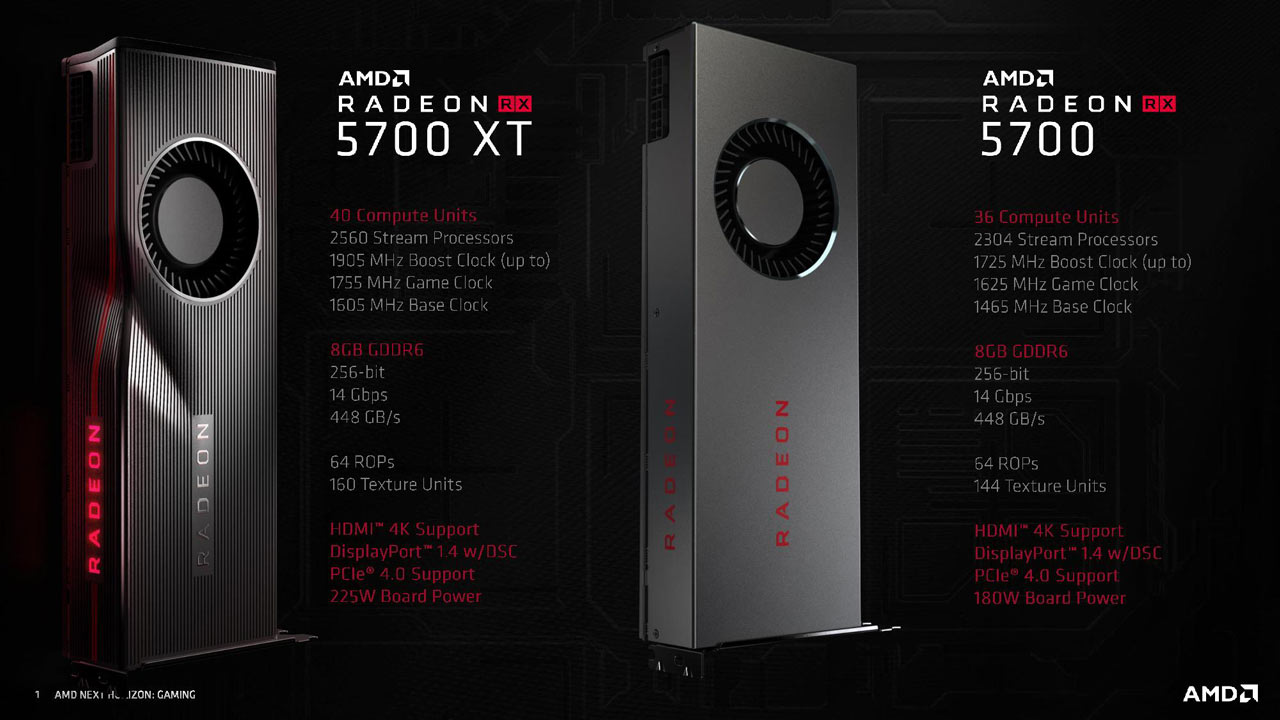 With that said, this stuff isn't 100 percent until we see the product, but here we go.
So first things first, my source isn't fully certain of the specs of the products but believes that the current plans are for AMD to release the cards by around the mid-point of next year.
He also said that AMD decided to start with Navi 10 as a nice mid-sized die, because of the stress of moving both to a new process (TSMC 7nm) and designing an entire new architecture (RDNA). If you recall, there were several rumors and leaks that Navi needed to go back to the drawing board a few times. I was also told by a couple of sources that Navi was a nightmare to work on because of all the different challenges.
This meant the graphics cards launched later than expected, Radeon VII wasn't originally planned to launch, but instead was used almost as a 'hey, remember we can launch new products in graphics too' kind of thing. Basically, Navi was supposed to launch much earlier in this year (you should think say January or February) but the delays forced AMD to eventually decide to launch with Ryzen 3000.
So basically, Navi 10 was launched because it had 'less to go wrong' than a huge die that would be needed to compete with say RTX 2080 Ti as there were already enough challenges. Now it's working and they know things such as yields, AMD can proceed.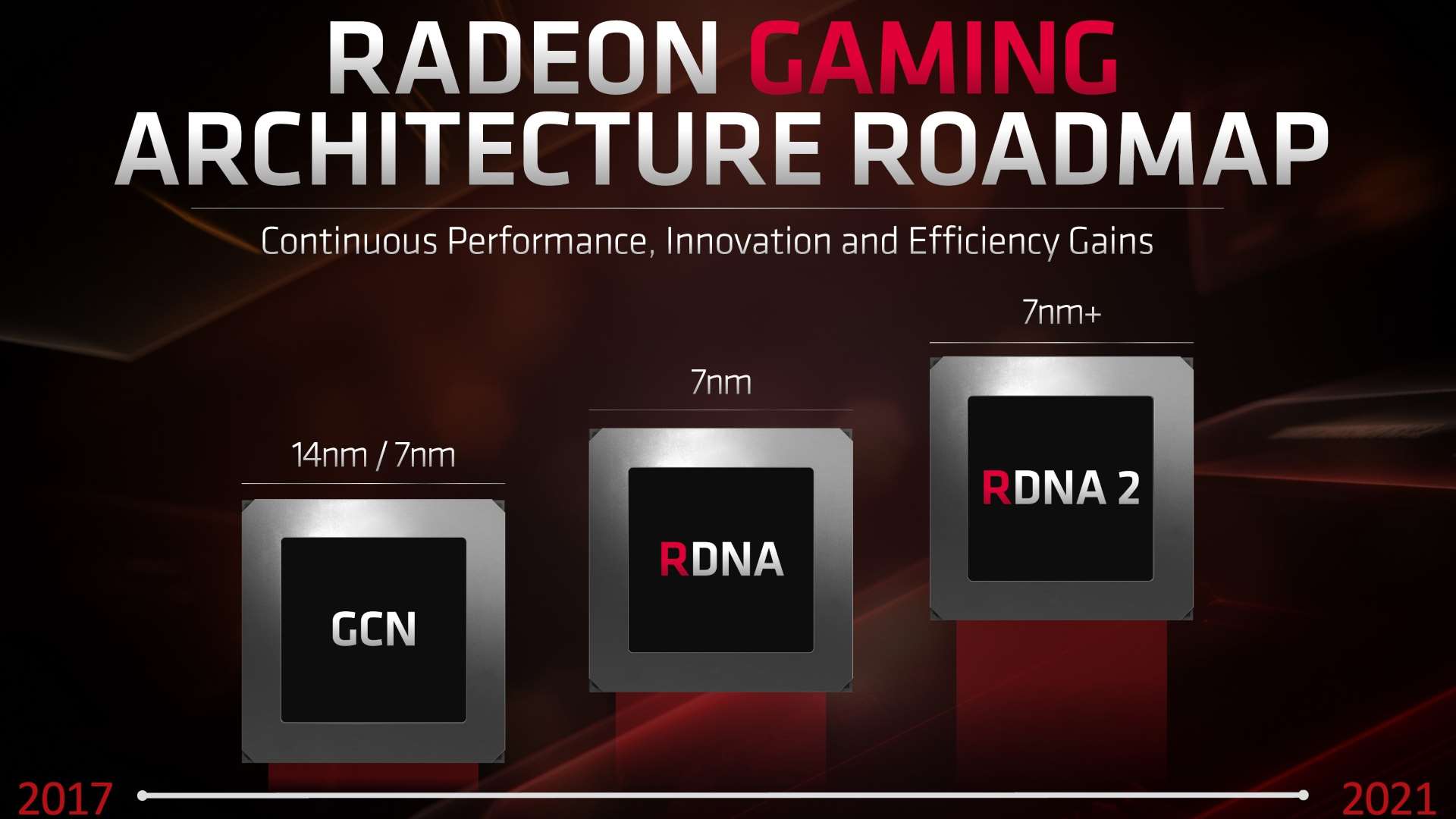 So there are two GPUs my source told me about – though it's possible there are more that will launch next year. The first is Navi 21, and the second is Navi 23.
Navi 23 is the one I'd like to focus on if you don't mind because this was the GPU that he learnt is known as the 'Nvidia Killer' internally. Now, understand this wording from AMD isn't typical internally, and to his knowledge, this kind of confidence wasn't shown (internally at least), by AMD Engineers either for Vega or for even Polaris launch.
It's worth noting – that "Nvidia Killer" is pretty vague, so it is very possible that this isn't necessarily referring to raw performance, but possibly performance vs price too.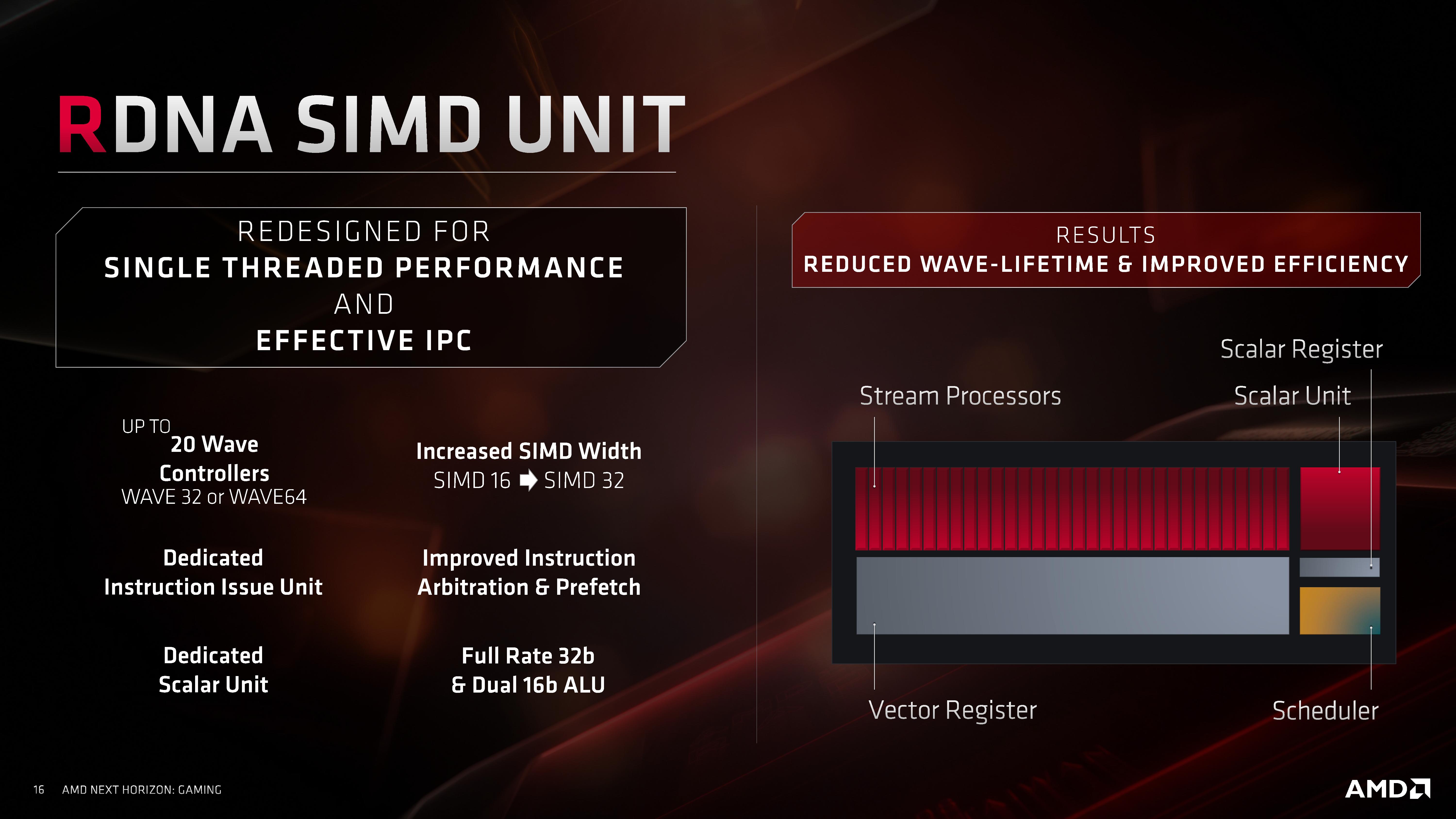 Unfortunately, he isn't quite certain of the generation of RDNA this is (whether it's the second generation or a 'refresh' of sorts of the first). The way it was explained to him, it would appear it was the second generation (which would make sense with the name Navi 23 and the release date), but this wasn't stated explicitly. Then again, next year RDNA second generation is apparently due, and remember, the first generation did launch late.
I was also told that Ray Tracing is definitely a goal for gaming graphics cards – and that also makes sense, as AMD sees Nvidia doing it, we've seen the Ray Tracing hybrid patents, we've seen AMD with their 'Ray Tracing Vision' slide, and plus I leaked it back in March.
We also know that both Microsoft and Sony are touting Ray Tracing, with Microsoft during E3 2019 verbally confirming 'Hardware Ray Tracing'. This is important given the graphics architecture inside the console will be based on RDNA. Indeed, Lisa Su specifically said "Next Generation RDNA", which possibly hints it's not the first-gen Navi, but the follow up (see our all you need to know about Xbox Scarlett).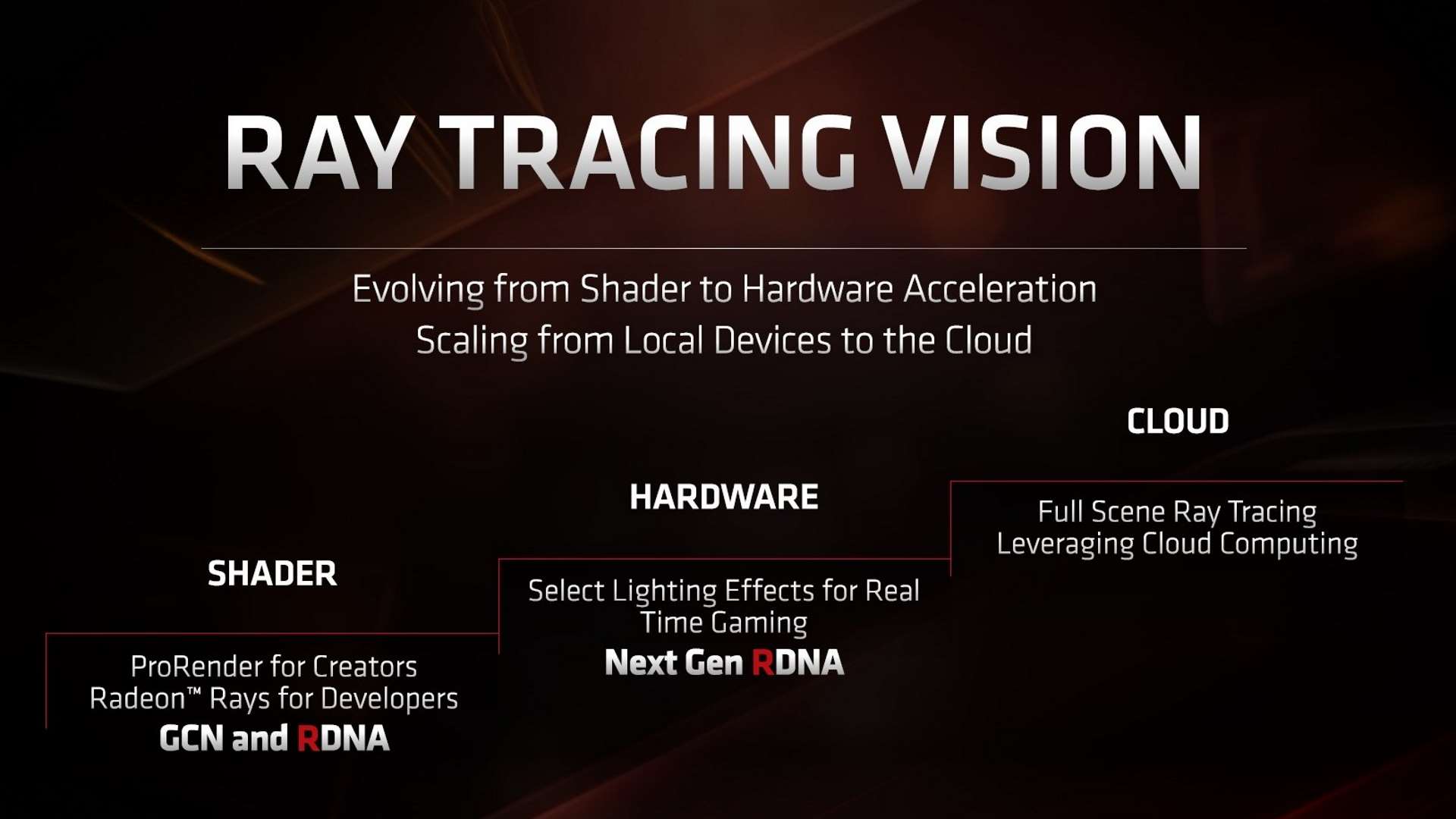 He was also told that Dr Lisa Su is apparently targetting Nvidia's market leadership because she's growing frustrated for not having an answer to the higher end Nvidia SKUs.
We're certainly left with no shortage of questions then – as if a bigger Navi is coming this year based on the first generation RDNA architecture, it would have a relatively short life of being the 'best' graphic cards from the company until Navi 23 launches… but then AMD's David Wang has in the past mentioned they wanted to speed up product releases. And once again, the original Navi had been delayed. I pressed my source on this, and he said he could only repeat what he'd been told by an AMD employee, and that person is reliable.
Next year will be extremely interesting in graphics, as Intel is launching their Intel Xe line of cards for gamers (and Intel Graphics is headed by former RTG head, Raja Koduri… and remember, the last thing he did while at AMD was help design RDNA).
Nvidia are also said to be launching GeForce 30, though what's less clear about GeForce 30 is if it'll be a refresh of Turing, or if gamer's will get a variant of Ampere. What we do know for almost certain though is that the graphics card will be using 7nm, and given Nvidia are already very efficient with their 12nm FinFet process, it will be curious how the shift to 7nm impacts their performance.
It's worth remembering that AMD are being very aggressive for their CPU roadmaps too, and now the Epyc Horizon event has ended, the company has confirmed Zen 4 is under development and Zen 3 design is 'finished'.
*UPDATE*
Navi 23 definitely exists – it and Navi 22 has been spotted online in driver updates.
Other Articles You Might Like
Tagged with
AMD
,
amd navi
,
AMD Radeon
,
anaconda
,
geforce
,
navi 20
,
navi 21
,
navi 23
,
navi lite
,
ps5
,
radeon
,
radeon graphics
,
rdna
,
rdna gen 2
,
xbox scarlett
.