There's one certainty in the graphics industry – nothing is stagnant. Earlier this year AMD released the Polaris range of graphics cards, spanning from the RX 460 all the way up to the Radeon RX 480, but these rumors show that we're we'll be seeing new revisions of Polaris which offers a large boost in Performance Per Watt over the currently available models.
It would seem that this new Polaris revision will first be debuting on the embedded market, part of the E9550 and the E9260 product names, which features a Polaris 10 and a Polaris 11 architecture respectively.
The highest end Polaris 10 for desktop typically sucks up around 150W, but this updated Polaris architecture will see this number lowered to less than 95W, while the Polaris 11 will see 75W down to just 50, and see clock speed boosts too.
So just how are AMD managing to crank so much better PPW (Performance Per Watt) out of their Polaris architecture? Well, it comes down to a mixture of refined 14nm manufacturing process (improvements to the metal mask layers) and also refined binning, so pretty much cherry picking the best performing chips.
So this brings a very simple question to the table – will we see similar improvements to the Desktop lineup of graphics cards? Currently the RX 480 can be considered a mid to high end card, and while it can certainly trade blows with the GeForce GTX 1060, it cannot compete with Nvidia with high stakes performance.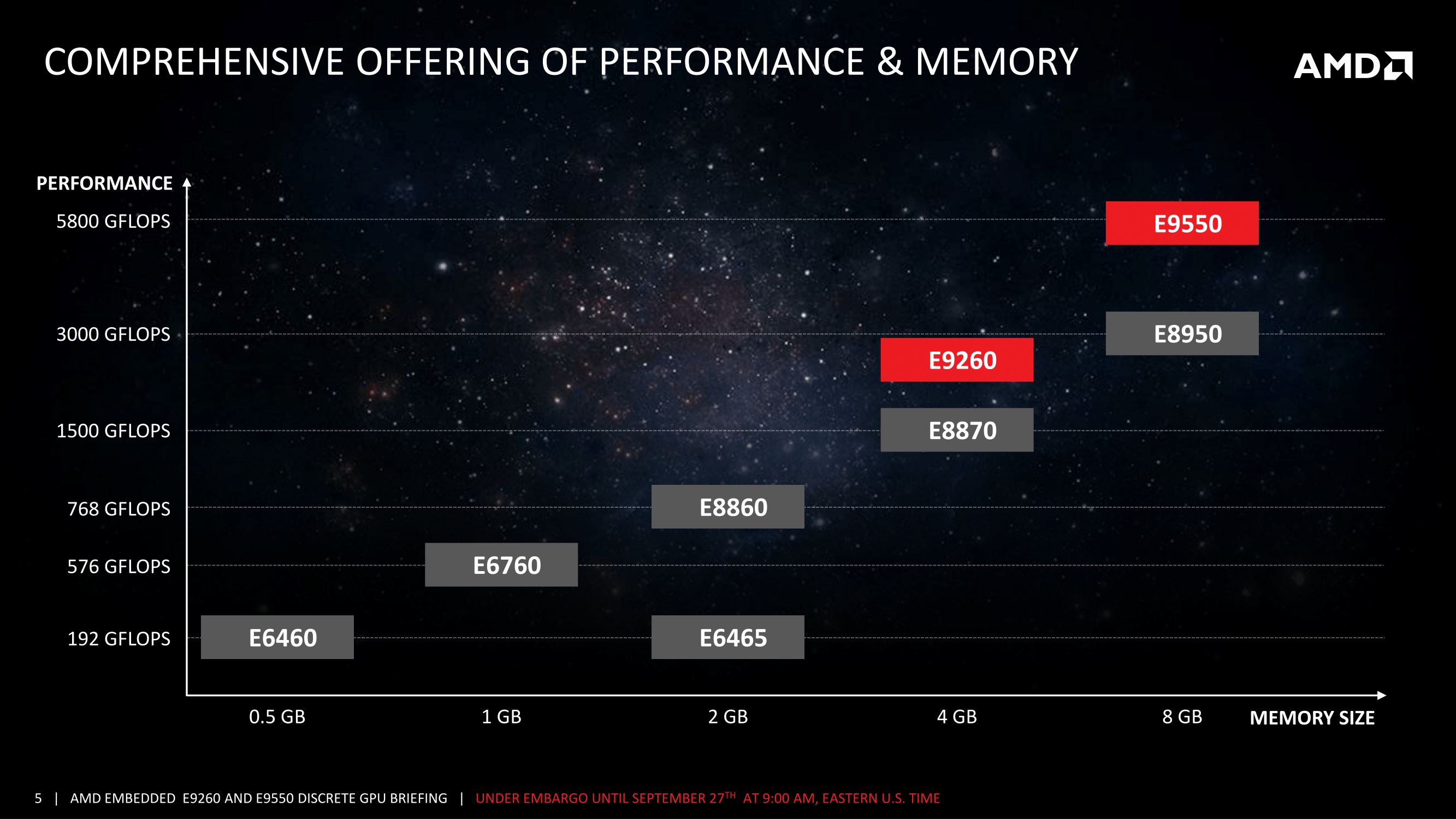 We've known for some while now that AMD are busy working on Vega 10, but rumors have it we'll also see the release of Vega 11, which is essentially an updated Polaris range of graphics cards. Things are a little murkier though if Vega 11 will be a replacement for the entire Polaris lineup, or if Vega 11 will act as goldilocks zone between the price and performance of the RX 480 and the bleeding edge HBM2 strewn Vega 10.
It's possible therefore AMD will go two routes with Polaris 2.0 (for lack of an official term) – it'll be relegated for mobile / laptops only, as power and heat are a far greater concern there compared to the desktop OR we'll see AMD release the cards as the likes of the RX 485, which we can presume would essentially render the current RX 480's null and void.
My personal issue with these rumors over at WCCFTech was that no source was cited, and so the usual pinch of salt should be seen. This is unlike rumors such as the Vega ones mentioned above, where multiple leaks and reports have all said similar things, increasing the chances that those reports are accurate.
As usual, if you want more news on graphics cards, technology and gaming stick with us here at RedGamingTech.com
Other Articles You Might Like