After the insane success of Resident Evil 7 and the Resident Evil 2 Remake, it should come as no surprise that Capcom are working on a new entry into the survival horror series. But, it does seem that Capcom are already working on a new RE game.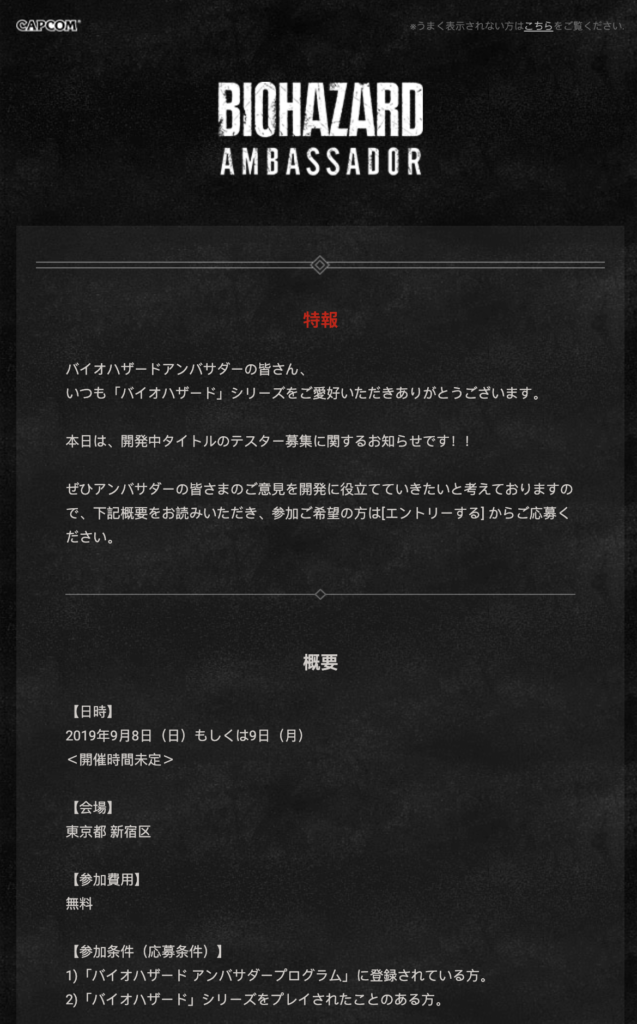 What the above image shows is that Capcom 1, the team behind both Resident Evil (or Biohazard) and Devil May Cry, has sent out a recruitment email to Resident Evil Ambassadors in Japan looking for game testers. Unfortunately, the email is extremely vague and contains no real information other than that the tests will take place on September 8th and 9th, and that you have to be an ambassador with prior experience with the franchise.
It reads, "To all Resident Evil Ambassadors, Thank you for your patronage regarding the Resident Evil series. Today, we are letting you know that we are recruiting testers for a game that's in development!! We are interested in incorporating the feedback of all Ambassadors into our development, so please read the details below and, if you are interested in participating, click the Entry button."
So, the main question is – is this Resident Evil 8 or a remake of Resident Evil 3? It's hard to say with any real certainty, of course, but the requirement of prior experience with the franchise has me thinking that it's RE 3. Capcom did say that they would consider remaking RE 3 if the remake of 2 did well enough and we all know how well Leon and Claire's adventure did for Capcom.
Which one would you like to see?
Other Articles You Might Like