Super Smash Bro's Announcements
Because Smash Bro's is so popular, Nintendo decided to dedicate a full live stream to upcoming announcements and new content.
New Costumes for Mii Fighters
One of the first announcements made by Smash Bro's Masahiro Sakuraiew is the new Mii Fighter costumes will be arriving in the form of Virtual Fighter, Animal Crossing, Splatoon and MegaMan.EXE for both 3DS and Wii U.
New costumes include the following:
Heihachi from Tekken,
Akira and Jacky costumes from Virtua Fighter,
ZERO from Mega Man X,
Inkling Girl & Boy plus the squid hat from Splatoon.
MegaMan.EXE from the Mega Man Battle Network,
The full set of eight Mii Fighter costumes will be available for $6, or both 3DS/Wii U game versions bundled together for $9.20. If you wish to purchase individually it will cost $0.75, or both game versions bundled together for $1.15 each.
New and Old Stages Incoming
Ready for download now are are Classic Dreamland (from the original Smash Bros.) and Miiverse stage. The Miiverse stage is an odd concept as it allows random published Miiverse drawings and posts by players to appear in the background. Apart form that, nothing else really stands out.
New Classic Dreamland and Miiverse stages are now available to download for Super Smash Bros. for both Nintendo 3DS /Wii U,
Dreamland is a recreation of the original Dreamland stage from Super Smash Bros. for Nintendo 64. Dreamland will set you back $1.99 for each the Wii U/3DS version, or  $2.99 for both game versions.
Ryu ,Roy, & Lucas Join the Fight!
As reported earlier today, Ryu from Street Fighter and Roy from the Fire Emblem are now available as playable characters. Check out the info below from our YouTube page:
Ryu has two final Smash attacks (a first ever in Smash Bros.) as a far or close range variant. Ryu comes specifically designed around the Street Fighter II version. Ryu is also quite unique with both light and heavy moves depending on button press duration time with his ionic move set.
See all of Ryu's and Roy's alternative outfits which were leaked below:

Suzaku castle considered Ryu's home stage in Street Fighter II, is also available today as DLC: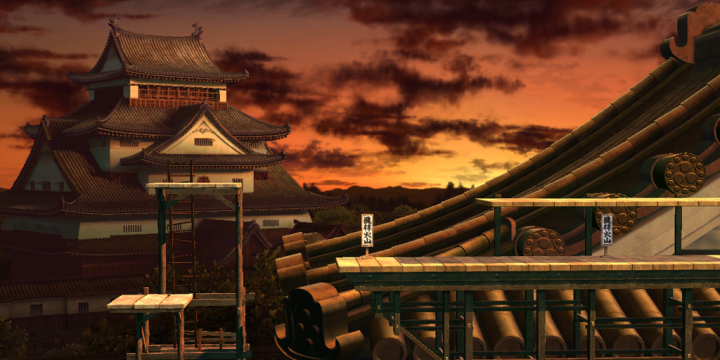 Additionally, in the Wii U version of Super Smash Bros., the background music can be changed between Ryu and Ken's themes.
Also, a missed character of the series Lucas himself from Mother 3 will be back as DLC as of today. I am sure many are happy for his return.
Ryu and Suzaku Castle will set you back $5.99 for each the Wii U/3DS version, or  $6.99 for both game versions.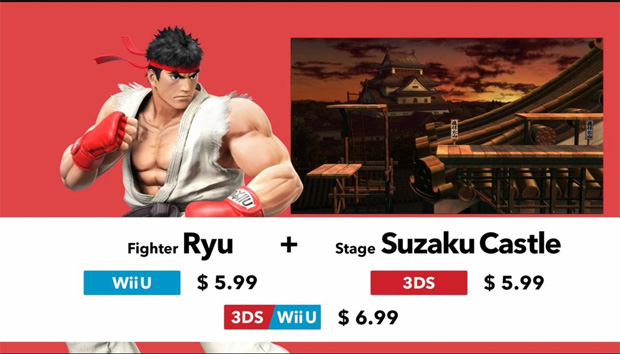 New Amiibo's
Nintendo are further expanding its high demand/low quantity plastic DLC toys (as expected).
Firstly we have three customizable Mii Charactor Amiibo's: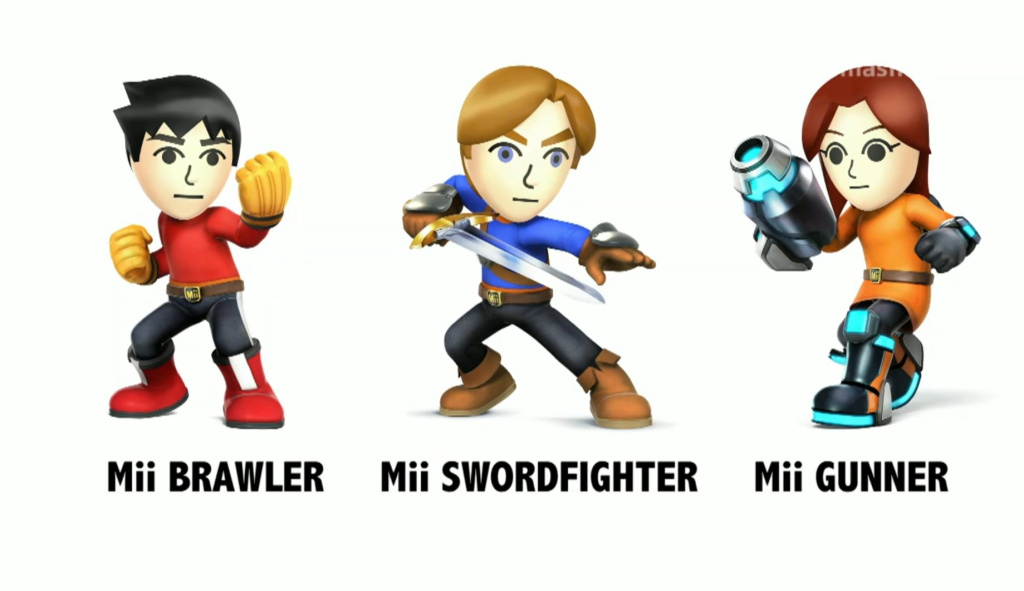 The above Amiibo's are used just as the other plastic figurines and can be dressed up in DLC costumes and change to custom faces.
Next joining the fight is the September release Amiibo's: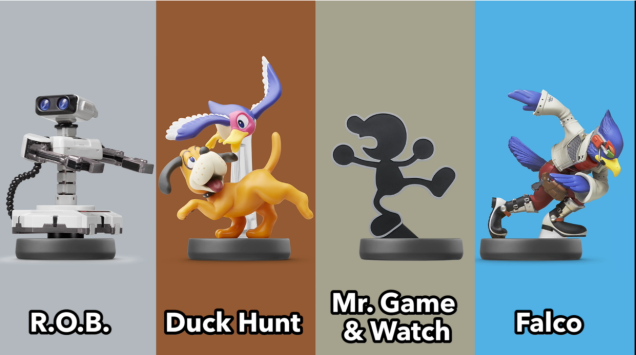 R.O.B, Duck Hunt, Falco, Mr Game & Watch, Mii Brawler, Mii Swordfighter, and Mii Gunner are just the first Amiibo's to be announced. Masahiro Sakuraiew has plans to announce all 51 playable characters to be sold as Amiibo figures, including Mewtwo and Lucas. This also includes the new playable characters Roy and Ryu: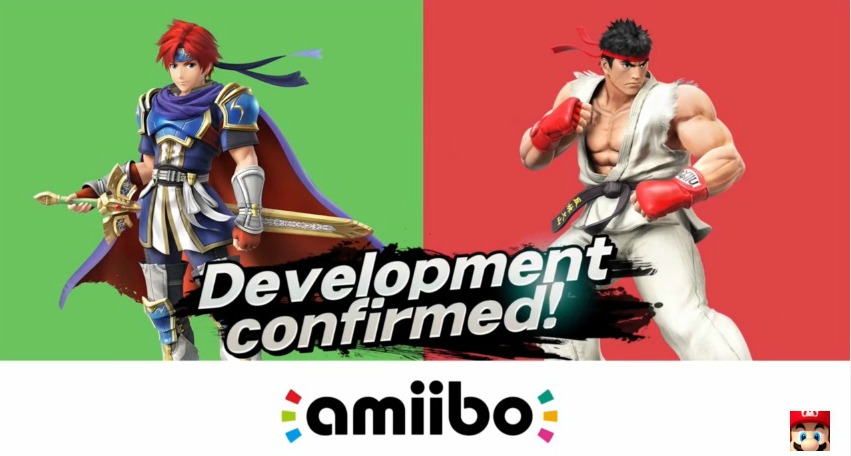 Tournaments Coming Soon.
Yes you heard right! Tournaments mode is set to be released this year in two different styles: Community Tournament & normal Tournaments.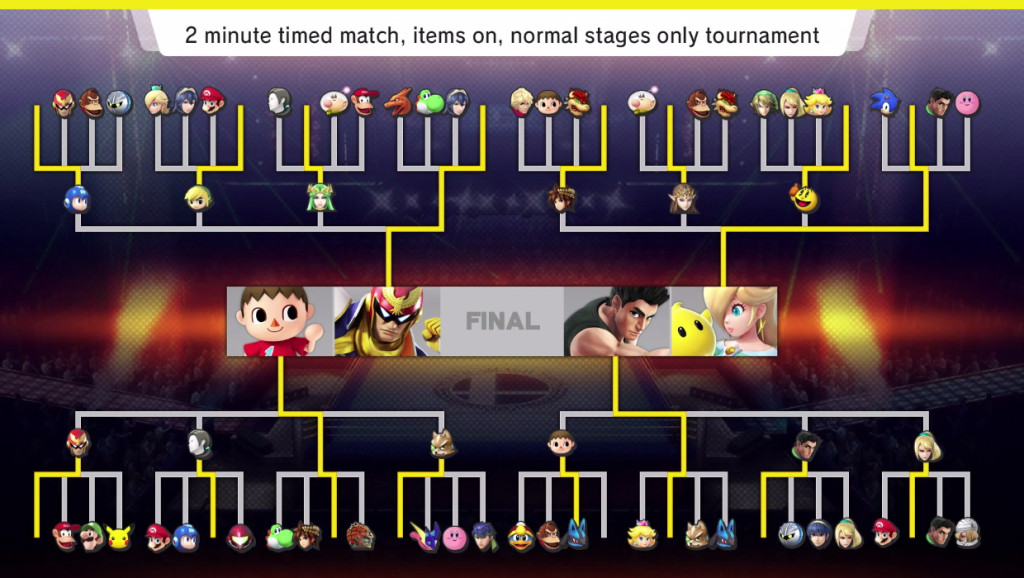 All we know is the following information:
"Community Tournaments let players compete for the highest points in a certain amount of time," Nintendo explained, "while regular Tournaments have a specific set of rules and only happen at select times."
Support for tournaments will be coming free of charge August, 2015.
Post Replay's to YouTube
Post-fight you will now be able to publish your victory…or defeat to YouTube. All Nintendo stated is that this will be a free service and will require a Google account.
But, if your going to try to generate ad revenue form uploads, I am confident you will need to sign up for Nintendo creators program, which I wouldn't recommend.
This service will only be available for the Wii U.
Players can buy all fighters, stages, outfits and accessory featured from today's DLC releases can buy them as DLC pack for $21.96, or $29.16 for both versions.
Other Articles You Might Like