Telemetry is a bit of a dirty word within the confines of the technology space, and immediately conjures up mental images of a silhouetted figure stealing your personal secrets. But of course in reality, telemetry is used for a plethora of different things – and most notably amongst developers the ability to more readily and quickly identify bugs and fix those issues with subsequent software updates.
Unfortunately Nvidia's inclusion of Telemetry software into their latest GeForce graphics drivers isn't going down so well, and it isn't fully understood (there are conflicting reports) if Nvidia's Telemetry software is exclusive to users who opt into the installation of the GeForce experience or not.
First spotted over at MajorGeeks, fortunately the removal of Nvidia's particular Telemetry isn't that difficult and can be accomplished in just a few minutes with Microsoft Autoruns (you can either google the file, or click there to be taken to MajorGeeks download page). Once you've got it, unpack the Zip, then right click on the appropriate .exe file and search for 'Nvidia' in the filter box.
Look under the Task Scheduler section and one can easily identify the culprits, the 3 entries beginning with NVTM, untick those, and also Nvidia Wireless Controller and NVStreamKMS (though note the latter two will cease the operation of any Nvidia Wireless Controllers, or in the case of NVStreamKMS, will stop ShadowPlay from working).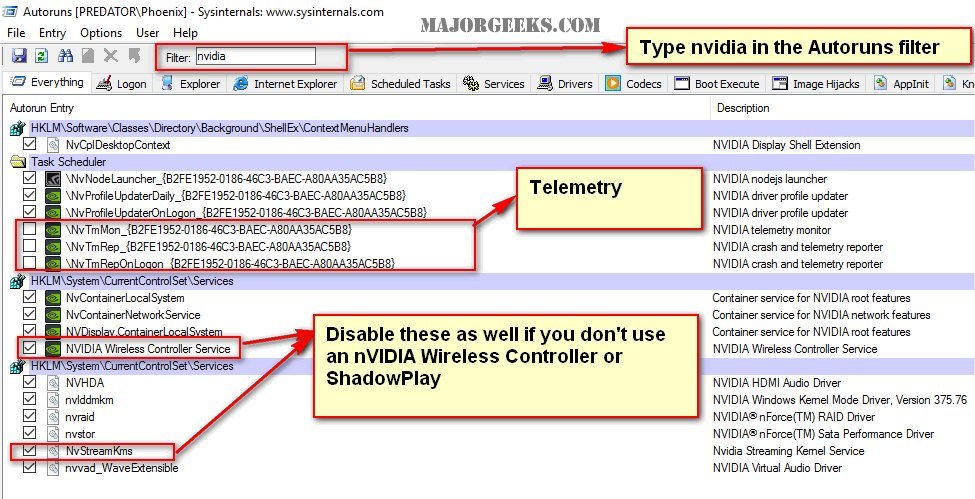 The issue I have with Nvidia's decision to include telemetry isn't necessarily adding it into the bundle, but the way it was handled. The company could have done two things to make the whole situation infinitely more acceptable for end users (its customers).
Tell us (clearly in a prompt) WHAT data the telemetry collects, what it will be used for, inform users if any personal / identifying information is collected. Better still, have the software as an optional install, which still informs users what information Nvidia collects using the Telemetry.
While I suspect Nvidia aren't using this for anything particularly nefarious, that isn't the point; instead informing users and ensuring they feel comfortable with any and all collected data is.
Other Articles You Might Like