Nvidia's upcoming Ampere graphics cards (which we can presume will make the GeForce RTX 30 series) will leverage Samsung's 7nm EUV process according to the latest whispers online.
The switch to EUV should bring a few advantages to the table over the older UV manufacturing technology. Reducing power consumption and improving performance, but also decreases the difficulty of manufacturing the wafers.
The news from DigiTimes that Nvidia will be tasking Samsung instead of TSMC to produce Ampere backs up other rumors we'd heard last year.
Jensen Huang, Nvidia's CEO recently explained "In terms of process nodes we tend to design our own process with TSMC," these comments were aimed at AMD's switch to 7nm Radeon. "Buying an off-the-shelf process is something that we can surely do, but we want to do much more than that."
Judging from these comments and the news that Samsung will be Nvidia's partner going forward, there are a few possibilities.
The first is that Samsung is just going to be able to produce the parts at a cheaper price than what TSMC would be capable of.
Another possibility is that Nvidia feels Samsung EUV is just plain better than TSMC's available options, and so they're the best choice going forward.

A third option is given Apple and AMD are customers of TSMC, Nvidia feels that the company would struggle to produce sufficient enough volumes of GPUs (ie, there'd be shortages) and want to head off this possibility.
*UPDATE* it's very likely that Samsung is undercutting TSMC. A user reminded me of an article on EETimes "One source said that Samsung is aggressively undercutting prices for its 7nm node with EUV," says EETimes, "offering some startups a full mask set for less than a multi-layer mask (MLM) set at its rival. TSMC introduced the MLM mask sets in 2007 to lower costs for small-volume runs. They are said to be about 60% of the cost of a full mask set."
Nvidia is currently using custom versions of the 12nm FinFet process at TSMC for its Turing line of cards.
It's almost certain Nvidia will be doubling down on Turing's shift towards Ray Tracing, particularly given what we know about the next-generation consoles. There's a good possibility that the Ray Tracing technology will be refined for the RTX 30 series though, and given the move to 7nm, Nvidia can also produce much denser silicon with a far greater number of SMs.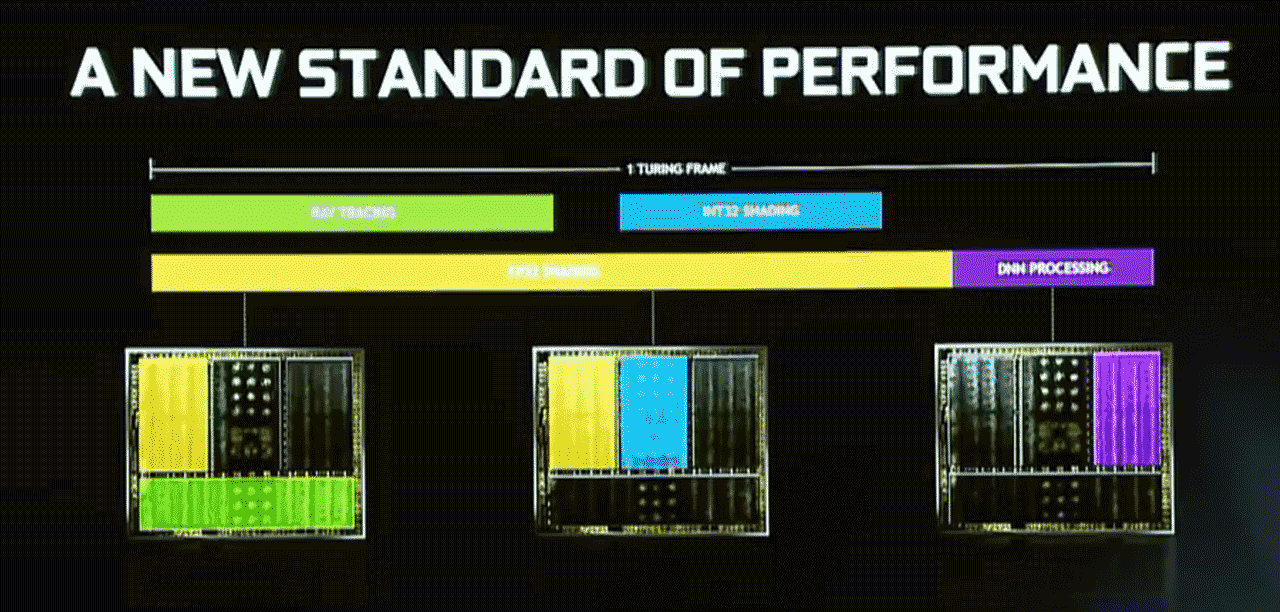 There's currently 1 Ray Tracing core per SM and 8 Tensor Cores, so if a card such as the RTX 2070 contains 36 SMs that's 2,304 CUDA cores (64 CUDA cores per SM), 36 Ray Tracing Cores and finally 288 Tensor Cores.
Nvidia could simply increase the number of SMs for the RTX 3070 (assuming that's what it's called) to between 48 – 54, and see an automatic bump in Ray Tracing and Tensor cores. Or the Tensor Cores could simply be more efficient (so the ones found in Ampere are capable of doing more work), or perhaps Nvidia could even change the ratio of SMs to RT cores.

Last year we saw Manli (who are a AIB partner of Nvidia) register several Ampere based graphics products with the EEC (GA104 for example).
Next year we will also see AMD's high end graphics cards launch too, and also Intel XE graphics cards, which will be a range of cards from Intel aimed at both gamer's and professional usage too. I think there's a good bet that the next 12 months in computer graphics will look very different from now.
Other Articles You Might Like
Tagged with
7nm
,
ampere vs navi
,
geforce ampere
,
nvidia
,
nvidia 7nm
,
nvidia 7nm gpu
,
nvidia ampere
,
nvidia ampere specs
,
nvidia vs amd
,
rtx ampere
,
specs
.