Earlier this year, Nvidia reignited the excitement of its GeForce 20 series of cards by providing them with a Super makeover, bumping up performance compared to the 'vanilla' launch models and providing a much-needed adjustment in the price-to-performance ratio of the Turing offerings. In the next logical move, Nvidia then continued this Super treatment to the GTX 16 series of graphics cards.
What Nvidia has done with the GTX 1660 Super has launched a product featuring 128 CUDA cores fewer than the GeForce GTX 1660 Ti, but slightly increase core clocks, and also sports 14gbps GDDR6 RAM, instead of the 12gbps RAM of the Ti. This is combined with a $50 USD reduction in price (for the MSRP, though of course custom AIB cards will differ in price) and as a spoiler for the rest of the review – the GTX 1660 Super essentially trades blows with the GTX 1660 Ti, and thus giving Nvidia a leg up in the value war.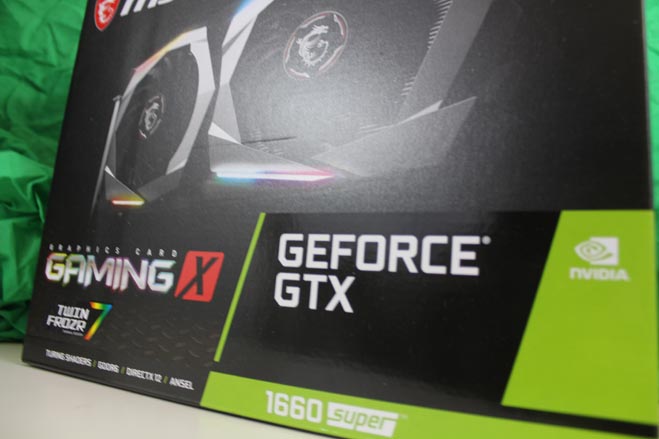 This card also totally nukes the GTX 1660, replacing it with a card with the same number of CUDA cored, albeit with a massive increased in bandwidth thanks to a raise from a paltry RAM clock of 8gbps up to the aforementioned 14gbps, and all of only ten dollars more.
https://www.youtube.com/watch?v=yNlozAkntfA
Let's take a look at MSI's GeForce GTX 1660 Super Gaming X graphics card, which was provided for this review. We are sending the card back after this review is complete, but as usual here at RedGamingTech, we like to fully disclose any products we receive, even if it's just a loaner for a review.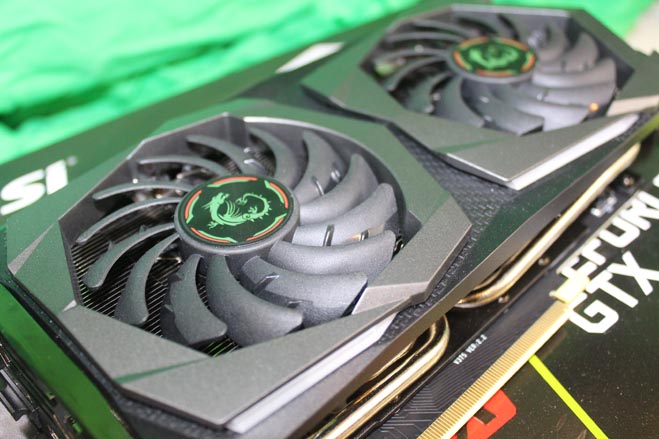 As you might expect for a custom AIB card, MSI's Gaming X takes the reference design specs but cranks things up a bit. While it still features the same 1408 CUDA cores, the reference design runs at just 1785 for Boost, but MSI claims the GTX 1660 Super Gaming X will reach 1830MHz.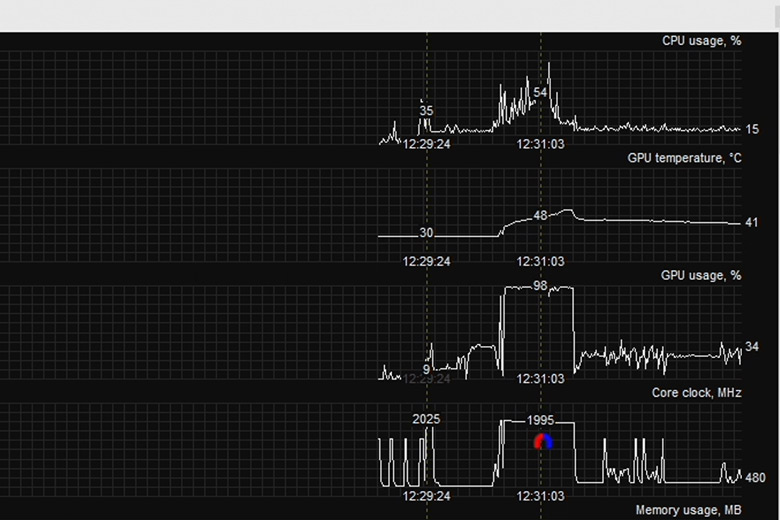 Above you can see a capture from the monitoring portion of MSI's Afterburner application during a run of Far Cry 5 running at max settings at 1080P (though clocks don't get affected with higher resolutions). You can see the clocks peak in the low 2000MHz range. Extended-play sessions can make them drop a little, but manually tweaking the fan for the GTX 1660 Super Gaming X easily offsets this behavior.
In this capture, the Gaming X was running totally at default, and at running at the 2000MHz-ish mark, the 1408 CUDA cores of the GTX 1660 Super make quite the impact in gaming.
| | | | | | | |
| --- | --- | --- | --- | --- | --- | --- |
| | GTX 1660 Ti | GTX 1660 Super | MSI Gaming X | GTX 1660 | GTX 1650 Super | GTX 1650 |
| CUDA Cores | 1536 | 1408 | 1408 | 1408 | 1280 | 896 |
| ROPs | 48 | 48 | 48 | 48 | 32 | 32 |
| Core Clock | 1500MHz | 1530MHz | 1530MHz | 1530MHz | 1530MHz | 1485MHz |
| Boost Clock | 1770MHz | 1785MHz | 1830MHz | 1785MHz | 1725MHz | 1665MHz |
| Memory Clock | 12Gbps GDDR6 | 14Gbps GDDR6 | 14Gbps GDDR6 | 8Gbps GDDR5 | 12Gbps GDDR6 | 8Gbps GDDR5 |
| Bus Width | 192-bit | 192-bit | 192-bit | 192-bit | 128-bit | 128-bit |
| VRAM | 6GB | 6GB | 6GB | 6GB | 4GB | 4GB |
| TGP | 120W | 125W | 125W | 120W | 100W | 75W |
| GPU | TU116 | TU116 | TU116 | TU116 | TU116 | TU117 |
| GPU Size | (284 mm2) | (284 mm2) | (284 mm2) | (284 mm2) | (284 mm2) | (200 mm2) |
| Price | $279 | $229 | $239 | $219 | $159 | $149 |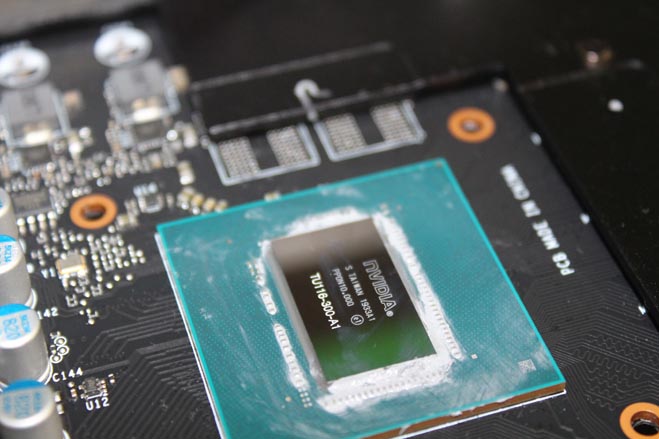 Other than that, the design is nice and fairly understated, which should allow it to fit almost any case color theme. The design and color scheme is typical of an MSI Gaming X GPU. A brushed silver looking backplate with an MSI logo – so while backplates aren't so great for cooling, at does aid to the aesthetic of the card, and more to the point for someone like me who regularly takes cards in and out of the machine, it's nice to feel like you don't have to be so careful what your fingers are poking at on the rear PCB.
MSI plop two Torx Fan 3.0's on the card and includes their Zero Frozr technology (ie, the fans don't spin when there's no load). This isn't unique to MSI here, but still nice to see.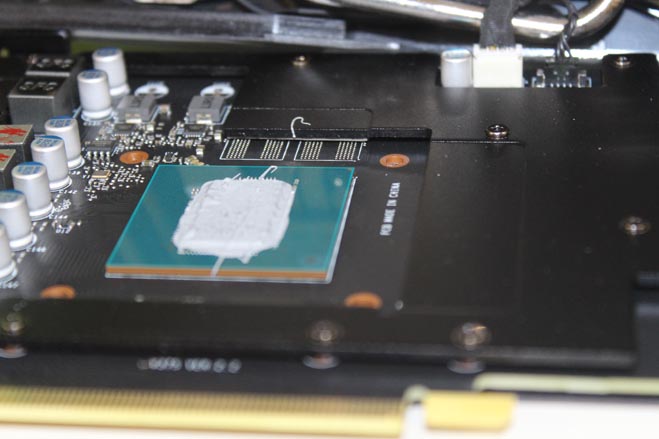 What this really means is that the card runs pretty silently in almost all situations, even under gaming load you'll not really hear the fans at all unless you manually crank them up. We also heard no coil whine even when overclocking the GTX 1660 Super Gaming X.
Other than that, the card demands a single 8-pin power connector, despite the 1660 Super typically running at just 125W TDP. We also have 3 DisplayPorts (1.4) and a single HDMI 2.0B. Not exactly a surprising output configuration for an Nvidia Turing GPU.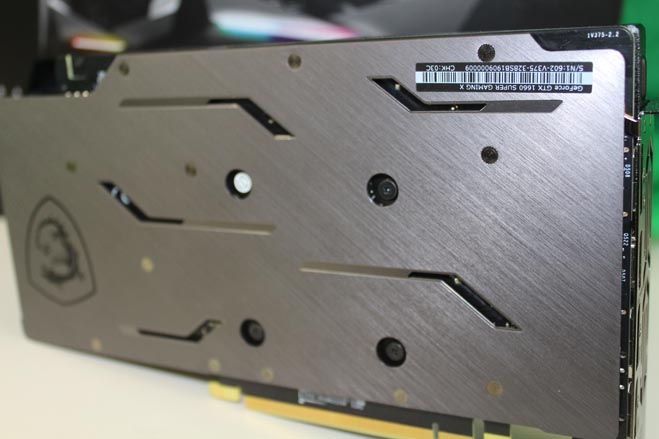 What did we get out of the GTX 1660 Super Gaming X for overclocking then? Cranking the memory clocks have less advantage in performance than adjuting the core clocks, given the bounty of memory bandwidth available for the card. Your mileage might vary, but we reached 150MHz extra on the core clock and +760MHz on the RAM.
We found we could go 20 – 30 MHz higher on the core if we started adjusting fan curves, but settled on 150+ because it was rock stable, and had zero impact on the noise levels of our sample.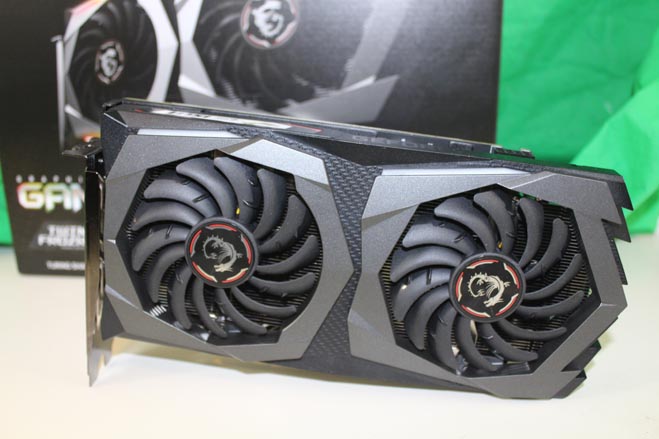 For testing the card, we're using our traditional test setup – An I9-9900K cranked to 5GHZ across all cores (thanks to Intel for supplying the sample) and running it on an MSI MPG Z390 Gaming Pro Carbon motherboard with 16GB DDR4 Crucial Ballistix RAM at 3200MHZ. Naturally, we're running the latest version of whatever games (so patched with Steam/Origin/etc). The OS is installed on one SSD (a Samsung 970 Evo NVMe drive) and games are housed on a few different SATA SSDs.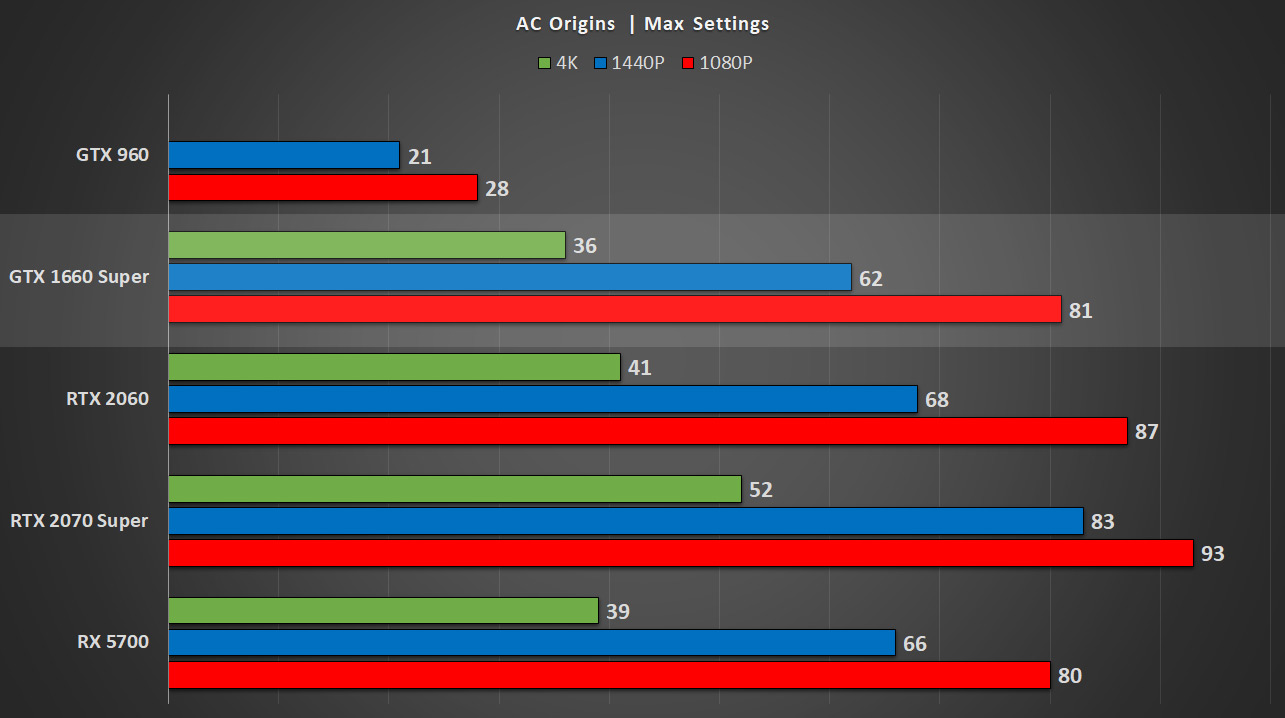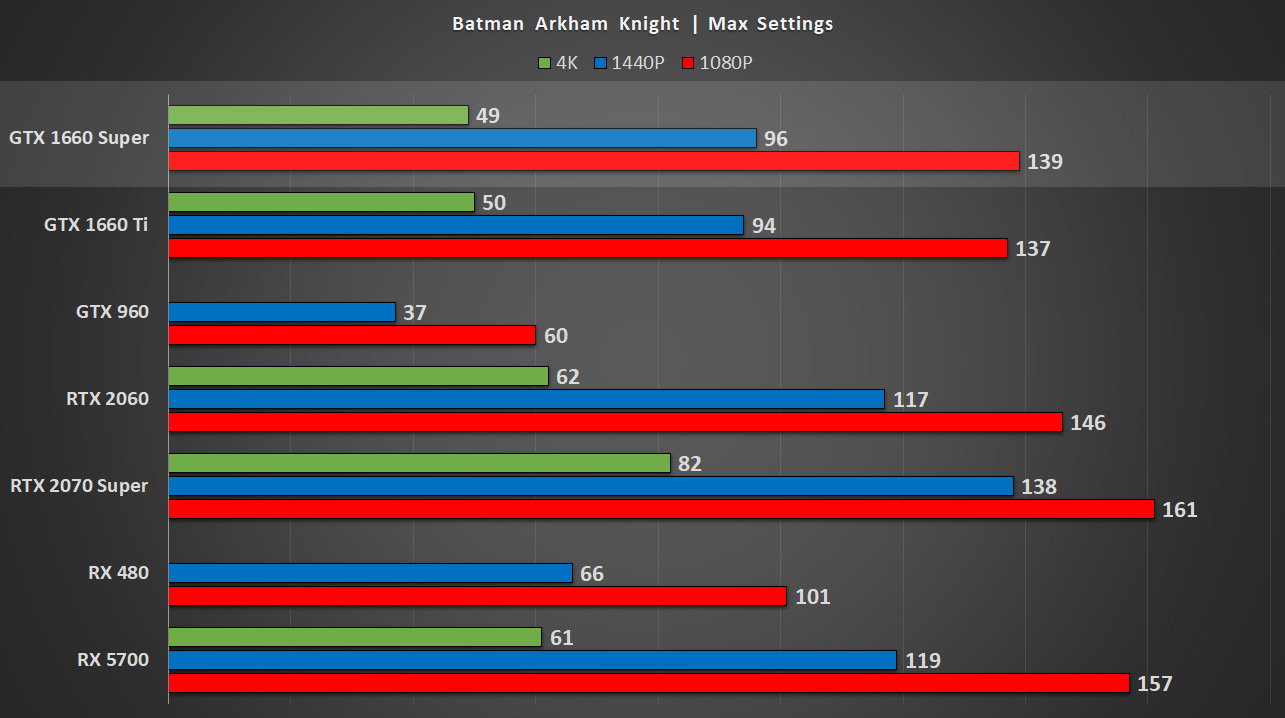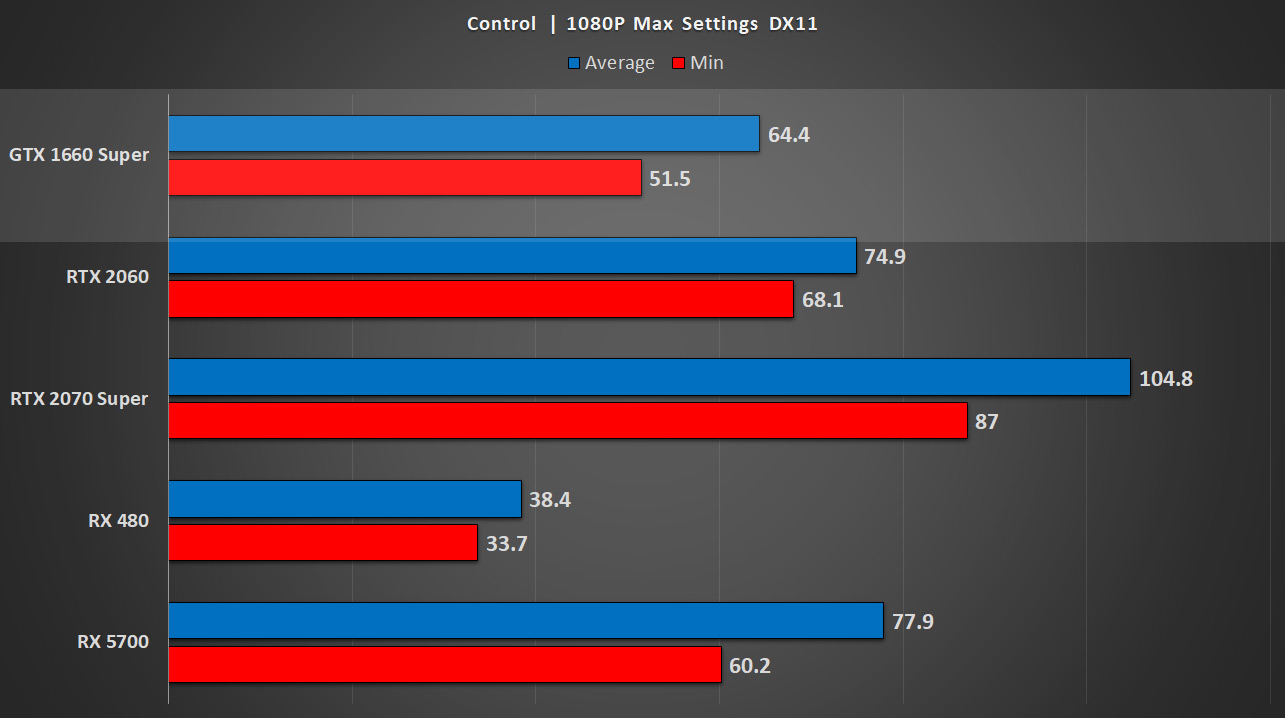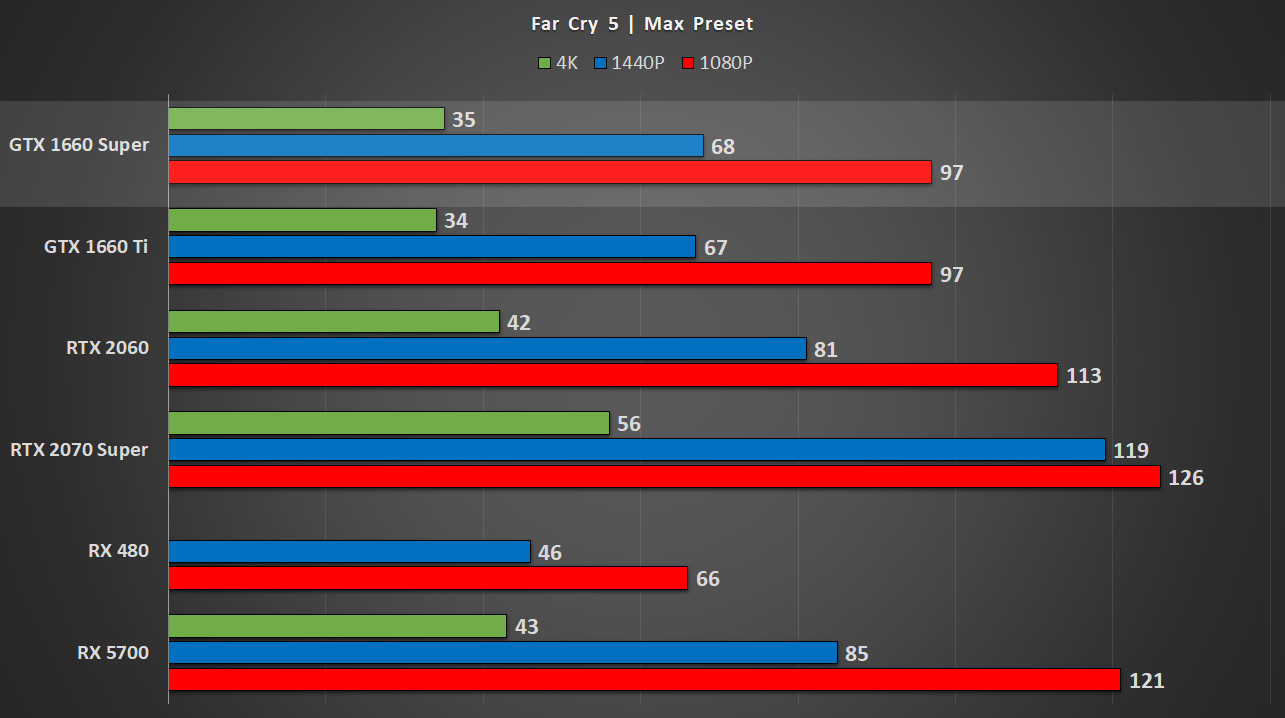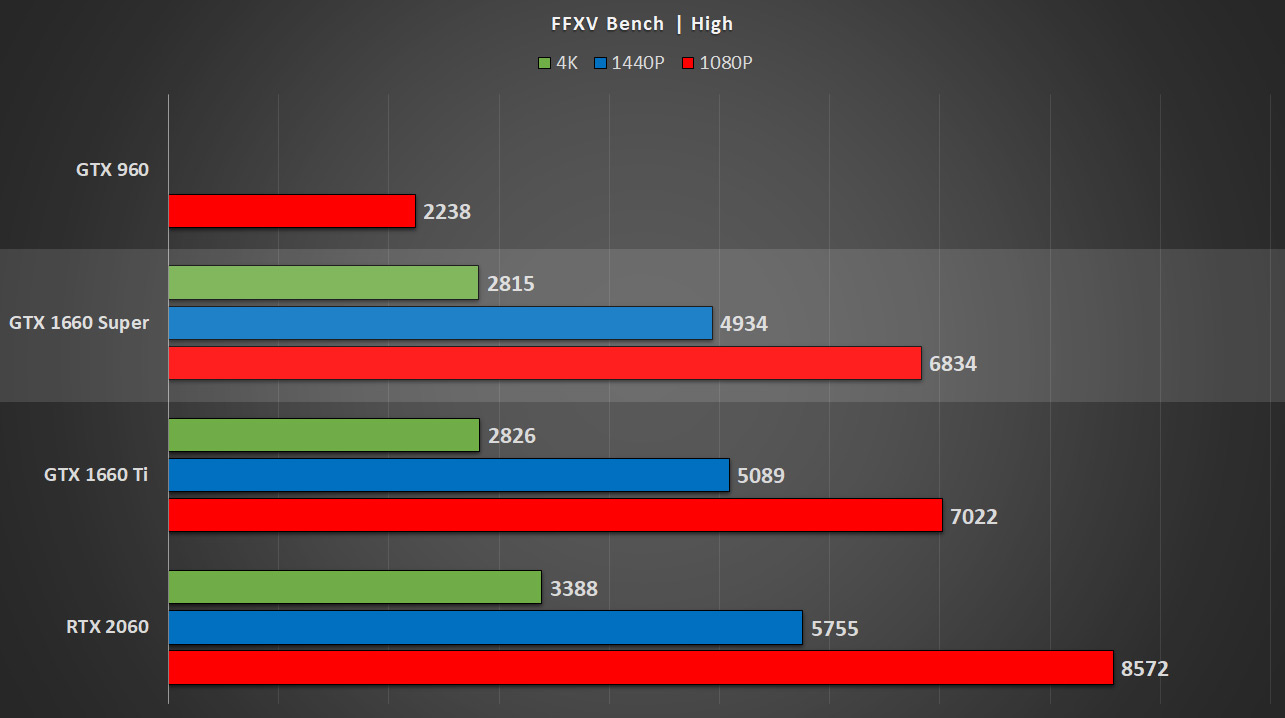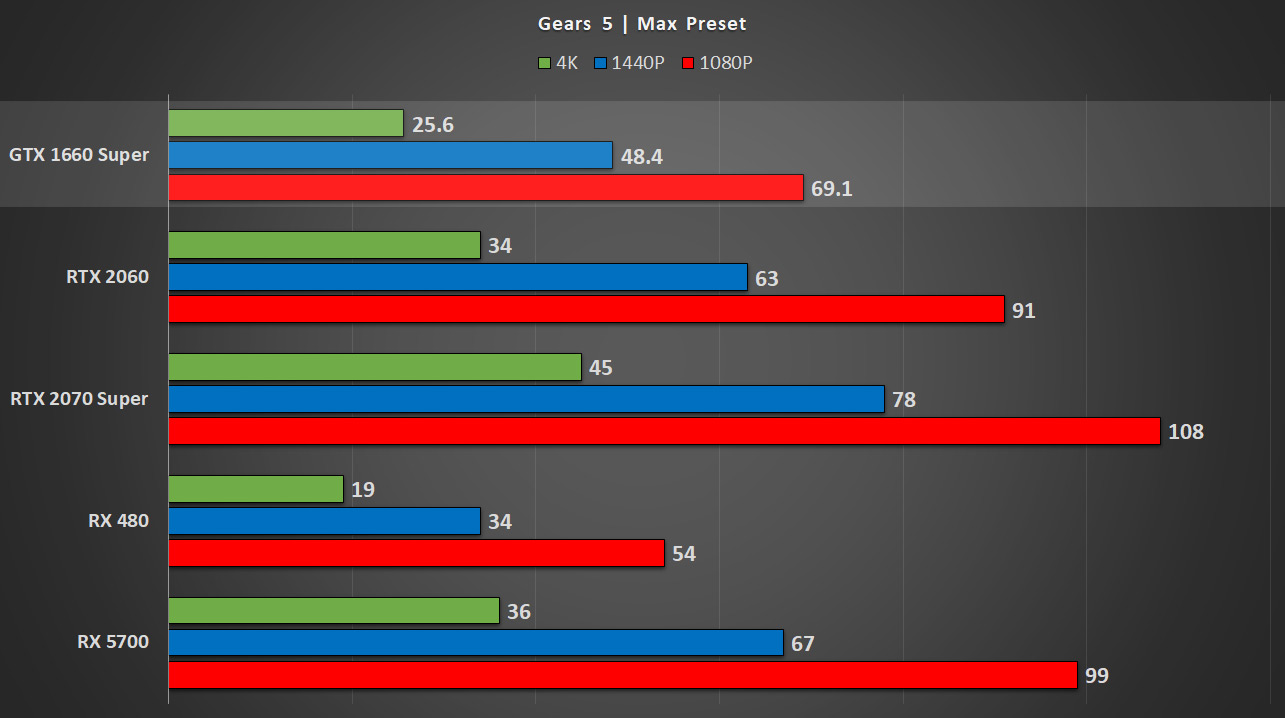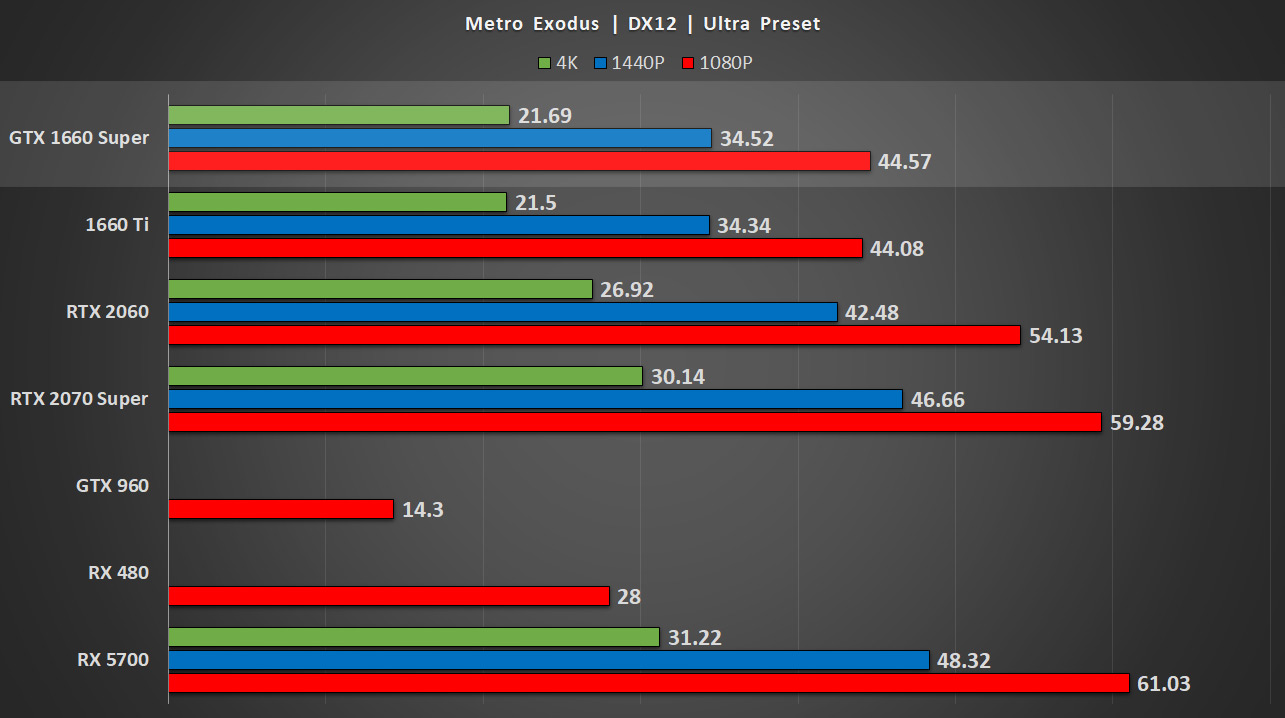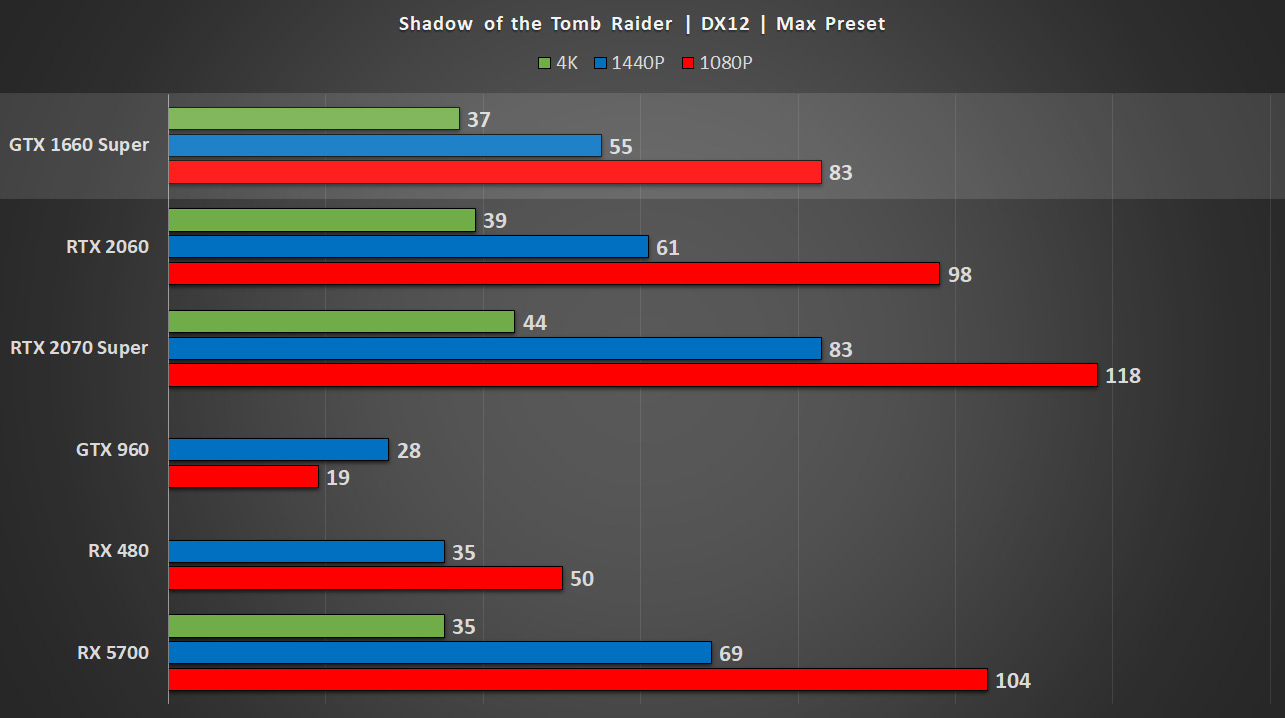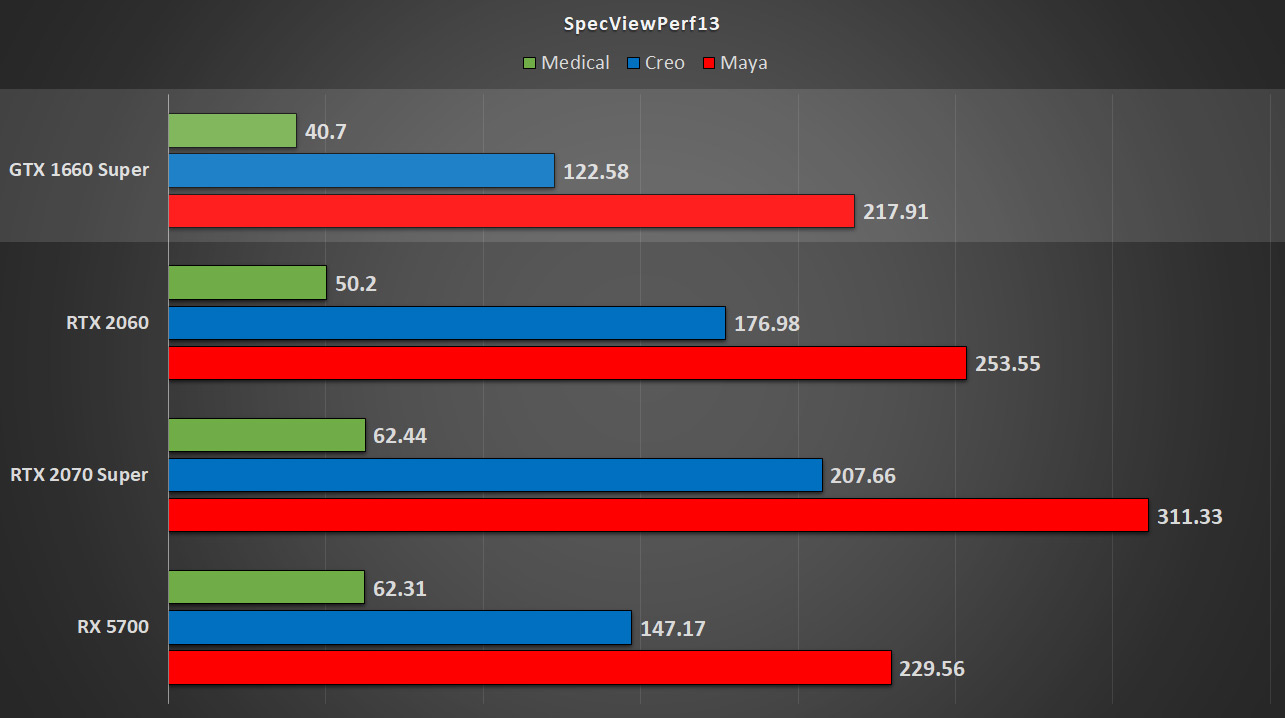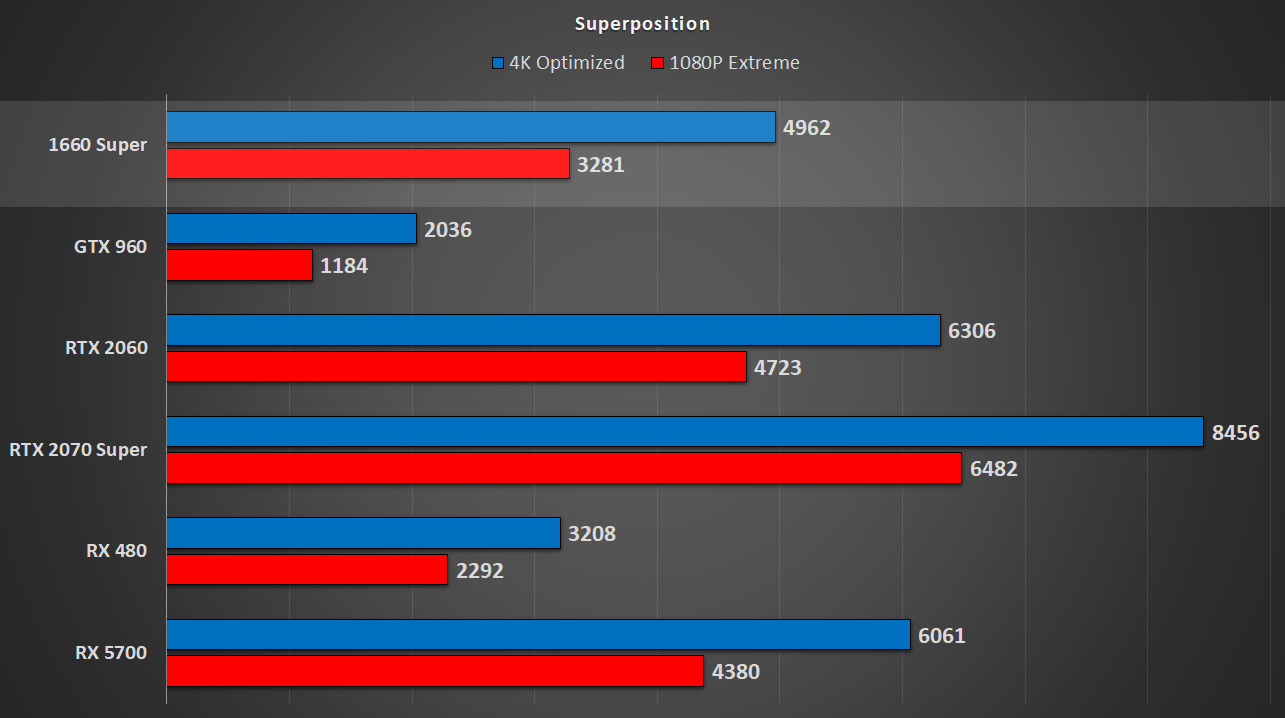 So then, wrapping things up – the GTX 1660 Super does exactly what we said at the beginning of this review. Effectively remove both the GTX 1660 Ti and GTX 1660 from the running, and provides a compelling performance solution to folks on a budget of around the $200 USD mark.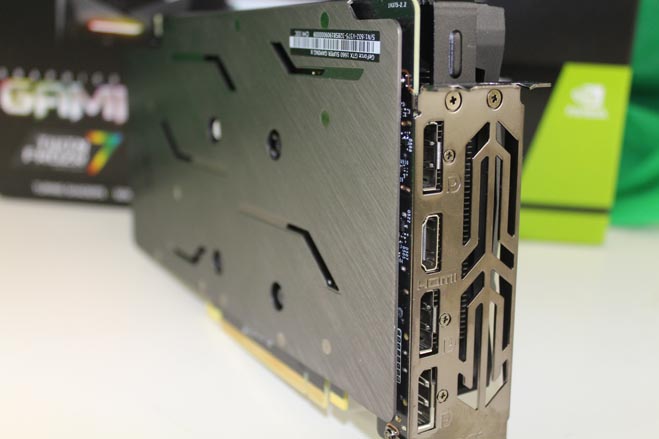 The GeForce GTX 1660 Super provides enough performance to drive basically any AAA title at higher frame rates at 1080P, and does a pretty decent job at 1440P, particularly if you're willing to knock down the graphics settings a little. It's a real shame that the GTX 16x series doesn't support DLSS, as while the technology isn't perfect, and can certainly give a softer image, it'd be nice to give people the option, and frankly a card such as the GTX 1660 Super would be a perfect candidate for such a feature.
If you're upgrading from a card such as the GeForce GTX 960, then the GTX 1660 Super is a totally different animal, and even a more powerful card such as AMD's Radeon RX 480 gets left in the dust with Nvidia's cut-down Turing.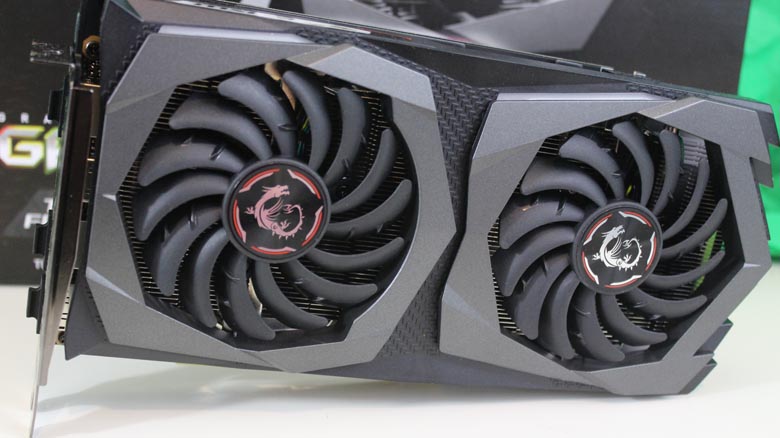 If you're not just gaming, but doing some productivity too, the GTX 1660 Super handles things quite well given the price point, not much slower in Maya than the far more expensive RX 5700 for example, albeit naturally way slower than one of the bigger available Turing cards.
If you're not wanting to head towards the used market, and don't fancy spending more than two hundred bucks-ish on a card, it's hard to argue with the GTX 1660 Super. One could argue all day long at what the sweet spot is in terms of value (the GTX 1650 Super is about 40 – 60 bucks cheaper still, though is noticeably slower) in the lower end of the market.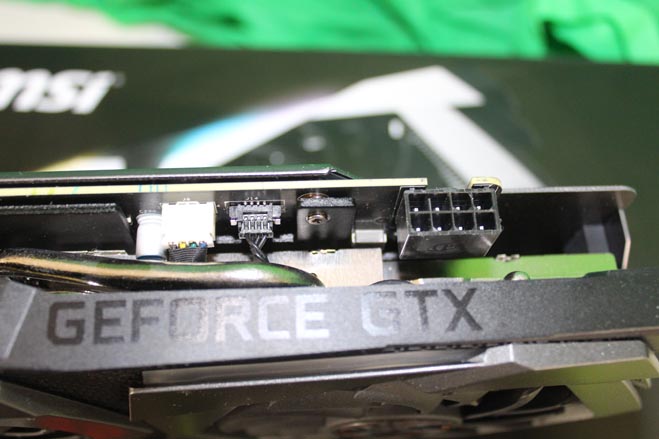 If you can stomach the notion of dropping an extra 100 ish USD on a card, then the AMD RX 5700 or Nvidia's own GeForce RTX 2060 series becomes an option, but for this price point, it's hard to find much fault with the GTX 1660 Super, other than this is exactly what the GTX 1660 should have been at launch. If you are torn between laying out the extra cash and purchasing say the RX 5700 or saving the money, I would take a peek back over the graphs above and then look at the games being released over the next several months for PC and also what monitor you're going to pair it with. Realistically, a high refresh rate 1080P FreeSync screen would match this card rather nicely.
Frankly, in terms of a value budget system which has tons of upgradability, this card paired with an AMD Ryzen 3600 processor and 16GB of memory give plenty of performance and even enough grunt for some productivity.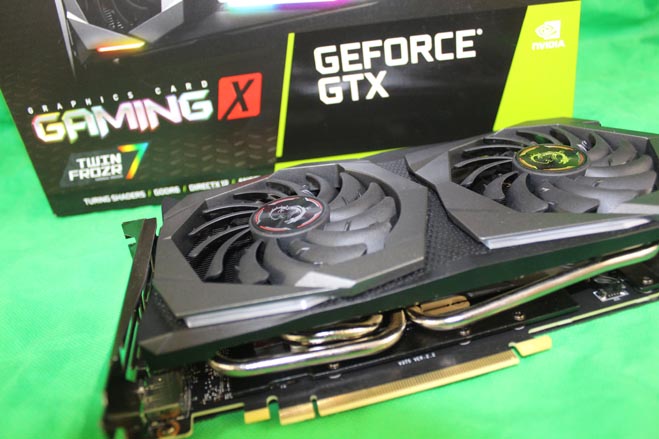 As for MSI's Gaming X card, depending upon your region, you'll be spending between 10 and 20 USD more compared to a bog-standard, reference design model. Obviously, if you're on a budget every penny counts, but the Gaming X does run at a nice jump in core clock over the reference models, and also overclocks pretty decently too. This can be quite important in a budget solution – but as always, it's your money. Other than that, the card behaved exactly as you would expect – no crashing, stability issues, fans whisper silent and finally, no coil whine.
With all that said, hopefully, you've found this review of the GeForce GTX 1660 Super MSI Gaming X helpful – and if you did consider buying the card from one of the Amazon affiliate links below to help us out!
Other Articles You Might Like